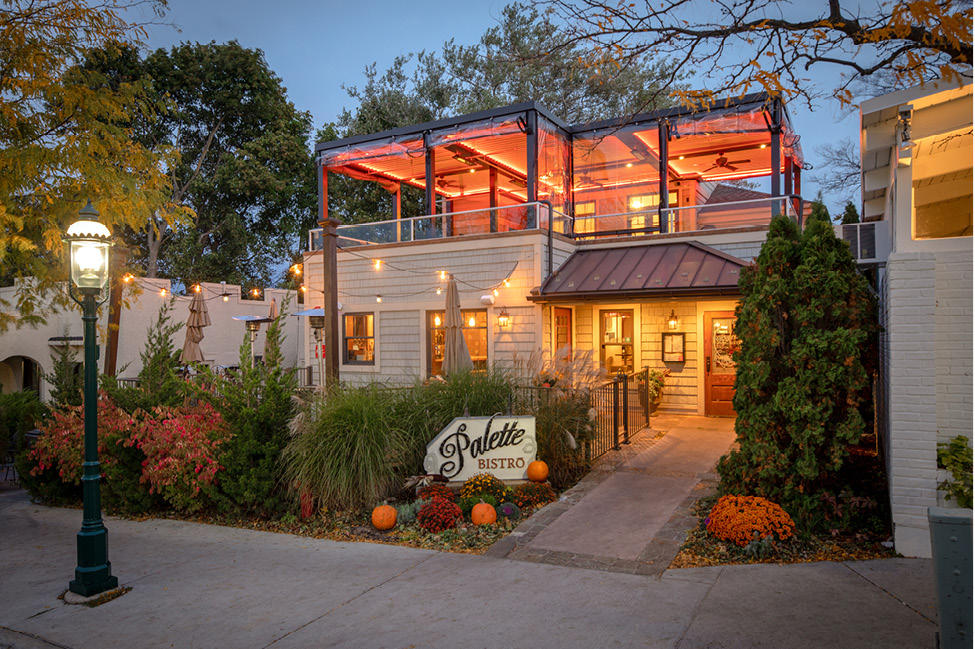 Palette Bistro
Artful Mediterranean in Petoskey
Opened just short of a decade ago in downtown Petoskey, Palette Bistro was recently named one of 2019's "Top 9 Best Small Town Restaurants in Michigan" by the online magazine Only in Your State. That came as no surprise to the many full-time and seasonal residents of Petoskey, as well as visitors, who have already been regulars for years at this quaint and welcoming dining spot on Bay Street. Its Mediterranean-inspired cuisine will transport you to sunny climes, even in winter.

"This is a hard office to show up to every day," said Palette Bistro General Manager Shawn Peterson, with a mock sigh and a wide smile as he waves his arm toward the wide bank of windows behind him. The windows, high above Petoskey's waterfront, reveal a panorama stretching from east to west over Little Traverse Bay and across to Harbor Springs.

"Just look at that view," he said. "It's spectacular any time of year, but I especially love watching the storms of November approaching as they make their way across Lake Michigan and roll into the bay. And there's something very special about seeing a sunset over the frozen lake in the dead of winter. It's breathtaking."

The storms of November and the icy sunsets to follow might yet be far off for Little Traverse Bay, but capturing spectacular moments and artistry is something Palette Bistro has strived to do since The Wineguys Restaurant Group — which owns Petoskey's Palette Bistro, City Park Grill, all overseen by executive chef John Norman — opened the double-decker restaurant in 2010.
FOOD & ART
The name "Palette" was chosen for a couple of reasons. The first one was to do a play on the word "palate," and the second one has to do with the arts — an artist's palette. The Wineguys
Group has a close relationship with Petoskey's Crooked Tree Arts Center, collaborating with the organization to showcase in the restaurant works by local and regional, rotating the collection regularly. "When they were brainstorming for the name of the restaurant, that kind of all came together — the palate and the palette — and after all, food is art, too," said Peterson.

Palette describes its ambience as "casual upscale dining," and its cuisine as "Mediterranean-inspired." A classic example of the latter is the menu's signature dish, paella, which the kitchen prepares in both a seafood version (shrimp, scallops, mussels, house-made chorizo, peas, arborio rice, sherry, saffron, and smoked paprika) and a vegetarian version (peas, Brussels sprouts, mushrooms, broccoli, arborio rice, sherry and smoked paprika).
"Spain, Italy, and France are our three primary sources of inspiration," said Peterson, "but we also pull from places like Lebanon, Greece, and North Africa. When you take a look at the Mediterranean, it's a pretty wide geographic area, so it does give you a lot of choices."
The restaurant's salmon from John Cross Fisheries in Charlevoix always gets a Mediterranean-influenced presentation, currently leaning toward the Middle East (dukkah crumb crust, broccoli-spinach-Brussels sprouts salad, harissa-yogurt sauce, and feta).
A linguine pasta dish gives a nod to Morocco (with house-made lamb merguez sausage, chicken confit, marinated tomato, mushrooms, harissa and arugula). "It's a scratch kitchen," said Peterson. "We make our own sauces, dressings, spreads, and sausages, and we grind our own meat for our burgers — because if you want to control the quality and consistency, that's what you do."

On the small plates section of the dinner menu, one very popular item is the forest floor soup (a variety of roasted mushrooms, stewed leeks, cream, and Fustini's white truffle oil). Mussels are another staple on that list (with chorizo, garlic aioli, shallots and grilled bread). "We also do wood-fired pizzas," said Peterson, "and when you've got a beautiful stone oven like we do, we make sure that we are utilizing it for a variety of different dishes, such as our roast chicken and our paella. That crusty bottom layer of rice that is the hallmark of a good paella — the socarrat — develops very nicely in that oven."

When it comes to Palette's sweet side, there are two particular desserts that the restaurant is known for: crème brulée and cheesecake, in varying flavors. Peterson's personal favorite is the (gluten-free) baked chocolate pudding with butterscotch sauce.

COMMUNITY COMMITMENT
"Everything we do at dinner, we carry that same mindset into lunch," said Peterson. "We're not going to cut corners or skimp just because it's a lower price point and a faster menu. People are still going to demand the same level of quality from us, and we will meet that."
As such, the Bistro's popular paella and pizza are also available at lunchtime, along with sandwiches like the Italian braised pork (house-braised pork, provolone, lettuce, tomato, onion, pepperoncini and aioli on an Italian roll) and the smoked turkey breast (house-roasted and smoked turkey, bacon, lettuce, tomato, red onion and bleu cheese sauce).

For those in a hurry, Palette is one place, Peterson assured, where they can have a good meal at lunchtime and be in and out in 30 minutes or less. "We know that our lunch business mostly depends on the locals, and folks who work downtown have limited time," he said. "Unfortunately, 'lunch hour' is no longer an hour for most people. Luckily, we are blessed with a great staff, who give excellent service whether you have a half-hour or a whole evening to enjoy with us.

"Many places close for the winter or scale back," he added, "but we do not, so we can employ our people year-round. We have a lot of regular guests who come in and ask for a certain server by name, and there's nothing that reinforces what we do better than that. It's a family atmosphere. We recognize the value in that and compensate our employees accordingly."

Peterson has been part of the family since it started, though his "adoption," you might say, wasn't something he'd originally planned.

"My background was not in the restaurant industry until I started working with the Wineguys," he said. " … I worked in the tech sector [in northern Michigan] for a long time, and I had to travel a lot, so I didn't have much time to enjoy [the outdoor pursuits that brought me Up North]. After a while, I just got burned out and decided to take a year off to decide what I was going to do next."

Back then, Peterson had dined many times at City Park Grill — it was just a couple hundred yards down from his house — and he was impressed with them. "I have always been a foodie, and I'm a home wine- beer- and mead-maker and a certified sommelier, so I was already considering getting into the food and beverage industry. But I knew that if I did, I wanted to work for a company that was successful, that had longevity, and that I could learn from and advance my skills in my career," he said.

"And that is exactly what has happened. I applied and became the bar manager and sommelier at City Park Grill. When the Wineguys opened Palette, I was very interested, because it was definitely my kind of place in terms of food and beverage. And when the opportunity to serve as general manager here opened up, I seized it. One of the things I've appreciated about moving over into the food and beverage industry is that it's always exciting — there's always something new and different."

One key difference Peterson of which most proud: that his restaurant and staff continually team up with nonprofit organizations, make donations, volunteer, support local farms and artists, and are always looking at ways to be earth friendly and sustainable, working with local purveyors whenever possible.

"The shorter the distance food travels to the plate, the better for the environment," he said. "All of the restaurants in the group also have very aggressive composting and recycling programs. When you're in a small town in northern Michigan, you don't just operate a business. It's not merely opening the doors and closing them and counting the till at the end of the day. It's what we can do to make the community better."

Palette Bistro is located at 321 Bay St. in Petoskey, serving lunch and dinner daily, as well as Saturday and Sunday brunch. Happy hour daily from 4pm to 6:30pm, with 40 percent off small plates and discounts on specialty beverages. For restaurant hours and more information, call (231) 348-3321 or visit www.palettebistropetoskey.com. [Note: Between 3pm and 4pm, while the kitchen is changing over from lunch to dinner service, only a very limited menu is available.]

WINE DINNERS
"Wine is very high on the Palette priority list, and because the menu is Mediterranean-inspired, we are obviously very Old World-focused in our wine program, carrying a lot of bottles from Italy, France, and Spain," said Peterson, "but great wines from Napa Valley and other well-recognized American wine-growing areas, including Northern Michigan, are also represented." Wine dinners are held monthly at Palette from fall through spring. On Sept. 25, the event will feature wines from the Russian River Valley winery En Route, as well as Napa Valley wineries Far Niente and Nickel & Nickel, paired with a five-course gourmet meal. Find more information and availability for this and upcoming wine dinners on the Events Calendar at www.wineguysgroup.com.

Outdoor Autumn Dining
Two stories of dining spaces make Palette's warm and welcoming interior not only versatile for various needs, but also provide more tables with a view. As for the exterior, last year, a major renovation of the large upper deck has extended the outside seating season to fall. Infrared heaters and fans were installed, as was a new louvred roof that can be electronically opened and closed to control sunlight and keep out rain.

Meant to Be
Before Palette, another restaurant occupied the building — Andante. Peterson has a unique connection to both. "I'm originally from Detroit. My family had cottages on Lake Charlevoix, and we used to come Up North every summer. I was in Petoskey on my 21st birthday, and I came into Andante to have a glass of wine. The maître d' at the time was a gentleman named Eric Bjorkman. I ordered my first glass of wine from him, and I still remember that it was a Champalou Vouvray — that was his recommendation. So here I am, 34 years later, and Eric is now my rep for Great Lakes Wine & Spirits. I'm still ordering wine from him in this restaurant!"

Trending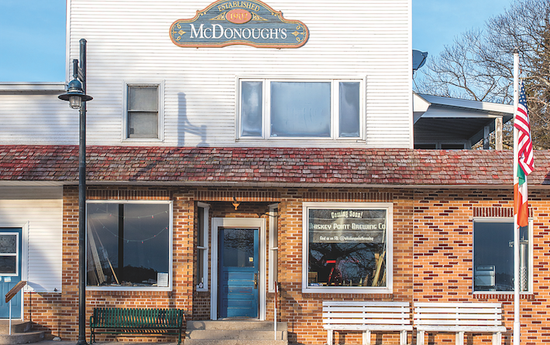 Welcome to Michigan's Most Remote Brewery
After years of planning and honing his beer-making skills, this spring, Patrick McGinnity plans to open Beaver Island&rsqu...
Read More >>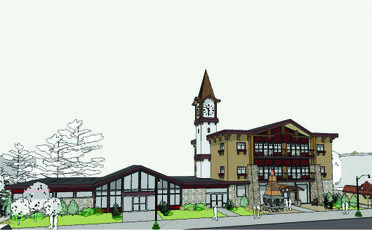 Gaylord: A boomtown Up North
Gaylord native Gary Scott had moved to Indiana, where he and some partners started a business to invest in distressed prop...
Read More >>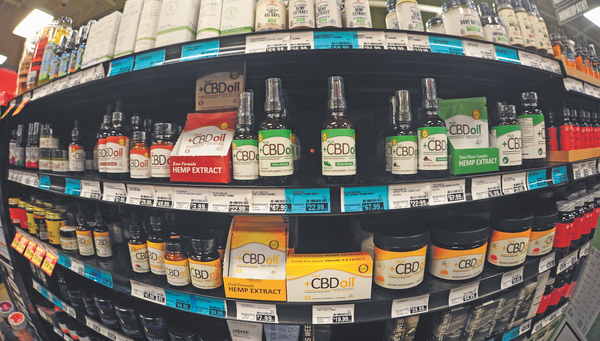 CBD Laws: Dazed and Confused
The sign outside of Family Video in Kalkaska lets drivers know the store has more than just movies. The sign reads: &...
Read More >>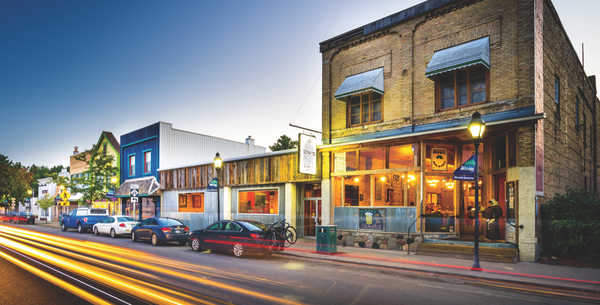 Small Up North Towns on the Rise
Spotlight on Bellaire (pictured)Seems Traverse City isn't the only place in the region making those "Best...
Read More >>
↑