Raduno
Traverse City's European-style gathering place
When they first met several years ago, Janene Silverman and Andrea Deibler could not have imagined how their very different lives, in places thousands of miles apart, would someday converge through their love of food and community. Through they didn't discover it until much later, they had a common dream — one that came true in July 2017 with the opening of Raduno, their European-style delicatessen and café in Traverse City,where they now invite their customers to "Gather and Eat."

Chef/butcher Andrea Deibler (pictured above, on right) and chef/baker/pasta maker Janene Silverman (above, left) are both strong, smart, funny, independent women who were inspired early in life to pursue their culinary passions, taking some unconventional paths along the way.

ALL ROADS LEAD TO TC
California native Silverman is a graduate of the Culinary Institute of America in Napa Valley, an intrepid world traveler, and a former Italian restaurant owner. On her fifth trip to Italy — this time to the Piedmont region to further hone her pasta skills — she met her future husband, Beppe Canavero, and ended up staying 20 years, all the while continuing to delve into the finer points of Italian cookery.

"After our daughter was born, we came to Michigan every summer to visit my parents, who had a vacation home in Omena," said Silverman, and I would teach cooking classes and work in area restaurants while we were there. Andrea and I met years ago when we were both employed at the same farm-to-table restaurant in Suttons Bay. Then in 2016, my husband and I decided to move to Traverse City permanently to be closer to my family."

Deibler, who hails from Kansas City, Missouri, graduated with a degree in English from the University of Missouri but shortly thereafter changed gears and enrolled in culinary school. After earning her chef's credentials and gaining some experience in the fine dining arena, the former vegetarian decided to specialize in whole-animal butchery — which is not as paradoxical as it sounds, since she had always respected farm animals and believed that they should be raised responsibly and treated humanely.
Wanting to learn from the best, she moved to Chicago and apprenticed without pay under legendary nose-to-tail butcher Rob Levitt at Mado. Charcuterie and butchery positions at a prominent Windy City deli and gastro pub followed. During that time, Deibler met herfuture husband, Michigander Ben Miller, and the couple eventually settled in Traverse City — right around the same time Silverman and her family had relocated there. And with their mutual culinary connections, it wasn't long before the two chefs reconnected.

GREAT MINDS …
In Italy, Silverman had become enamored with the local food culture, which embraced the neighborhood gastronomia (a deli-like establishment selling freshly made and prepared foods), pastificio(a pasta shop with various types of freshly made pasta and sauces), and macelleria, (butcher shop). "That's what I wanted to do here," said Silverman, "but all in one place. And it turned out that Andrea had the same idea. That's when we knew we would do it together."

The name Raduno, which was Beppe's idea, means "a gathering," Silverman explained. "It could be gathering your food, a gathering of friends, a gathering of ingredients — it just seemed like a good match for what our vision was." She and Deibler also wanted to be part of a neighborhood.
"The crazy thing is that, for a long time, I'd been telling Ric at Bon Vin [an Eighth Street wine shop] that I'd like to open up something next to him," she said. "Later I learned that Andrea had been telling him the same thing for quite a while! And then, just when we needed it, this space just a few steps from Bon Vin became available. It seemed like it was all meant to be."
Their neighbors and the community at large have made them feel welcome from the start, said Deibler. "The support has been great — our customers are really wonderful people. Those who live downtown walk or bike here, and for those who have to drive, we have plenty of free parking."

PASTA MANIA
"I can't remember when I wasn't making and cooking pasta," said Silverman. "I've just always loved doing it." She offers four to five types of fresh pasta daily on Raduno's rotating menu and in its take-out deli case, as well as at least two house-made sauces. A recent menu listed tagliatelle (with classic tomato sauce), rigatoni (with pork ragu), lasagna (with beef ragu, béchamel and parmesan) and potato gnocchi (with gorgonzola cream sauce). The deli case might contain fresh ravioli (with varying fillings), fettuccini, bucatini and pappardelle, or a fanciful extruded pasta like creste di gallo (ribbed macaroni-shaped with a cockscomb ridge). Gluten-free pasta is also an option.

When she's not up to her elbows in pasta, Silverman also loves making desserts, pastries and breads (she does the ciabatta for the menu sandwiches). Recent pastry offerings included cream cheese and sour cream-crust turnovers filled with apple butter, a pistachio and orange tart, and oatmeal-white chocolate cookies. Her dense, rich dark chocolate torte is a customer favorite.

Taking advantage of the region's rich food sources, Deibler buys her beef and pork from Hampel Farms, chicken from Double L Farm, lamb from Sweetgrass Farms and rabbit through Cherry Capital Foods. "But my butchering and charcuterie-making occupies only about 10 percent of my time now," she said. "Our menu isn't only about meat. In fact, most of the things that we make are very vegetarian friendly."
Like Silverman, Deibler also loves other types of cooking. "While I of course like making the sausages and hams and pates, that's more like baking, because there is a recipe, and you can't really stray from it," she said. "So I really enjoy making things like stews, pot pies, and salads, because I can get creative. And our customers trust us, so we pretty much have the freedom to do whatever we want to do."

SPOILED FOR CHOICE
Raduno's deli case almost always offers four salads. Chock full of vegetables and greens from Leelanau Peninsula's Loma Farm, these are healthy, hearty dishes, like gigante bean salad (with kale), fingerling potato salad (with radicchio, scallions and capers), and roasted parsnip salad (with pine nuts, balsamic and mint). Deibler also provides a selection of three different kinds of fresh sausage (such as bratwurst, andouille and Italian), as well as meatballs, one or two pates, and her irresistible chicken liver mousse (mild, intensely flavorful, and smooth as silk).

Best-sellers from the menu include the butcher's lunch (a showcase of Andrea's talent), the Cuban sandwich (house-smoked ham, pickles, melted Gruyere and Dijon aioli on house-made ciabatta), the deli salad trio (choice of three salads from the deli case, served with fresh bread), and, of course, the pasta dishes, especially the variations on tagliatelle and rigatoni.

"We really emphasize being fresh and wholesome, and as organic as possible," said Deibler, "and Janene and I work the line every day. A lot of thought, care, skill and labor goes into our food. Even with a sandwich, the meat has been smoked here, the bread has been made that morning, the peppers have been pickled, and the aioli is made to order." The bond between the two women is obvious. "It has turned out really well partnering with Andrea," said Silverman. "She's wonderful to work with." To which Deibler added, "I trust Janene completely, and she trusts me."

Raduno is located at 545 E. Eighth St. in Traverse City. Open 11am–7pm Monday through Saturday. Note: Raduno, closed for a brief winter break, reopens Jan. 10. (231) 421-1218, www.radunotc.com.

WATCH FOR IT!
Raduno hosts special dinners and cooking classes throughout the winter. A pasta-making class by Silverman and a sausage-making class by Deibler are already in the works, as is a cookbook dinner series. And already in its fifth season, Soup + Bread, is held on the second Monday of the month, October through April, from 6 to 8pm at The Little Fleet. Area chefs offer their own soup creations, Common Good Bakery supplies the bread, and the money donated by those who attend goes to a different local charity every time. In the past, the event has benefitted such regional organizations as Safe Harbor, Crosshatch, Up North Pride and Northwest Michigan Ballet, among others. Watch Raduno's website for updates and additions to the event calendar.

HOT DEAL
Baby, it's cold outside, but here are two more good reasons to bundle up during the winter months and get yourself, your family and your friends over to Raduno for some serious comfort food: Fried Chicken Fridays, from 5pm to 7pm, where just $15 gets you a plate of fried chicken, greens, beans and a biscuit. And family-style Pasta Happy Hour, Monday through Saturday (year-round) from 4 to 7pm, where $13 buys a choice of two featured pasta dishes, a green salad, bread and garlic butter. Bring the kids, too – anyone six and under eats free.

Summer SOS!
City's Eighth Street will shut down in July for three months of reconstruction — the busiest time of the year for Raduno and other businesses in that corridor. "We're going to need the support of everybody in this community to get through that," says Silverman. "We won't be closed – we'll be here, and you can still get into the parking lot from the east side off Franklin Street."
Trending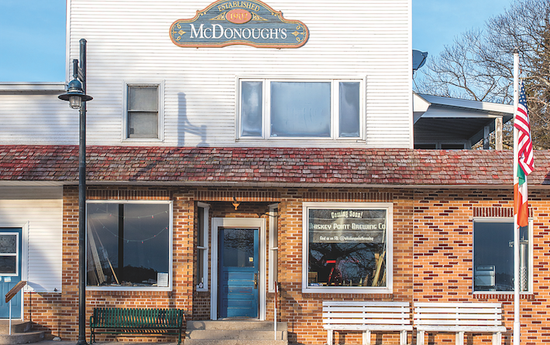 Welcome to Michigan's Most Remote Brewery
After years of planning and honing his beer-making skills, this spring, Patrick McGinnity plans to open Beaver Island&rsqu...
Read More >>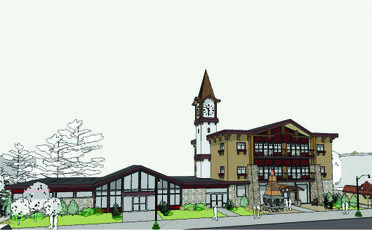 Gaylord: A boomtown Up North
Gaylord native Gary Scott had moved to Indiana, where he and some partners started a business to invest in distressed prop...
Read More >>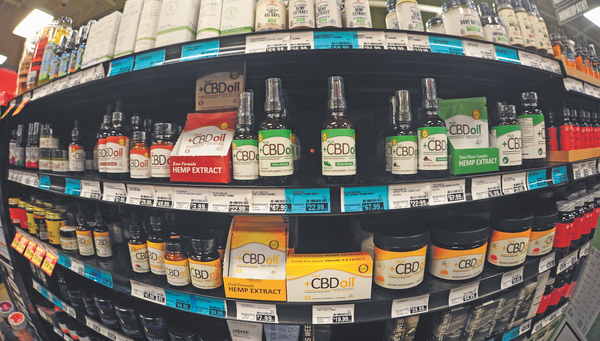 CBD Laws: Dazed and Confused
The sign outside of Family Video in Kalkaska lets drivers know the store has more than just movies. The sign reads: &...
Read More >>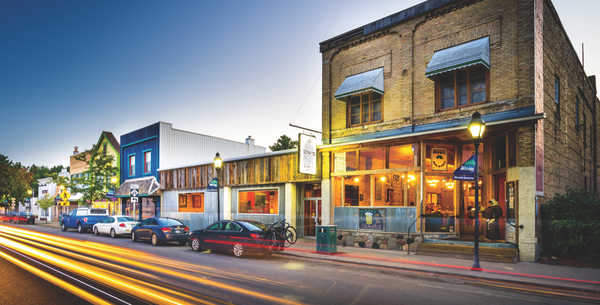 Small Up North Towns on the Rise
Spotlight on Bellaire (pictured)Seems Traverse City isn't the only place in the region making those "Best...
Read More >>
↑