Resolution Dining: Vegetarian Dishes & Dry January Drinks in TC
Eat clean and live well in 2023
We all know the benefits of a plant-based diet—it's good for us and good for the planet. But just how hard is it to make that transition to a new way of eating and experiencing food?
Thankfully, going vegetarian or vegan in Traverse City is getting easier and tastier all the time. Northern Express has compiled a short list of eateries and watering holes to help you get started, whether you're ready to go cold-turkey (cold-tofurkey, in vegan parlance) or whether you want to start slow with a meatless Monday in the new year. Here's to good food and good health!
Taproot Cider House
taproottc.com, (231) 943-2500, 300 E. Front St. #104
Taproot Cider House is "rooted in community," and they mean it: Go there once, and you'll feel like a regular. And, while Taproot's menu has something for everyone, including kids, it is also THE place to embrace a plant-based diet. The knowledgeable staff will help you choose dishes specifically created for certain dietary requirements, whether gluten-free, vegan, or vegetarian.
Try the Yogi Bowl, combining organic brown basmati rice with tomato-based masala chickpeas, kale, snap peas, herbal green shawarma sauce, garlicky toum, and sumac salt. The Grilled Cheese with smoked gouda, tomato aioli, power seeds, pickled jalapeño, kale, and red onion sounds too good to pass up. Or choose the Spaghetti Squash Pesto featuring grilled tomato and onion, roasted red peppers, kalamata olives, fresh basil, and toasted pine nuts.
Hexenbelle
hexenbelle.square.site, (231) 486-6128, WarehouseMRKT, 144 Hall St., Suite 107
An enthusiastic Facebook review about Hexenbelle says it all: "I'm not a vegetarian, but I am a foodie." In other words, Hexenbelle is for anyone who relishes great food, with lively flavors, cleanly sourced, and packed with nutrition. This is international vegetarian comfort food, enhanced by the chef's Palestinian heritage. Find breakfast and lunch, plus weekly dinner specials.
We like the Ful Mudammas, a favorite with smashed fava beans, tahini, fried egg, and herbs. Or try the Palestinian Rice Bowl: vermicelli rice with ghee, Kofta lentils, cucumber, sumac pickled onions, and labneh. Pastry lovers rejoice: Hexenbelle is also a great source for healthy baked treats, including Peanut Butter Tahini cookies, and doughnuts—Maple Sesame for example, or the gorgeous Pomegranate Rose Pistachio, almost too pretty to eat.
Zest Plant-Based Kitchen
zesttc.com, (231) 421-3141, 439 E. Front St.
Talk about presentation! Everything on the menu is gorgeous to look at, full of color (aka vitamins and nutrients), and truly mouthwatering. Zest's husband and wife team are passionate about plant-based eating and the health benefits that go with it, so if you are ready to go thoroughly vegan and gluten-free with minimally processed, whole-plant-based dishes, this is the place. You'll find a great selection of toasts, bowls, handhelds, salads, and wraps, plus a smoothie for every day of the week.
One item that caught our eye was The Set-Up, a flavorful take on avocado toast with cashew cream cheese, everything seasoning, red pepper flakes, nutritional yeast, sliced tomatoes, hemp seeds, microgreens, and pickled onions. Or try the Bollywood Burrito: turmeric tofu scramble, house-made root vegetable hash, black beans, spinach, cilantro, avocado, salsa, pickled onions, and warming spices served in a tortilla. For a quick to-go, try the Samosas, Zest's version of Indian street food: fried pastries filled with savory fillings and spices. And for variety, Zest features a weekly soup choice, plus a weekly authentic Indian dish.
Rare Bird Brewpub
rarebirdbrewpub.com, (231) 943-2053, 229 Lake Ave
Rare Bird earns high marks for both its brews and its food. This is elevated pub fare with plenty of meatless options, including a special menu for the gluten-free and vegan crowd. It's the perfect spot to go with friends who are at different stages of their vegetarian journey.
The Hummus Board is a meal in itself, with roasted red pepper hummus, veggies, and homemade tortilla chips. The Buddha Bowl is a generous helping of quinoa, roasted red peppers, red onion, cucumber, fresh greens, hummus, and cotija cheese. Meatless Monday specials include a Vegan Cheeseburger with all the fixings; Spicy Cauliflower Tacos with tempura fried cauliflower, sriracha aioli, candied jalapeños, pickled cabbage, and green onion; or a Grilled Three-Cheese sandwich with homemade apple butter and caramelized onions on French peasant bread.
Dry January
A month with no booze…it's less difficult than it sounds, especially when you can have your pick of delicious non-alcoholic beverages around town. Nowadays, most bars will have mocktails on the menu, but we were especially impressed by the offerings of these two spots when it comes to creative and delicious drinks for Dry January and their plant-based menus.
The Coin Slot
thecoinslottc.com, (231) 642-5661, 346 E. Front St.
The Coin Slot is the place for vintage arcade games, pinball machines, and pool that serves up a fun helping of generational nostalgia. It sports a huge collection (200+) of canned drinks with enough flavorful non-alcohol choices to keep gamers sticking to their resolutions.
We love all the Faygo selections from Cola to Rock & Rye, plus Barritt's Ginger Beer, Walker Brothers Cucumber Melon Kombucha, NA IPA, and the Liquid Death collection of sparkling waters. Also find CBD-infused drinks, including Marz Juniper Fizz CBD Elixir and Oh Hi Pomegranate CBD Sparkling Seltzer, alongside hop water options from folks like Short's Brewing Company. Glizzy's, the in-house food vendor, has gluten-free and vegan eats.
Brew Coffeehouse and Cafe
brewtc.com, (231) 946-2739, 108 E. Front St.
Brew has a full complement of brews, spirits, and wines, but you can belly up to the bar with a choice from their large selection of brewed coffees and teas, plus kombucha, smoothies, and mocktails.
We especially like the coffee vibe, with its Grand Rapids-based Madcap coffees, responsibly sourced from the finest growers in the world and roasted in small batches right here in Michigan. This is a coffee experience that invites the same attention one would give to a fine vintage wine: the aroma and the notes, the flavor and the finish. Madcap is serious coffee, and that's why people love it. Try the BOLT Blend with deep chocolate notes and a syrupy feel in the mouth or the Eureka, redolent of black cherry, chocolate, and orange zest. All this, plus plenty of meatless menu items, helps you keep those resolutions.
Photo by Vitor Monthay on Unsplash
Trending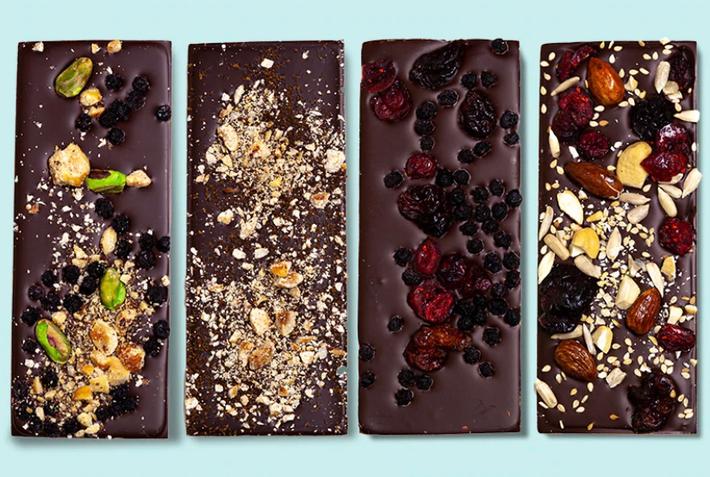 Curated Chocolate Pairings
Valentine's Day is approaching, and that has us thinking about our very favorite food: chocolate. We like it in drin...
Read More >>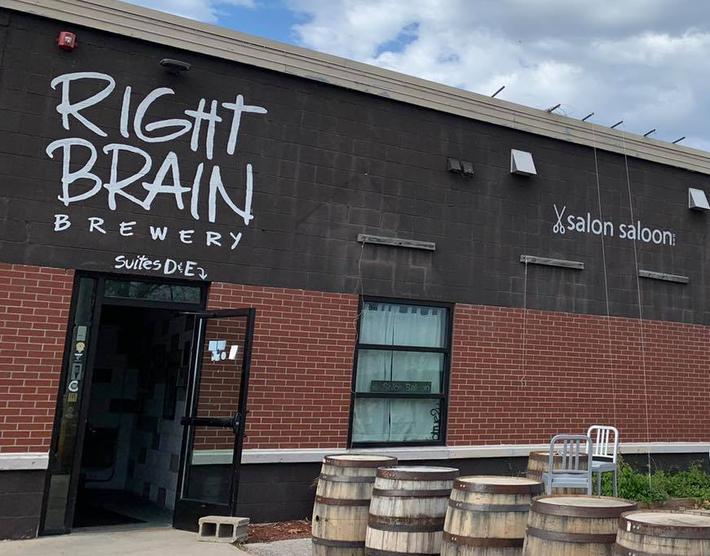 15 Years of Right Brain Beers
It's been 15 years since Right Brain Brewery of Traverse City opened their doors to bring you creative, sometimes za...
Read More >>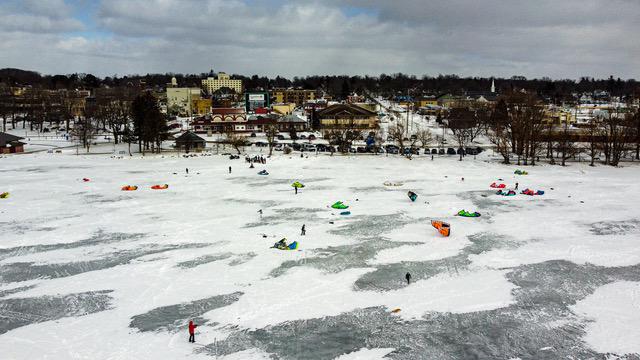 Flying Through the Snow
Leave the daily grind and head to a winter wonderland at the Midwest Snowkite Jam at Lake Cadillac Resort. Friday, Feb. 3,...
Read More >>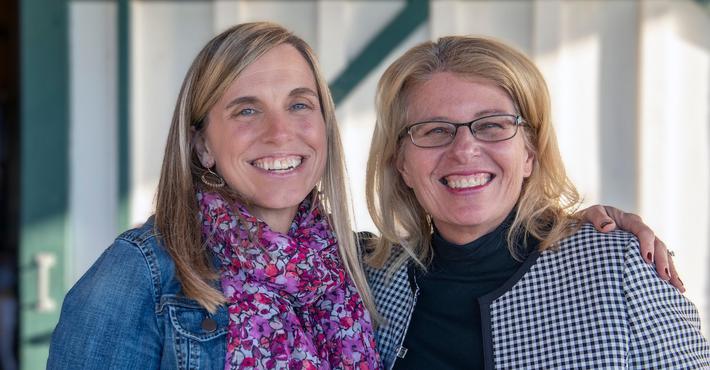 Wing Women: Beside Every Great Woman Is Another Great Woman
Friends. Mentors. Colleagues. Sisters, moms, and cousins. No woman is an island, and this week we're celebrating the...
Read More >>