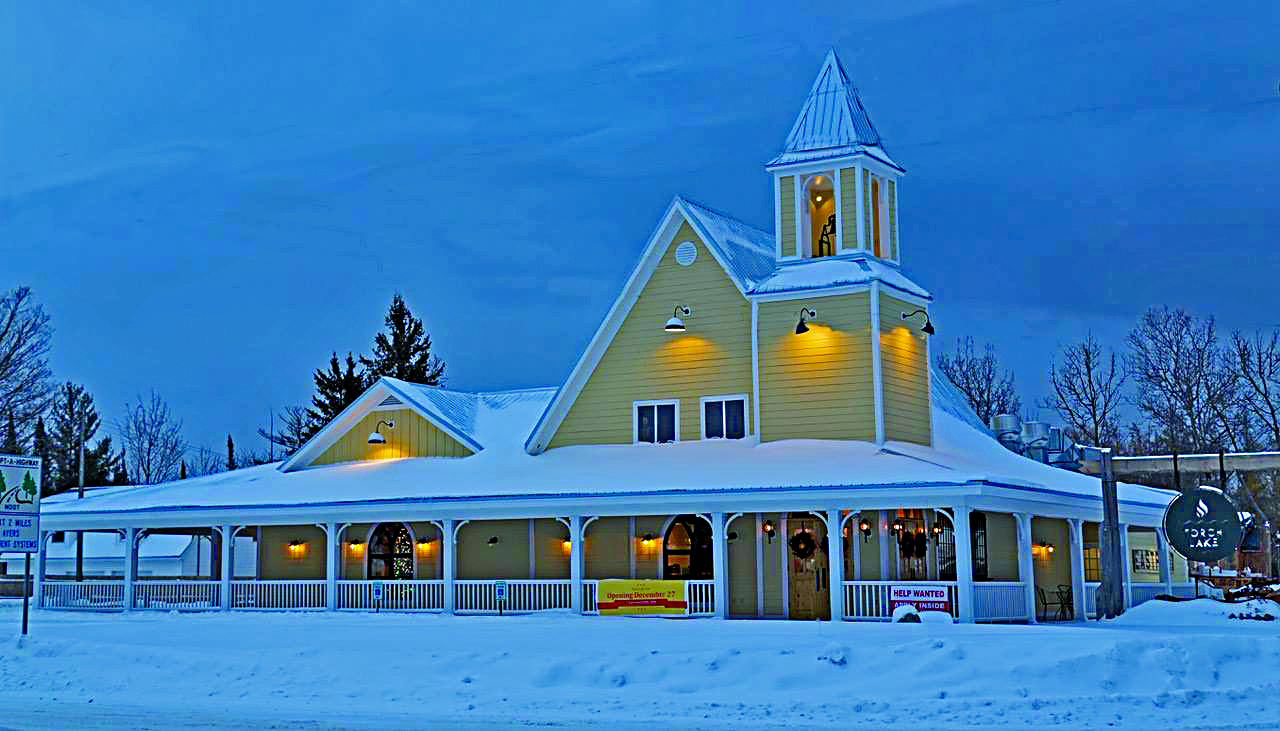 Rockin' Eats at the Torch Lake Cafe
The building that houses the Torch Lake Cafe has a long history. According to owner Leanna Collins, it was a church back in the 1800s. When she and her husband, Jim Hettinger, bought the building, they decided to restore it to its former glory.

"We put a porch on it and put the steeple and a bell back on," Collins said. "When I first saw it, it was just a funky old bar. And it's always been a roadhouse bar of some kind or other."

Collins has an intriguing history of her own. She's not just the owner of the restaurant; she's also the house musician.
FOOD AND FOLK
"We moved north from to Torch Lake back in 1972, when my parents split up," Collins said. "I was 15 years old. My mom got a job as a bartender, and I got a job flipping burgers."

At 15, Collins was also already a guitar player and singer; her favorite music was by folk artists like Joni Mitchell, Bob Dylan, and Crosby Stills and Nash.

"Everybody back then had a folk guitar, so you were always sitting around playing music with your friends," she said.

By the time she was 21, she'd started playing professionally. She joined a '70-style folk-rock band and worked at the resorts, eventually finding her way onto the stage.
"I was a Honeybee at Brownwood!" Collins said. "They were kind of like a Young Americans-style performing show group. I got to sing with a lot of really cool people."
MEETING ROD
Collins eventually moved to Key West, Florida, where she went for a gig and ended up staying. She both worked as a singer/player for hire, and traveled around with her music, opening for the likes of Rory Block and '80s band The Thompson Twins, often winding up her tours by heading back up to Michigan.

Which is where Collins' most "famous" photo comes in.

"I happened to be back in Torch Lake for the summer, and I was playing a gig at a bar here called Molly Malone's," Collins said.

Rod Stewart and his band had just played a show at Castle Farms and were driving by when they saw Molly Malone's "Guinness on Tap" sign. After one of the bandmates went in and checked out the place, Rod and his whole entourage came in.

"They asked to have some food cooked for them, and they ended up staying really late," Collins said. "I ended up playing probably every song I knew! I didn't even stop for a break. I was really star-struck, and Rod was so sweet. He and his band sang along with every single song, and later in the night they brought in a trumpet and some percussion instruments."

At the end of that night, Stewart took off his captain's hat and passed it around the bar, collecting $240 in tips for Collins.

"I couldn't believe he did that for me," she said. "They were all such adorable men."
SUSTENANCE AND SOUND
Collins returned to Key West, where she met and married her husband. They briefly moved to North Carolina for Hettinger's computer software company; and then, when their daughter got into Interlochen in 2000, they moved North for good — right back to Collins' old stomping grounds: Torch Lake.
In 2013, the couple decided to get into the restaurant business. They leased the former Sonny's Market on US-31 and set about opening the first version of Torch Lake Cafe. They lost the lease for that building, but kept the name, transferring it to their current location.
Her vision for the cafe was simple: sustenance and sound.

"Well ­— to be honest, my husband was the one looking after the food," Collins said. "Mine was all about the music! We wanted to provide breakfast, lunch, dinner — and music!"

SOMETHING FOR EVERYONE
They chose Americana as their cuisine of choice, aiming to use as many local ingredients as possible. "And all that can be homemade, is homemade," Collins said.

"We've got good, consistent comfort food, soups, wonderful salads, great vegetarian dishes, everyone loves our ribs. And we always have fresh fish year-round. Everyone can find something on our menu."
Breakfasts include their French toast, made with Stone House cherry walnut bread and vanilla cinnamon sauce; homemade biscuits with Plath's sausage gravy; and egg-white omelets with onions, mushrooms, and tomatoes.
For lunch, share-worthy plates abound: Naked Chicken Wings with your choice of sauce; the John Cross Fisheries smoked-fish trio, featuring salmon, whitefish, and trout dips with toasted baguette; meatballs alla potenza on a bed of San Marzano marinara; or roasted vegetable flatbreads with creamy garlic sauce, plus wraps and sandwiches.
At dinner, diners can choose from hearty fare like Ebel's smoked half-chicken with homemade BBQ sauce and two sides; lightly seasoned and grilled Norwegian salmon; or linguini and farm fresh vegetables tossed with garlic, butter, and white wine.
ROCK AND SOUL
And of course, you can't forget the music. Collins' own band, Torch Lake Rock and Soul, perform on Thursdays, Fridays, and Saturdays (Thursdays are also open mic night.) Collins also brings in other bands and musicians for special occasions.

"Even for just busy weekends, or if I happen to run across someone who's really good," she said.

The cafe features solo players on Mondays, Tuesdays, and Wednesdays; in the summer, it features more singles, duos, and trios on the outside porch.

"And this year, starting December 19, we're going to have the Pine River Jazz Band here for one Sunday a month in the afternoons, from 2 to 5 pm," Collins said.
While Collins said the food is great, she believes it's the music that truly draws people in to the Torch Lake Cafe.

"There's no live music like what we're doing for 50 miles around," she said. "We have excellent players, and we're here every night. I grew up in a time when there was music everywhere around here, all the time — Eastport, Central Lake, Bellaire — people used to go out and dance and socialize, but it's just not happening so much anymore. So I'm trying to provide that."

The Torch Lake Café, open daily, is located at 4990 US-31 N. in Central Lake (corner of US-31 N. and M-88). (231) 599-1111 or torchlakecafe.com.
Trending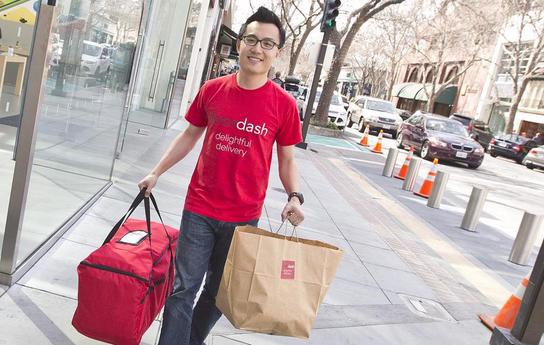 Could Delivery Save NoMi Eateries?
What was once the exclusive province of pizza and sandwich joints has become a means for some restaurants to thrive. But e...
Read More >>
What You Are Voting For?
After voting straight Republican for 36 years, from 1971 through 2007, I have been an Independent since 2008, studying and...
Read More >>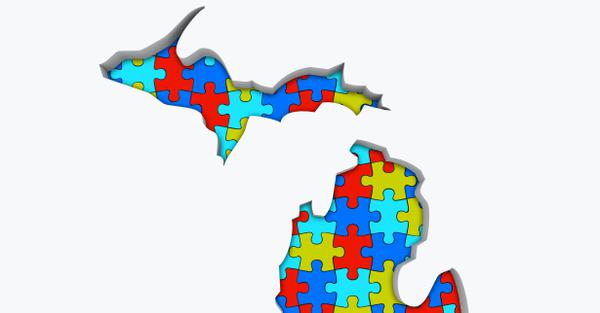 The Democracy Lottery
Mary Burget, a retired Northwest Michigan College math instructor, thought her math skills might be useful in redrawing Mi...
Read More >>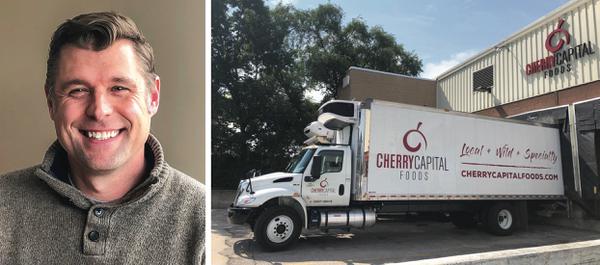 Forged In Fire
As the new managing director for Traverse City's Tamarack Holdings, Michael Lahti is helping to lead a company that ...
Read More >>
↑