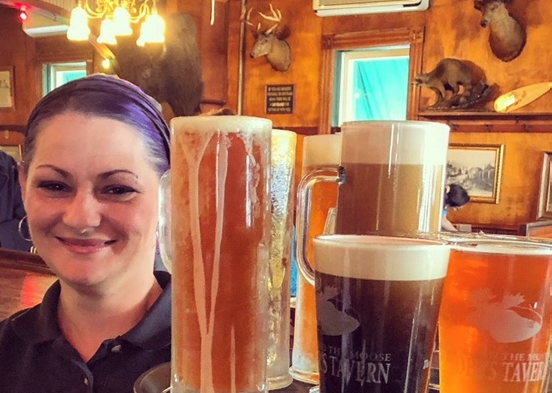 Sleder's Family Tavern
TC's Slabtown Stalwart
How can you not love a place "where people have come for over a hundred years to eat, drink beer, tell lies and kiss the moose"? Sleder's Family Tavern — the oldest continually operating restaurant in Michigan — not only has a sense of humor but also a strong sense of community, offering up a unique piece of Traverse City history, scratch-made food, and a casual, laid-back atmosphere that has earned it a loyal following among both locals and visitors.

When Vencil Sleder, a Bohemian immigrant, came to Traverse City in the late 19th century — probably by train, since rail service had just established 10 years prior — it was primarily a lumbering town. Back then, the waterfront on West Bay that now boasts beautiful beaches and parks was dotted with a motley collection of sawmills, stables, warehouses, and steamer docks. Vencil settled in nearby Slabtown, where many of the lumber workers and their families lived, and in 1882, established Sleder's Family Tavern in that same neighborhood (so named because the houses were built of leftover slabs of wood from the mills). Three generations of the Sleder family ran the restaurant until it was sold to Bob and Sylvia Classens in 1978. In 1992, Brian and Deb Cairns took it over, and in the nearly 30 years since, the Cairns family has been establishing its own legacy at Sleder's.

RANDOLPH AND FRIENDS
"Brian and Deb brought a lot of business experience — not only restaurant experience, but the resort and tourist business — with them when they bought Sleder's," said Chrissine Cairns, a second-generation member of the Cairns clan who manages the website and social media for Sleder's. "My dad has a degree from MSU in hotel and restaurant management, and he actually owned the first burger/fast food franchise in Traverse City, Burger Chef, for about 10 years in the '70s." After that, he became the restaurant manager at the Schuss Mountain in Mancelona, advancing to general manager a year later. Brian and Deb also spent many years as general manager and lodge manager, respectively, at both Crystal Mountain in Thompsonville and Sugar Loaf Mountain in Cedar. "So our family has a lot of history with the restaurant scene in this area," said Cairns. "Dad was president of the restaurant association, and my siblings and I all worked in restaurants growing up — though I ended up going into academics." (She still works remotely, developing Purdue University Global's online resources and website). "But when Dad called about a year ago and asked me, 'Can you do what you do for Purdue for us?' I couldn't resist. It's great being back by my family again."

Cairns said her family's aim from the start was to keep the original spirit of the restaurant intact. "I think the biggest things that have changed is that we got air conditioning and a new moose in 1992 — its lips were falling off." The imposing head of Randolph the Moose occupies a place of honor at the back of the restaurant, with a stepladder close by for anyone who wants to kiss him for luck (the bartender rings a loud bell every time that happens). Taxidermy mounts of game animals line the adjoining walls and have been a part of the décor from the beginning, as old photos confirm. The original stamped-tin ceiling, wood plank floors, and antique light fixtures are also still intact. All in all, it's a delightful time-capsule backdrop for enjoying time-honored food and drink.

SOMETHING FISHY
Thirsty for a quick cold one? Sleder's claims to have "the coldest beer in town." Belly up to the colossal original bar from 1882 — a solid 21-foot piece of mahogany sided with cherrywood and fronted by a brass foot rail — and order a tall, frosty, 22-ounce mug of Sleder's own Cream Ale, made by Right Brain Brewery, or another draft or bottled beer; the selection is huge. Or a creative cocktail. Or a glass of wine, including local vintages. Feel like a bite while you sip? Order from popular starters like jalapeno poppers; fried mozzarella cheese sticks with ranch dressing; deep-fried mushrooms, cauliflower, and onion rings; spicy buffalo shrimp; potato skins or Moose Chips (Randolph's twist on the 'tater,' as the menu announces), which you can get plain, with cheese, or with chili and cheese.

If you're lingering a while for lunch or dinner, seat yourself on an antique ice cream parlor chair at one of the original round oak tables, or settle into one of the just slightly "newer" wooden booths that were added around 1910. "Just like the interior here, the menu hasn't changed that much over the years." said Cairns. "We're not fancy, but you can depend on quality and consistency." Beth Schram, Sleder's general manager and former kitchen manager at Sugar Loaf, is also the kitchen manager and chef. She makes all of the homemade soups (the bean and ham is a customer favorite) and does all of the specials.

One thing that does make the Sleder's menu different is the various preparations they do for fish. The smelt, for example, can be ordered as an appetizer, a basket (with hand-cut fries and coleslaw), or a dinner (with choice of potato, salad or coleslaw or cottage cheese). They also offer a cod or lake perch basket, a cod or perch sandwich, a cod or perch dinner, or — on Friday nights — all you can eat cod and/or smelt. And Cairns emphasizes that the fish is not pre-battered or dusted before cooking — it's all done by hand. But lest you think it's all about fish here, read on.
Sleder's large menu is nothing if not diverse. The house salad is a meal in itself (lettuce, ham or turkey, Swiss cheese, olives and parmesan cheese with garlic and lemon dressing) takes first place in its category, although the steak salad comes in at a close second. Or try one of Sleder's legendary burgers (made with beef or buffalo, ground fresh daily, from Traverse City's Oleson's Farm) and choose from a host of toppings. The top pick on the sandwich list is the Royal Reuben (corned beef with Swiss, sauerkraut, and special dressing on rye). Slabtown ribs (tender oven-roasted and char-broiled baby back pork ribs with Sleder's house-made cherry barbecue sauce) are, hands-down, the favorite dinner choice. And while you might be surprised to find Mexican food on the menu here, you can choose between a "deconstructed" beef, chicken or veggie burrito — a Sleder's original — as well as "super" nachos with the same topping choices. The kids' menu serves up several choices (including a cod filet basket) that include a soft drink fries and an ice cream treat.

WON'T YOU BE MY NEIGHBOR?
Cairns has a lot of respect for the history that preceded her family's role as stewards of Sleder's. "It took Vencil three years to build this place, because the neighbors who were helping him could only work on Sundays, their day off," said Cairns. "What I love from what we know about Vencil is that he built Sleder's so that the people who lived and worked in this neighborhood would have a place to go to relax and enjoy some hearty food and drink. And it's still the same today, though the 'neighborhood' has obviously grown. The whole idea is that families, friends, and businesspeople can all gather here and feel like they belong. I see it as a place where people create friendships, but also partnerships." Looking around the dining room on a busy Friday night, one can tell that Sleder's is a place local return to again and again, sometimes generations of them. "I don't think people come here just for the food — although the food is very good!" said Cairns. "I think people also come for the experience, for the fun and for the history — there's something special about it."

Brian and Deb Cairns were very hands-on in the beginning, but they live in Alabama most of the time now. Chrissine Cairns, her stepbrother Ryan and his wife, Megan, are the three family members who are really involved in Sleder's day-to-day operations now. And just as it was with the founding Sleder family, Cairns said she expects that the restaurant will continue to stay in her family for a few more generations. "We've all been groomed for it," she said. "And we love it."

Sleder's Family Tavern is located at 717 Randolph St. in Traverse City. Open seven days a week from 11 a.m. for lunch and dinner (dinner service begins at 5pm). (231) 947-9213, www.sleders.com

MUSIC IN THE AIR
Sleder's "On the Porch" is a monthly musical showcase during the winter that features nationally recognized performers who write, sing and perform their own material in an intimate, club-type atmosphere with table service for drinks and dining. Brian and Deb Cairns started the concert series 20 years ago. "It's just their thing," said Chrissine Cairns. "They love music, and they love helping musicians — they've just always believed in it. They even go to the singer-songwriter conference in Key West every year."

Coming up:
· March 31, 4pm: Bill Staines, a folk and country singer/songwriter from New England who will be making his 25thannual performance at Sleder's
· April 7, 7pm: Peter Mulvey, a former Dublin busker who now resides in Boston and tours nationally
· May 12 (Mother's Day): All-female band Stella from Ann Arbor

COMMUNITY OUTREACH
The Cairns are passionate about giving back to their community. For Sleder's 125thand 130thbirthday celebrations, they held fundraisers and donated all of the proceeds to charity. Every Christmas, they also sponsor families in need. And over the years, Sleder's has also raised over $50,000 for the Traverse City Hickory Hills ski area. "Having been connected with three of the region's ski resorts, the whole family is big into skiing," said Chrissine Cairns, "and we want to help other people enjoy our sport!"







Trending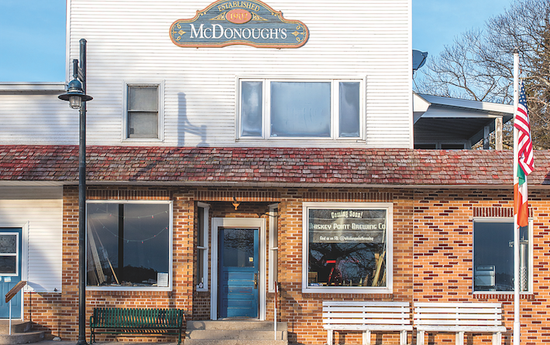 Welcome to Michigan's Most Remote Brewery
After years of planning and honing his beer-making skills, this spring, Patrick McGinnity plans to open Beaver Island&rsqu...
Read More >>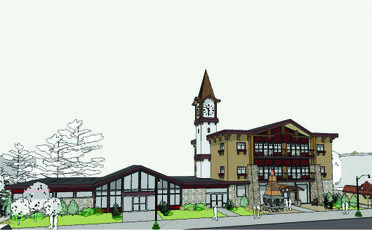 Gaylord: A boomtown Up North
Gaylord native Gary Scott had moved to Indiana, where he and some partners started a business to invest in distressed prop...
Read More >>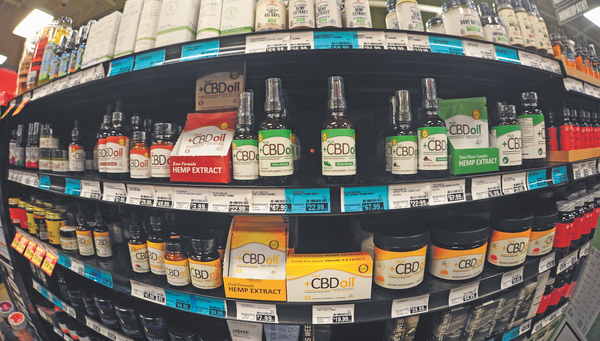 CBD Laws: Dazed and Confused
The sign outside of Family Video in Kalkaska lets drivers know the store has more than just movies. The sign reads: &...
Read More >>
The North's New Sex Ed
What should a modern sexual education curriculum look like? How much should teachers tell kids about sex in a school envir...
Read More >>
↑