Smoke & Fire: BBQ 101
Tips and Insights from the Pros
Barbecue is cooking at its most elemental, dating back to early humans' discovery of fire. It's something people all over the world have in common, from the Far East to the Middle East, from the South Pacific to South America, from Asia to Africa, and of course right here in the USA. As a quote from the late, great Anthony Bourdain reads: "BBQ might not be the road to world peace, but it's a start." Northern Express talked with some of the best BBQ experts in northern Michigan to get their insights into the art and science of BBQ: Chef Bob Rodriguez from the Great Lakes Culinary Institute (GLCI) in Traverse City, Adam Kline from Pigs Eatin' Ribs in Charlevoix, Edward Perkola from Ray's BBQ, Brews and Blues in Gaylord, Kellen Moore from the Iron Pig Smokehouse in Gaylord, and Dean Sparks from Sparks BBQ in Traverse City.
Although there are far too many variations to justify one simple definition, BBQ can loosely be described as cooking something — usually a protein like meat or fish — low and slow over indirect heat, usually with some smoke. This is in contrast to grilling, which means cooking something — almost any food — quickly over moderate to high heat, with little or no smoke. Are you ready to up your BBQ game? Read on to learn from the masters — pitmasters, that is!
JUST THEIR STYLE
Northern Express: BBQ styles are as diverse as the people and places behind them. What's yours?
Kline: Southern style, but we mix it up a bit. Our brisket is definitely Texas style — just salt, pepper, smoke and time. Our BBQ ribs and pulled pork are St. Louis-style: dry rubbed and then smoked. We sauce only if the guest asks — otherwise they're served dry. Our half-chickens and whole wings are smoked, then crisped in the fryer, and served with either Alabama white or Nashville hot sauce.
Moore: A little bit of everything, which is kind of like Kansas City style, an amalgamation of regional flavors. We do Texas-style brisket, and our pork is a little bit more Carolina-inspired, with a sauce that mixes sweet and savory.
Perkola: Texas style. The seasoning is mostly just salt and pepper, especially for brisket. Let the meat speak for itself.
Sparks: Southern-style authentic pit BBQ
Rodriguez: I like North Carolina style, a little bit on the vinegary side or a cross between that and Kansas City style, because I like the sweetness, too. Sweet and sour are really complementary.
MAKING THE CUT
NE: What are the best cuts for BBQ?
Perkola: At Ray's, we do a giant beef plate rib that's almost as long as your forearm and weighs in at about 1½ pounds after smoking. It's fun to do and fun to eat. Pork shoulder is always a go-to. And as far as fish goes, a smoked salmon or smoked trout is good. And I am very partial to brisket because of the flavor that's in there, the kind of cuts I get from it, and the beautiful way it looks on a plate. But that may be the hardest kind of meat to get right, as far as smoking goes.
Kline: Brisket is easy to mess up, and it's an expensive cut of meat, so I would only recommend that if your comfort level with BBQ is high. If it's lower, go with ribs — everybody's got "the world's best rib recipe." And chicken is easy to play around with – whole or half chickens, beer can chicken, even chicken breast.
Moore: We do a lot of chicken (legs, thighs and wings), sausage, ribs, salmon, brisket and corned beef in our smoker. Customers say our corned beef Reuben is the best they've ever tasted.
Rodriguez: You can BBQ almost anything, but pork is the king of BBQ, because of its moisture (fat) content, and also because its taste is neutral, it works with a lot of different spices and flavors. It's easy to cook, too.
Sparks: If budget is not a concern, beef ribs and brisket, if done right, are the best. But you can BBQ almost anything — chuck roast, meat loaf, you name it.
SMOKIN' (OR NOT)
NE: Is smoke a must for BBQ?
Kline: Not at home. A backyard BBQ should be about having a good time with friends and family — maybe around a grill — drinking your beverage of choice, and sharing something to eat. Smoke is always a bonus, of course, as is cooking with real wood or real hardwood charcoal.
Moore: I think so, yes. We use cherrywood for everything. It has to be a hardwood, to burn low and slow.
Rodriguez: In my opinion, no. A lot of people who like BBQ don't like a lot of smoke, so it can be done with gas, charcoal, or even in the oven, as long as you do it with indirect heat.
Sparks: If I can't taste smoke, it's not BBQ for me.
Perkola: For us, as a smokehouse, smoke is a must — everything we do is kind of centered around that. The long smoking process allows you to take tough pieces of meat and make them tender by relaxing the connective tissue and letting it melt and flow back into the meat to make it juicy.
CHOOSING SIDES
NE: What are the best accompaniments for BBQ meats and fish?
Kline: My grandma's potato salad recipe, baked beans, coleslaw, and cornbread
Sparks: We're partial to mac 'n' cheese, coleslaw, and Grandma's baked beans
Moore: Quick pickled cukes and onions are a great palate cleanser for rich BBQ.
Rodriguez: Slaw — that's the best. I love a good slaw with pulled pork.
Perkola: For a backyard BBQ, it's classic homemade picnic fare — a good coleslaw, bread or biscuits, mac 'n' cheese, baked beans, even your aunt's surprise Jell-O dish!
INSIDER TIPS:
NE: Any quick tricks of the trade?
Rodriguez: Make sure your meat is dry before you cook it. With chicken, you should wash it first, then dry well with paper towels, and refrigerate it uncovered overnight so it can form a pellicle.
Perkola: Let the meat rest for several minutes after cooking. Otherwise, when you cut into it, all of the juices just run out instead of flowing back up into the meat and keeping it moist.
Sparks: An easy and good tip is CYP — cheap yellow mustard. Rub a thin film of it over your meat before cooking. You won't even taste it, but it will help seasonings stick, tenderize the meat, and thicken the bark.
Kline: We use a 'mop' of cider vinegar, sugar, spices, and sweet tea on our meat toward the end of the cooking cycle to keep it from drying out.
Moore: You can make your own basic BBQ sauce with ketchup or tomato puree, apple cider vinegar, mustard, molasses, and brown sugar, and then add whatever else you want to make it more sweet or spicy.
FIRED UP
NE: Can someone who doesn't have a wood-fired grill or a smoker still BBQ?
Perkola: Oh, yes. BBQ has been around forever, and it's been done in advanced kitchens with every piece of the latest equipment and every tool you could imagine. But the basics are heat, time, smoke and protein. You don't need to get fancy with it. Some of the best smoked and BBQ meats I've had have been done on something extremely simple.
Rodriguez: At one place I worked in West Texas, their BBQ equipment was an old (cleaned) oil barrel that had been sawed in half and hinged for the cover. It worked great.
Kline: You really can turn anything into a smoker — it just depends on how creative you are and your experience level.
Sparks: You just need live fire — and patience. BBQ is not a fast-action sport.
READ ALL ABOUT IT
Every pitmaster we talked to agreed that anyone who wants to learn or improve their BBQ skills needs to do their homework. And when it comes to the top pick for what to read, we got the same answer over and over: multi-award winning chef Aaron Franklin's comprehensive tome, Franklin Barbecue: A Meat-Smoking Manifesto. There are also lots of forums and blogs online. Or you can get up close and personal: "Just come into Pigs Eatin' Ribs and grab me, because I love talking about BBQ!" said Kline. And Sparks seconded that emotion: "Don't be bashful in asking for help from people who know BBQ. We love to share. It's a brotherhood."
IT'S THE PITS
Sparks BBQ: New location (since June 29) is at 201 East Front St., Traverse City, (231) 633-7800, eatsparksbbq.com.
Pigs Eatin' Ribs: 1418 Bridge St., Charlevoix, (231) 547-7447, pigseatinribs.com
Ray's BBQ, Brews & Blues: 204 Ingham St., Grayling
Iron Pig Smokehouse: 143 West Main St., Gaylord, (989) 448-2065, ironpigsmoke.com
Trending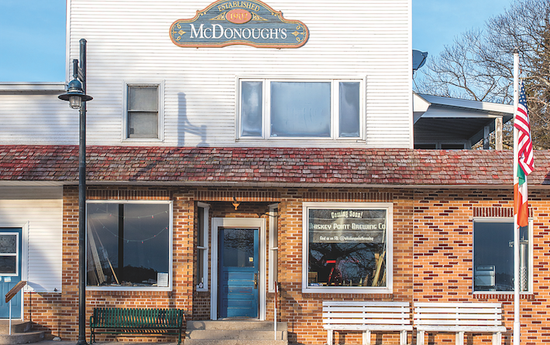 Welcome to Michigan's Most Remote Brewery
After years of planning and honing his beer-making skills, this spring, Patrick McGinnity plans to open Beaver Island&rsqu...
Read More >>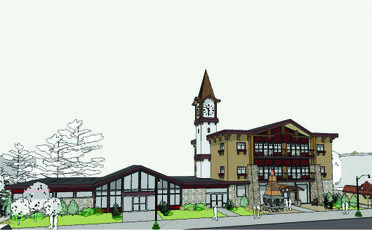 Gaylord: A boomtown Up North
Gaylord native Gary Scott had moved to Indiana, where he and some partners started a business to invest in distressed prop...
Read More >>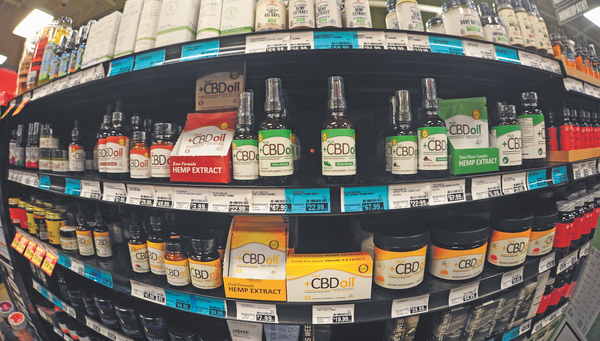 CBD Laws: Dazed and Confused
The sign outside of Family Video in Kalkaska lets drivers know the store has more than just movies. The sign reads: &...
Read More >>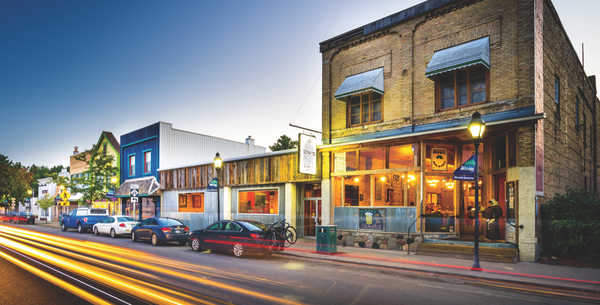 Small Up North Towns on the Rise
Spotlight on Bellaire (pictured)Seems Traverse City isn't the only place in the region making those "Best...
Read More >>
↑