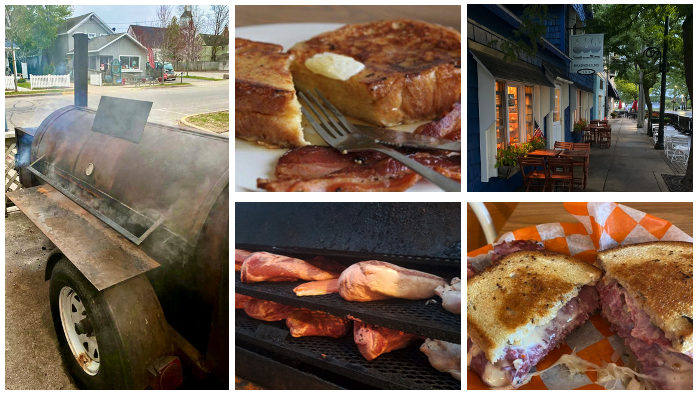 Smoke on the Water
This BBQ joint in downtown Charlevoix is smokin'
For a BBQ joint such as Charlevoix's Smoke on the Water, there is no higher praise than that from a true aficionado—in this case, a seasoned BBQ judge here on vacation from Kansas City. After finishing his pulled pork omelet, he asked to see owner/chef Julie Mann. "That is winning pulled pork," he told her. "That is what we look for."
The Road to BBQ
Julie and her husband, Ed—chef and grill master respectively (and Ed is also a plumber!)—are on year eight of a busy and successful run, with no end in sight. When they began Smoke on the Water in 2014, it was a dream come true in many ways. The couple wanted to settle, and eventually retire, in Charlevoix, and they wanted to open a restaurant featuring BBQ. (Ed is a Michigan native with wide restaurant experience, and Julie hails from a restaurant family in Minnesota.)
The Manns had developed their BBQ skills over the years, starting with their "little Weber," moving on to a Char-Broiler, then eventually to the formidable smoker parked outside the restaurant. When they realized that a large new smoker topped $6,500, they found one for $2,000, fashioned from a propane tank, in Athens, Georgia. Ed likes to find unusual routes, so they towed their new smoker back to Michigan along America's famous US 129, the nation's most popular route for motorcycles and sports cars. (The Tail of the Dragon at Deals Gap is made up of 318 curves in 11 miles.)
"All we saw were motorcycles and mini-Coopers," Julie says with a laugh, "but there were plenty of pullovers, so that we could get out of their way."
Those twists and turns brought them home to one of Charlevoix's historic properties—originally a house built in 1865—just steps away from Charlevoix's bascule bridge and Pine River channel. Inside the restaurant, two small rooms each seat 20, and outdoor tables seating another 22 are tucked along the storefront under the shade of the linden trees.
In the high season, Smoke on the Water serves between 150 and 200 meals per day. (That's a lot for a place with a diminutive footprint!) But with a new, top-to-bottom streamlined kitchen—including a Vulcan stove and flat top grill—2022 might be a record-breaker. "Our turnover will be unreal," Julie says.
How the Meats Get Made
Smoke on the Water's pulled pork comes from pork butt and is seasoned with a house-made rub. That and the beef brisket are smoked to 145 degrees and then finished in the oven. (200 degrees for pork for maximal tenderness, and 190-195 degrees for "perfect" brisket.) Unlike some BBQ techniques using a heavy sauce component, Smoke on the Water BBQ is not tossed in sauce.
"We want people to taste the smoke," Julie explains. "When I cut into a brisket, I want to see 1/3 inch of smoke ring on the outside, and past that the meat should be pink. Pork butt should have a nice crust on the outside."
Fresh chicken and salmon also find their way into the smoker. The restaurant's signature flavor comes from maple, apple, and cherry wood, all used within a year of harvesting. "You want to dry [the wood] a bit, but not too much," Julie adds. "There's a distinct smoked flavor, but it's mild."
BBQ sauce comes on the side, but it's a hit with customers, so don't pass it up. Julie started with a basic recipe and then tweaked it according to her own specs, looking for a balance of sweet, sour, and heat. "I did it in one shot," she says. "I couldn't believe it." (If your mouth is watering, never fear—Julie is in the process of getting the sauce bottled.) And do try the house-made ketchup: It has just enough texture to separate itself from the ordinary, and a clean, fresh flavor enhanced with a hint of cinnamon.
More on the Menu
While Smoke on the Water is "essentially a BBQ joint," the menu has plenty of variety. Baked goods include Mann's challah loaf—a thick, golden rope, beautiful to behold, and favored by 75 percent of the patrons. "It's light and airy on the inside, with a harder crust, and it makes amazing toast," she says. (Sourdough and light caraway rye are also available.)
For breakfast, try the crispy, custardy Drunken French Toast: challah soaked overnight in Champagne, heavy cream, spices, sugar, and eggs. Or choose Brisket Hash, Sour Cream Lemon Curd Pancakes, or the Biscuit and Sausage Gravy. For traditionalists, there's the All American and Eggs Benedict.
For lunch (beyond the obvious pulled pork sandwich), we recommend the Smoked Chicken Salad with cranberries and walnuts, a classic club, or a burger. Reuben fans will love the combination of light caraway rye, specially prepared sauerkraut, house-smoked corned beef, and house-made Russian dressing. "We absolutely have the best Reuben in northern Michigan," Mann says. Soups, house salad, and plenty of traditional sides round out the choices.
Save some room for dessert too. The Apple Bourbon Banana Bread tastes exactly the way it sounds: delicious fruit-infused batter bread elevated by bourbon notes.
People Are Talking
Smoke on the Water was included in Smithsonian magazine's 2021 "15 Best Small Towns to Visit" and received a $25,000 grant through the Michigan Economic Development Corporation's (MEDC) Match on Main grant program for 2021, among other accolades and press. All that's to say—make your plans today.
Smoke on the Water serves breakfast and lunch Monday through Saturday, 7am to 3pm and breakfast Sunday 7am to 2pm. Dine-in or curbside pickup are available. 103 Park Ave, Charlevoix, (231) 237-9604, sow-bbq.com.
DO Try this at Home
For backyard cooks, Julie Mann has some basic BBQ tips and guidelines.
First, use real wood, not pellets. (Pellets don't smoke.)
Second, use high-quality lump charcoal. It's made of whole pieces of wood exposed to high temperatures, which purges any impurities, leaving only pure carbon.
Next, keep meat on one side, and heat on the other.
Finally, "low and slow," she advises. The best smoked meats are created over many hours at temperatures between 220 and 225 degrees.
Trending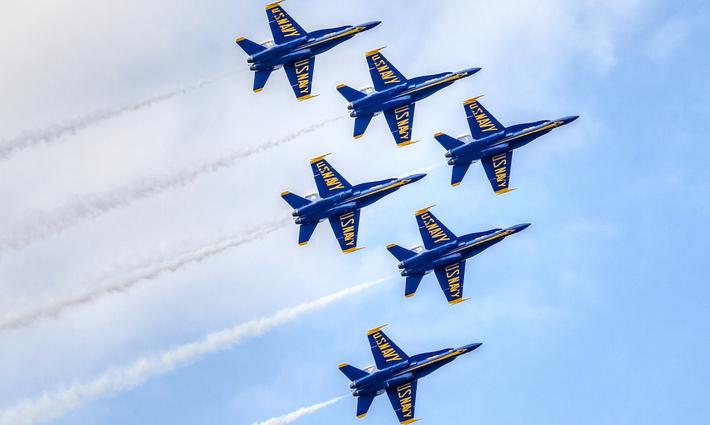 The Wind Beneath the Blue Angels' Wings
Crowds gather along Grand Traverse Bay to gaze into the sky for the biggest beach bash of the year. A voice shouts, &ldquo...
Read More >>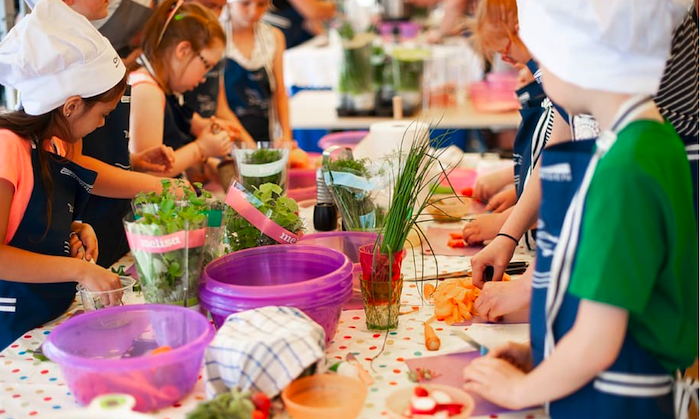 Creative Solutions to Food Insecurity
Food insecurity remains an ongoing concern in Michigan, with the nonprofit Feeding America reporting that in our state, 1 ...
Read More >>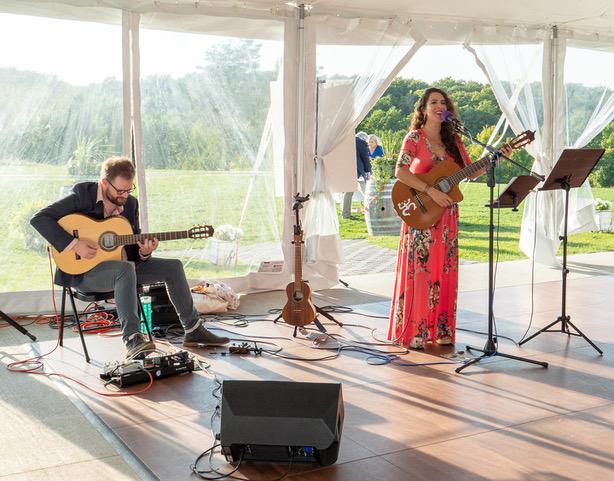 In Gratitude
"In Gratitude," a free community concert, will be held at 7:30pm on June 30 to thank the many donors and suppo...
Read More >>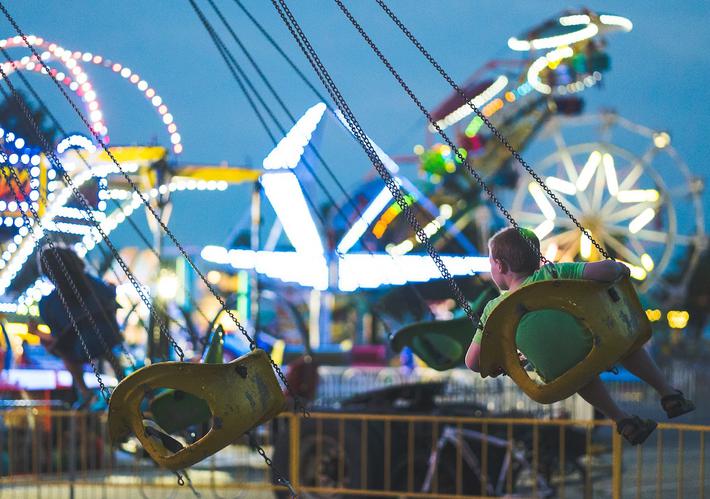 Forest + Festival = Fun
For more than 80 years, folks in Manistee County have been celebrating the Manistee National Forest Festival. This year, t...
Read More >>
↑