Spring Buds and Suds
Five beers to try Up North this season
With the groundhog's prediction behind us and the first day of spring mere days away, signs of the northern Michigan thaw are all around: waning snow drifts, mud (or if you're lucky, grass) peaking through, and the early onset of spring beer fever. It's time to empty your fridge of the dark stouts and porters that got you through the frigid winter and open your palate to the blossoming options of other beer styles.
As Austro-Bohemian Romantic composer Gustav Mahler once said, "Spring won't let me stay in this house any longer! I must get out and breathe the air deeply again." We recommend you get out of hibernation and breathe in a new bouquet of hops, malt, and yeast by trekking to one of the following breweries and imbibing the showcased brews. Then take a deep breath and have hope that spring is nigh.
1. My Chest Hurts American IPA | 7.2% ABV
Snowbelt Brewing Co., Gaylord, MI
Despite the wintery name, Snowbelt Brewing Co. serves up mouthwatering beer for every season in downtown Gaylord. If you, like so many, have been on a malty kick over the winter and are ready to break back into the world of hops, My Chest Hurts, an American IPA, is the perfect spring segue.
Started with a simple malt bill, this brew stands out thanks to the timing of hop additions and the medley of selected hops. For the beer geeks out there, here's how the sausage gets made: Snowbelt's brewers only add one hop variety during the boil, aka when all those wonderful chemical reactions occur with the hops, producing bitterness and taste as well as getting rid of unwanted off-flavors. During the whirlpool stage, which happens at the end of the boil to separate solid particles from the liquid, the brewers then add a multitude of tropical hops. Finally, the beer is "dry hopped," a process where the hops are not boiled to extract oils, but instead are added during or after fermentation for extra hop flavor and aroma. The inclusion of a small amount of sweet caramel malt helps keep this hop bomb balanced.
"We're pushing 100 plus IBU with this beer, and it's sure to cure any hop head's cravings," says Nate Muellenberg, Snowbelt's owner and brewer.
For those of you unfamiliar with the term IBU, it stands for International Bitterness Units, a scale of measuring the bitterness of beer. Though this beer may be bitter, it is chock-full of other flavorful notes, including citrus, pine, stone fruit, mango, and guava.
2. Expert Advice Imperial Juicy IPA | 9.5% ABV
Five Shores Brewing, Beulah
If you're a fan of hops but not so much the bitterness to usher in springtime, try the Expert Advice Imperial Juicy IPA. Clocking in at 42 IBU, it is brewed in a way that uses the hops less for bittering and more for imparting the fruit-forward taste Five Shores is known for. This brew uses MI Copper, Mackinac, and Amarillo hops to pack in the flavor.
Head Brewer Ellie Maddelein speaks to the hops used, stating, "Michigan hops are ridiculously good, and the one non-Michigan hop in it is just a good juicy one. All the hops in it are ones I personally felt were going to contribute the juicy flavors."
Expert Advice has a body like a cloud with a full-palate distinct sweetness to it and boasts bright, heavenly hop aromas alongside flavors of mango, papaya, pineapple, and orange.
3. Peach Wild Ale | 6% ABV
Silver Spruce Brewing Company, Traverse City
There's nothing like a sour or funky wild ale to wake you up and drag you out of your long winter fugue, and Silver Spruce's Peach Wild Ale will do just that. This beer itself is well-versed in hibernation—it took over a year to develop from start to finish.
The beer's journey began by fermenting with ale yeast in stainless steel, and then was transferred to white wine oak barrels after the first fermentation was complete. Once it was in oak, a wild yeast called Brettanomyces was added with the job of slowly eating the remaining sugar, imparting dryness and complex, earthy flavors. After giving the wild yeast plenty of time to do its job, Silver Spruce added whole local peaches as well as the bacteria lactobacillus. Unlike brewers yeast, which metabolizes sugars and creates alcohol, lactobacillus metabolizes sugars and creates lactic acid. It is responsible for the tart, sometimes acidic flavors found in many sour, mixed culture, and wild ales.
After fermenting on the fruit for four additional months, the beer is here and ready to enjoy. You'll find it to be dry and tart with a delicate peach finish. Even if we get some spring snow, this brew will have you dreaming of sweet sunny days when the peach buds are blossoming.
4. Charley Belgian-Style Ale brewed with Blaufränkisch grape skins | 7% ABV
Earthen Ales, Traverse City
In the world of wine, spring is when the grapevines start to perk up and the bud break occurs. Charley, a beer from Earthen Ales, may just have you dreaming of walking through a vineyard, sipping rosé on a bright day.
Charley is an annual collaboration that Earthen Ales does with their neighbor Left Foot Charley for the brewery's anniversary. The newest version, brewed to celebrate year five of the taproom, features a Belgian yeast strain and rosé grape skins.
"Think of it less as a fruit beer and more of a beer and wine hybrid, or mash up, if you like a good pun," explains Jamie Kidwell-Brix, co-owner and brewer at Earthen Ales.
Not only does reusing the grape skins further their lifespan, but it also brings a rich mouthfeel and effervescence to the beer. The grapes are particularly noticeable in the nose, but also linger at the end of a sip. Mid-palate, you'll get some subtle spice and fruitiness from the Belgian yeast.
5. Intermingling Kolsch | 5.2% ABV
Stone Hound Brewing Company, Williamsburg
Sometimes what you need to get dark winter beers out of your system and prepare for the longer days ahead is a clean, light, crisp, easy-drinking beer. Intermingling Kolsch from Stone Hound Brewing Company checks all of those boxes and more. This brew is a perfect front-porch sipper and will also quench your thirst after an early springtime bike ride.
Intermingling Kolsch was originally brewed last spring as a collaboration with Silver Spruce Brewing Company and is back by popular demand. Stone Hound chose the Kolsch style to represent Silver Spruce's affinity for classic German styles.
"As most of our beer names are inspired by local trails, we chose 'Intermingling' because it is a segment on the VASA Single Track and also ties in with the idea of mingling with our good friends at Silver Spruce," notes Head Brewer Chris Cargill.
Taking after a traditional German Kolsch and incorporating German malt, Intermingling also has a northern Michigan twist with locally-sourced hops from MI Local Hops and malt from Great Lakes Malting. This beer gives off notes of honey, fresh bread, and herbal aroma from the Tettnanger hops.
Trending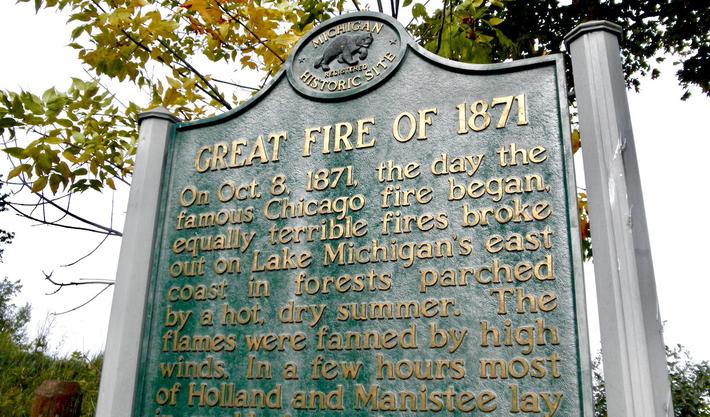 Histories and Mysteries: The Great Michigan Fire
Every schoolchild knows the tale of how Mrs. O'Leary's cow (supposedly) kicked over a lantern in a Chicago bar...
Read More >>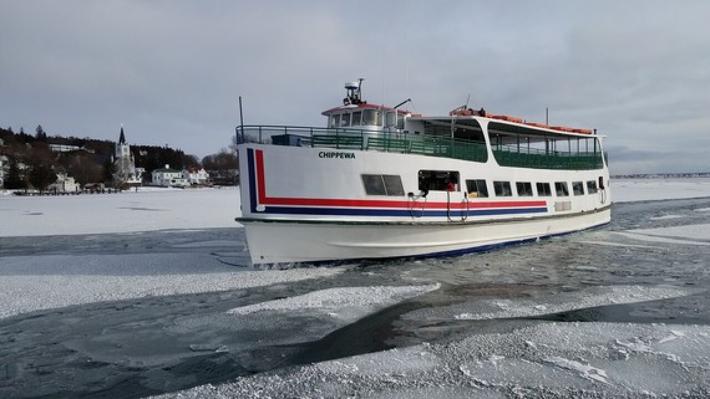 Electric Ferry Service
Mackinac Island ferries cruise back and forth across the Straits dozens of times per day in the high season, carrying as m...
Read More >>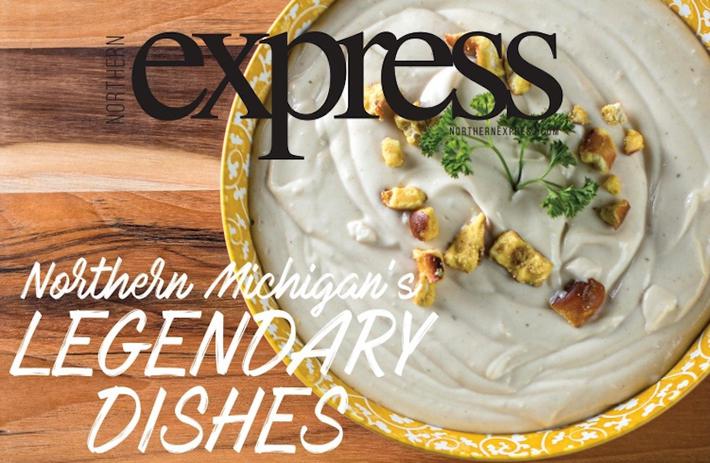 What's Your Favorite Meal in NoMi?
Northern Express is gearing up for our Spring Restaurant Guide, and that means it's time to feature five more amazin...
Read More >>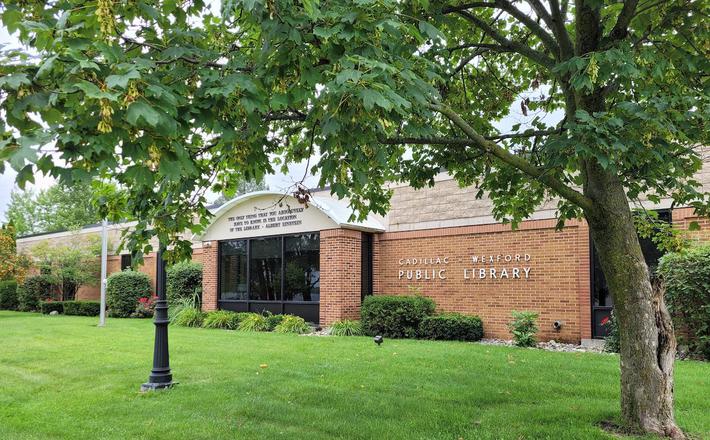 An Indiana Jones Adventure
It's our Histories & Mysteries issue, and what could bring those two things together more perfectly than an Indi...
Read More >>