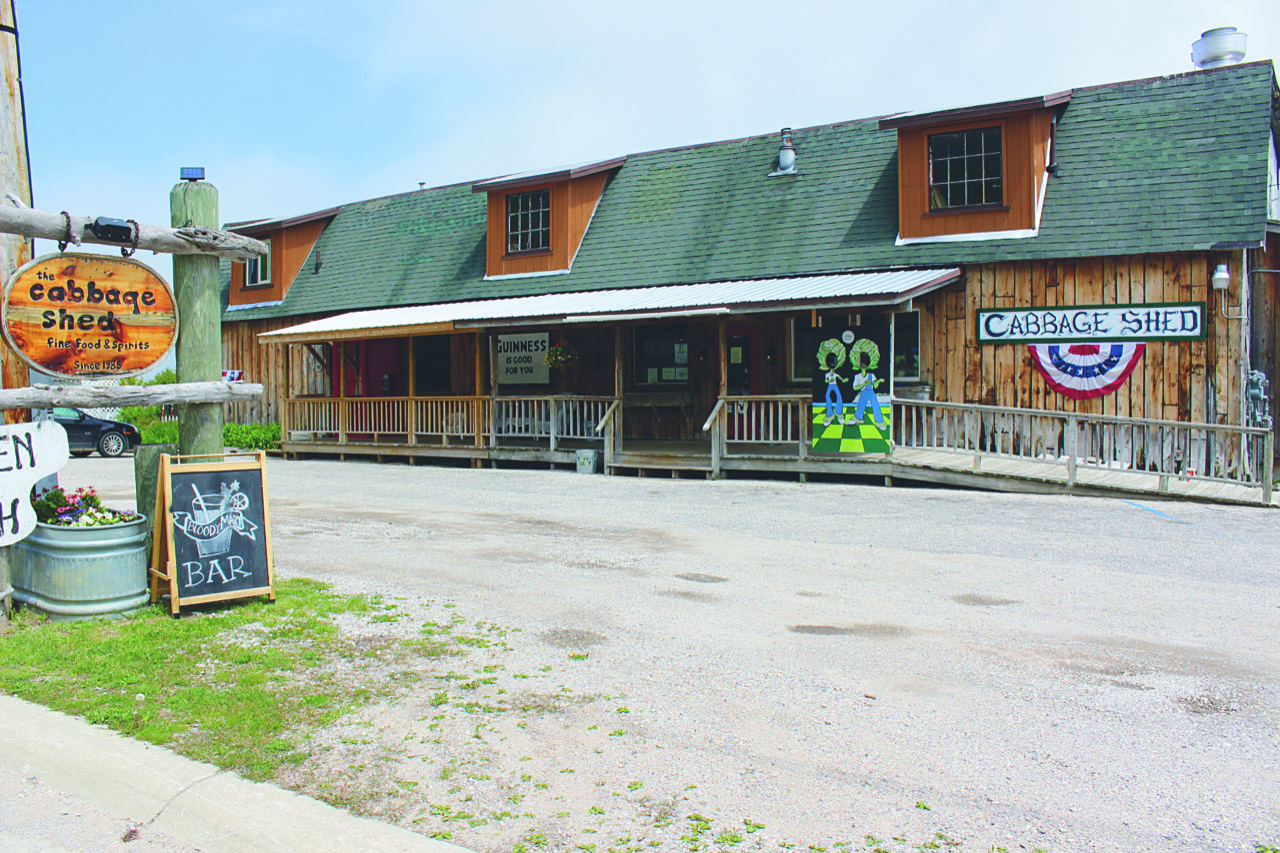 The Cabbage Shed
One-of-a-kind dining on Betsie Bay
Just about everyone who lives in Benzie County has a "Shed" story — whether from working, playing music, attending a wedding, or meeting up with family and friends there — the Cabbage Shed has been a mainstay in the village of Elberta since Jim Clapp opened it as a restaurant and neighborhood pub in 1985.
Sitting on the shore of Betsie Bay, built in 1867, it housed the towns' first general store and the first post office, back when Elberta was known as South Frankfort. In 1887, Nils Glarum and Leonard Classens bought the store, and in the 1920s, the Benzie Fruit exchange operated what became known as Glarum's Warehouse. For the ensuing decade, it was stacked floor to ceiling with cabbages, and so it became the Cabbage Shed — a name Clapp never saw fit to change once he made the place his own.
Clapp retired in 2015, and his right-hand gal, daughter Becky, was moving on to begin her nursing career. When Colleen and T.J. Hudson heard it was for sale, they called their daughter Beth and son-in-law Tony to see if they would want to manage it — and the couple jumped at the chance.

"Our in-laws are silent partners," Tony Roethler said. "They're retired, and we were in a position to make a change and put in the time it needed."
"It was a giant leap of faith," added Beth Roethler, who was a teacher in Arizona at the time. "We had talked about making a life change for several months, and we were looking for a simpler lifestyle." They were also familiar with the area. Her grandfather has had a place in Elberta since the 1950s, and they often visited in the summer. But they had another, more personal connection with the Cabbage Shed. After getting married on Frankfort beach, the couple had their reception at the Shed in 2011. The summer after the wedding, Beth Roethler waited tables at the restaurant and got to know Jim and his daughter Becky.
Beyond their affection for the place, both bring energy, enthusiasm, and experience to the work of running it. Tony has worked in food service in various parts of the country and has a degree in the hospitality field.

"Always in the back of our head, we would picture our own place and what we could do," said Tony Roethler. At the Cabbage Shed, which they reopned in April 2016, they felt a responsibility to keep its history and culture alive "while paving our own way into the future."
Overall it has kept its genuine character. The renovation included a lot of cleaning, painting, replacing windows, and redoing bathrooms. The bar was extended, and the lower deck and kitchen have been refreshed. The waterfront has been cleared and space added for canoes, kayaks, and dinghies. Local artist Chris Bigelow's paintings adorn the walls, and they've kept the iconic old road signs from the local area. It is very family friendly — there are kid's games on the lower deck, and the Shed gives out bottles of bubbles and has hula hoops and ball toss games at the ready. The back room has space for larger parties, with free pool, air hockey, foosball, and darts. The outdoor deck is also dog-friendly.
The new owners work side by side with their staff, affectionately referred to as "Shed Heads."

"When you find good people, you make them part of your circle," Tony Roethler said. "We have Nick who is returning for his third summer, and we have had two mothers and daughters working here. We are very proud of our staff; they make all the difference."
The Shed's menu still includes its famous Borscht — the hearty Russian soup made with braised beef, red beets, green cabbage, tomato broth, and smoked sour cream that has been served at the Shed since it first opened — and the Glarum Grille, a specialty sandwich with prime rib, bell peppers, caramelized onions, provolone and Shed sauce, a nod to the original owner. The rest of the menu has been completely revamped with new dishes that offer a spicy spin on American classics.
New meal starters include a yummy Voodoo shrimp, with a sweet and zesty Chile sauce, served with homemade shed slaw; the buttermilk breaded chicken breast with smoked gouda, pepper jelly mango, lettuce, tomato and onion, on a Crescent bakery pretzel bun, is perfect for lunch or dinner. Choices vary between hearty burgers, including a veggie one; their popular fish & chips to a real Italian Caprese salad; to the nod to Northern Michigan very cherry boneless pork loin, simmered in a cherry sauce, and finished with a Brandy flambé, or the summer favorite — Great Lakes cherry whitefish. For the younger set, there are chicken nuggets, grilled cheese or chicken sandwich, noodles and cheese, or cheese pizza. Big bonus for parents: All kid's meals are half off during lunch, 11am–3pm, through the summer season.
Lunch and dinner options come with a choice of sides, including the Shed's popular drunken beans, slow-cooked with Guinness stout, which they have as one of 16 beers on draft — 10 brewed in Michigan. Although they're purported to be the bearer of the most varieties of Irish whiskey in northern Michigan — 70 different kinds — they give a solid nod to local distillers, winemakers, and brewers, pouring mead from St. Ambrose Cellars, spirits from Iron Fish Distillery, and wine from Black Star Farms and Chateau Grand Traverse.
The Cabbage Shed's full lunch and dinner menu is available seven days a week, 11 a.m. – 11 p.m., through Labor Day. Find it at 198 Frankfort Ave., in Elberta. (231) 352-9843, www.cabbageshed.com

Open Mic, Live Bands, and Vinyl Spins
Live music on the weekends has been synonymous with the Cabbage Shed since it began. From country to bluegrass, to rock and folk, check their website or Facebook page for upcoming bands all summer. Thursday is Open Mic night, beginning at 8 p.m., for all ages and talents, and has been popular since the Shed first opened. This is the second year for Vinyl Vensday — Beth's dad spins real vinyl records from his collection and guests are encouraged to bring their own, Wednesdays from 5pm to 9 pm.
Photo 1: A lot of love goes into Mom's spaghetti and meatballs, made with a homemade sweet Italian sauce.
Photo 2: Tony and Beth Roethler are going into their 3rd summer as new owners/operators of the Cabbage Shed, open 7 days 11am—11 p.m., now through Labor Day.
Photo 3: Open Mic Night has been on Thursday nights since the early days of the "Shed." All ages and talents welcome!
Photo 4: Their popular lunch or dinner fare includes crispy buttermilk chicken.
Photo 5: A mainstay in Elberta, the Cabbage Shed was built in 1867.
Photo 6: The Cabbage Shed's Bloody Mary Bar is well known for being available daily, 11am to 3pm, but its assortment of condiments, like home-brined veggies and bacon, are what's made it famous.
Trending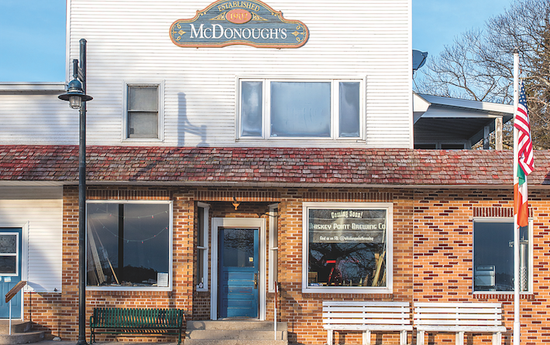 Welcome to Michigan's Most Remote Brewery
After years of planning and honing his beer-making skills, this spring, Patrick McGinnity plans to open Beaver Island&rsqu...
Read More >>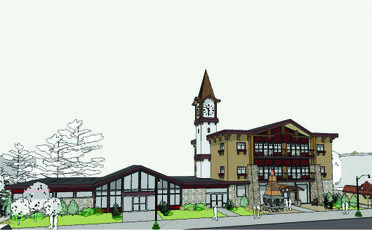 Gaylord: A boomtown Up North
Gaylord native Gary Scott had moved to Indiana, where he and some partners started a business to invest in distressed prop...
Read More >>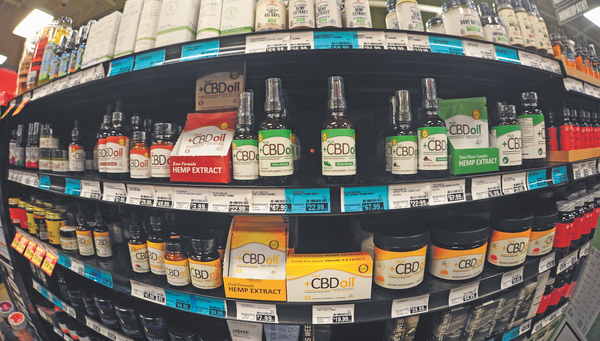 CBD Laws: Dazed and Confused
The sign outside of Family Video in Kalkaska lets drivers know the store has more than just movies. The sign reads: &...
Read More >>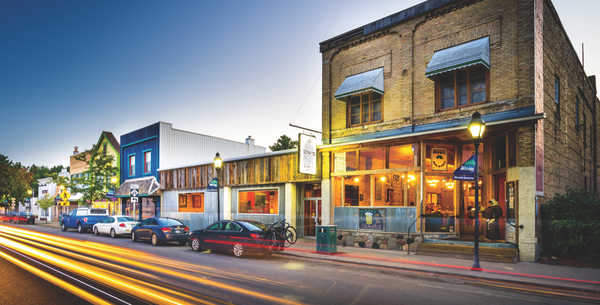 Small Up North Towns on the Rise
Spotlight on Bellaire (pictured)Seems Traverse City isn't the only place in the region making those "Best...
Read More >>
↑