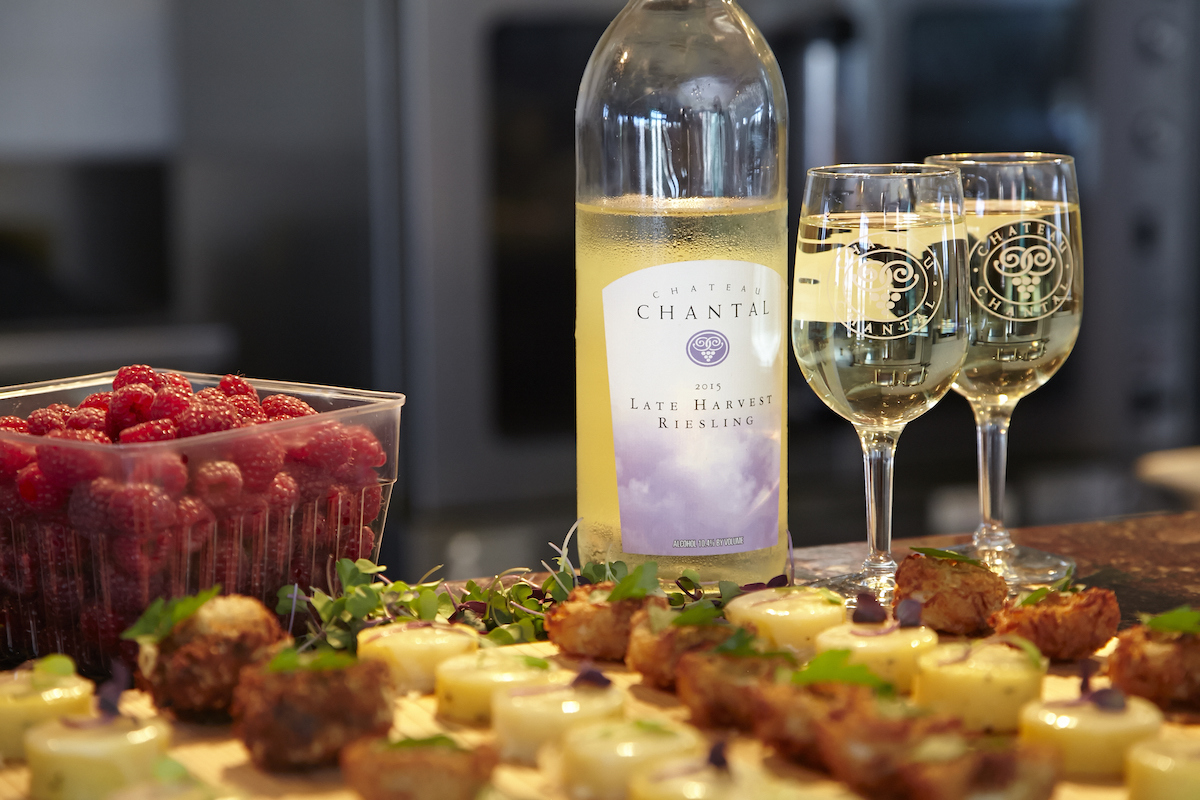 The Perfect Pairing
Wining and dining on the wine trail
It all starts with the soil and the crops, and whether the result is a collection of award-winning vineyards or a dedicated cohort of sustainable farms and artisanal purveyors, the Old Mission and Leelanau Peninsula wine trails are a particularly fitting venue for fine dining. This is where terroir meets table, to sublime effect. The wineries featured below take food seriously, both as an accompaniment to their vintages and as a nod to local and regional culinary arts.
Black Star Farms: A Dining Destination
Black Star Farms of Suttons Bay (with a satellite location on Old Mission Peninsula) is no stranger to good food with a local touch. For casual visits, their Hearth & Vine Café, open through October, offers a farm-to-table menu of shareable apps, substantial salads, sandwiches, and wraps. Choose from house-smoked Whitefish Pate, Beef Tenderloin salad, or a savory Turkey Club with smoked bacon and raclette.
And while we love a visit to the café, the bounty of the Suttons Bay vineyards and farm harvest is best represented through the Arcturos Dining Series, now in its second decade.
The series menus are created to reflect the seasons, or "whatever the harvest looks like," says Sheri Campbell Fenton, managing owner at Black Star Farms, with ingredients sourced on-site as well as from local and regional farms. The evening includes a welcome reception followed by seating—limited to 50—at the communal table. "People really like that, and diners who start out as strangers become friends," Fenton adds.
Chef Oumar Sy will present the evening's menu at the Fall Harvest Dinner on Oct. 29, which features morel mushroom bisque alongside 2017 Blanc de Blanc; pistachio-crusted fried goat cheese with 2021 Arcturos Pinot Noir Rosé; bouillabaisse with mussel, scallop, shrimp, and sea bass accompanied by 2021 Sur Lie Chardonnay; rack of elk with butternut squash and prosciutto paired with 2019 Arcturos Cabernet Franc; and poached pear with five-spice caramel and vanilla ice cream with Delighted Sparkling Wine.
If that doesn't make you hit the RSVP button, we don't know what will. Reservations fill up fast, so don't wait. You can also welcome in the new year on December 31 at the Arcturos elevated dinner, the final in the series for 2022. (Black tie is optional, but why not?) Menu and details will be coming soon.
For information on the Arcturos Dining Series, winery tours, carriage rides, private events, or elevated wine tastings, call (231) 944-1270 or visit blackstarfarms.com.
Chateau Chantal: Elegance, with Lake Effect
Nothing is quite as beautiful as the sight of Chateau Chantal across a terraced vineyard, with views of both Grand Traverse Bays as you cross from one side of the winery to the other. Thankfully, you don't need a passport to savor this French-inspired venue with its full roster of wine dinners and events, curated by Chef Chris Mushall.
Wine dinners in the chateau are scheduled for Wednesdays, Thursdays, and Fridays throughout October. Menus and wine pairings will vary, but last week's 2022 Harvest Wine Dinner is a good example of what to expect: braised boulette of beef with Amour Rosé; redskin potato boursin cheese potage alongside their Semi-dry Riesling; a Naughty Apple Hard Cider sorbet; pan-seared rainbow trout with—for a twist—the Naughty Red; heritage pork ribeye and Gewurztraminer; and, as an appropriate finish, house-made s'mores with their cherry port dessert wine, Cerise.
But wait, there's more! Celebrate the holidays with the Naughty and Nice Wine Dinner, scheduled for Dec. 3, 10, and 17. The menu pairings include several Chateau Chantal vintages, with a focus on the popular Naughty and Nice reds and whites. (Pro tip: These wines make excellent holiday gifts for everything from Christmas to Valentine's Day.)
Going forward, 2023 will be busy with two seatings for the sixth annual Fire and Ice dinner—which celebrates Chateau Chantal's incomparable ice wine tradition—two Valentine's Day dinners, plus a Cabin Fever event.
You can also get hands-on experience for groups of 1 to 12 with a full roster of cooking classes. (Sample all of the dishes, complete with wine pairings.) Chateau Chantal partners with Taste the Local Difference to make all wine dinners a Certified Local Food Event, sourcing at least 54 percent of its ingredients and products from Michigan farms and businesses.
Call (231) 223-4110 or visit chateauchantal.com.
Brengman Brothers at Crain Hill Vineyards: Hospitality Runs in the Family
Detroiters and east side suburbanites of a certain age will remember the Brengmans for their stewardship of the very popular Captain restaurants, but in our region, the Brengman name is synonymous with fine wine, created with the old-world technique of dry farming and inspired by a reverence for the land.
Their approach to food is much the same: Chef Logan Call is the creative energy behind the new and expanding culinary program, which will include wine dinners and themed events—what he calls "dinner experiences"—linking the region's farms with the fine wines produced by Brengman Brothers.
Explains Chef Logan, "Our culinary program [will create] a food ethos that will highlight the deep relevance" of locally sourced foodstuffs. "It will truly be a snapshot of the area."
Typically, wine dinners will be six-course affairs, limited to 40 guests, with presentations about the dishes and the accompanying wines. "We are passionate about storytelling," Chef Logan adds. Menus are a work in progress, but know that each dish will be an expression of the region's abundance and the culinary skill of Chef Logan and Sous Chef John Weber.
If you haven't seen the winetasting room with its soaring Douglas fir-timbered ceiling and two-story fireplace, just know that the ambience is seriously stunning. What better setting for an evening of fine wines and gorgeously crafted food?
Just stopping in for a glass of wine or a tasting flight? The casual visitor can choose from the northern-style tapas menu, available daily (light snack menu on Tuesdays) from 2pm to closing, featuring a satisfying range of items from savories to sweets, based on the seasonal bounty of the region.
Look for individual pizzas, salad, and generous smorgasbords—for the committed carnivore, the cheese aficionado, and the veggie fan—featuring house-made relishes, jellies, butters, and artisanal crackers and breads. The pull-apart cheesy bread made with locally sourced raclette, topped with a rustic tomato and olive salad, is worth the trip alone.
Call (231) 421-5611 or visit brengmanbrothers.com.
Photo by Windborne Studios.
Trending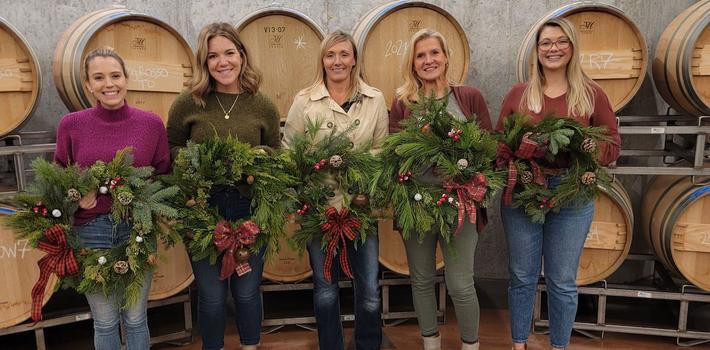 Wine & Wreaths at Mari
If you like wine and wreaths, you'll want to head to Mari Vineyards on Old Mission Peninsula. A 90-minute wreath-mak...
Read More >>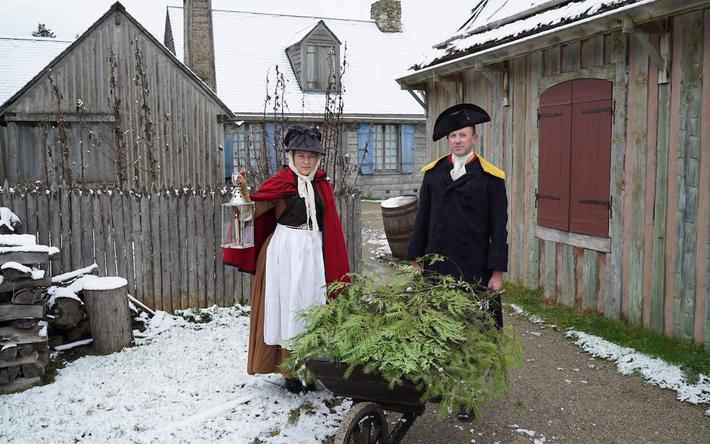 A Colonial Christmas
Christmas is coming to Colonial Michilimackinac in Mackinaw City on Dec. 9. Storytellers will bring to life the stories of...
Read More >>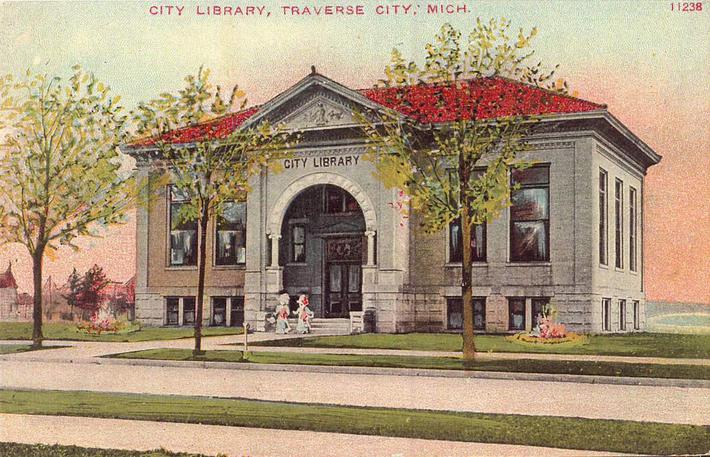 A Literary History of TADL
Next year, the Traverse Area District Library (TADL) will celebrate 155 years of lending books and knowledge in northern M...
Read More >>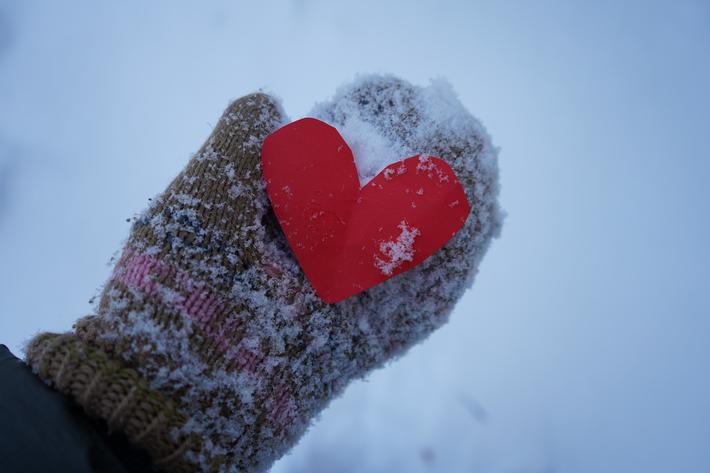 Merry Mittens
The Mitten Real Estate Group of Traverse City is helping make the season bright by kicking off their first Mitten Drive, w...
Read More >>