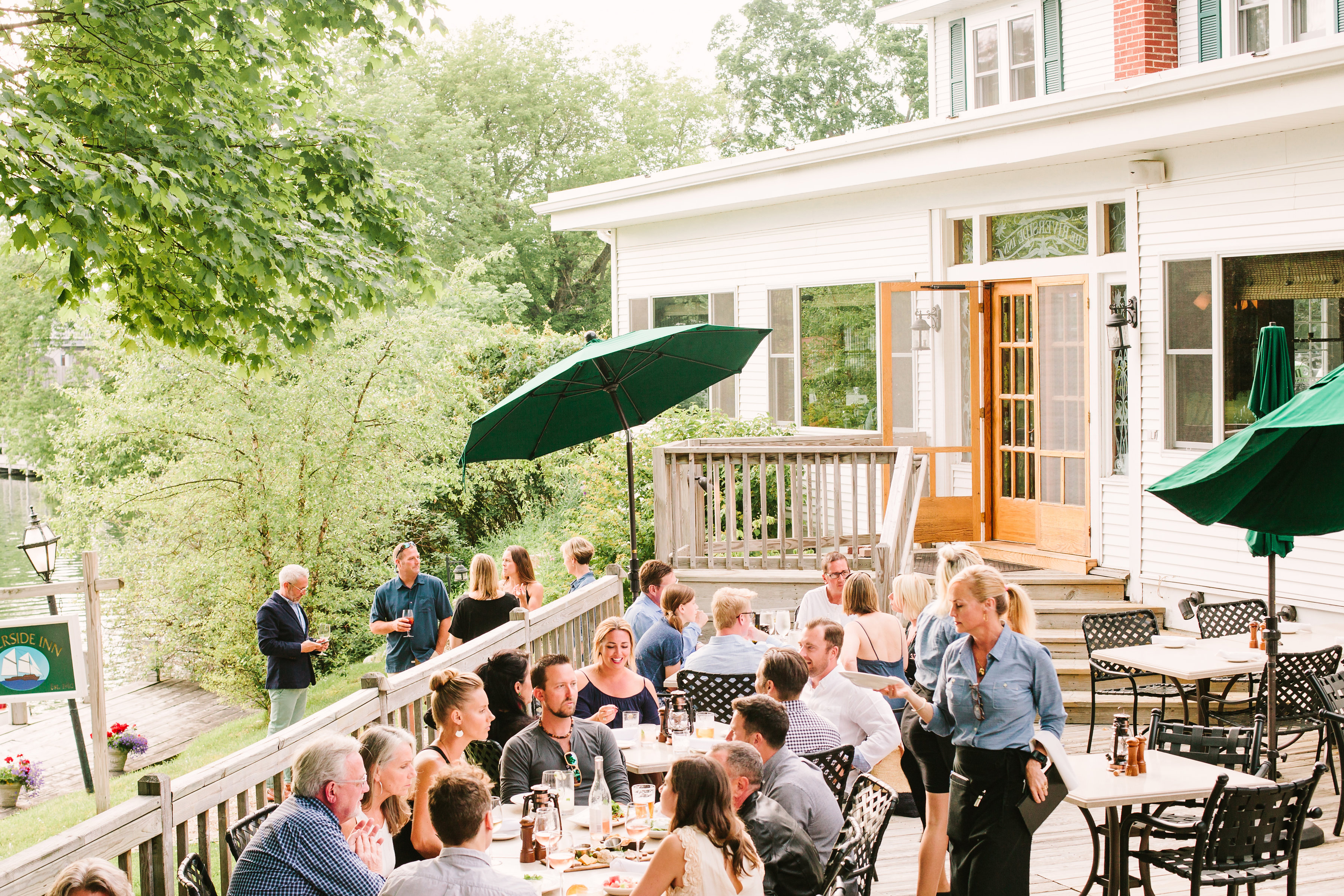 The Riv is Back!
Leland's legendary restaurant and B&B rises from the ashes
Even the name conjures up cozy images: The Riverside Inn. And this historic inn and restaurant in Leland, housed in a classic Northern Michigan-style white clapboard "cottage," delivers plenty of cozy, no matter the season. The banks of the winding Leland River outside its windows still look summery now, but it won't be long until colorful fall foliage casts its paintbrush-like reflections over the water, visible from almost every corner of the building's interior. The entire experience of The Riv, as locals call it, though updated with all the modern conveniences and comforts, still evokes the nostalgic charm of a bygone era.

Many people have been drawn to The Riverside Inn — a Leland landmark since the beginning of the last century — for this very charm. Kate Vilter, who purchased the restaurant and B&B with her mother in 1997 and has been running it ever since, is one of them. She and her family have a long history with Leland and the property. Originally from Cincinnati, Vilter's grandparents followed the lure of Northern Michigan in the 1930s, staying at the inn while looking for land to build a cottage upon in Leland. When their lakeside vacation retreat became reality, they brought their whole clan Up North every summer thereafter. Vilter's parents, who met and married in Leland, were big fans of the fish boils that former Riverside owners Barbara and Ed Collins used to host in the 1980s. "Everyone in my family has been up here at one time or another," said Vilter. "My sister and I even had summer jobs here at The Riverside when I we were in our teens."

TAKING THE LEAP
After the Collinses, Sue and Kevin Burns owned the Riverside. During their eight years of ownership, they acquired a liquor license and added a bar. Kevin had a French background, so they served breakfasts and lunches with a French theme until they sold it in 1994.
When Vilter took the leap to move from Cincinnati to her Leland in '97, the Riverside was for sale again, and she and mom took an even bigger leap, buying the beloved inn together.

"[My mom] had always dreamed of owning a B&B, and I had worked in restaurants for as long as I can remember. For a while, I also ran small hotels in the Florida Keys, but I eventually went back to restaurants," Vilter said. "I never pictured us doing this for 20-plus years, but we love it here. Mom is not as involved in the business anymore, but we are both very much a part of the community, and I think that's why we've stayed. The community of Leland is the biggest draw for us, without a doubt."

The Riverside always did have and still does have a kind of Northern Michigan resort-like feel inside and out, but Vilter said a 2017 renovation gave it a little more updated look, especially in the bar area. And then, tragically, on October 19, 2018, spontaneous combustion from a bag of linens caused a devastating fire at The Riverside.
The kitchen and bathrooms were completely destroyed, and the rest of the building — as well as the restaurant's entire wine collection, which was substantial — sustained extensive smoke damage. Although the fire was a huge shock and setback, Vilter, her family, and her staff vowed to rebuild.
"Initially, there were rumors around town that we might close permanently or sell, because there was such a lag from when the fire occurred to when we could actually start construction," she said. "We had known all along that we would need four or five months of renovation until we could open again, but insurance issues held us back, and we couldn't even begin work until April of this year. That was frustrating. But closing or selling was never a consideration for us. We love what we're doing, and all of the support from the community pulled us through. It was wonderful the way they rallied around us."
The restaurant reopened Aug. 20, and a special dinner marking the anniversary of the fire is scheduled for Oct. 18 (see sidebar).

In keeping with the community spirit in Leland, residents support the restaurant year-round. "It's interesting — a lot of times, on very busy nights, I know them all," said Vilter. "Even in high season, it's a very local and summer resident clientele. Leland has a lot of people who arrive in May and don't leave until November, so those six-month snowbirds are a mainstay for us. And we have a lot of residents who stay on through the winter, too."

A WORLD OF FLAVOR
Local ingredients are a key part of the Riverside's food philosophy, used in creative ways and often combined with proteins from farther afield. "I've always focused on high-quality products, really well prepared, with a light presentation," said Vilter. "Especially at this time of year, when our vegetables and other ingredients are just so amazing — there's no point in masking those flavors with heavy sauces."
The kitchen taps culinary influences from around the world, as evidenced by the inclusion of items like Spanish octopus, tofu curry and Moroccan meatballs on the current menu. The Riverside's executive chef, Pete Siagkris, has been with the restaurant for about five years. One of his signature dishes and a perpetual customer favorite is the seared scallops (served with local heirloom tomato risotto, Meyer lemon zest, house-made pistachio pesto, and a balsamic reduction).
Another popular entrée is the sea bass (served over braised leeks, sautéed red beets, local swiss chard, celery root puree and Meyer lemon beurre blanc). One of Vilter's top personal picks is the duck (seasoned with allspice and served with roasted shallots, cherry tomatoes, green lentils and smoky butter demi-glace).

There are always two to three salads on the menu, too. "The watermelon-cucumber salad has been a big hit, and we will keep it on as long as we can get those ingredients," said Vilter. "We always do a feature soup of the day, as well. There has been lot of corn coming in since we reopened, so we've done couple of different corn-based soups. And we recently got some great local plums and peaches, so chef did a peach-plum gazpacho — that was delicious."

WORTH THE TRIP
Among the appetizers, the tuna tartar (yellowfin tuna, house-made local corn, black bean salsa, avocado vinaigrette, and crispy corn tortillas) is something Vilter said her guests would never like to see go off the menu: "It's just such a great dish to share for a table." The cheese and charcuterie platter (three chef-selected cheeses and meats paired with marinated olives, picked vegetables, ale mustard, and crostini) also has legions of fans. "The composition varies," said Vilter, "but all of the cheeses are local — from Boss Mouse, Leelanau Cheese, and of course Idyll Farms, which does all goat cheese. We're also going to start working with Saltless Sea Creamery. They have been apprenticing with Boss Mouse and are now branching out to do their own thing."

Be sure to save room for dessert, because the choices are tempting. Feeling decadent? Dig into the chocolate Guinness skillet sundae (warm chocolate Guinness brownie, Bailey's ice cream, and warm caramel sauce). Maybe something a little lighter? Choose the house-made sorbet trio.

In addition to her other duties, Vilter also curates the Riverside's wine list, who inventory lost many fine vintages in the fire. "It's going to take time to build that back up," said Vilter, "but we'll get there." And since the restaurant reopened in August, all of the wineries on her list — except for some of the locals — are either sustainable, organic, or biodynamic, including the international ones. A large, well-stocked bar rounds out the Riverside's beverage program.

"We know that we're a destination restaurant," said Vilter, "but this really is a special place. Everything from the ambience and the warmth of the building itself to the history of it, and the grounds with their beautiful gardens. You have great views from every seat in the house. There are so many reasons to come here, but the main ones, of course, are the food and our wonderful staff. Yes, you need to spend a little more time and effort to get here if you're not from Leland, but it's worth it."

The Riverside Inn, located at 302 River St. in Leland (one block west of downtown), serves dinner six nights a week, beginning at 5pm. Closed Tuesdays. Fall hours will be posted soon — watch the website. For reservations (suggested), information on upcoming events, or general inquiries, call (231) 256-9971 or visit www.theriverside-inn.com.

LIKE A PHOENIX
In an intrepid show of positivity and proof that they haven't lost their sense of humor, the staff of the Riverside Inn is planning a special "Fire Dinner" on October 18, 2018, the night before the first anniversary of the October 19, 2018 fire. "The kitchen already has a lot of fun ideas for it," said Kate Vilter. "It will be a fire-themed menu, celebrating the fact that we've risen up from the ashes. Everything's going to be a little bit smoky, grilled, or charred." Bartenders have even created fire-themed cocktails for the event, like the Combustion (smoked cubes, Bulleit Rye, Dolin Rouge, Oaxacan old fashion bitters) and the Inferno (Astral blanco tequila, fresh lime, Cointreau, spicy chili bitters). Check the website for further details.

HIT THE DECK
On a warm, sunny day, the Riverside's large, welcoming deck right on the river is hard to resist. And unlike many restaurants with outside dining options, guests can reserve a table there. In fact, says Vilter, "We hold an inside and an outside table for the deck reservations until we are sure of the weather, which sometimes isn't until three o'clock in the afternoon." If you come by boat, there's even a private dock.
BEHIND EVERY WOMAN
Owner Kate Vilter credits Jen Kareck, her general manager, as her right-hand person. "Either of us can basically jump in anywhere we're needed. Right now, I'm cooking in the kitchen one night a week, because we're not fully staffed there yet. Sometimes I work on the floor as a manager, and Jen might step into service, and she or I help out behind bar if necessary, too. We're kind of everywhere!"
Trending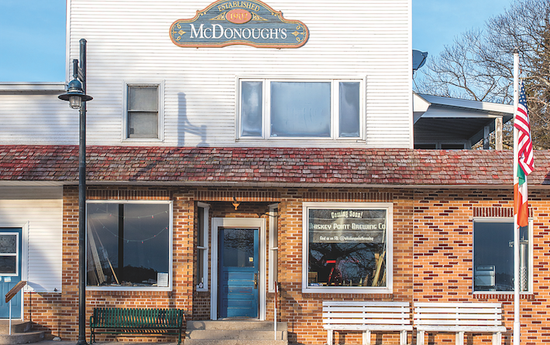 Welcome to Michigan's Most Remote Brewery
After years of planning and honing his beer-making skills, this spring, Patrick McGinnity plans to open Beaver Island&rsqu...
Read More >>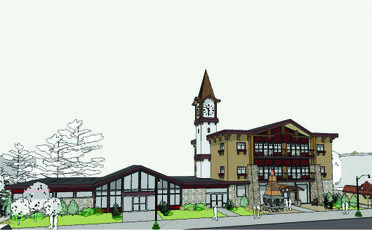 Gaylord: A boomtown Up North
Gaylord native Gary Scott had moved to Indiana, where he and some partners started a business to invest in distressed prop...
Read More >>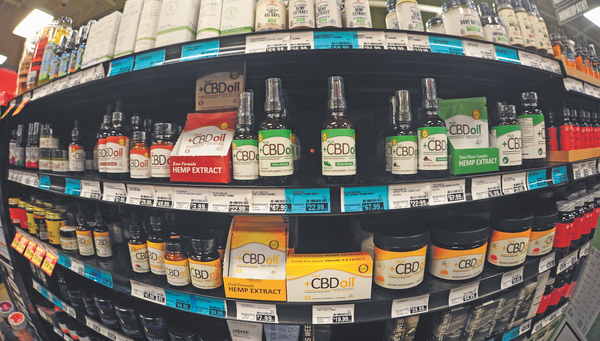 CBD Laws: Dazed and Confused
The sign outside of Family Video in Kalkaska lets drivers know the store has more than just movies. The sign reads: &...
Read More >>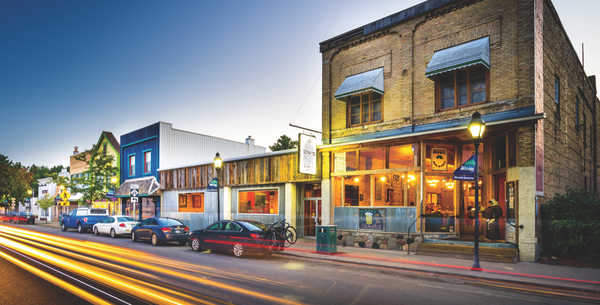 Small Up North Towns on the Rise
Spotlight on Bellaire (pictured)Seems Traverse City isn't the only place in the region making those "Best...
Read More >>
↑