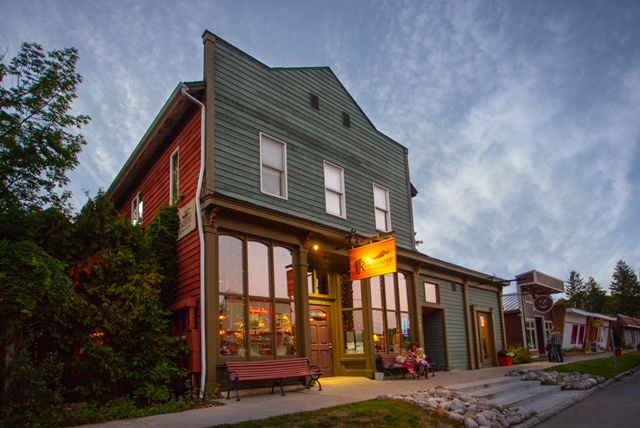 The Roadhouse
With a huge tequila selection, outdoor deck, and fab food, Benzonia's Mexican bar & grill is a must.
In spite of the catchy yellow, red, black, and green logo sign on the front of the historic building it calls home "at the top of the hill" in Benzonia, the Roadhouse sometimes fails to catch the attention of people driving by. Fortunately, enough of them find their way here to allow for this fun, friendly, fresh-food-focused Mexican restaurant to stay open year-round. Oh, and did we mention tequila? How about 70 varieties?

Like most restaurants in Northern Michigan, summer is high season for the Roadhouse Mexican Bar & Grill in Benzonia. But it's worth a drive from outlying regions at other times of the of year as well, with the added advantage of having a much better chance of scoring a seat inside or — at least in spring and fall — on the inviting outdoor deck.

A SNAP DECISION
Roadhouse owner Gretchen Bookeloo-Nahnsen (not a Mexican name, obviously; but Dutch) grew up in the hospitality industry. Her parents ran Denny's Bakery and Restaurant in Beulah (now the Brookside) and her dad also managed Crystal Mountain and Caberfae ski resorts in the winters. As a young adult, she left the area to go "out west, out east, and down south," as she put it but eventually returned to work at Crystal Mountain herself. She later started a vacation rental company but soon realized it really wasn't a fit for her.
The Roadhouse already existed at that time, and one Friday evening in 2001, she found herself sitting at the bar talking to then proprietor, Jim Barnes, who told her that he was ready to sell the place and move on.
"I didn't know anything about Mexican food," she said, "but I liked the Roadhouse, and I just decided on the spot to buy it. We pretty much struck a deal right then and there. I just took the ball and ran, and it has been quite a good little business for me."

Chef Miguel Roman, originally from Northern Mexico, "came with the package," she joked. "He was already here when I took over, and that was such good luck for me. He had started as a dishwasher, but Jim had been teaching him how to cook, so I encouraged that further, and he has just gotten better and better. He's amazing. His wife does kitchen prep, and one of his sons is also coming up through the ranks. His brother works for us now, too — he's been here at least 10 years." Much of the rest of the year-round staff has been with the restaurant for more than a dozen years.

"The biggest compliment we get from our guests — besides how much they enjoy the food, of course — is that they just love the atmosphere here," said Bookeloo-Nahnsen. "They mention the tall ceilings, the nice light, and the hardwood floors inside, and the great vibe on the deck outside in season. But those who come back year after year also appreciate seeing the same faces of our longtime waitstaff — we're so fortunate that way. They are an upbeat, customer-oriented, well-trained team — and they seem to have as much fun here as the customers. I love to see it when they come out of the kitchen and they're cracking up because of something the cooks said — they tease the servers relentlessly."

In addition to its loyal local customer base, the restaurant gets a lot of winter weekend traffic from Crystal Mountain. "We're just 11 miles away, and we've become a tradition for all of those people," said Bookeloo-Nahnsen. "They always want to come here at least once while they're Up North. It's easy to tell who they are, because they all have ski passes on their jackets!"
The warmer months bring in lots of boaters from nearby Crystal Lake and Frankfort Harbor on Lake Michigan, as well as vacationers and people who have summer homes nearby.

THE WHOLE ENCHILADA
The Roadhouse describes its food as "fresh, not fast — hand-prepared daily." Bookeloo-Nahnsen elaborated: "Our prep list is huge. We marinate every meat, and cook our beans, rice, vegetables, and sauces in-house — almost everything is from scratch — using fresh herbs and spices. We also fry our own chips and make three different kinds of salsa — roasted tomato, peach, and fresh tomato." By popular demand, the latter salsa is also sold in one-pound containers at the Benzonia Shop-N-Save and the Honor Family Market.

First time at the Roadhouse? Bookeloo-Nahnsen suggests starting with the house guacamole and then trying the enchiladas (three corn tortillas with either seasoned ground beef, chicken, shredded pork, or cheese, plus mild green chile sauce, onions, refried beans, cheese, and sour cream, all topped with a sunny-side-up egg upon request).
"They are classic — our No. 1 sellers," she said. Other options are the crab enchiladas (three corn tortillas stuffed with crab, onions, and cheese, topped with house-made jalapeño queso sauce and served with sour cream) or vegetarian enchiladas (three corn tortillas filled with black beans, corn, red peppers, onions, jalapeños, cilantro, and cheese, topped with house-made mild green chile sauce and served with sour cream).

No. 2 on the entrée favorites list is the Roadhouse Skillet, which is kind of like a deconstructed fajita (tequila-marinated steak and jerk chicken, grilled peppers and onions, and Monterey Jack, all baked golden brown and served with sour cream). Customers also love Chef Miguel's chile rellenos, which are part of two dishes: the Combination Azteca (one each chile relleno, chicken enchilada, and hard-shell ground beef taco) or the Combination Maya (one Chile relleno, one chicken tamale, and two empanadas). A particular crowd pleaser in the hearty salad category is the Santa Fe (grilled salmon or shrimp, fresh mixed greens, grilled fajita veggies, and black bean corn relish, served with creamy cilantro dressing).

Only offered on Fridays, which makes them even more coveted by fans, are the Roadhouse fish tacos (choice of two or three grilled soft corn tortillas filled with beer-battered pollock, house made tzatziki sauce, peach salsa, crisp lettuce and cilantro, served with refried beans and Roadhouse rice. "The peach salsa is fresh, sweet, crisp and tangy — it's perfect with the fish," said Bookeloo-Nahnsen.

CAN'T BEAT A MARGARITA!
Not surprisingly, the Roadhouse bar menu leads with an enticing array of margaritas, many incorporating a proprietary sour mix made by Northwoods Soda. The Roadhouse Rita (gold tequila, triple sec, lime juice and sour mix, blended or on the rocks) is the most ordered, but others, like the Rasta Raspberry Rita, the Cabo Rita, and the Margatini, are close behind. Specialty cocktails carry intriguing names like Cozumel-Politan, Mexican Lollipop, and Dos Equis Float.

Draft and bottled beer — Mexican, local craft, domestic and imported — are in high demand and well represented here. Wine, less so, but red and white house wines and a few nice Spanish labels (among them a tempranillo rosé and an albariño) are available by the glass or by the bottle. Among the full component of spirits behind the bar, you'll also find vodka and gin from local distillery Iron Fish, a neighbor from just down the road. House sangria, made with brandy, triple sec, peach schnapps, red wine, and three different kinds of citrus juice (orange, lime, grapefruit), is offered by the glass and by the pitcher.
"We also have a drink called the Margarita Swirl," said Bookeloo-Nahnsen. It's a margarita with sangria floated on top. People love that — it's very refreshing."

Feeling the need for refreshment in the restaurant's interior a couple of years ago, Bookeloo-Nahnsen brought in a designer from Traverse City to help. "We changed the whole color scheme, did some revamping, and redid the bar area to showcase the over 70 kinds of tequila we now carry," she said (see sidebar: "Thirsty Thursdays"). Cozy booths line the walls of the main dining area, a bright, welcoming space with eclectic light fixtures, Mexican tile work and artifacts, and rows of window boxes filled with shiny green succulents (which move outside to the deck in summer).
And about that deck: Although it might not look like much now, as soon as warm weather finally arrives, it invites alfresco dining under the sun (or vibrant turquoise umbrellas), surrounded by vine-covered trellises, strings of patio lights, and a raised bar area dubbed the "cantina".

With Cinco de Mayo coming up soon, Bookeloo-Nahnsen is hoping she can have the deck open by then. "We do it up right here. We always have live music, I get a bunch of straw hats and mustaches and fun stuff for the customers to dress up in, and local distributors sometimes supply free swag for us to give away. We always have a great turnout for it."

The Roadhouse Mexican Bar & Grill is located at 1058 Michigan Ave/U.S. 31 South ("at the top of the hill") in Benzonia. Open daily year-round 4pm–9pm (extended to 10pm in summer). Happy hour 4pm–6pm Monday–Friday. (231) 882-9631, roadhousesalsa.com. No reservations or call-ahead seating.

THIRSTY THURSDAYS
"Thirsty Thursdays are our way of trying to educate people about our large selection of tequilas," said Bookeloo-Nahnsen. "We carry over 70 different varieties." The Roadhouse features a different bottle every week on its Facebook page, giving background information about it and offering a free glass to anyone who comes in and tries it. They also plan to start doing flights of tequila soon (not just on Thursdays) as another way to introduce people to those styles and brands that they might not be familiar with.

"We would like to be known as a specialty tequila bar," said Bookeloo-Nahnsen. "Our manager, Chris Wells, shares my excitement about that. He and I have done — and continue to do — a lot of research to find out what's popular, what's special, and what's trendy in the different styles of tequila (blanco, reposado, añejo), and have established what we feel is a respectable selection." (While shots of most of the tequilas run about $8 to $15, there is one on the list, called Clase Azul, that goes for $100!)







Trending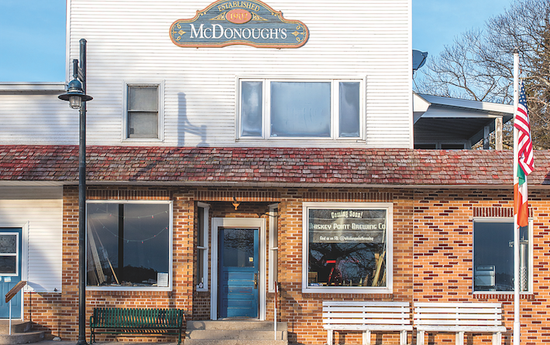 Welcome to Michigan's Most Remote Brewery
After years of planning and honing his beer-making skills, this spring, Patrick McGinnity plans to open Beaver Island&rsqu...
Read More >>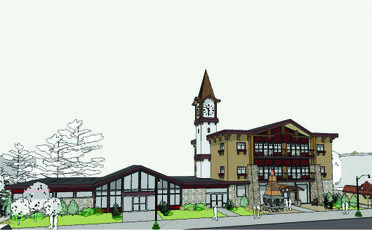 Gaylord: A boomtown Up North
Gaylord native Gary Scott had moved to Indiana, where he and some partners started a business to invest in distressed prop...
Read More >>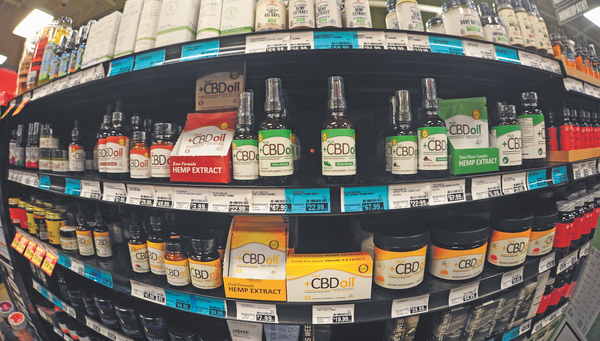 CBD Laws: Dazed and Confused
The sign outside of Family Video in Kalkaska lets drivers know the store has more than just movies. The sign reads: &...
Read More >>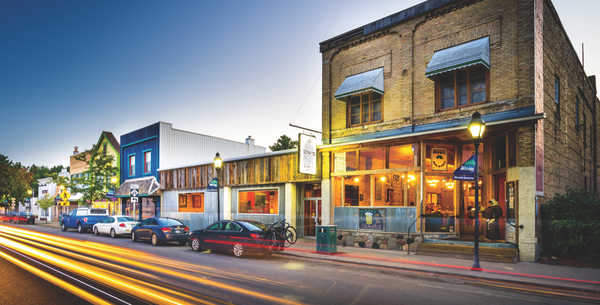 Small Up North Towns on the Rise
Spotlight on Bellaire (pictured)Seems Traverse City isn't the only place in the region making those "Best...
Read More >>
↑