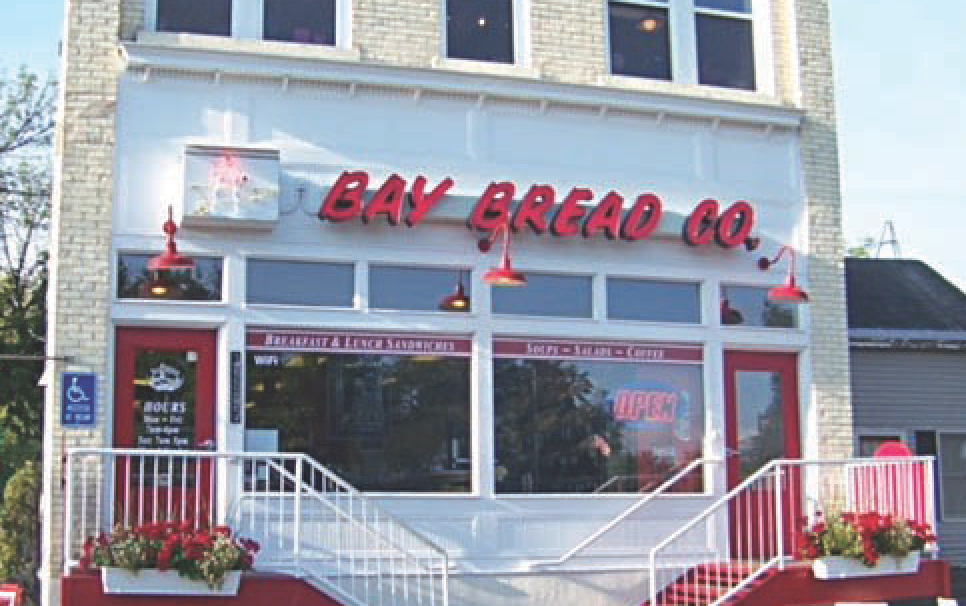 The Roost at Bay Bread Co.
Sammies in the penthouse suite.
Stacey Wilcox, co-owner of the Bay Bread Company with her husband, Steve, since 20O3, emphasizes that The Roost upstairs from the bakery is basically just "overflow seating," but there's no denying that to her, personally — and to many others — it's so much more than that: a cozy, informal gathering place with a lovely view of the bay, where customers can sit and relax (yes, that's one definition of "roost") while enjoying a delicious sandwich and sipping a cup of coffee or tea in surroundings that make you feel as if you're in Mom's or Grandma's sunroom – because, in a way, you are ...
The cheerful two-story yellow Grelickville brick building with bright accents of rooster-comb red that has housed the Bay Bread Company since 1998 dates back to the 19th century. Long before the aroma of fresh-baked yeasty goodness wafted through the air here, it was first a bar, then a deli, a camera shop, and a natural foods co-op. Fifteen years ago, Stacey Wilcox and her husband, Steve, had just returned to northern Michigan to be closer to family after 20 years in Denver, Colorado, where she was a software engineer and he was a food broker and distributor. The pair had enlisted a realtor to help them find a house, and in the process, he kept telling them, "You've got to see this little bakery that's for sale!" Wilcox said they resisted, saying, "We're not looking to buy a business, and we don't want to change careers. We just want to find a house — and then we'll find a job."
FATE STEPS IN
But the realtor persisted, and when Wilcox finally gave in and visited the bakery, she was immediately smitten. "I walked in that day, looked around, and said, 'Wow, this is amazing. Yes, I want this.' One thing I had loved about Denver is that they took a lot of very old buildings and brought new life into them, so I saw the potential of doing something like that here."
The owner — who had studied baking in Europe and had started Bay Bread as a French bakery, with everything done in the Old World style ‑ offered to train Wilcox. "She really took the time to teach me everything she could about the bread. It was her passion, and she was sure that this could become a viable enterprise, but it had just been a project for her — she didn't really want the business end of it. Steve and I always say that we bought ourselves a job. But it has been a good thing for both of us."
A FITTING TRIBUTE
Originally, the second-floor rooms of the building were just used as office space. But when Wilcox unexpectedly lost her mother in 2009, she wanted to find a way to honor her legacy, and The Roost turned out to be the answer. "Mom had a decorator's eye for design, and she had always wanted me to do something up here. At first I wasn't sure what that would be, but I had inherited all of the furnishings from her house, including my grandmother's things, and I wanted to use them in a way that she would have approved of. We had already started serving breakfast and lunch fare downstairs — it turned out to be a natural extension of the bakery business — but seating was very limited, so I decided to use several of Mom's and Grandma's chairs and tables and decorative objects to create a cozy, welcoming environment upstairs for customers to relax, have coffee ,and eat their pastries, breakfast sandwiches, or lunch. And I thought if I could make it more of a community venue — she was very community oriented — that would be a fitting tribute to her. I even started a book swap up here, because that was something that she and I both enjoyed, and it has become really popular. It's very informal. There are baskets and shelves all over with books and magazines, and people come up here to drop them off or pick them up, and they get talking to one another, they share tables, they socialize, they get to know each other. It's the best thing ever."
Wilcox's mother's decorating style, Country French, ended up providing the name for the new space. Roosters are very much are part of that style, being the unofficial national symbol of France and quintessential to the French countryside. "When my good friend and I looked around during the time we were decorating and putting her things in here, we started cracking up," said Wilcox, "because there were rooster motifs everywhere, and I said, 'It's kind of like a roost up here. We're up above, and there's a French bakery down below — it's The Roost.' And it stuck."
RELAX
The way The Roost works: Customers order and pay for their food and drinks at the counter downstairs in Bay Bread's bakery, and when the food is ready, everything is delivered to their table upstairs in The Roost. "You don't have to wait for your number or come back downstairs to get it," said Wilcox. "We tell our customers, 'Go and relax upstairs, and we'll bring it up to you.'"

Coffee pots are self-serve, but specialty coffees from the upstairs espresso machine (café Americano, lattes, cappuccino, mocha, and more) are made and served by the staff member who delivers your food. All the coffee comes from local Roaster Jack's. In The Roost's small kitchen, customers can get their own water and ice, as well as half and half or milk for their coffee, from the refrigerator. Sandwich paper and bags for taking home leftovers are neatly arranged on the counter, as well as sugar, stirrers, napkins and other kitchen 'necessities.' "We say, 'It's just like being at home, except you don't have to do the dishes,'" said Wilcox.
Hungry for breakfast? Try the not-as-dangerous-as-it-sounds The Devil (egg, Havarti, onions and roasted peppers with mayo and mustard on ciabatta), homemade oatmeal (with cinnamon sugar and cherries), or opt for one of Bay Bread's specialty pastries — a tempting array of sticky buns, scones (five varieties, including cherry almond), muffins (three varieties, including carrot walnut with cream cheese frosting) or cinnamon rolls. The bakery now makes its own bagels, too.
OUT (OR UP) TO LUNCH
For lunch, there are five salads, including The Greek (romaine, tomato, Greek olives, onion and feta), and one daily soup (which can be served in a sourdough bread bowl upon request). But not surprisingly — this is a bakery after all — sandwiches are the main attraction here. The menu lists 22 different kinds: a selection of deli, grilled or toasted, with customer favorites like the Grinder (turkey, ham, roasted peppers, asiago, house made basil pesto and tomato on herb focaccia), the Club (ham, turkey, bacon cheddar, Swiss, tomato and mayo on sourdough or herb focaccia), the Chipotle BLT (bacon, lettuce and tomato with house made chipotle mayo on ciabatta or Italian bread), and the Pepper Parm Turkey (turkey, lettuce, tomato, cucumber and mayo on toasted and buttered pepper parmesan bread). Said Wilcox, "Like all of our sandwiches, it's the bread that makes that one so popular — otherwise, it's just a turkey sandwich."
Wilcox said that although Bay Bread and The Roost are away from the main shopping and dining district of Traverse City, business is steady year-round. "People always need bread. And we supply a lot of local restaurants daily, too — that has been our little niche. We're not competing with places downtown — their menus are extensive, and they have professional chefs. We're a bakery first and foremost, and we offer some very good basic sandwiches. The difference is that we make all of this great bread, and we make some great spreads. So when you put those two together with a generous filling of other fresh ingredients, well, I guess that's our secret to a good sandwich."
The Roost is located on the upper level of the Bay Bread Company at 601 Randolph St. in Traverse City. (231) 922-8022, baybreadco.com. $
GOT BREAD?
Certain breads are suggested for certain sandwiches on Bay Bread's menu, but basically, customers can request any kind they want. "We've found that people like to have some guidance on what to choose," said Wilcox, "since we make different 40 kinds of bread." A sampling: Whole Wheat Apple Spice, Jalapeño Cheddar, Pesto Batard, Baguettes, Rosemary Ciabatta, Pecan Raisin, All-American with Blueberries and Cherries — even one called "Nic's Power Loaf" with whole grains, carrots and spinach. "There is an opportunity to educate people about good bread when they come in," said Wilcox, "and about what's in it. Our bread is just flour, water, salt and yeast. If it's a cheese and onion loaf, then it has cheddar cheese and onion added, but the basic bread recipe remains the same."
ORDER IN
Bay Bread offers box lunches (sandwiches or salads with a freshly baked cookie, chips and a pickle) or sandwich platters for delivery throughout Traverse City. (For large groups only; no delivery of individual sandwiches or box lunches.)
Trending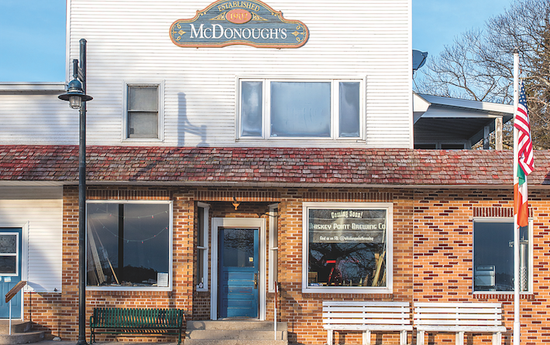 Welcome to Michigan's Most Remote Brewery
After years of planning and honing his beer-making skills, this spring, Patrick McGinnity plans to open Beaver Island&rsqu...
Read More >>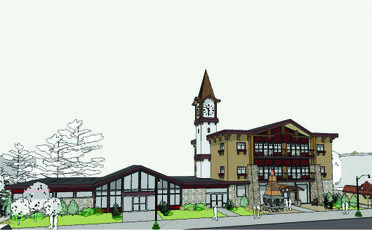 Gaylord: A boomtown Up North
Gaylord native Gary Scott had moved to Indiana, where he and some partners started a business to invest in distressed prop...
Read More >>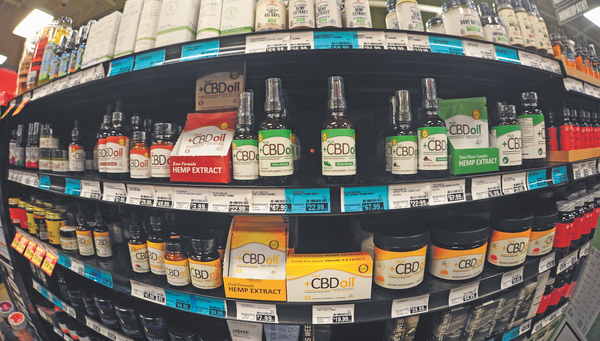 CBD Laws: Dazed and Confused
The sign outside of Family Video in Kalkaska lets drivers know the store has more than just movies. The sign reads: &...
Read More >>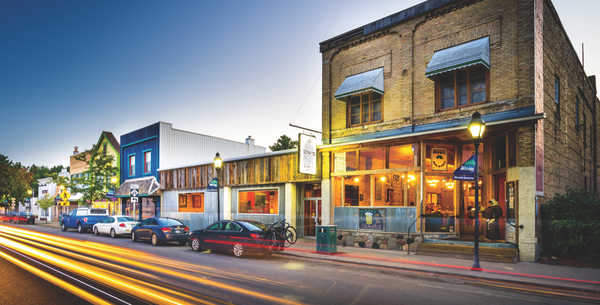 Small Up North Towns on the Rise
Spotlight on Bellaire (pictured)Seems Traverse City isn't the only place in the region making those "Best...
Read More >>
↑