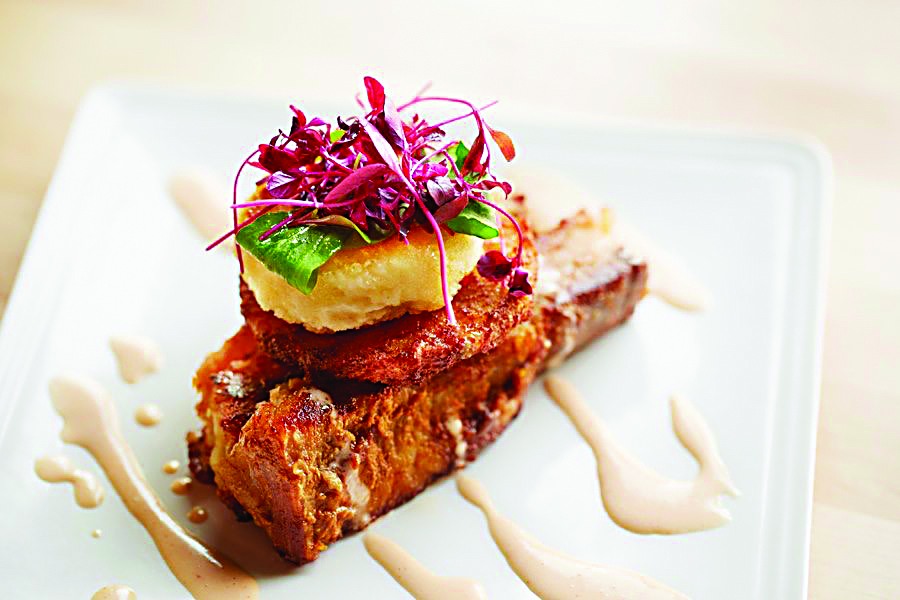 The Towne Plaza
A former architect raises food to art at his Traverse City restaurant.
Sooner or later, the weather in northern Michigan will warm up! And when it does, you might want to beat the summer crowds and head over to the Towne Plaza in Traverse City, where you can enjoy casual fine dining alfresco for breakfast, lunch, or dinner at one of the prettiest outdoor settings in town (and if it happens to be raining, inside the restaurant is lovely and inviting, too).

Chris Hoffman has always had a laser focus when it comes to pursuing his goals. He was only 10 years old when he decided he wanted to become an architect, and his resolve continued all through junior high and high school. He went on to graduate with a degree in architecture from Lawrence Technological University in Southfield, and got his first job as a model maker in Detroit with an architecture firm that did commercial buildings. While there he created models of the city's casinos, the Bosch World Headquarters, the Detroit skyline, and the then-new terminal at Metropolitan Airport, among others.
"But in Detroit at that time, it was feast or famine," he said. "When you were busy, you had to sleep at the studio. And when you weren't, you just sat around, and there wasn't a whole lot to do."

CULINARY SCHOOL CALLING
He eventually changed course and became a construction manager, first in Detroit, and later at a company in his hometown of Traverse City. "As it turned out, one of my last projects for them was the new Great Lakes Culinary Institute," he said, "so I had a connection with that building even before I knew I would someday be a student there," he said.
Just before returning to northern Michigan, Hoffman had found out he had some genetic issues that required him to change his diet completely. "From that day on, every night, I would come home from work and prepare food for myself and put thought and time into it, because I had to. But the more I did that, the more it captured my interest, and I started watching Food Network and reading cookbooks. I'd go to Borders and spend a lot of time in the food section, too, trying to learn more about how to do things in the kitchen, because I hadn't had any real experience with cooking until then."

Approaching 30 at the time, Hoffman realized he wasn't enjoying his work, so he decided to go back to school. "I went to see a counselor at Northwestern Michigan College, and after listening to what my background was and suggesting various courses of study — all of which I rejected — she said, 'Well, you know, we have a culinary school … .' And somewhere inside me, I had been hoping she would say that — I think I wanted somebody to push me in that direction."

While still in culinary school, Hoffman's first restaurant job was at the Grand Traverse Resort, in its flagship Trillium restaurant (now Aerie). His second was at The Riverside Inn in Leland.
"I worked as a line cook my first summer there, five or six nights a week, and I was completely in my element," he said. Other than a short stint at Traverse City's now-definct Hanna Bistro one summer (The Riverside was a seasonal restaurant), Hoffman stayed at The Riverside for seven years, eventually becoming their sous chef and then executive chef. "I loved working there." he said. "Loved everything about it."

TO BE OR NOT TO BE (A RESTAURATEUR)
When the Riverside closed in 2011 for the winter, a friend told him about a space that had become available on the corner of Cass and State streets in Traverse City, where the Towne Plaza now sits. "I said, 'Thanks, but that's not really in my plans right now. I'm not ready for it, and even if I were, that's not the kind of place I'm interested in.' As an architect, I had, of course, already pictured what my restaurant would look like if I ever had one. But my friend kept insisting that I should at least see it, and I finally agreed. After the landlords showed me around, they left and just let me be alone here. I stayed for about an hour, thinking about everything — especially looking at the outdoor plaza and imagining its potential — and in the end, I knew I was going to start a restaurant here. After I signed the lease, I went back in and asked myself, 'All right, what is this place going to be?' And within about four hours, every single thing just came to me."
The next morning, he woke up, came back, and started the demo that would make the space into the vision he had in his head.

"Food wasn't really important to me until I had to start thinking about it more seriously, but after I got married, my wife and I traveled a lot, and we sought out the local cuisine everywhere we went. We had probably been to 20 different countries by the time I started culinary school. There were all of these little things that were subconsciously inspiring me on my way to becoming a chef, and when the time was right, I brushed all those pieces together and created something of my own."

Thanks (or no thanks) to apps like Yelp and Trip Advisor, Hoffman said that the No. 1 thing the Towne Plaza is known for right now is breakfast. "In some ways, it's a detriment, because with the power of those reviews, that starts to become your identity, which pulls attention away from dinner. We still get very good reviews for dinner, too — it's just that the greatest number are for breakfast."
But dinner at the Towne Plaza definitely deserves its due.

There is some strong Italian influence on the menu, a result of Hoffman having worked in a restaurant in Italy for a month on one of his trips abroad. Grilled romaine salad (with lemon juice, Parmigiano-Reggiano, olive oil, pancetta and crostini); potato gnocchi (with roasted vegetable béchamel, mozzarella, tomato and basil); arancini (mozzarella-stuffed risotto, smoked tomato sauce and balsamic reduction); and pecorino and sea salt fries all bear witness to this. And pork — Italy's favorite meat — is a house specialty. The Towne Plaza's sign is a pig, and there is a boxed section in the middle of the menu titled "Pig in the Plaza," whose listings are some of the restaurant's best-selling dishes, including porchetta (loin stuffed seared and roasted pork belly with chimichurri and fries) and a house-made charcuterie platter (terrine, duck pastrami, rillettes, pate, coppa, Roman beef, and duck prosciutto with bread, cornichons and olives).

In addition, there is always a cut of the day (often beef) and a catch of the day (recent offerings have included grouper, halibut, and tuna) with special preparations, and the seafood section of the menu lists items such as fresh oysters on the half shell and seared jumbo sea scallops. Alternative proteins get their due as well, like duck breast (with brandy orange glaze and soft polenta); ostrich loin (with cheddar potato gratin and mushroom Madeira sauce); and escargot (in a white wine and fresh herb sauce, served with baguette). And although it might seem like the Towne Plaza is heavy on meat, poultry, and seafood, the menu is actually quite diverse, with those ubiquitous social media and apps, rating it highly under "vegetarian options."

WITH A LITTLE HELP FROM MY FRIENDS
Back to breakfast, some of the most popular items are the pancakes (with fresh blueberries and maple syrup); the root vegetable gratin (turnips, rutabagas, carrots, parsnips, Swiss chard, and mushrooms, topped with raclette cheese); the veggie omelette (with spinach, feta cheese, artichokes, tomatoes, Kalamata olives, and Bibb lettuce), and four versions of eggs Benedict.
One of them, the chicken Benedict, got a little makeover a few years ago (see sidebar). As for desserts, Hoffman says they are kept "simple," but you make the call: With temptations like frozen lemon mousse, crème brulée, peanut butter torte, and strawberry shortcake on the menu, who needs complicated?

Hoffman said one of the things that has been especially gratifying for him since becoming a chef is forming relationships with other restaurateurs here in Traverse City. "I had a steep learning curve in the beginning, and many of them have given me advice, sat me down, and talked to me, and have been willing to help in any way they can. I'm so thankful for them — and for my employees, some of whom have been here since the day we opened."

Hoffman said the focus at the restaurant has always been making people comfortable and wanting them to enjoy themselves. Apparently, his customers have been doing just that, since the Towne Plaza has just begun its eighth year in business. "We opened on May 3, 2012, and the time has gone by really fast. The restaurant is humming now — we're doing well, and I finally feel like I can relax a little. One thing I already make a priority is taking vacations with my family. I also started doing yoga about four months ago, and I totally got into it — I do it four to five days a week now. I come back afterward refreshed and ready to get back to work."

The Towne Plaza is located at 203 Cass St. in downtown Traverse City. Open Monday through Friday 9:30am to 9pm; Saturday 8am to 9pm; and Sunday 8am to 9pm (beginning Memorial Day). For more information, call (231) 929-0900, visit www.thetowneplaza.com or check them out on Facebook.

THE CHICKEN BENEDICT MAKEOVER
Hoffman decided to modify his chicken Benedict a few years ago after his colleague Pete Peterson, legendary chef-owner of Tapawingo in Ellsworth for 25 years, proffered his opinion of it: "Pete came in and ordered it one day, and he came up to me afterward, grinned at me, and said, 'Chris, it was very good, but it's calorically offensive.' And I laughed and said, 'Thank you, Pete — that was the idea.' Back then, we used to put it on a big pile of mashed potatoes. Like the original eggs Benedict, which according to one historical account was conceived to be a hangover cure, it was the concept of the dish to be rich and heavy. But still, when Pete Peterson talks, you listen. And I said to myself, 'Okay, how can I refine this, tighten it up a bit, and make it look a little better, presentation-wise?' So now we serve it on a potato cake. It gives the dish more height and a little crunch. It has become one of our most popular breakfast choices."

Note: Photo above, Towne Plaza's pork belly with chèvre and fried green tomato, by Beth Price, Priceless Photography
Trending
Libertarian Solutions to Reforming Police State
Americans are finally seeing the need to reform the way our society enforces laws, as the issue of police force has been p...
Read More >>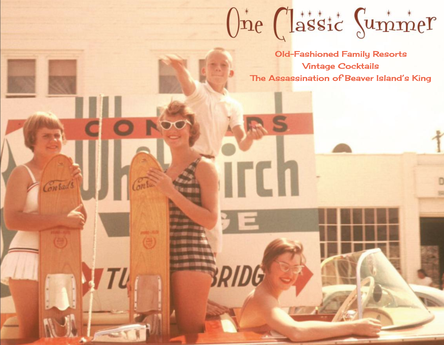 Cruise On In: The Best Resorts of Summers Gone By
As a prime vacation spot, northwestern lower Michigan is home to a number of different lodging facilities, from rustic cam...
Read More >>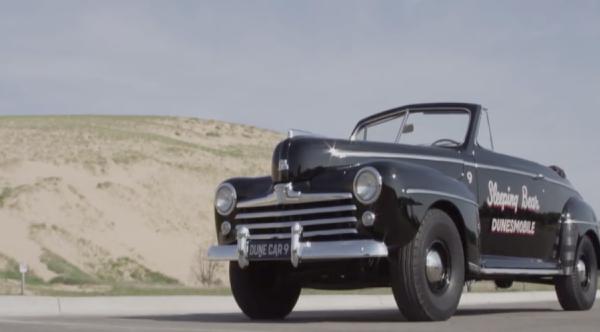 Days of the Dunesmobile
The sand dunes at the Sleeping Bear Dunes National Lakeshore are monuments of nature, 2,000 years old and towering 100 fee...
Read More >>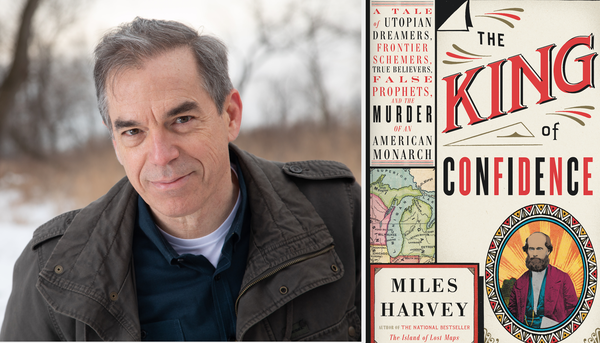 King of Beaver Island
It is possible to make the argument that James Strang is the most interesting person who ever lived in northern Lower Mich...
Read More >>
↑