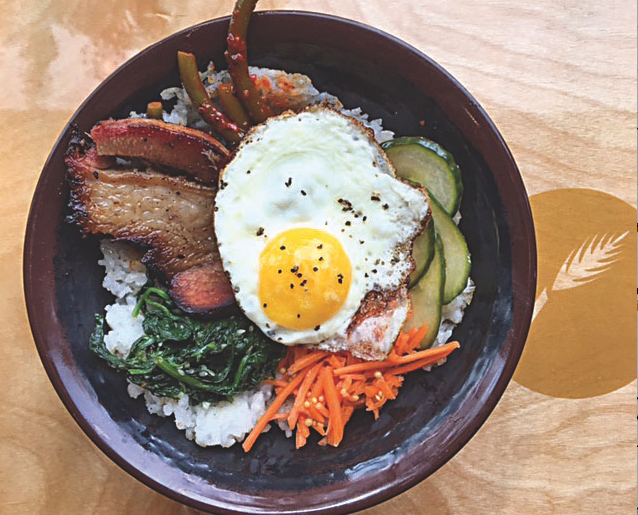 Traverse City's Harvest Restaurant
Sowing new seeds of creativity
When Harvest debuted in June 2014 in in the alley between Front and State Streets in Traverse City, the only visible sign of its existence to passersby on nearby Union Street — if they happened to look east — was a large sign hanging off the façade of a modest brick building that said "EAT." But word of mouth (and social media) soon got the message out that the food was good, innovative, and fairly priced, and the service was friendly and quick. And soon there were lines out the door. The menu concept was intriguingly simple: an eclectic mix of regional American and global flavors, emphasizing fresh, local, sustainable ingredients.
THE MORE THINGS CHANGE
"None of that has changed," said Simon Joseph, co-owner of Harvest with his wife, Rebecca. However, two major things have changed. In May 2017, the restaurant moved to its new location directly on Union Street, just steps away from where it all began. And unlike its predecessor, this Harvest has a liquor license (see sidebar).
One of the biggest fears for the owners was that putting their original concept into a newer, larger space [seating capacity has doubled] wouldn't feel familiar to their regular guests. They needn't have worried.
"What we hear most often is, 'It's just like Harvest, but it's a lot more comfortable now!'" said Joseph. That comfort is mainly the handiwork of Joseph, who in addition to his long career in the food industry also worked several years as a general contractor. "We gave the first Harvest an urban, industrial feel, which worked well for the building it was in, but we've gone with a warmer, more rustic feel here," he said. "When we first walked in, I said, 'Well, we've got to rip this whole thing apart.' But then, as we started working in here, some of the old stuff started to grow on us — like the pounded tin on the front of the bar and the raw wood beams — so we just added our twist to it."
Joseph also oversaw the interior decoration, including all new lighting and new chairs and barstools. "We knew right away that we wanted to brighten up the space," he said. "The tables were here, but they were very dark, so we stripped them all, and we put new covers and light wood on the banquette."
THE MORE THEY STAY THE SAME
On the wall above that banquette, regular patrons will no doubt be delighted to see the big, quirky U.S. wall map that was always a popular conversation piece at the original Harvest. Another unmistakable déjà vu element in the new space is the work of Paulino Cicilio, Jr., whose unique art made the former bathroom walls a popular topic of discussion. Without revealing too much, suffice it to say, those rooms are worth a visit.
But as with Harvest version 1.0, customers flocking to Harvest 2.0 are coming for something much more compelling than the décor. That original "EAT" sign, now hanging outside, as well as the two original digital menu screens, now hanging above the bar, are the true indicators of what this place is really all about: food.
The screens still list the kitchen's offerings under the headings "Here Today, Gone Tomorrow" (hint: if it's there the day you go, try the Reuben bahn mi),"Street Food Favorites" (a must-have: Korean beef tacos with sambal slaw and sriracha mayo), and "Maybe Just a Snack" (a toss-up: sweet potato fries with chimichurri or flash-fried beets with wasabi mayo).
According to Joseph, dinner was was never one of the things for which the former Harvest location was known. "I mean, let's face it, if you can't have a glass of wine or a beer with your dinner, a lot of times that's a deciding factor." Now, the combination of a newly added "Give Us a Minute" menu category, with its ever-changing entrée-like options (think: dishes like smoked pork chops or leek risotto), and the new liquor license have definitely drawn more dinner guests, said Joseph.
GOOD DNA
"Our menu is constantly evolving," said Joseph, "but always within the box of what Harvest is. And as long as my chefs stay within that box, they can create whatever they like. I want them to look back at what we've done and then take that and run with it. Different chefs we've had over the years have contributed dishes that have become menu staples. James Bloomfield [now at Alliance], for example, created our Street Beets with wasabi mayo, and Mark Garneau, who was with us for a long time, created the Kung Pao Brussels Sprouts. There's a little bit of DNA left over from everyone who has cooked here, and I think that's great."
Harvest's current head chef is Adam Steffens, and Joseph believes he will be adding to that creative DNA. "Adam is originally from Michigan, but recently returned form several years working out west, including California, and he has brought a lot of different ideas with him. He's a great addition to our team," said Joseph.
For the Harvest brunch menu, served on Saturdays and Sundays, Steffens recently did a roasted poblano and chorizo benedict with a spicy hollandaise. "It was really outstanding," said Joseph. Other recent favorites on the brunch menu: a Caprese waffle sandwich (Sun Ra Farm tomatoes, spinach, balsamic vinegar, and mozzarella), pumpkin-bread cream-cheese French toast, and the perennial favorite Old No. 12 hash (root veggies, ginger-sage sausage, fried egg, and mustard cream).
"I think the essence of Harvest that it's a really comfortable, casual, laid-back place," said Joseph. "When it's busy, it's busy — no doubt about it —but even then, we really want it to be a place where you can come in and feel at home and get some great food at an affordable price point. That's something we never want to change."
Harvest is located at 127 South Union St. in Traverse City. Open 8am–10pm Tuesday through Saturday and 8am–4pm Sunday; closed Monday. For more information, call (231) 486-6037, visit roamingharvest.com, or check them out on Facebook and Instagram. Rating: $-$$

RAISE YOUR GLASS
(BUT KEEP IT LOCAL)
Now that it has a liquor license, Harvest is featuring a full bar menu of beer, wine, cider and spirits, including specialty craft cocktails. "We also have a new tap system, and I actually took half the taps out that were here, even though the trend has been to add more," said Joseph. Why? "Because realistically, we're across the street from one of the best beer bars in the country [7 Monks]. What we're going to focus on is staying hyper local with our entire beverage selection. And we're not going to turn into a bar — our main emphasis will always be on our food."
FAST FOOD
(WITH SLOW FOOD ROOTS)
While brunch at Harvest is leisurely, breakfast, served Tuesday through Friday, is "a lot faster and simpler," said Joseph. "People can swing in here, get a good, tasty start to their day, and be on their way. We always have breakfast tacos, breakfast burritos, and usually a version of Swedish pancakes with fresh fruit, in addition to a couple of other rotating items."
From its early beginnings, lunch business has been the mainstay of Harvest, especially with downtown employees. Like breakfast, it too is aimed at speed, while never sacrificing quality. "It's like 10 minutes, $10," said Joseph. That's where we want to be — because it's lunch, and people have to get in and get out and get back to work or wherever."
Trending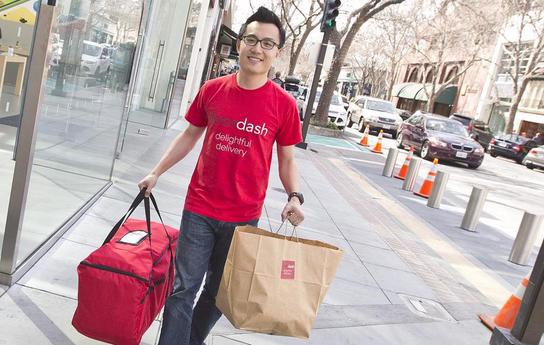 Could Delivery Save NoMi Eateries?
What was once the exclusive province of pizza and sandwich joints has become a means for some restaurants to thrive. But e...
Read More >>
What You Are Voting For?
After voting straight Republican for 36 years, from 1971 through 2007, I have been an Independent since 2008, studying and...
Read More >>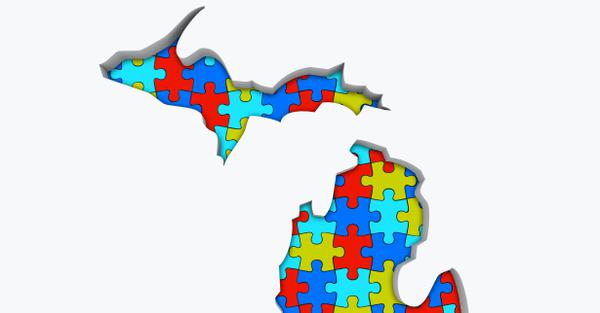 The Democracy Lottery
Mary Burget, a retired Northwest Michigan College math instructor, thought her math skills might be useful in redrawing Mi...
Read More >>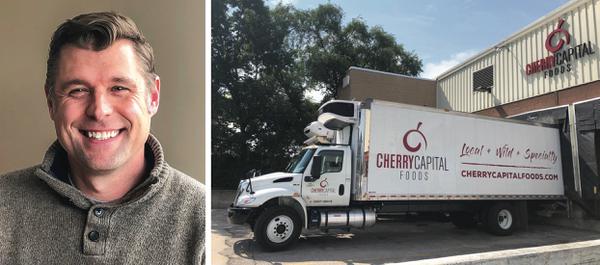 Forged In Fire
As the new managing director for Traverse City's Tamarack Holdings, Michael Lahti is helping to lead a company that ...
Read More >>
↑