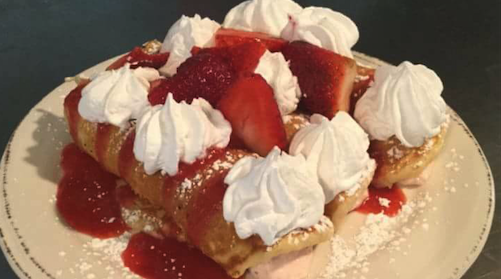 Traverse City's Omelette Shoppe
Upping the Breakfast Ante
One of 2017's most notable food trends was "put an egg on it." It was the year that eggs topped everything from arugula to ziti. Well, here's a news flash: The Omelette Shoppe has been putting an egg on it — and around it, and under it, and beside it, and in it — since 1975, drawing breakfast lovers from near and far.
Forty-three years later, the cozy little original Omelette Shoppe still sits at 124 Cass St. in downtown Traverse City. And customers still cheerfully line up outside the quaint yellow brick building in the warmer months, more than willing to wait for the chance to put their name in to snag one of the leatherette booths inside or a patio table on the sidewalk. The small but wildly popular establishment eventually spawned a second, larger location in the Campus Plaza on East Front Street, and after the franchise was purchased by Restaurant Partners Inc., owned and operated by TC native Jeff Lobdell and his partner, Scott Parkhurst, two more Omelette Shoppes were added in Grand Rapids.
UPPING THE BREAKFAST ANTE
Jennie Block, concept lead for the two Omelette Shoppes in Traverse City, said that as good as the franchise has been from the start, Lobdell and Parkhurst have taken it to a new fresh, local level. "We strive to buy locally as much as we can — our emphasis is on Michigan products, and some are right from the area. For example, as soon as local asparagus comes on the market, we will be using that."
Block noted that people often have a misconception of what to expect at a breakfast place because most they've been to serve pretty standard fare. Not so with the Omelette Shoppe. Its four-egg, French-style omelettes are of course the stars of the show. Incredibly light and fluffy, they would please even Julia Child (whose ode to the omelette covered 13 pages in "Mastering the Art of French Cooking").
The menu features 11 specialty omelettes, including the customer favorite, California veggie (avocado, wild mushrooms, spinach, tomatoes, green olives and Monterey Jack cheese), and the intriguing Inferno (Latin-seasoned beef barbacoa, avocado, hash browns, mozzarella, sour cream, and a little kick from chipotle hollandaise), as well as a "Create Your Own Omelette" section, offering almost endless variety. Egg whites and egg substitute are also available.
Beyond omelettes, yet staying in the savory department, there are scrambles and skillets and quiches and Benedicts (the traditional version of the latter, with Canadian bacon, poached eggs and hollandaise sauce on an English muffin, is a perennial best-seller), a standout Southwest breakfast burrito, and down-home biscuits and gravy (both homemade). Meats for various menu items are also done in house — corned beef, hams and turkeys are slow-roasted overnight.
Prefer a sweet indulgence? Try the strawberry shortcakes (three fluffy buttermilk pancakes rolled and filled with strawberry cream cheese and topped with fresh strawberries, strawberry puree, and whipped cream). Or bananas Foster French toast (classic sourdough French toast with sliced bananas and chopped pecans, tossed in decadent homemade Foster sauce). Yum and yum.
DAILY BREAD AND MORE
Baked goods are another Omelette Shoppe specialty: cinnamon rolls, pecan rolls, muffins, Black Forest cherry strudel, apple strudel, and cookies are all baked fresh at the Cass Street location. Insiders also eagerly await the month of July each year, when the Omelette Shoppe's cherry cinnamon rolls honor Traverse City's premier local fruit connection. Breads? You're spoiled for choice, including oat bran cherry pecan, raisin, rye, seven-grain wheat, whole wheat, white, sourdough, and gluten-free options, made from proprietary recipes in Grand Rapids for all four Omelette Shoppe locations. All bakery items — and, indeed, all menu items — are available for takeout. Bakery items can also be ordered in quantity with advance notice.
Even the Omelette Shoppe's beverage menu offers special touches, including freshly squeezed orange juice — or strawberry orange juice, s'mores hot chocolate, French press coffee, and carefully chosen loose leaf teas from Leelanau County's Light of Day Organics (one of them an Omelette Shop-branded house blend) served freshly brewed in personal pots.
BIG CITY MUSE, SMALL TOWN HEART
"Our menu is modified somewhat at least twice a year," said Block. "Some of that is seasonal, but we try to stay on top of what's new and exciting and what our customers want. Our owners travel every few months to see what's trending in the big cities. We keep our classics that people traditionally love and come here for, but leave the door open for change and improvement."
Although breakfast is the foundation it was built on, the Omelette Shoppe also serves lunch items (soup, salads, and sandwiches) and is currently looking to expand that part of the menu.
But even all of this goodness wouldn't be worth much without one more key thing — customer service. "John, our kitchen manager at the Cass Street store, is phenomenal with ticket times, for example. We strive to stay under 20 minutes, to get you in and out and back to work or wherever you need to be. That's sometimes hard to do on weekends or in high summer, but it's always our goal. Also, at both locations, to accommodate customers when there are longer wait times, we encourage them to browse the nearby shops, and a member of the staff will come and get them when their table is ready. By doing that — and not relying on a buzzer system — we are promoting local businesses and giving our customers more personal service. We're a bigger community than we were 20 years ago, but we still have the heart of a small town, where we support and connect with each other. "
The Omelette Shoppe Breakfast Bistro & Bakery has two locations in Traverse City: 124 Cass St., (231) 946-0912, and 1209 East Front St. (Campus Plaza), (231) 946-0590. For more information, visit omeletteshop.com or check them out on Facebook. $

WHERE TO GO?
(YOU CAN'T GO WRONG)
While they share the same menu, each Traverse City Omelette Shoppe has a different vibe. Cass Street is a tiny, colorful, familiar, run-into-your-neighborhood-friends kind of place. The much larger Front Street location, which just underwent a remodel last year, sports a sleek mid-century look in black and white. Weekdays see more business people, school sports teams, or local organizations meeting there, but on weekends, it's people coming in after church, and large groups and families. "It's a bigger restaurant, but it still has that local, casual, comfortable feel," said Block. "Your server might invite the kids to come along to the pick-up station and get their drinks or walk them around so mom and dad can eat. At both locations, we have a separate menu for [kids] with a smaller version of the basic breakfast (eggs, meat, and toast), a kid-sized omelette, and Mickey Mouse pancakes with a fruit face. The owners are very family oriented, and that spills over into the restaurant. And we're blessed with great staff. They are really tuned in to our customers. You're coming here for the whole experience — the atmosphere, the service, and consistently good food."
EAT FOR GOOD
A UNIQUE KIND OF FUNDRAISER
The Omelette Shoppe provides a tasty option for non-profit groups to raise money for a worthy cause. "A member of the organization fills out an application and selects a date, mealtime, and location for their fundraiser," said Block. "Upon approval, we create and print 100 flyers for them and provide an electronic file, all free of charge, for publicity purposes." Supporters simply have to bring in a copy of the flyer when they come to eat, the server attaches a receipt to it, and at the end of the day, 15 percent of the total sales generated by the group is tallied up, and a check is sent to the organizer. "These fundraisers have been used to earn money to buy gas cards for a person to get downstate for cancer treatment, assist a family in need, things like that," said Block. It's a direct way to help and give back." (See further details under "Fundraising" at omeletteshoppe.com)
Trending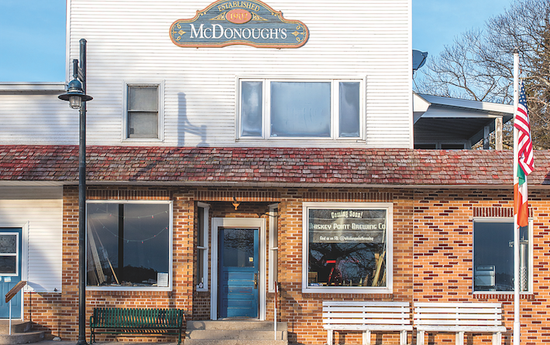 Welcome to Michigan's Most Remote Brewery
After years of planning and honing his beer-making skills, this spring, Patrick McGinnity plans to open Beaver Island's first microbrewery. Opening a craft brewery is challenging. Opening one on a remote island in Lake Michigan that's either a 15-minute plane ride or a two-and-a-half-hour ferry ride from ...
Read More >>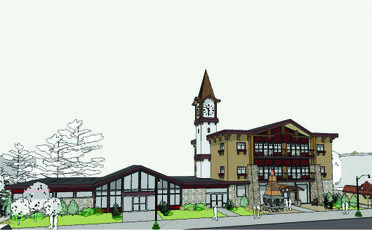 Gaylord: A boomtown Up North
Gaylord native Gary Scott had moved to Indiana, where he and some partners started a business to invest in distressed properties. He was talking to a banker in Detroit about real estate in Bloomington when he asked what kind of deals might be available in northern Michigan. ...
Read More >>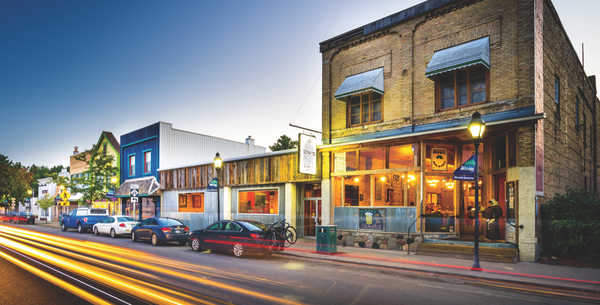 Small Up North Towns on the Rise
Spotlight on Bellaire (pictured)Seems Traverse City isn't the only place in the region making those "Best of" lists. The Antrim County hamlet of Bellaire was recently named to the list of Best Lakeside Towns in the U.S. by Country Living Magazine, alongside the likes of Vergennes, Vermont, Greenville, ...
Read More >>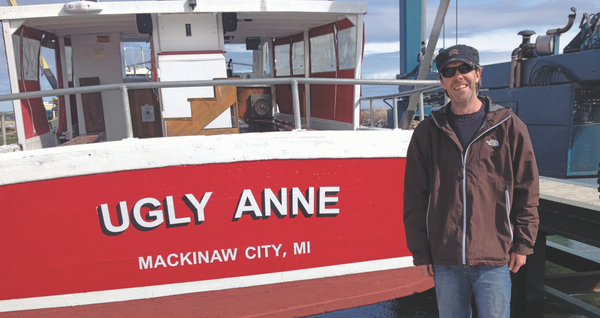 A Wicked Cool Ride Around the Straits
You expect to see boats around Mackinac Island in summer. Sailboats, power boats, cruisers, and the ubiquitous ferries that run residents and guests back and forth across the Straits of Mackinac, sure. But there's a more unusual vessel visible these days — an all-wooden Down East lobster ...
Read More >>
↑