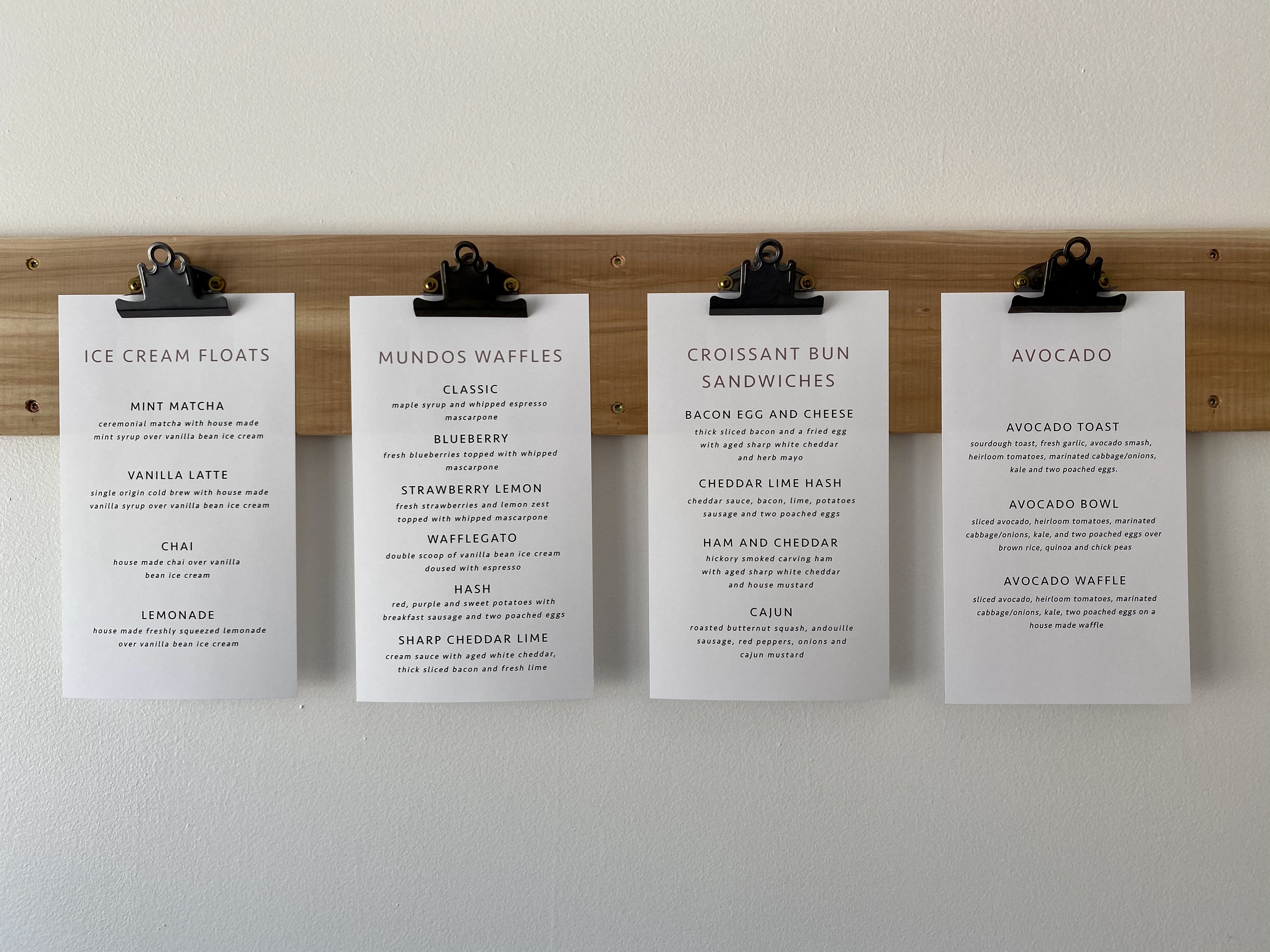 Where to Eat Now
Mini-profiles of restaurants recently featured on our pages.
Please be seated for the abbreviated versions of the restaurant profiles we've featured since our last RestauranTour issue. Bon Appetit!

THE EMPIRE VILLAGE INN
The Empire Village Inn has been a fixture in the tiny tourist village on Lake Michigan for 60 years. Over that time, the VI, as it's known around town, has transitioned from a bar to a restaurant/tavern to — a grocery store?

That's right. While still known for its pizza, burgers, and other small but inventive takeout items, it's added grocery staples to its menu. Fresh fruits and vegetables, rice and pasta, canned goods, loads of Michigan craft beer and wine, cleaning supplies, dairy products, even sanitizer and gloves can now be found in the pop-up store in the north end of the building.

This isn't the first makeover the place has gone through over the years. When the Village Inn opened in 1959, it was a bar. After a succession of owners, Mike Wiesen bought it in 1987. He added more windows and a full kitchen, and he changed the name from its previous iteration as the Hard Times Saloon and Good Times Kitchen back to the original Village Inn.

On the Menu: The VI is known first and foremost for its pizzas. Options like roasted red peppers, pickled red onions, even a spinach pie with an Asiago cheese base make it a standout, but it's the foundation — an exceptional cheese blend, homemade sauce, and a crust that (similar to a hand-tossed New York style) is both crunchy and chewy — that makes VI pies so special.

A close second? The burgers. Note: They aren't offered with as many topping options as they are at the VI's attached sit-down sister eatery, Joe's Friendly Tavern, but the meat is the same high quality, ground-in-house stuff locals have come to expect. (Not into beef? Try the veggie burger; rightfully popular salmon burger; a wrap with crispy Portobello fries, spinach, onions, and Swiss cheese; or the grilled cheese with Havarti, Swiss, sliced apple, and pickled onions.)
Other must-tries: The starters, two in particular: Portobello fries (Portobello mushrooms drizzled with a honey-garlic sauce and served with ranch dressing) or the most requested, chicken drumsticks, also tossed in a honey-garlic sauce.

Find The Empire Village Inn at 11601 S. Lacore Rd., in Empire. (231) 421-8800; www.empirevillageinn.com
MCGEE'S 72
McGee's 72 — located in the building formerly occupied by the heavily Italian-influenced TraVino Traverse Bar & Grille and, earlier, Grand Traverse Resort and Spa's golf center — still caters to golfers and longtime TraVino diners. But it's become a major hotspot for Traverse City east-siders in the know. The bar is perennially popular, thanks in part to all-day happy hour specials on beer, wine, and well drinks, and McGee's signature Happy Hour Sangria, but it's the food that keeps customers returning.
On the Menu: Favorite bar-side appetizers include the risotto "tots" — fried pasta-and-cheese balls of goodness — and boneless wings with your choice of sriracha lime glaze or mango chipotle BBQ.
For dinner, guests find an array of options, from the prime rib on Friday and Saturday nights to flatbread pizzas to smoked Gouda chicken pasta with bacon, asparagus, and portabella mushrooms. Seafood reigns among the entrees, with classic Great Lakes walleye alongside Ahi tuna and cioppino. And some of the lunchtime favorites — the "Express Lunch: Pick Two" is not to be missed — are present as well, like McGee's ever-popular Baja Chicken Tacos and the San Marzano Tomato Bisque.
Influences from local sister restaurants Sorrelina (downtown Traverse City) and Harrington's by the Bay (TC's west side) make a welcome appearance too. The La Sorellina salad (baby spinach, candied pecans, gorgonzola, pear, and citrus vinaigrette) is a big hit, and the Harrington's custom ground steak burgers are another top item.
Like so many others, McGee's 72 made a lot of changes during the initial COVID-19 restrictions. While the state remains under executive order, one of the biggest and best-received changes continues on: A buy-one, get-one-half-off deal on carry-out dishes. If you'd prefer to sit a spell, no problem; an expansive indoor dining room and large patio are also available.
Find McGee's 72 at 4341 M-72 East, in Williamsburg. (231) 421-8800; www.mcgees72.com.
C.R.A.V.E.
Opened in May of 2018, C.R.A.V.E. Pasta Pizza Pub serves up creative pizzas and pastas in one of Gaylord's most iconic Main Street buildings. For the history buffs, The A.B.C. Comstock Hardware store was built in 1878 and housed the well-known Audrian Hardware from 1939 to 1999.
The building was also one of the first to convert to Gaylord's signature alpine look during the '60s, setting the tone for the entire town's aesthetic. While updates were made when C.R.A.V.E. moved in, the original tin ceiling remains, along with a few nods to the history of the area.
"We had this awesome, historic building that we wanted to revive and bring to life again," says general manager Dave Jambor, referring to himself, C.R.A.V.E.'s chefs, and owners Gary and Wendy Kosch. The Kosch family is well known in the northern Michigan restaurant scene, with ties to eateries like the Alpine Tavern (also in Gaylord) and The Boathouse (Old Mission).
On the Menu: C.R.A.V.E. isn't just the name; it's the eatery's model for success: "C" is for Customizable. "There are literally a quintillion flavor combinations available," said Jambor. (And he doesn't exaggerate: Diners can choose from a classic crust or a gluten-free cauliflower version before loading up with toppings like brisket, Spanish onions, fresh basil, arugula, and about two dozen others.)

Can't decide? Try C.R.A.V.E.'s own tested-and-approved combos: The Salty Hog features bacon onion jam, pulled pork, and balsamic drizzle. Spice lovers will drool over the Blu Diavolo, with spicy red sauce, pepperoni, and sweet pepper drop. And there's also the Mediterranean-inspired Bruschetta di Gamberi, made with Parmesan cream sauce, bruschetta, shrimp, and goat cheese.
Although the pizzas often take top billing, C.R.A.V.E.'s pastas are taste-bud tempting in their own right; the noodles are fresh, not dried, which lends itself to the speed C.R.A.V.E. is known for. One to try: The Cavatelli Blanco, with fire-braised chicken, parmesan cream sauce, spinach, roasted red pepper, and gourmet mushroom blend — shitake, oyster, and crimini mushrooms.
Other menu items include salads, oven-baked sandwiches, and an array of Italian-inspired appetizers, soups, and desserts — culled from around the nation, taste-tested in the community, and tweaked until perfect.
Find C.R.A.V.E Pasta Pizza Pub, open for dine-in (inside and outside), as well as takeout, at 148 W. Main St. in Gaylord. (989) 748-4848, www.cravegaylord.com
MUNDOS EAT HOUSE
In a whirlwind decision at the end of May, Dan and Melissa Clark, owners of Mundos Roasting & Co., harnessed the power of dreams — and their awesome kids — to turn the suddenly open space in front of their Suttons Bay coffee shop into a breakfast and lunch spot, Mundos Eat House.
In a wildly quick window of "less than a week," the Clarks took over the lease at 206 North Saint Joseph Street, purchased the ovens and equipment, and renovated the space in the same spare, airy style as their sister coffee shops in Suttons Bay and Traverse City.
On the Menu: One of the most impishly irresistible menu items at the new Mundos Eat House was conceived by the Clarks 12-year-old son, Ben: ice cream floats for breakfast. Scoops of vanilla bean ice cream are doused ceremoniously with one of four choices: matcha and mint syrup, cold brew coffee and vanilla syrup, house-made chai, or fresh-squeezed lemonade.
The rest of the short and carefully calibrated menu, presented by categories on clipboards on the whitewashed walls — "Waffles." "Croissant Bun Sandwiches." Avocado." — belies its exceptional offerings. Word on Saint Joseph Street is that many Suttons Bay shopkeepers have already made the avocado bowl (sliced avocado, heirloom tomatoes, marinated cabbage/onions, kale, and two poached eggs over brown rice, quinoa and chickpeas) for their midmorning or afternoon pick-me-up.
But those looking to indulge will find ample reason: hot and crisp waffles, fresh from the iron, can be served sweet (think: jammy strawberries plus whipped mascarpone) or savory (with sharp cheddar sauce, bacon, and lime.
Then there are the not-so-humble breakfast sandwiches perfected by Mundos' house baker Miles Eastman (who is married to the eldest Clark sibling, Sarah). He lovingly proofs laminated dough — dough that's rolled and folded multiple times with lots of butter between — to create an uber-buttery, flaky bun for all sorts of comforting fillings. The Cajun houses roasted butternut squash, andouille sausage, red peppers, onions, and cajun mustard; the Cheddar Lime Hash brings a deep drench of cheddar sauce, bacon, lime, potatoes, sausage, and two poached eggs to the table. Clark says you still can't go wrong with their classic bacon, fried egg, and cheddar, spread with herbed mayo.

Mundos Eat House offers takeout only but boasts a small patio and easily walkable proximity to Suttons Bay Beach. Find Mundos Eat House at 206 N. Saint Joseph St., in Suttons Bay. (231) 590-1781, www.mundoseathouse.com.
OPA! GRILL & TAPROOM
Owner Paul Barbas and his family moved to Traverse City from the Detroit area in the early 2000s, only to discover Mediterranean fare wasn't on the menu Up North. For the 100-percent Greek Barbas, the culinary hole was a surprise … and an opportunity. Shortly after moving, he decided to leave his sales job and start a restaurant in 2007.
Focusing on classic Greek recipes — with a few Polish dishes in homage to Barbas' wife, whose family hails from Poland, the original Opa! opened in the Cherryland Center in 2007. Now, 13 years later — and in a new standalone location at Grand Traverse Crossing, across from the Grand Traverse Mall — the family's Greek and Polish traditions are going strong, with flavorful Mediterranean and Eastern European dishes alongside comfort foods, Coney dogs, and hearty salads. And with "Taproom" now part of the name, dozens of beer selections stand ready to complement your meal.
On the Menu: The No. 1 item on Opa's menu is the gyro [a mix of lamb and beef, or marinated chicken breast] and the Greek side salad. Said Barbas: "If you're craving a great gyro right off the rotisserie, you'll find it at our place."
For those looking to explore the menu a bit more, Barbas recommends the Greek Moussaka (eggplant, potato, ground sirloin, tomato, red wine, and béchamel) and the Greek Kisses, in which individual wontons are filled with three different cheeses, flash-fried, and finished off with a balsamic drizzle.
Although Opa's breakfasts are on a temporary break, when they return, they are not to be missed: Potato waffles, omelets — with feta, of course — grain bowls, and even a fun breakfast-cocktail menu are typically available.
Find Opa! Grill & Taproom, with both indoor and covered outdoor seating, at 2658 Crossing Circle in Traverse City. (231) 947-6721, www.opagrill.com
SMALL BATCH AT THE CUPOLA
The interior of Small Batch at the Cupola — part bakery, part restaurant — is home to an extensive collection of art, cookbooks, vintage furniture, and the soft and peppy crooning of '40s-style music. It gives patrons the distinct impression they're dining in a private home. And that's exactly as owner and creative director Lauretta Reiss intended.

The well-traveled former shoe designer, who retired to her longtime summer hometown of Harbor Springs in 2012, said, "I wanted to create a compelling, exciting, interesting dining experience," she said. "You're dining not only with art surrounding you but also with art on your plate. There's an artistry in what we do."
On the Menu: Having been inspired and taught her way around the kitchen from an early age by her Filipino artist mother, Reiss has no formal culinary training. All of the recipes at Small Batch are her own creations, dishes that she says are tried, true, continually tweaked, and always made from scratch.
Among Small Batch's most popular breakfast features: the Heavenly (lemon ricotta pancakes with fresh blueberries and lemon zest glaze), Cali Dreaming (avocado mash, pickled red onions, tomatoes, cheddar, and two sunny-side-up eggs on grilled ciabatta), and Gravy Train (a grilled golden biscuit topped with crispy fried chicken, sausage gravy and two fried eggs), as well as daily specials, often some version of a quiche.

The dinner menu is nothing if not diverse, with bold flavors and choices ranging from the Holy Smoke (St. Louis ribs slathered in house BBQ sauce) and Winner Winner Chicken Dinner (crispy chicken, mashed potatoes and gravy, corn, slaw, and a biscuit) to the Don Chipotle (a pork-belly BLT with fried green tomato and chipotle aioli) and, occasionally, Filipino classics like pancit (a noodle dish) or, recently, a seafood boil (with crawfish, mussels, crab, shrimp, andouille sausage corn and potatoes).
"People come back to us again and again, not only for our restaurant menu items but also for our baked goods," said Reiss. The sea salt chocolate chip cookies are the No. 1 seller, but the butter cake, lemon pound cake, and the beyond decadent triple-fudge bundt cake are equally beloved by customers, as are the magic bars (Oreo cookie crust, walnuts, coconut, and chocolate chips) and the wide array of fanciful cupcakes.
The Small Batch at the Cupola restaurant, also home to Small Batch Local bakery and catering, offers dine-in and to-go on all menu items. Find it at 340 State St. in Harbor Springs. (231) 242-4686, www.smallbatchhs.com.
SHIPWRECK CAFE
One day while cleaning fish after a successful charter trip, charter captain and licensed building contractor Steve Nowicki had an epiphany. He looked across the street at a vacant building on M-22 in Empire between the EZ Mart and Roman-Jones Engineering. "I thought that was a perfect spot for a to-go [restaurant]," he said.
Nowicki knew the building's owner, so he called the guy, and quicker than you can say "Anchors away," he and his wife, Jennifer, were opening the Shipwreck Cafe.
On the Menu: Most notably, breads, buns, cookies, and treats all baked fresh daily by Jennifer. The sandwiches themselves tend toward quick and delicious: chicken salad (with the requisite dried cherries, of course) in a wrap, spicy tuna melt with Colby jack and tomato, or the always-popular BLT with avocado. Those would be Madiera, Rouse Simmons, and S.S. Noronic, respectively — each named, like all of the cafe's sandwiches, for ships that foundered on the Great Lakes. Most popular is the Fitzgerald: Turkey, bacon, Havarti cheese, cucumber, lettuce, and herb mayo on one of those freshly-baked pretzel rolls. "People go crazy for that," he said. "It's 30 percent of our sales."
Also popular, even in the midst of a heatwave, is Shipwreck's homemade white chicken chili. "We probably went through three gallons of chili, even today," Nowicki said, while the mercury hovered around 90 degrees. "I'm surprised. We never know what to expect."
In addition to the chili — served daily, of course, the Shipwreck offers a soup of the day and several salads, which subscribe to the basics — Caesar, chicken Caesar, chef, garden, house, and Southwest — but up the flavor factor by using local in-season greens and homemade herb croutons with each one.

Hungry before lunch? Three hearty breakfast wraps are available before 11am — The Crib, with eggs, hash browns, cheese, onions, peppers, and tomatoes; the Fog Horn, which adds to The Crib's mix your choice of ham, bacon, or turkey; and the Lighthouse, with just egg, hash browns, and cheese, plus your choice of ham, bacon, or turkey.
Find the Shipwreck Cafe, with limited indoor and outdoor seating, at 11691 S. Lacore Road (M-22) in Empire. (231) 835-2580, www.shipwreckcafe.com
Trending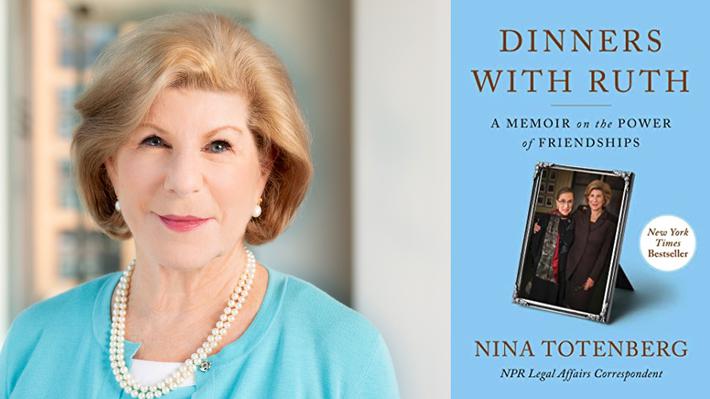 Dinners with Ruth
In the theme of Galentine's Day and female friendships is NPR legal affairs correspondent Nina Totenberg's boo...
Read More >>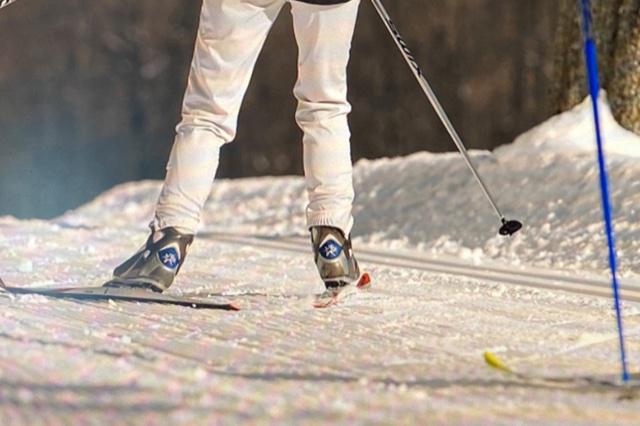 Shooting Ski-t
Take aim when you pair cross-country skiing with airsoft during Crystal Mountain's Airsoft Biathlon on Sunday, Feb. ...
Read More >>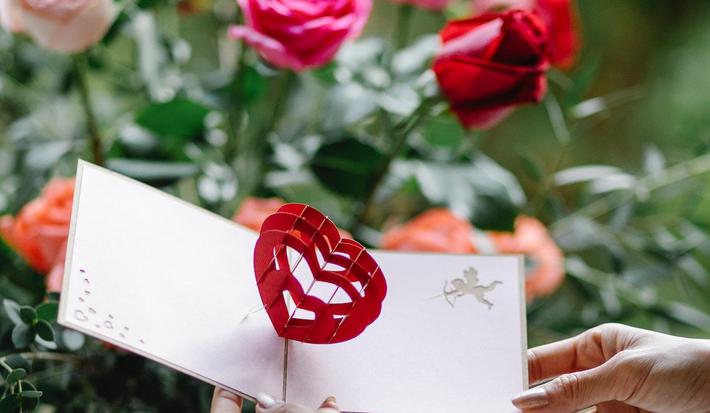 The Lost Art of Valentines: Three spots to find (or make) the perfect card
Remember the days of giving valentines in elementary school? Of perfecting each card and sentiment and placing each sparkl...
Read More >>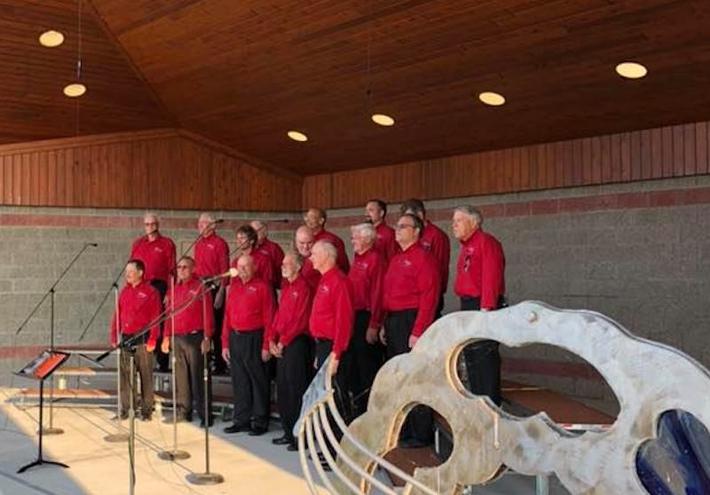 Singing Valentines
If you need a fresh way to show your love and gratitude this season, then perhaps a singing valentine is up your alley. Th...
Read More >>