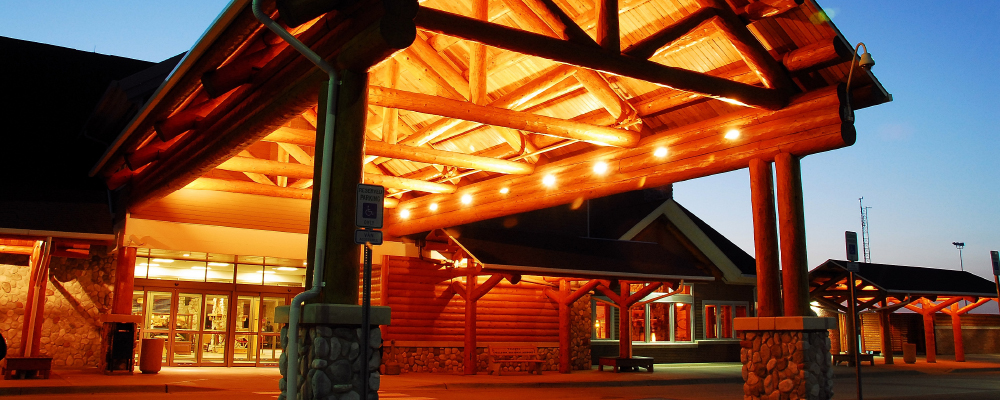 Where to Eat this Spring
Inspired eats around the region
Please be seated for these abbreviated versions of the restaurant profiles we've featured since our last Restaurant Issue. Before you do, one warning: We'd like nothing better than for our readers to support local restaurants like these featured here, but before popping in anywhere, we recommend calling ahead to stay abreast of the latest regarding each eatery's indoor and outdoor seating availability, reservation requirements, open hours, and menu changes.
Hexenbelle
Traverse City
One of Traverse City's newest and most innovative restaurant/cafes, Hexenbelle, launched in November 2020, is the concept of Christian Geoghegan (head chef), Hanna Lane (head baker), and Heather Webber (head of the coffee/espresso program).
The passions behind Hexenbelle's existence are simple: carefully curated, delicious, and conscientiously prepared vegetarian fare, freshly baked pastries, and locally roasted coffee (from Chuck Korson at BLK/ MRKT Roastery, Lane and Webber's former employer). But its creators are also committed to having the venue be more than just a place to eat and drink.

The trio wants Hexenbelle to be dedicated to expanding people's horizons (culinary and otherwise), tempering prejudices, bringing people together, and supporting worthy causes. It's a tall order, but one that these three smart, highly principled, compassionate individuals strive to fill every day. And judging from the positive and enthusiastic public response to Hexenbelle ever since it opened, this region has an appetite for both its food and its ethos.
On the Menu: Hexenbelle's menu is all about comfort food from different global perspectives, and Hummus is the single most important item on the menu. Geoghegan's hummus is served with flatbread, drizzled with Hexenbelle's very special olive oil — fair trade, organic, Jenin Palestinian Olive Oil — and dusted with house-made za'atar spice mix. Another classic Palestinian comfort food you'll find: maftoul, a soul-warming dish of couscous with tomato-stewed chickpeas, labneh, and cucumber.
Breakfast and lunch offerings are relatively static, but for the dinner menu, Geoghegan tries to do a new dish every week. For example, Mapo Tofu, an umami-rich Sichuan dish with doubanjiang (a spicy fermented broad bean sauce) served over rice (inspired by James Beard award-winning chef Danny Bowien, of Mission Chinese in San Francisco, one of Geoghegan's favorite chefs). Also a Persian dish called Chelo ba Tahdig (Persian saffron and ghee rice), which was served with a Great Northern Bean khoresh (stew) and a side of yogurt and pomegranate seeds.
While Geoghegan cooks, baker Lane keeps the bakery case stocked with a rotating array of sweet and savory breads, pastries, cookies, and cakes. Her Guava Bun — babka dough filled with cream cheese, guava jam, and lime zest — is incredible; so, too, was a Peanut Butter Tahini Cookie.

"And then we have Heather, who is a barista extraordinaire. Her Witches in Paris coffee creation — with powdered sugar, butter caramel sauce, and cinnamon — is insanely good," said Geoghegan. "Together we can do this unique thing that's somehow connected because we're all on the same page. It's not three individual people, it's a unit. We view it like music — three major tones in a chord. All different notes, but they're combining to produce something harmonious."
Find Hexenbelle at 144 Hall St., Suite 107, in Traverse City's Warehouse MRKT. For the latest hours and days of service, daily menu offerings, and to order online, visit hexenbelle.square.site. (231) 486-6128
Hoppie's Landing
Pellston
Tiny Pellston, situated on U.S. 31 between Mackinaw City and Petoskey, is billed as the "icebox" of Michigan, consistently logging the coldest average temps in the state — yes, Upper Peninsula included.

Perhaps that's why Hoppie's Landing — a sister to Hoppie's Tavern, on the northeast side of Burt Lake — feels so warm and cozy inside. The airport itself is lodge-style, a study in soothing knotty pine. In the terminal's main lobby, a menagerie of taxidermied local fauna greet those who arrive and depart daily to Detroit Metropolitan Airport via Delta Airlines, as well as private aircraft. Deer, bear, fish, beavers, and more oversee the human traffic hauling luggage to and fro.

Ascending a massive white cedar staircase (an elevator is also available), one arrives on the airport's second floor, where pinewood and comfortable furniture meet massive windows on the terminal's observation deck, which overlook the runways and the woods beyond.
Hoppie's Landing is also up there, sunshine pouring through its gaping glass portals, illuminating this large restaurant, capable of seating nearly 200 when unrestricted. Aside from the wide-angle views, Hoppie's feels like a super clean sports bar/restaurant with its multiple high-def TVs, old-school shuffleboard game, and Pellston High School sports memorabilia on display.
On the Menu: One might expect a limited menu at an eatery inside a small local airport. But Hoppie's Landing surprises with an array of offerings, including burgers and pizza, grinders, seafood, pasta, planked whitefish and salmon, ribeye steaks, a solid roster of appetizers, and more. Hoppie's Chips and Salsa ($4.99; $6.49 with nacho cheese ) was our first selection — a satisfyingly salty and crisp basket of red and white corn chips served with a bowl of thick, savory salsa — excellent with a cold beer. For lunch, we opted for the Daily Cod Special ($9.99) paired with an Alaskan Amber Ale, and the Smokehouse Burger ($10.75) with Sweet Potato Fries and a Cheboygan Brewing Co. Blood Orange Honey.

The cod came in three large, tennis ball-size chunks that were perfectly deep-fried and accompanied by a small portion of Hoppie's tartar sauce and a lemon wedge. Cracking one crispy nugget open, a small cloud of steam arose from the flaky white meat within. Golden brown and crunchy on the outside, these hunks of meat were tender and tasty throughout, each one disappearing quicker than the first. Hoppie's Landing also features maple-planked whitefish and salmon as well as perch and shrimp offerings.

In terms of hamburgers, Hoppie's Smokehouse Burger did not disappoint. The 1/3-pound patty was cooked precisely how it was ordered, and it fit perfectly on its caramelized bun. Topped with Plath's bacon, pepper jack cheese, and tangy barbecue sauce, the Smokehouse makes a great lunch or dinner. The crisped edges of the beef patty harmonize with that sauce and melted cheese, and the delicious, meaty bacon brings it all home.
Hoppie's Landing has a plethora of refreshments, too, including a modest wine list and some tasty signature cocktails. A must-try: The Ice Box Martini, which plays on Pellston's reputation as Michigan's coldest town. Vodka and blue Curacao turn this concoction a cool shade while lemon juice and Sprite add sparks and hint at the coming spring. Another of Hoppie's interesting cocktails is the Ginger Pomegranate Margarita, which features a belly-warming combination of Tequila, Triple Sec, pomegranate juice, ginger syrup, and lime, served on ice.
Find Hoppies Landing inside the Pellston Airport at 1395 North U.S. 31. www.hoppieslanding.com, www.pellstonairport.org.
Mim's Mediterranean Grill
Petoskey
Mim's main location — 1823 U.S. 31-N — is a bit of an oasis for some. Its Greek-inspired cuisine and diminutive and colorful house-turned-restaurant serve as a welcome respite from the region's delicious but ubiquitous pub fare.
Now with an additional food truck location at downtown Petoskey's popular Back Lot, Mim's is hitting its stride, offering a diverse menu of solid Mediterranean-style offerings, including a roster of tasty gyros, chicken kabobs, a slew of excellent sides, a few seafood items, and a string of salads with eye-popping ingredients.
On the Menu: The Mediterranean Plate ($12.25) is a gorgeous small plate of Greek favorites, including falafel, tabbouleh, rice-stuffed grape leaves, hummus (garlic or red pepper), and pita bread. Aside from the savory falafel (served with a dollop of sour cream and diced tomatoes), the tabbouleh is extraordinary with its fresh, emerald parsley and white bits of bulgur wheat.

The Original Gyro ($7) includes everything that makes this Greek sandwich great: tender, rotisserie-cut gyro meat, creamy tzatziki sauce, strong white onions, and ripe tomatoes. For those meat lover's tired of the bar-burger routine, this is a solid and filling option — especially when paired with Mim's Fiery Feta Sauce ($2/4 oz.), in which we dipped our crispy French fries.
The Neptune Gyro, with its planks of crispy, deep-fried cod tenders, also buoyed our spirits. The Guinness-battered fish planks nestled tastily between thin slices of American cheese, lettuce, tartar sauces, tomatoes, and onions.

Mim's has both vegetarian and vegan options, including salads, tabbouleh, and more. Additionally, the menu includes a Chicken Kebab Plate ($13), Curry Chicken Shawarma Plate ($12.50) and offerings for kids, like the Chicken Tender Basket ($7.25) and the Grilled Cheese Pita Basket ($6.75).

There's currently no interior dining at Mim's Mediterranean Grill restaurant. Carry-out orders are available at both the U.S. 31 (restaurant) and Back Lot (food truck) location, though diners can sit outdoors and eat at the latter. Carry-out orders may also be made in person at the front door of the U.S. 31 restaurant. www.mimsmediterraneangrill.com, (231) 348-9994
Benedict
Traverse City
No matter the weather, Traverse City's newest breakfast and lunch restaurant, Benedict, radiates a welcome as warm as the sun with its light-filled, bright yellow-flecked interior and the smiles (recognizable even behind masks) of its owner, Leslie Elsen, and her friendly staff.
The idea for Benedict — Elsen's dream, really — started to take shape just over five years ago. "It stemmed from my love for the pace and energy of the breakfast scene, combined with a passion for baking and several years' experience in the coffee industry," she said. I wanted to upscale the classics and offer seasonal specials that were both comforting and interesting — something simple yet memorable."
On the Menu: Scratch cooking is a matter of course at Benedict, including many items that are made in-house, e.g. bacon and Canadian bacon, biscuits, pastries, herb mayonnaise, sauces, dressings, and other condiments.
Not surprisingly, most of Benedict's menu items incorporate eggs in some form. The Biscuit Sandwich (soft scrambled egg, white cheddar, microgreens and house herb mayo, served with home fries) and the Northerner Benedict (biscuit, thick-cut bacon, tomato-cherry jam, poached eggs, and hollandaise) are two especially popular specialties, along with the Bread Pudding of the Day (a classic custard base highlighting whatever current ingredient inspires the kitchen – a recent version featured lemon custard with lemon curd and meringue). The Seasonal Hash (currently with carrots, parsnips, potatoes, goat cheese, microgreens, and two eggs any way, served with choice of toast) and the Quiche of the Day (also incorporating ingredients that rotate with the seasons, served with a side salad) are also customer favorites.
Meal-size salads include Farro and Greens (farro, microgreens, goat cheese, fresh herbs and dried cherries, with cider vinaigrette) and Roasted Carrot Arugula (roasted carrots, arugula, candied pepita seeds, feta cheese and microgreens, tossed in a creamy tahini-poppyseed dressing — a poached egg can be added for a minimal charge).
To accompany breakfast or lunch, the menu lists a host of beverages, from batch coffee and tea to juice, soda, chai, or hot chocolate, as well as a selection of the most popular espresso drinks (think espresso, cappuccino, latte, cortado, macchiato, mocha). Elsen is in the process of obtaining a liquor license, too, and plans to have a small, curated drink menu, with many of the spirits coming from Iron Fish Distillery. "Among other things, we will have Bloody Marys with a house-smoked celery salt rim and house bacon, as well as mimosas," she noted. "For the latter, we will be introducing a Benedict Bubble Board, including four types of juice and a bottle of bubbly to share and build your own mimosa."
Find Benedict at 237 Lake Avenue in Traverse City. Dine-in, outdoor patio (weather permitting) and take-out available. (231) 421-1000, benedicttc.com
Rad.Ish
Traverse City
To understand Rad.Ish Street Food, you must first understand this: It's kind of rad, kind of street, and 100 percent plant-based. It's also in two different locations, and a third — a food truck — is underway. And none of it was part of Lisa Moberly's original plan.
(Or her family's, it seems: "I'm half-Mexican, and when I said I'm not going to eat meat, my family kind of freaked out.")
Though Moberly had been working as a preschool teacher in Southern California, an unexpected tragedy in 2016 — the loss of her 7-year-old daughter — eventually prompted another major life change: a decision to move to Traverse City, Michigan, with her then-boyfriend, now-husband, Ryan, a chef. Surprised when they arrived by the North's lack of ethnic vegan food they had found so readily back in California, the culinary duo began making their own to sell at farmers markets. After selling out at each market, they decided to go bigger and turn a small 1966 Streamline trailer into a food truck.
Then the pandemic struck, putting those plans on hold but soon bringing not one but two opportunities in quick succession: Scott Pierson, owner of The Coin Slot, in downtown Traverse City, offered them use of his kitchen to feed his arcade patrons; and the owners of the new Stone Hound Brewing Company, requested Moberly's expertise on vegan Mexican.

On the Menu: Today Rad.Ish's downtown location offers a host of sushi, such as the Hey There Tiger Roll, with bell pepper, crunchy greens, tomato, cucumber, and avocado, topped with imitation (plant-based) crab salad, tomato dust, micro cilantro, and pineapple habanero sauce. Then there's the Roy Choi, with bell pepper shoots, cilantro, pickled jalapeno, tomato, and chicken, with zesty tomato dust and Korean BBQ sauce. Or the Sublime, with tomato "salmon," hatch chile, jicama or bell pepper, cilantro and cream cheese (vegan, of course), topped with wasabi guacamole and micro cilantro and served with unagi sauce. Also available: burgers — vegan, of course — and Rad.Ish's famed Dirty Fries — French fries with fermented beans and sushi topping.
Meanwhile, back at the brewery on the east side of Traverse City, the menu includes those famous fries, this time topped with cheese and vegan Asada, along with burgers, pretzel bites with hot honey mustard that's infused with beer, taquitos stuffed with jackfruit, even burritos and tacos with citrus beer-braised grilled "meat" with lime, cilantro, and green onion. Many of the items are made with Stone Hound beer.
"It's been really nice. Cooking is my wheelhouse. People are so friendly — the support has been really rewarding and overwhelming."
End of story? Not quite. Remember that food truck? Moberly said it's still part of their plan.

Find Rad.Ish's Stone Hound Brewing Company location at 3593 Bunker Hill Rd., in Williamsburg; the downtown Traverse City location at 346 E. Front St.; and each location's most up-to-date schedule and menu, as well as the latest on Rad.Ish's food truck, visit www.rad.ishstreetfood.com.
American House Wood Fired Pizza
Elk Rapids
The interior of the building that up until recently housed owner-chef Michael Peterson's Siren Hall hasn't changed much since he turned it into American House Wood Fired Pizza, except for the removal of several tables and booths to allow for social distancing and a few warmer and theme-appropriate elements, the most obvious of which is certainly the very large and very warm — nay, hot — custom-built, brick and red-tiled, freestanding Marra Forni pizza oven that dominates one corner of the dining room.
The high-tech yet old-world oven is, like American House, not only a point of pride for Peterson but also a tangible symbol of the chef's effort to slow down and simplify. Peterson — who started working in restaurants at age 14, trained in classical cuisine at the Culinary Institute of America and in Paris — has already owned three restaurants: Spencer Creek, in Alden; Lulu's, in Bellaire; and, for the last 14 years, Siren Hall.

"It has been a great run, but also a long haul — not just for me, but also for, my sous chef, who has been with me for 24 years, and Mindy Bisson, our general manager, who has been working with us for almost 20 years. Another thing was that Siren Hall was quite a machine to operate, and then this past year with the pandemic, but also the ongoing labor shortage, it kind of made us start thinking that we needed to simplify things." American House Pizza was the answer.
On the Menu: If you're a "Deadhead" like Peterson, you'll instantly recognize that all of American House's are named after Grateful Dead songs. "We wanted to keep a couple of our pizzas really simple, because everybody loves a margherita-style pizza (cue "I Need a Miracle") or a pepperoni pizza (cue "Ripple"), but then we like to play with the others a little bit, giving them some more unexpected toppings that combine great flavor with great texture." That would describe Big River (parmesan mornay sauce, mozzarella, blackened shrimp, tasso ham, charred tomatoes, and crispy Brussels sprouts) and Big Boss Man (tomato sauce, mozzarella, grana padano, meatballs, and basil). "I've always been a fan of meatball pizzas, and we make a really good meatball from scratch so that one was a no-brainer," he says. Franklins Tower (basil pesto, mozzarella, grana Padano, chicken, tomatoes, and spinach) is another pizza in that category. "I love making pizzas, because you can be so creative," says Peterson. "It's like an artist's canvas, and you can paint whatever you want on it."
The new venture still has a full bar, and although American House is quite pizza-focused now, they do offer several other menu options. In the entrées section, there are some familiar items that hearken back to Siren Hall, including fish and chips (beer-battered cod with herb remoulade and creamy coleslaw), steak frites (seared beef tenderloin tips with bordelaise sauce, shaved Brussels sprouts and bacon) and the house-ground beef chuck burger (with bacon, aged cheddar, and pickles) as well as the vegan black bean chipotle burger (double-stacked black bean patties, charred onions, muenster cheese, and roasted tomato, with jalapeño mayo and tomatillo salsa) from the chef's Michael P's line of specialty foods. The Caesar and wedge salads have also made the leap to American House, but there is now a Mediterranean salad as well (romaine lettuce, roasted peppers, red onions, olives, pepperoncini, tomatoes, chickpeas and grana Padano, with croutons and green goddess dressing).
Peterson plans to do more pasta dishes in the future. "Recently I made a traditional pasta Bolognese as a special, and it was a big hit with our customers," he says. Right now, the menu offers chicken parmesan (breaded chicken breast with marinara, mozzarella, parmesan, pepper and basil, served with egg pappardelle), ziti pasta (with roasted chicken, charred cauliflower, spinach, olive oil, pepper flakes, garlic, herbs and pecorino romano), and bucatini (with short rib-tomato ragu, rosemary ricotta, and grana Padano).
Find American House Wood Fired Pizza at 151 River Street in Elk Rapids. For the most up-to-date schedule and reservations, call (231) 264-6062. Note: In summer, a walk-up kitchen on the restaurant's large outdoor patio will sell ice cream, barbecue pulled pork, hot dogs, chili dogs, and a selection of salads and other healthy options to go. americanhousepizza.com
Trending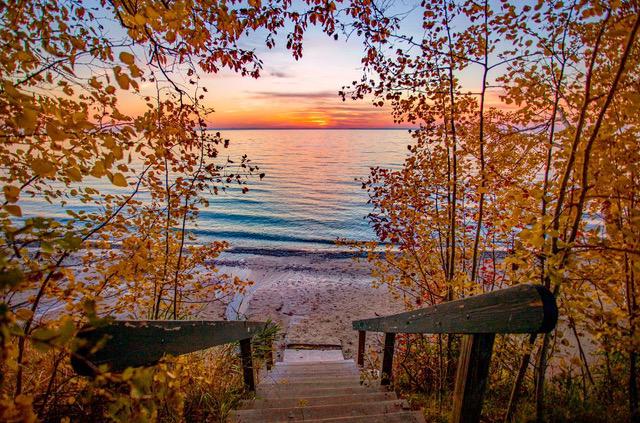 Cruisin' the Breezeway
Fall into East Jordan during the 15th Annual Autumn on the Breezeway! Choose from three different dates: Sept. 30, Oct. 7,...
Read More >>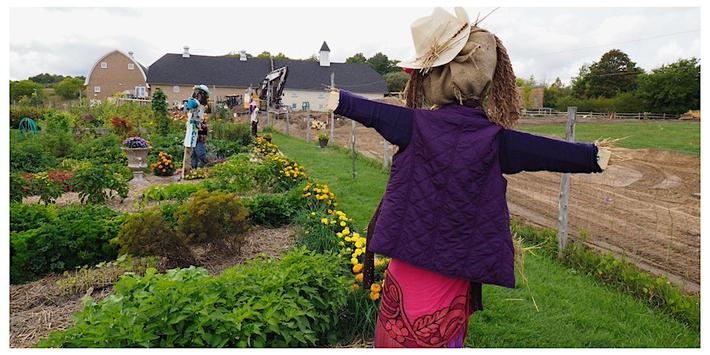 Scarecrow Szn
It may not be "spooky szn" (as the kids call it) just yet, but it does seem like it might be scarecrow szn. Th...
Read More >>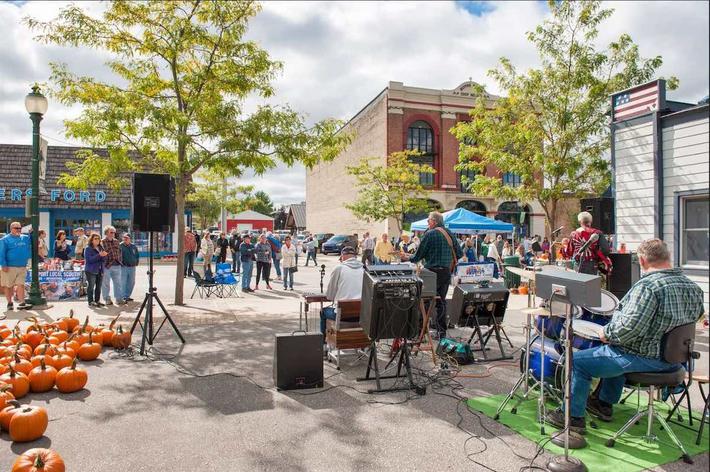 Celebrate the Harvest in Boyne City
Welcome to the season of harvest festivals! The days are getting shorter, the nights (and days) cooler, and it's tim...
Read More >>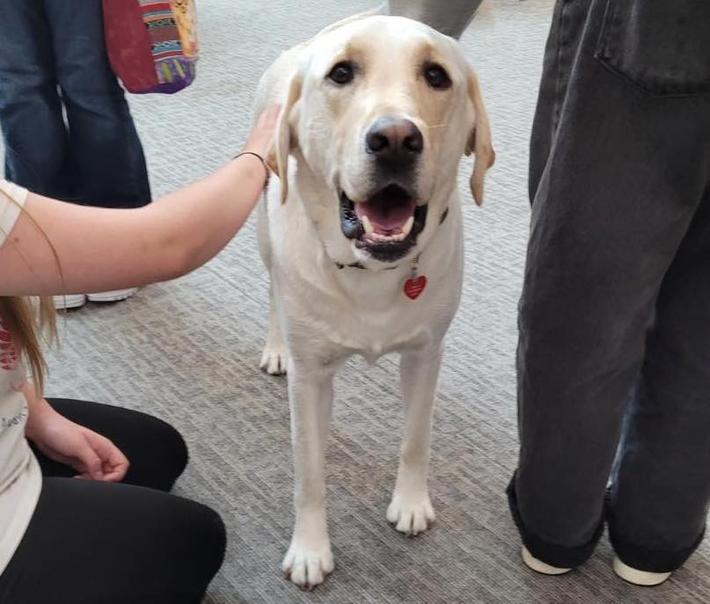 Pups on Campus
Traverse City West Senior High has brought on a very good boy as their newest staff member for the 2023-24 school year. Me...
Read More >>