Where to Eat This Winter
Burrows, Bistros, and Birch Trees…Oh My!
We've spent the last few months crisscrossing northern Michigan to find cool new restaurants, beloved local watering holes, and can't-miss dishes that make our mouths water. While the menus may have shifted to cold-weather fare and the patio tables have been tucked away until spring, there are still plenty of amazing dining opportunities to explore this winter.
The Burrow
Traverse City
Like its sunny Cali-inspired menu that greets guests, The Burrow has been welcomed with open arms in its community of Traverse City and Leelanau locals, sailors, tourists, families, and foodies since opening in late June 2022.
The space has a larger footprint than its sister restaurants Mama Lu's and The Flying Noodle, and people can visit through three different modes of transportation: via car, via bicycle off the nearby TART, or even right off the dock of the marina across the street. (A tunnel runs beneath S. West Bay Shore Drive, allowing mariners easy access to the restaurant and vice versa—The Burrow established a special "boaters menu" for delivery during summer.)
On the Menu
At The Burrow, you'll find "California-inspired American" dishes like their popular French Dip sandwich, made with house-roasted beef and a local bun.
There are other lighter takes on classics like the pork tenderloin with a panzanella salad or salmon with bok choy, ginger relish, and crispy rice. Both of these represent efforts to get away from what owner Adrienne Brunette calls the "Midwest brown" type of cuisine and move towards "a fresher take on familiar classics that people enjoy."
While the west coast may be the main inspiration for the overall menu, some of those other "classics" also pop up from the opposing coast: a turkey club from New York, mussels from Prince Edward Island, and crab cakes from New England. ("People are obsessed with those," Brunette adds.)
Some of the most popular dishes are ones that simply don't have a major parallel in Traverse City cuisine: "I didn't expect the tuna crudo to be such a wildly popular dish, but people love it," Brunette says of the dish that features raw tuna, sashimi rice, and a smoked chili aioli that has proven to be a quick frontrunner. The beef tartare is also an early standout, made with a slow-cooked egg yolk, capers, shallot, and toast.
Find The Burrow at 12930 S W Bay Shore Dr. in Traverse City. (231) 943-1048, burrowtc.com
Dos Arboles
Frankfort
Opened in May 2022, Dos Arboles (Spanish for two trees) features taqueria-inspired cuisine, while still maintaining the farm-fresh approach that defines Nick and Natalie Crawford—owners of Frankfort's Birch & Maple—as restaurateurs.
"We'd always wanted to do a Mexican concept," says Nick, which is the pair's go-to travel food. But even more importantly, they wanted the space to offer the top-notch service that attracts them as diners and longtime foodies. He says, "When we helped concept restaurants out West, we were always asking [ourselves], 'Is this a place that I would want to go?'"
In the case of their new venture, the answer is a resounding yes.
On the Menu
Short of pressing their own tortillas, Dos Arboles operates a from-scratch kitchen, a distinction which, as chef Natalie notes, sets it apart from similar spots. As such, its extensive taco selection, specifically the carnitas and tinga varieties, showcase time-intensive proteins that are prepared authentically on-site.
In addition to several modernized classics, including churros and plenty of salsa, Dos Arboles has also peppered its menu with a few unexpected preparations. Of these, the Mexican Double Fried Chicken Thighs are by far the most likely to blow your mind. A substantial entrée intended for two, this creative take on the classic fajita begins with 24-hour brined chicken fried twice in a Mexican-style tempura (a light-as-air recipe that includes both Mexican beer and tequila) that's tossed in crunchy barbeque sauce and served with black beans, peppers, and pickled jalapenos. Nick maintains it's an absolute must; in fact, it's the best fried chicken he's ever had.
Other menu standouts include the deliciously-shareable Mole Verde, a traditional Mexican sauce containing house-braised pork carnitas, poblano peppers, masa harina, and more than a dozen herbs and spices; the queso-covered Nacho Gigante; and the sweet-meets-savory perfection of the raspberry-chipotle glazed Pepe Cristo.
Find Dos Arboles at 735 Main St. in Frankfort, (231) 399-0770. dosarbolesfrankfort.com
Around the Corner
Northport
Around the Corner Food and Fun food truck set up shop on the property in 2020, offering outdoor eats and hands-on family entertainment for all ages. For the past two summers, locals and tourists alike have flocked to their lot for not only food, but also a unique breed of fun not offered by other restaurants. (Think scavenger hunts, onsite art and science days, and outdoor games like giant Jenga and dominos.)
This winter, Around the Corner Food and Fun will add a whole new dynamic: indoor dining with a fully nonalcoholic bar. The new building's design and décor are rich with nods to local history, including salvaged barn wood siding, a butcher block bar from the State Hospital, eclectic art, and collectibles from nearby homesteads. There are also plans to convert the original building's 10,000-pound furnace into a firepit on the property.
On the Menu
Dishes shift with the seasons (and their summer and fall movie night themes). There are, of course, a few beloved mainstays, like the deep-fried grilled cheese with house-made tomato soup; fried pasties with sweet Runza dough (their Burger Mac cheeseburger, Sloppy Joe, and Greek Veggie pasties are fan favorites); and fish and chips, a recipe from Cavendish's husband, who is from England.
There are plenty of goodies for younger eaters too; kids love their Chicken and Chips appetizer and PB and Jelly pastie. The menu is loaded with many more heartwarming delights, including a selection of mouth-watering desserts like Southern puffy beignets.
The bar has a full menu of non-alcoholic beer, wine, and spirits, along with specialty boba tea drinks and other non-alcoholic beverages.
Find Around the Corner at 115 S Waukazoo St. in Northport. (231) 386-2216, aroundthecornerfood.com
Birch Tree Bakery & Cafe
Harbor Springs
Since her February 2022 launch, Nichole Hall, a Harbor Springs native, says her 12 months in business have been successful. "I'm thrilled with the community's support and enthusiasm," she says.
That enthusiasm has gone beyond simply buying coffee and baked goods. In October, the Harbor Springs Area Chamber of Commerce awarded Hall—who has to be one of the youngest business owners on Harbor Springs' Main Street—with its Young Entrepreneur of the Year Award. (Maybe that's just desserts for a woman whose grandmother's baking hobby triggered the realization of a lifelong dream.)
On the Menu
A visit to Birch Tree's baked goods showcase revealed a unique variety of items baked with homemade care. The mini maple glazed donuts ($1.75) have a great cake consistency and a potent maple glaze encircling the top. The blueberry muffin ($2.75) didn't have the typical lack of blueberries prevalent in so many brands. No, this one was pleasantly purple inside with the dark berries enmeshed in the muffin's crumbly innards.
Large slices of apple cake were nestled near tantalizing chunks of maple walnut coffee cake. A small case of thick cookies (chocolate chip and peanut butter, $2.15) sits atop the counter, welcoming every visitor. Some gluten-free options are available and can be requested.
Aside from the excellent baked goods, Hall's Birch Tree Bakery & Cafe offers two varieties of breakfast burrito, also handmade and packed with quality ingredients. We got the bacon-egg-cheese version ($9), which did not disappoint in terms of quality or quantity. Lightly grilled and stuffed with a tasty and expertly-prepared combination of scrambled eggs, tasty bits of bacon, grilled onions, and cheese, this breakfast item could easily cover you for lunch, if supplies last that long.
Find Birch Tree Bakery & Cafe at 181 E Main St. in Harbor Springs. (231) 242-4402, facebook.com/birchtree.bakery.hs
Libby's Downtown
Cheboygan
Libby Davis is a big part of the Cheboygan scene, and she's come full circle from where she began; the original Libby's Café, in operation until 2008, was right across the street from the new Libby's Downtown. "I'm so excited to be back…for another go," she says.
Davis's menus are both inspired and practical. "Always think different," she says. And, while Libby's Downtown is not officially a Mexican restaurant, it offers a good selection of authentic Mexican dishes to satisfy the cravings for those times when nothing but really good Mexican flavors will do.
On the Menu
For breakfast, try the charcuterie-inspired Southern Breakfast Board, currently featuring Belgium pearl waffles, country-style fried chicken, Plath's bacon, deviled eggs, and sides of maple syrup and strawberry fig jam.
On the lunch side, bigger appetites should try the Kobe burgers or Bill's Yacht Club, featuring three tiers of turkey, ham, roast beef, cheddar, and bacon. The South of the Border board holds three shrimp tacos with agave-sriracha-lime glaze, chili mayo, and salsa fresca, plus chips with pico de gallo, and Fiesta Tots with jalapeño and bacon.
At dinner, Mexican-influenced starters like quesadillas and street tacos join entrees such as a Flatiron Steak with Michigan cherry port reductions and chimichurri butter. Or try Salmon Veracruz, with ancho spice, tomato caper ragu, seared chili-garlic shrimp, bacon cheddar tots, and Mexican crema.
A huge favorite is the bone-in, brown-sugar-brined pork chop with jalapeño, bacon, and agave glaze. (The chop is not as big as, say, your arm, but still pretty darn big.) Customers rave. "It's the all-time favorite," says Davis.
Find Libby's Downtown at 411 N. Main St. in Cheboygan. (231) 445-9122, libbysdowntown.com
Beacon Bistro
Petoskey
Searching for elevated comfort food? A menu that changes often enough to keep you coming back again and again? Petoskey's Beacon Bistro fits the bill, thanks to the vision of owners Mark and Tawna Naturkas.
The Naturkas—she, a Mackinaw Island native, and he, a Detroiter through and through with family summers spent in Harbor Springs—are the dynamic pair behind Paper Station Bistro in downtown Harbor Springs and State Road Provisions Roadhouse. Beacon Bistro, the Naturkas' third location, with its own vibe and presence, occupies a coveted spot in a blufftop neighborhood in the Gaslight District, with stunning views of Little Traverse Bay.
On the Menu
The Beacon menu is deliciously flexible, changing four to six times a year to reflect the seasons and the market, and it's smart to pay regular attention to the offerings. "We build on the favorites," Mike Naturkas says, "and change out the others."
Beacon lunch standards include a variety of Wagyu burgers—blue cheese or olive tapenade, for example—or naan-based flatbread options, from the BLT to Buffalo Chicken to Greek. Try the authentic French Onion soup or an eye-popping salad, including the Times House with kale, avocado, quinoa, grapes, pecans, and goat cheese with citrus dressing.
For dinner, enjoy the Beer Mussels with garlic, shallots, fresh herbs, red chili pepper flakes, and Hamm's beer. Patrons also love the Osso Bucco, with braised veal shanks, wild mushroom risotto, and mushroom red-wine demi. Another big seller is the Bolognese, with rigatoni pasta and house-made white sauce (all the flavorful ingredients, minus the tomato base), finished with truffle and freshly-grated parmesan.
Add top-shelf spirits, "fantastic" mixologists, and a curated wine cellar for a stellar experience.
Find Beacon Bistro at 319 Bay St. in Petoskey. (231) 489-7999, beacon-petoskey.com
TJ's Pub
Manistee
Occupying the corner of River and Maple streets, the four-story Ramsdell Inn, home to TJ's Pub, dates back to 1891, when it was originally a bank (with the vault still intact). Today, it remains a prominent fixture in Manistee's downtown with its granite and red-brick exterior, as well as a three-story turret.
Located on the lower level of the Ramsdell Inn and partially below ground, TJ's Pub is a homey, Cheers-like bar and restaurant. With its brick floors and central fireplace, TJ's offers a cozy atmosphere for lunch or dinner. The pub has a full bar featuring an extensive list of wines, specialty cocktails, and Michigan craft beers. During the warmer months, the pub also offers outdoor seating that is ideal for taking in downtown Manistee.
On the Menu
One of the most popular dishes on the menu right now is the Pot Roast Bowl, featuring mashed red-skinned potatoes topped with tender pot roast and shaved carrots. Owner Lindsey Swidorski calls it "comfort food at its best," and the bowl provides a filling meal for the long winters of northern Michigan.
Another of Swidorski's favorite menu items, found under the substantial "Bakes and Bowls" section, is the Chipotle Chicken Bowl, made up of sliced chicken breast, roasted vegetables, and a house-made chipotle aioli served over warm quinoa.
"Keeping it fresh" is Swidorski's goal when it comes to the menu at TJ's Pub, which includes many traditional pub starters, flatbreads, and sandwiches, as well as a wide variety of salads.
"We try to source locally as much as we can," she says. A small kitchen with no grill and no fryer keeps the team at TJ's Pub motivated to offer a seasonal menu bolstered by Michigan-made products.
Find TJ's Pub at 399 River St. in Manistee. (231) 398-9174, ramsdellinn.net.
PepeNero
Traverse City
PepeNero's inspiration comes from chef-owner Giorgio Lo Greco's memories of his mother, grandmother, aunts, and uncle back in Sicily. As a boy, Lo Greco worked in his uncle's eatery, Trattoria Don Ciccio, and later in Palermo, a city noted for its vibrant food culture.
Lo Greco has brought all those traditions and blended them with new knowledge and techniques in PepeNero, which turns 10 years old in July.
"I promise to serve good, simple, and thought out-dishes," he says. "Freshness and quality of ingredients speak for themselves; the only thing I add is memory and my passion for food. I try to include memories from my home in Bagheria, Sicily, in every single dish."
On the Menu
A perfect example of that sentiment is in PepeNero's most popular dish, Spiedini Don Ciccio with house sausage. This flavorful meal pays tribute to Lo Greco's 86-year-old Uncle Ciccio and features imperial Wagyu top sirloin roll, pine nuts, pancetta, mozzarella, raisins, and peewee potatoes.
One of the most satisfying and popular pasta dishes is the Pappardelle, a flat pasta cut into broad ribbons and topped with a slowly-braised baby back ribs ragu, cream, and pomodoro sauce. Another top entree choice is the Black Angus Filet served with a nebbiolo sauce, potatoes puree, and wild mushrooms.
For a vegetarian palate, try the Cannelloni with spinach, ricotta, and mozzarella filling bathed in a flavorful tomato sauce. And all of the pasta dishes, except for the stuffed Cannelloni, can be substituted with gluten-free gnocchi.
With more than 90 percent of the meals made with ingredients from the old country, PepeNero's menu is real-deal Italian fare. "Eat here with us and it's like eating in Palermo, but you save $1,500 by not flying there," says Lo Greco with a laugh.
Find PepeNero at 700 Cottageview Drive in Traverse City. (231) 929-1960, pepenerotc.com
Trending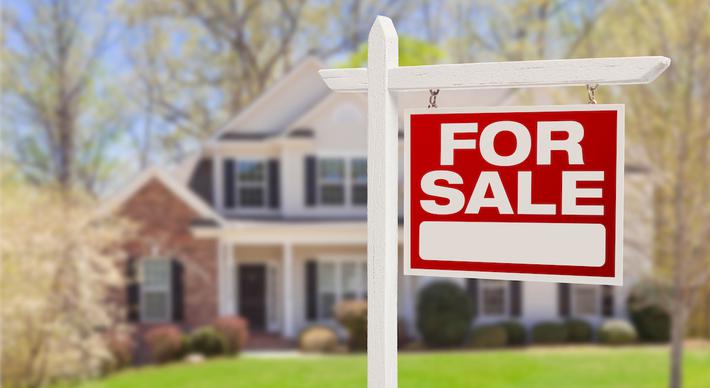 From Frenzy to Focus: Northern Michigan's Real Estate Update for Fall 2023
High-interest rates coupled with a lack of home listings have made for an interesting year in real estate. Northern Expres...
Read More >>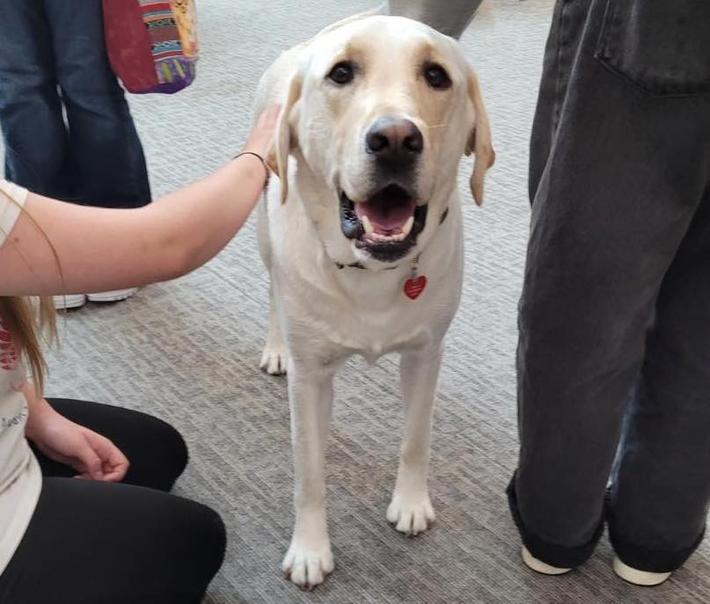 Pups on Campus
Traverse City West Senior High has brought on a very good boy as their newest staff member for the 2023-24 school year. Me...
Read More >>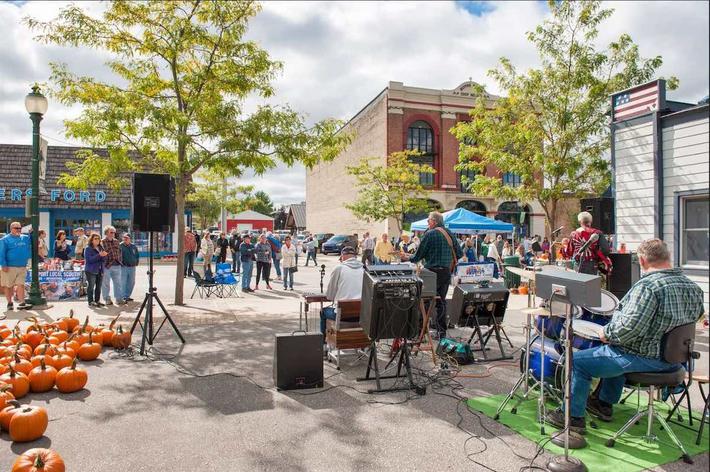 Celebrate the Harvest in Boyne City
Welcome to the season of harvest festivals! The days are getting shorter, the nights (and days) cooler, and it's tim...
Read More >>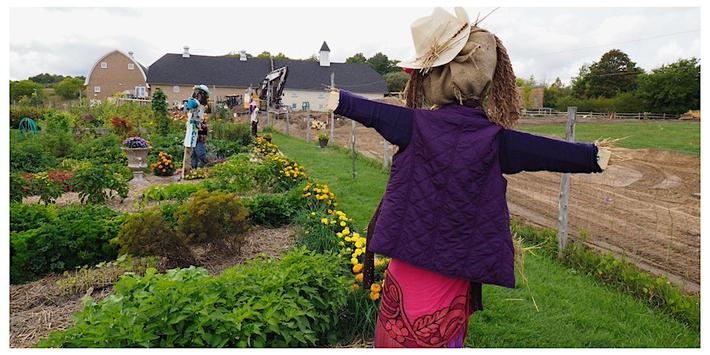 Scarecrow Szn
It may not be "spooky szn" (as the kids call it) just yet, but it does seem like it might be scarecrow szn. Th...
Read More >>