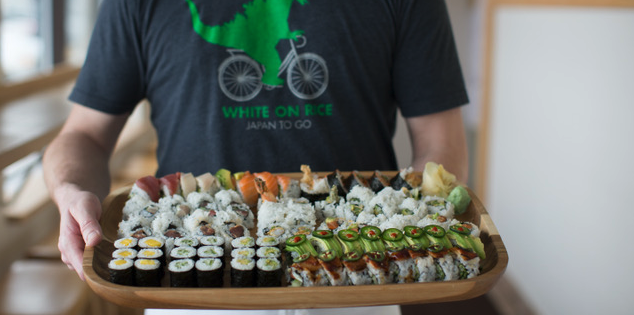 White on Rice
For the past three years, husband and wife team Eric and Amy Kolden have been on a mission to make high-quality sushi and other Japanese specialties easily accessible to a wider audience in northern Michigan.

Deftly wielding the appropriate gleamingly sharp-edged Japanese knife from the many he has in his toolbox, Eric Kolden can break down a whole snapper (or any other large fish) in — well, a snap. It's quite a sight to see. An experienced sushi chef, he and his wife, Amy, founded the food truck White on Rice, featuring fresh made-to-order sushi and other Japanese specialties, in April 2015. The food truck came about after the owners of Traverse City's The Little Fleet, Gary and Allison Jones, had invited them to host two pop-up shops inside The Little Fleet in Traverse City in December 2014 and the following February. "It allowed us to springboard into what our menu might look like as a food truck out on the Little Fleet lot, and what kind of place we wanted to be," said Eric.
With two young children, the pair — both natives of Traverse City — decided that what they wanted to be was a true family business. "Everyone in Amy's family and mine is involved in some way," said Eric. The collaboration turned out to be a good one. The White on Rice food truck quickly established itself as one of the busiest venues at The Little Fleet lot, drawing fans of all ages, who appreciated not only the expertise and unique offerings (hello, hamachi wasabi roll) that the Koldens brought with them but also their standards.
HIGH QUALITY, LOW CARBON FOOTPRINT
Their venture was so successful that they took those standards a step further and opened a second White on Rice — this time a brick and mortar location, just a year later, in 2016. "From the start, we were very specific about what would distinguish us," said Amy. "We take a lot of pride in our food, so the emphasis is on quality ingredients, sourced sustainably — and that includes not only the fresh fish but also other ingredients, like greens and vegetables, as well as the free-range organic chicken and local pork we use. It's all very thoughtfully done — that's the passion that we have."
The Koldens are also very conscientious about keeping a low carbon footprint. "Ever since we did the initial pop-up, we have been using the same environmentally friendly wooden chopsticks and the traditional usuita bowls (very thin, biodegradable sheets of pinewood, which are shaped and formed into little serving boats)," said Eric. "And now, almost everything we use is compostable or recyclable. We have reduced our waste by 80 percent. I don't know how much money we've saved on just garbage liners alone!" Adds Amy: "You think of a restaurant, even what we produce here in this relatively small space — all the kitchen scraps, even the fryer oil. It does take a little more effort to dispose of it all sustainably, but we're all on board here. We would encourage other restaurants, if they're not already doing it, to do the same. Our local BARC (Bay Area Recycling for Charities) is so easy to work with. There is impact to be made in a lot of different areas if you're a modern restaurant."
YOU CAN PLEASE ALL THE PEOPLE
A key concept that has been a driving force behind White on Rice is "everyday sushi," meaning high quality and easy accessibility. "That's an unfilled market niche here," said Eric. "We felt that here was a middle ground that could be had with this idea of quality and price point. It's a simple kind of statement: This looks beautiful, this tastes beautiful, this is healthy and clean. But it won't cost you an arm and a leg, you can get it easily and quickly, and you can find something different on the menu every day. Whether it's a miso soup and ginger salad combination, a tempura lobster roll and green tea, an order of shrimp and pork gyoza (pot stickers), or sashimi, there really is something for everyone. Young and old, families and businesses, gluten-free or dairy-free, vegetarian or vegan, raw or cooked, hot food items and cold food items, options for people with a shellfish allergy or peanut allergy — we never have a problem accommodating anyone, and it's all made in house and served up fresh to order in a matter of minutes."
Take the sushi. It runs the gamut, from off-the-wall, such as the rock 'n' roll (tuna, salmon, yellowtail, lump crab, tempura, panko-crusted, spicy mayo), to very traditional, like nigiri (rice ball topped with raw fish), to something familiar but in a new guise, like the seared salmon roll (with cucumber, avocado and lemon).
Or maybe you don't want sushi. The Japanese sliders — bao buns — are extremely popular (marinated and braised pork belly — chasu style, with miso aioli, daikon radish, and pickled cucumbers), as is the signature ramen bowl, in three variations (house-made chicken broth, soft poached egg, green onion, quick pickles, sweet shitake, and choice of tempura shrimp, pork belly or a combination of the two). Other warm entrées include the katsu curry (Japanese-style sweet curry served over rice with a panko-crusted pork cutlet) and gyoza (shrimp and pork pot stickers with house ponzu sauce or spicy mayo).
A NEW KIND OF TAKEOUT
The hope of both Amy and Eric is that the restaurant — a narrow, unpretentious carry-out or eat-in space with just six seats (the kitchen is huge) whose only embellishments are a map of Japan, a bookshelf full of colorful cookbooks, and a White plastic Japanese "lucky cat" inside a clear round tip bowl — will become a new kind of takeout place, a better alternative to fast food.
As Eric put it, "We want people to think of us when they need something quick and easy, but also want it to be something they can eat with good conscience … Many of our regulars who have lived in Chicago, New York, or other big cities around the country, or who have lived or traveled abroad, tell us that they come to us because this is the sushi experience as they know it. They are used to getting it freshly made all the time, in little no-frills shops just like ours, where the emphasis is on really good, fresh and affordable."
The White on Rice restaurant is located at 510 West 14th St. in Traverse City, (231) 633-7423. The food truck is located at The Little Fleet, 448 East Front St. in Traverse City. $ Whiteonricesushi.com

DIFFERENT STROKES
TRUCK VS. RESTAURANT MENU
The White on Rice food truck will be on The Little Fleet lot from the end of April through mid-October. While it is usually busier at the food truck in the summer than it is year-round at the restaurant, it's a different type of busy, and a different crowd, said Eric Kolden. "At the food truck, you get mostly single orders — one California roll, one spicy tuna roll, one ramen — and the pace is much faster, whereas at the restaurant, you're getting orders for 10 sushi rolls and two ramen bowls, or very large carry-out trays. We also have the time and space to do some dishes that are more elaborate and technically demanding. That's why certain items that are on the restaurant menu are not on the food truck menu. There, we need to offer things that can be made quickly, that are portable, and that are the classics. People often expect the same food at both places, but that's neither practical nor possible."
OUT OF THE BOX
BENTO ON THE GO
New at the restaurant recently, and soon to be a staple at the food truck as well, are Bento boxes — those clever compartmentalized Japanese to-go containers (those from White on Rice are compostable, of course) that hold a full meal. Customers have their choice of two standard options: a pork belly bao, a full spicy tuna roll, and wakame (sesame seaweed) salad; or three pot stickers, wakame and your choice of a full California roll or full vegan roll.
Trending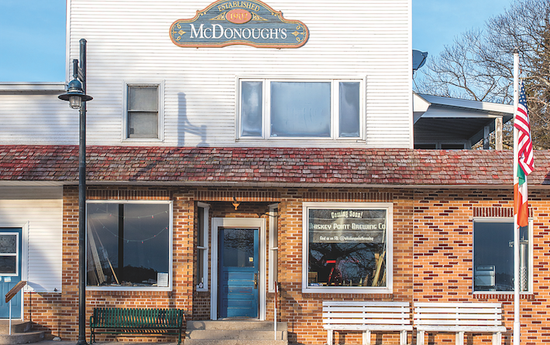 Welcome to Michigan's Most Remote Brewery
After years of planning and honing his beer-making skills, this spring, Patrick McGinnity plans to open Beaver Island&rsqu...
Read More >>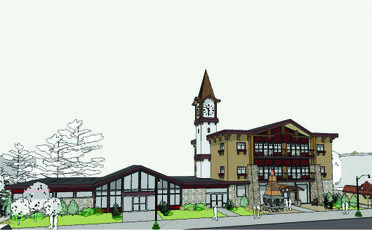 Gaylord: A boomtown Up North
Gaylord native Gary Scott had moved to Indiana, where he and some partners started a business to invest in distressed prop...
Read More >>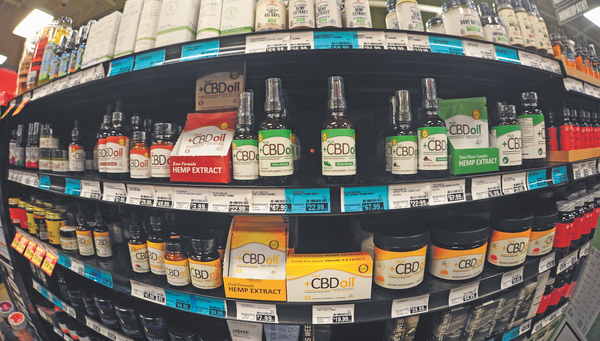 CBD Laws: Dazed and Confused
The sign outside of Family Video in Kalkaska lets drivers know the store has more than just movies. The sign reads: &...
Read More >>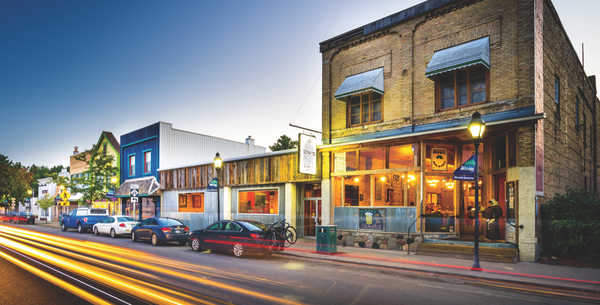 Small Up North Towns on the Rise
Spotlight on Bellaire (pictured)Seems Traverse City isn't the only place in the region making those "Best...
Read More >>
↑