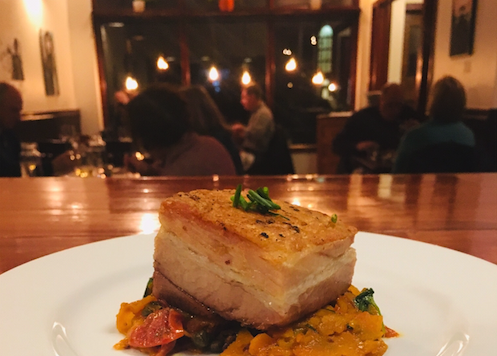 Wren
An inspired of-the-moment dining experience in Suttons Bay
If Adam McMarlin had continued on the path that most everyone around him expected him to take, northern Michigan would have missed out on one very talented chef. Those who have already discovered Wren, the new restaurant he opened in Suttons Bay in August of last year, must certainly be glad that he took the road less traveled.

"All though my teens, I worked part-time at Vince and Joe's, a really nice gourmet Italian market, butcher shop and deli just outside Detroit, in Clinton Township, that carried imported foods and high-quality produce. It was a great experience," said Adam McMarlin. "I learned a lot, and I got to be good friends with the owners. But I remember one day, I was getting carts out in the parking lot when[MOU1] this guy yelled over at me from his car, saying, 'Go to college!' He didn't know me or anything about me. I was still in high school, and I was a very good student. But he probably thought, 'Hey, you're just pushing around shopping carts — you need to do better than that.' And it was the same in high school — they made you feel like, as soon as you graduated, you had to go to college. So that's what I did. I went to Western Michigan University, in Kalamazoo, and I picked a major I thought I would like — psychology. But I didn't really want to do it."

FROM DISH TANK TO EXECUTIVE CHEF
During college, McMarlin took on his first restaurant job. "I started as a host, and I was terrible at it. I couldn't really chitchat with customers — I'd be like, 'Here's your change,' and that was that. The owners tried having me bus tables, and I was probably even worse at that. So finally, they had me washing dishes, and that third time was the charm. Eventually, they started letting me prep and cook food, and when they opened a second restaurant, they put me on the line there. I liked that a lot, and I was really doing well, so I started going to work more and going to class less. I eventually left college [he later went back and finished], bought a motorcycle, and started traveling around the country, working in restaurants in places like Charlotte, North Carolina, and Phoenix, Arizona, along the way." He ended up in San Diego, where his girlfriend — now his wife — was attending college, and he was almost immediately[MOU3] hired as chef de cuisine by a French chef who was opening a new restaurant. "It was an education in classical French techniques working there," he said, "and I still like that kind of cooking a lot."

In 2010, his future bride's father told him about the Bay Leaf, an eatery that was soon to open in Traverse City, where she had grown up and planned to return after college. They needed an executive chef, and McMarlin was given the opportunity to step into that position. Unfortunately, although the restaurant was popular and got great reviews, it only had a short run. After a brief hiatus from the restaurant business, Mc Marlin landed at The Cooks' House in Traverse City, where he worked alongside chef-owners Jen Blakeslee and Eric Patterson.
"Eric is pretty heavily French influenced, and Jen can do just about anything, which is why I loved working with them," he said. "Not only was it a place where I felt comfortable cooking, but I was also exposed to a lot of things that I had never seen before. They were definitely a big influence on me. Being with them reminded me of why I wanted to cook. I had been discouraged for a little while after the Bay Leaf closed but going back and working with them was the best thing I could have done."

THE ROAD TO SUTTONS BAY
With Patterson's and Blakeslee's blessing, McMarlin left after three years to start his own business, Wren the Butcher, just a few blocks away in the State Street Marketplace. There, he used the butchering skills he had honed at the Bay Leaf to specialize in hearty dishes built around handcrafted sausages. But when he was offered the chance to buy the former 9 Bean Rows restaurant in the old firehouse building in Suttons Bay and open a full-scale restaurant, it was too tempting to resist. Wren Suttons Bay opened on August 1, 2018. But this Wren is completely different from its State Street predecessor. Though there is still meat on the menu, it is not the main event. Wren Suttons Bay is wholly focused on being a reflection of place.

"I believe that your menu should represent where you are and when, so to me, what makes sense is cooking with ingredients that you can acquire from sources nearby at various times of the year," said McMarlin. In northern Michigan, that means proteins like trout, walleye, chicken, and rabbit. Lately for him, it has also meant sourcing foraged wild rice, beets, quail eggs, cultivated mushrooms, parsnips, and maple syrup from his many suppliers.

Wren has a relatively small menu that changes often. "It starts with what is available," he said. "If you asked me to just sit down and write a menu, I probably couldn't do it. But if you gave me an ingredient, I could go from there. It's fun to work that way. For example, we have a pork chop on the menu right now because Loma Farms texted me and said they had bok choy. And I thought, 'That would be good with a pork chop.' We're just searing the bok choy partially, with some mustard and onions, so that it's half wilted and half raw, making it both crunchy and juicy. It all started with the bok choy, and I added the pork chop, a bacon vinaigrette, and apricot mostarda."

Based on that model, one can also play a fun guessing game about the key ingredient that inspired other items on the current menu: Starters like the parsnip soup (with apples and gastrique), mixed green salad (with carrot, fennel and daikon radish), and spinach salad (with quail eggs, smoked walleye and currants); or entrées like chicken (with poached turnips, beurre blanc and radish), walleye (with foraged rice and roasted parsnips), and fettucine (with trumpet royale mushrooms, oyster mushrooms and sage). A recent dessert list included a butterscotch pot de creme (with bourbon maple syrup and Scottish shortbread) and chocolate cake (with pear, hazelnut and chocolate syrup).

A "LIVING" MENU
"As far as ingredients go, there's nothing that's off limits or permanent for me — anything can change at any time," said, McMarlin, adding however, that Wren's menu will always include a steak dish, a pasta dish, and one or more fish dishes, albeit with varying preparations. "When people come here, I hope and I want it to be because they are looking for the experience that we're going to give them, and they can kind of let go of the reins a little bit and know it's probably going to be different every time. That thing they liked so much the last time they were here might not be on the menu anymore, but I think they will also really like what we're doing now. For me, it makes the menu feel almost like a living thing. It's always evolving. It keeps everybody on the staff interested, too. We have a couple of really good customers who have been in about seven times since we opened, and they told us recently, 'It's better every time.' And it should be — if it's not, then I'm not doing my job."

While the wine list at Wren is not huge, it is impressive. McMarlin's father-in-law, who had been in charge of the wine program at the Bay Leaf, helped put it together, and his bar manager, Hanna, takes care of all of the ordering. "She does a really excellent job with cocktails, too," said McMarlin. "I was surprised to learn how much goes into that. Katie, our front of the house manager, has her level-one certification for spirits, so she is also involved there — the two of them are coming up with new cocktails all the time. Hanna lets me help think up names for them, so some[MOU8] are comic book or cartoon character themed, but they're really vague, so you'd have to be as big of a nerd as me to know what they are."

Although he admitted that it has been nice to have been able to start his new business slowly over the winter, McMarlin is very much looking forward the upcoming summer season. "I like to work, and I'm excited to be busy again," he said. "We now have a whole season of fresh ingredients ahead, too, which was not the case last year, since we didn't open until August. A few of the farmers have already talked to me about what they're going to have and whether there's anything in particular that I'm looking for. And basically, I told them, 'I'll take whatever you have.' A lot of them, if you have something specific that you want, will even grow it for you. We are so lucky here. I am able to use more local food in northern Michigan than I could in California."

Mc Marlin lives in Traverse City with his wife and two young daughters, and when he bought the restaurant, he was a little concerned that he would have a long drive to and from work, robbing him of precious family time. "But what I soon realized — and what I hope others in the region will also realize — is that Suttons Bay is actually not that far away," he said. "It's only 20 minutes from Traverse City, and it's a beautiful drive."

Wren is located at 303 N. St. Joseph St. in Suttons Bay. Dinner served Wednesday through Saturday from 5pm to 9pm. (Check website for days/hours in summer). (231) 271-1175, visit www.wrensuttonsbay.com.

TRUTH. PURPOSE. RESPECT.
These three things embody the Wren philosophy. "It's about being a craftsperson and staying true to your craft," McMarlin said. "I'm buying ingredients and working with them and feeding people. There are plenty of other things that I could do, but I feel like when I'm building or making something, it's very honest — there's nothing hidden about it. That's truth. It's what gives me purpose. We work in a way that's supporting our community and economy, sourcing things responsibly and making choices that are better environmentally. In doing that, we are respecting the food and those who grow and raise it. People put a lot of work and effort and energy into growing their vegetables or raising their chickens, and when I get those ingredients into the kitchen, I don't want to mess them up or waste them. It's respect for the customer, too. What we do is an intimate thing. We're making things that people are eating. So I want them to be able to trust that what I'm doing is good."
Trending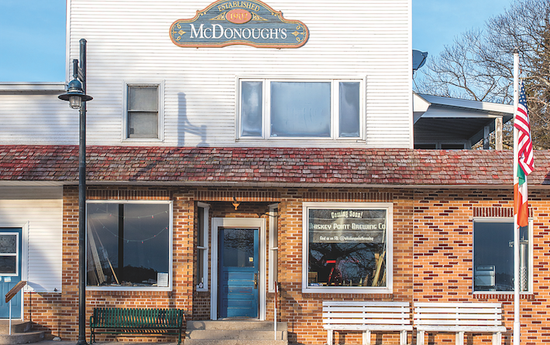 Welcome to Michigan's Most Remote Brewery
After years of planning and honing his beer-making skills, this spring, Patrick McGinnity plans to open Beaver Island&rsqu...
Read More >>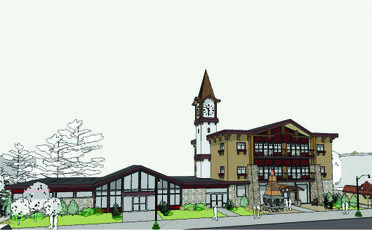 Gaylord: A boomtown Up North
Gaylord native Gary Scott had moved to Indiana, where he and some partners started a business to invest in distressed prop...
Read More >>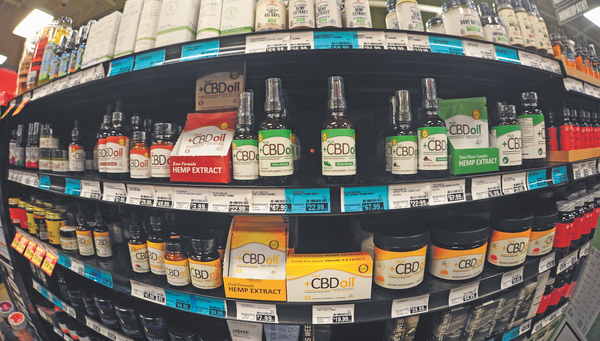 CBD Laws: Dazed and Confused
The sign outside of Family Video in Kalkaska lets drivers know the store has more than just movies. The sign reads: &...
Read More >>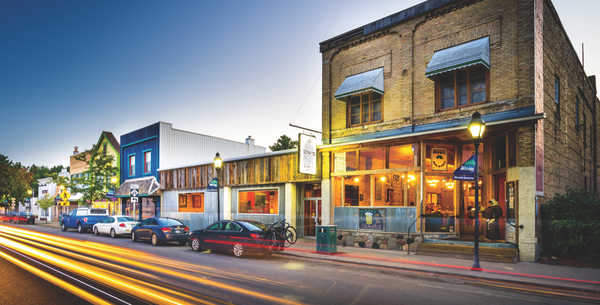 Small Up North Towns on the Rise
Spotlight on Bellaire (pictured)Seems Traverse City isn't the only place in the region making those "Best...
Read More >>
↑