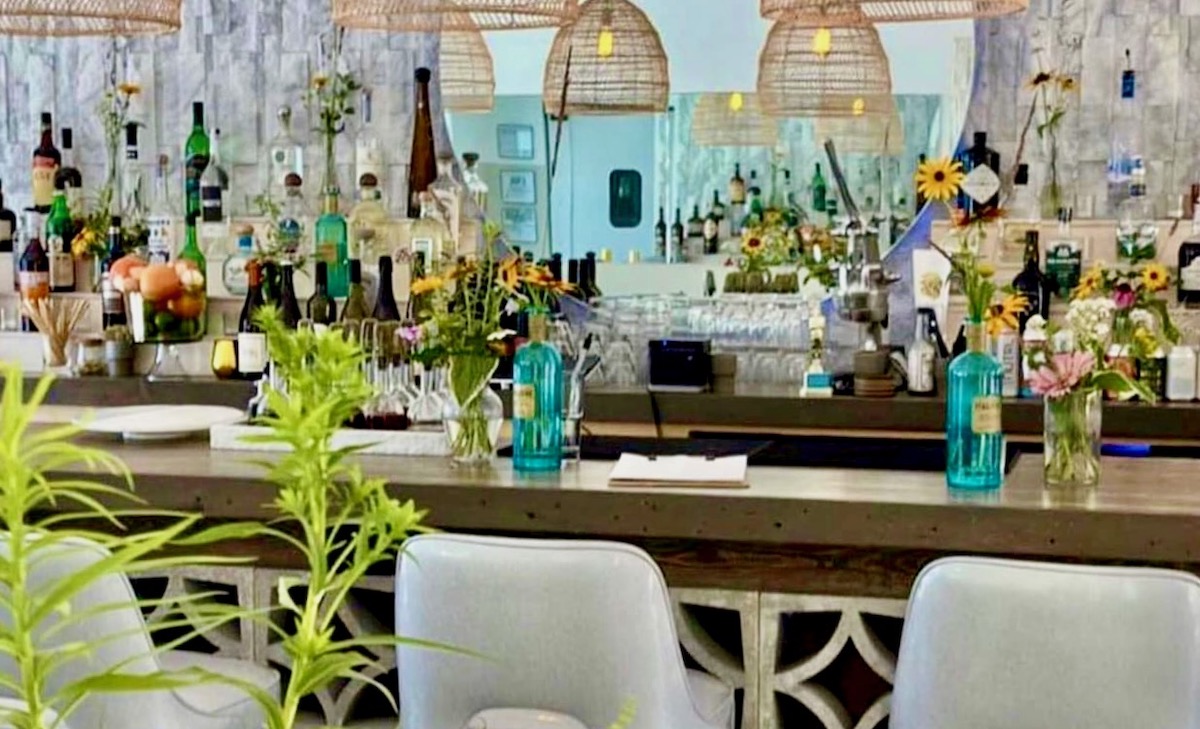 Your Fall Restaurant Guide: Six Spots to Stop for a Bite in Northern Michigan
Explore Northport, Traverse City, Suttons Bay, and Manistee for these delicious eateries
The weather may be cooling down, but the culinary scene in northern Michigan is heating up. This summer, we explored six new restaurants, two of which started life as food trucks and built such a following that they expanded into brick and mortar; two others that offered updated concepts in beloved community dining spaces; and the remaining two that created brand-new establishments with fresh ideas and even fresher flavors.
From tacos to burgers, American-style brunch to Southern-style supper, small plates to on-the-go meals, here are the spots we're recommending this fall.
Fingers Crossed
Northport
When Garage Bar owner Bruce Viger finally decided to end his three-decade career in the restaurant business, it was hard on the legions of regulars who loved the Garage. But Viger's exit was an opportunity for Detroit entrepreneur Dave Kwiatkowski, who already had nine eclectic, high quality bars and restaurants in various neighborhoods throughout the city of Detroit.
Today, the smoothly cool interior of Fingers Crossed seats 52, and the covered patio accommodates another 70. The garage door opens fully to bring the outdoors in, and vice versa.
"It's sophisticated, but not too sleek," Kwiatkowski explains. Mirrors and shelving face the 25-foot zinc bar, and zinc-topped tables, stained Michigan cedar walls, and a concrete floor round out the overall vibe. Outside, customers can sit under umbrellas by day and strings of lights at night, where outdoor heaters will take the chill off.
On the Menu
Fingers Crossed serves up fresh South American and Mexican inspired dishes—tacos, nachos, taco salads, and quesadillas—with uncommon flavors, presentation, and sophistication.
Eight taco varieties include the Baja, Carlson's whitefish in beer batter, with slaw and ginger lime vinaigrette; Smoked Shrimp with avocado puree, lime crema, and cabbage; and the Al Pastor, traditional roast pork shoulder with pineapple, chipotle, and red onion.
Kwiatkowski says the big favorite is the Pork Slider tacos, with house-pulled pork and cherry whiskey BBQ sauce, served with slaw and pickles. Two more "huge sellers," are the Carne (flank steak) tacos, with grilled shishito pepper, chimichurri, and queso fresco; and the half-pound Wagyu burger, served with pepper jack, roasted poblano, and salsa roja.
Fingers Crossed is also serious about its craft cocktails, taking the idea of top shelf and expanding it exponentially. Of the 10 current choices on the menu, we couldn't wait to try the House Old Fashioned, made with Long Road bourbon finished in nocino walnut casks, with demerara and root beer bitters; or the Snap Dragon, made with Corazon blanco tequila, raspberry, lime, and Baia Lambo. Trust us: it's really hard to choose.
Find Fingers Crossed at 108 S. Waukazoo St. in Northport. (231) 281-8940, @FingersCrossedNP on social media
Glendale Burger Shop
Greilickville
Master burger-slingers Bray and Brittney McCabe have always been "into food." Born and raised in Saginaw, the pair grew up among restaurateurs before putting down roots in Traverse City and falling headlong into hospitality by means of their iconic smash burgers (which Taste of Home magazine dubbed Best Cheeseburger in Michigan).
After four years of food truck life, the two are finally turning on the griddles at their very first brick-and-mortar location, Glendale Burger Shop in Greilickville. The space serves both lunch and dinner and revives the food truck's most-loved staples—from beer-battered fries to secret sauces—while also allowing the pair to get creative with new menu additions. (Heck, they might even bring back brunch!)
On the Menu
If you've never had a Glendale handheld, a "smash burger" refers to a thinner patty that's been pressed on the griddle a la old-school diners, like Hot 'n Now or Clyde's Drive-In. The result is a quicker cooking time—at Glendale, we're talking five minutes flat—and a tender burger with a crispy-laced edge.
"I'm obsessed with them looking a certain way," Bray says. "If they don't have the right crunch, I'm not serving them."
Of these, the standard is The Temple: a smash burger topped with American cheese, shredded lettuce ("shrettuce" in the menu description), tomato, pickles, onion, and Glendale's secret Hugo sauce.
The menu also features a handful of sandwiches, including the "not-quite-a-club" Turkey Bacon (ingredients: oven roasted turkey, bacon, lettuce, tomato, seasoned mayo, and the crunchy addition of kettle chips), as well as a coming-soon special fried chicken sandwich they've had on the backburner for a while. For veggie diets, guests can expect a few salads, headlined by a classic Wedge, as well as an Impossible meatball sub, which puts the real thing to shame.
"We're not reinventing the wheel over here," Brittney says. "We want to be the kind of place that makes people think, 'That sounds really good.' That's the food we love to make, and if we can elevate it, why not?"
Find Glendale Burger Shop at 13692 S W Bayshore Dr. in Traverse City. (231) 252-4200, glendaleburgershop.com
Archie's Social House
Traverse City
Jon and Nick Petrie, Archie's chef and manager respectively, are the guys behind Archie's Social House, and their dad, Dave, was the founder of Archie's Food Truck. The food truck began rolling through northern Michigan in 2018, but there was hope for a more permanent home for the dining concept.
The Petries parked their rolling stock this past May and moved to a permanent location at 237 Lake Ave., just on the edge of downtown Traverse City. (The site was previously occupied by Benedict, and before that, Patisserie Amie—a brunch dynasty, if you will.) Fans of Archie's Food Truck have made a smooth transition to the Social House, and it's obvious that customer loyalty is alive and well.
On the Menu
On the breakfast side, griddle items include challah French toast and pancakes, and Belgian waffles are elevated with add-ons such as strawberries and cream; a Nutella drizzle with wafer bits, hazelnuts, and whipped cream; bananas Foster; or blueberry and lemon curd.
There's the Cheese Blintz—for breakfast or dessert—filled with sweetened ricotta and then lightly crisped in clarified butter. Build-your-own omelets and eggs Benedict—from the traditional with thick-cut ham, to the inventive—are huge favorites. (Must-trys include the Short Rib Benny with tarragon oil, onion crispies, and poached eggs or the Mushroom Benny made with local mushrooms, bacon, and poached eggs. All versions topped with rich house-made Hollandaise.)
Vegetarians and vegans will like the Avocado Toast with roasted corn, pickled red onions, avocado, and cilantro (cotija cheese optional) on multigrain bread. Or the Tofu Scramble, marinated tofu, spinach, bell pepper, onion and avocado topped with black lava salt.
Food truck fans will be happy to see Chico & the Man, the brand's avocado black bean burger, with goat cheese, greens, and roasted red bell coulis on a brioche bun. Carnivores should opt for the Brunch Burger, two beefalo patties with bacon and avocado, topped with a fried egg, maple aioli, and onion crispies.
As if that weren't enough, you'll find fresh salads, specialty lattes, and daily specials to keep you coming back.
Find Archie's Social House at 237 Lake Ave. in Traverse City. (231) 421-1900, archiesfresh.com
North Country Kitchen and Bar
Suttons Bay
Over the years, North Country Kitchen and Bar in Suttons Bay (formerly North Country Grill and Pub) has become a favorite among locals and tourists, thanks to its welcoming and rustic vibe and a menu laden with Up North favorites like prime rib and whitefish.
Now, under new ownership, the menu has gone south—in a good way. Thanks to the ambitions of the new proprietor, Matthew Branton, who has roots in the Deep South, and the passions of the new chef, Eric Force, you'll now find Cajun, Creole, and other Southern fare on the menu.
"There are people who love this place—really love this place. I didn't want to take away the things that worked," Force says. "The menu just needed some refreshing … and hopefully people grow to love what we're doing too."
On the Menu
How Southern are we talking? Fried Green Tomatoes. Gumbo. Andouille and Crawfish Cakes. Jambalaya. Cajun Walleye. Collard Greens. Grits. Pecan pie…everything you'd expect to find in New Orleans.
Force, who honed his skills at a well-respected Traverse City restaurant, PepeNero, was eager to make his own mark as a chef. His specialty is shrimp and grits, a dish you'll find in variations all over the South, he says. Force keeps the dish simple but adds his own touch, using white cheddar grits and a Cajun cream sauce with Tasso ham.
Force's jambalaya has also been a hit with customers. Like other recipes for the dish, he uses Andouille sausage, chicken, and his own combination of spices. He tops each serving with shrimp. Force, however, uses a rare type of rice—Caroline Gold 24, an heirloom rice found primarily in the South.
Cornbread is made in house every day, and a local baker makes pecan pie, a regular dessert feature. The French bread for the po'boy also comes from a local purveyor; as much as possible, Force and his small kitchen staff use local produce and other fare. Green tomatoes come from nearby TLC Farms, and an early summer dessert—strawberry shortcake—used locally grown strawberries.
Find North Country Kitchen and Bar at 420 N St Joseph St. in Suttons Bay. (231) 271-5000, northcountrykitchen.com
Yard & Lake
Northport
Something's been blooming on the corner of Northport's Mill and Third streets, and it's not just the gardens. Yard & Lake (pictured), an eclectic, quirky, wonderfully inventive collection of spaces and experiences, is the result of a four-stage business plan, thoughtfully planned out over the last five years.
Yard & Lake's journey began with the renovation of the 1,000-square-foot property. Then came their clever logo- and lake-themed boutique. The gift shop is home to many treasures, but our favorite find is Hidden Toys, a store-within-a-store concept for kiddos. Newly opened in June is the Yard & Lake craft cocktail bar and small plates eatery.
The interior, open to the outside with sleek garage-style doors, is flooded with light, tactile surfaces, and modernist décor. Step outside under the beer garden pergola with specially-designed Airstream service bar for American-style al fresco.
On the Menu
The menu has evolved over the summer, highlighting fresh local ingredients: cheese boards featuring Idyll Farms' chevre and served with locally-sourced accompaniments. Seasonal salads, called Little Jewels, were resplendent with strawberries in early summer, then cherries with almonds, and now blueberries and peaches, all mixed with greens from local growers. Visitors will also find grilled smash burgers and brats served on the patio. Fresh rustic pies, made with Leland fruits, hit the sweet spot.
To supplement the on-site fare, Yard & Lake has teamed with Taqueria Mosqueda every Tuesday, Friday, and Saturday, starting at noon until evening. The owners, hailing from an area northwest of Mexico City, are purveyors of truly authentic Mexican street food—including the only handmade tortillas on the Leelanau Peninsula.
Craft cocktails, created by TC native Roman Albaugh (owner of The Bartending Co. and co-founder of Audacia Elixirs) are as fresh as can be, with an array of botanicals, including flowers from Yard & Lake's own gardens. The Y&L Margarita is tequila and lime, of course, but punched up with honey, grapefruit, and orange juice. The Rose Street Martini blends gin with Peychaud's bitters, Italicus liqueur, sugar, and grapefruit. And the Blueberry Lavender Mojito has garnered high praise on social media.
Find Yard & Lake at 215 Mill St. in Northport. yardandlake.com
The Outsider
Manistee
Following a whirlwind seven-month build, Jon Faber's debut eatery, The Outsider, opened its garage-style doors in late July and combines carry-out handhelds with al fresco dining and a round or two of old-school pinball.
Nestled at the corner of Manistee's high-traffic River and Water streets, The Outsider offers a landmark entry point for those heading into town from the west. It also lies on the western edge of the city's spanking new social district, The Stee (established 2021), which allows patrons at participating businesses to carry and consume alcohol outside.
Faber was inspired by the property's proximity to Manistee's local amenities—notably, the Municipal Marina and park, which are just a few minutes away by foot—as well as by the recent uptick in efforts to rehabilitate and maintain those spaces.
"There's incredible infrastructure [in place]," he says. "We thought that if we could highlight these amenities and [offer] food in a fun, family-focused way, that could be a winning idea."
On the Menu
The Outsider experience begins by building a meal around one of two entrees: The burger ($9), which Faber describes as an American cheese melt, comprises two house-grilled smash-burger patties (or sub a sweet potato version), shredded lettuce, beefsteak tomato, and the eatery's signature smoky aioli.
An entrée-sized salad is also available ($7), with romaine and leafy greens, shredded cheddar, chunky tomato, and house croutons. The salad can be personalized with a choice of six dressings, as well as add-ons like proteins (don't miss the falafel!), cheeses, and a myriad of fresh-cut veggies.
Now for the fun part: the sides. There are, of course, the usual suspects—including seasoned fries, kettle chips, and a small salad—but you can also go all out with thick-cut onion rings, cauliflower nuggets, or nostalgic desserts like custard and funnel cake.
To make the most of its mainstay flavors, The Outsider has also devised a third menu category, which is designed to feature seasonal plates (the specifics of which are still in the works) like locally-sourced hot dogs and brats for summer, as well as built-to-travel "messy bowls" ($8) that reimagine standard ingredients as toppings for crispy falafel and fries.
Find The Outsider at 457 River Street in Manistee. (231) 299-1235; outsidermanistee.com
Trending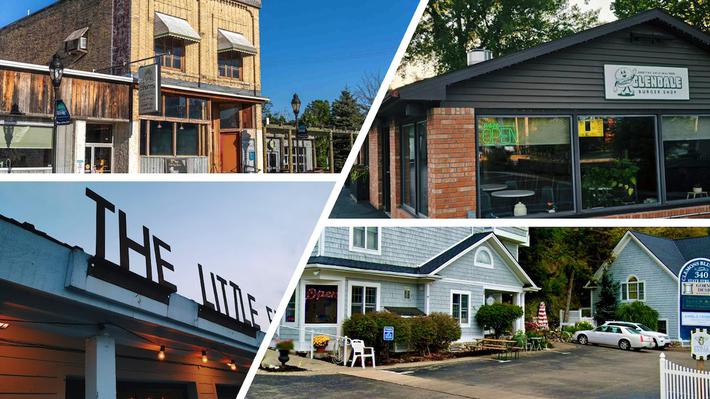 After Years of Bad Customer Behavior, Are Things Finally Getting Better for Local Restaurants and Bars?
For Gary Jonas, those two words encapsulate what the summer of 2023 was like at The Little Fleet, the popular food truck l...
Read More >>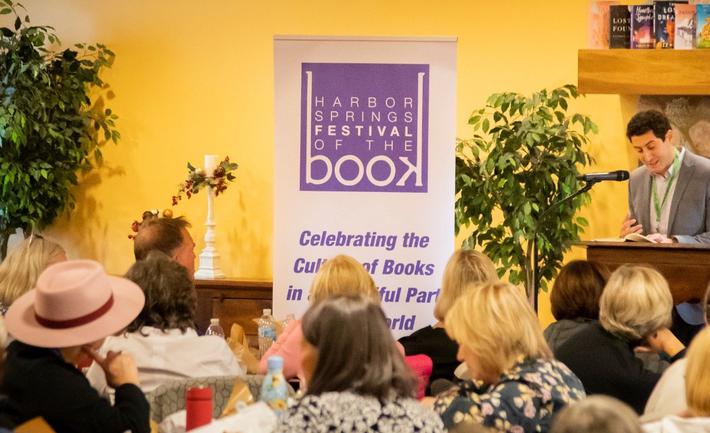 A Weekend of Books
It's a bookish weekend in Petoskey, Bay Harbor, and Harbor Springs! (Be still, our literary hearts!) First up is the...
Read More >>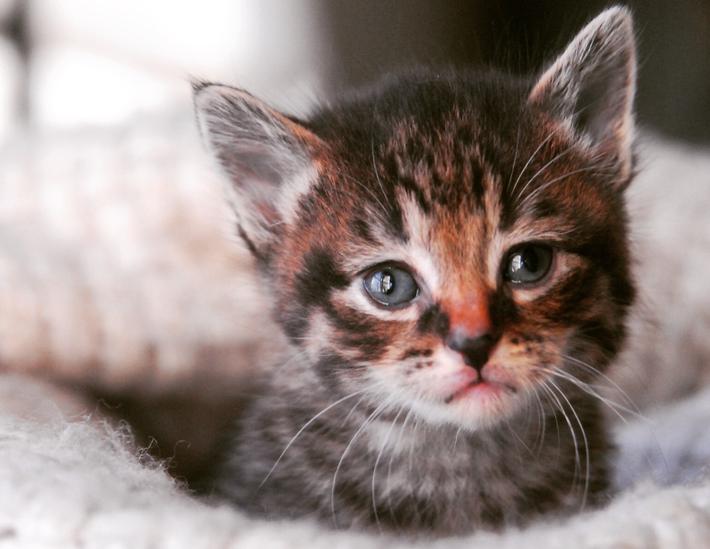 Make Your Pet Famous!
Every fall, Northern Express puts together our Pets Issue, which features stories about our beloved furry friends. As part...
Read More >>

Transformation on the Trail
It's no secret that the Boardman Lake Loop Trail in Traverse City is a popular spot for a stroll. And after a summer...
Read More >>