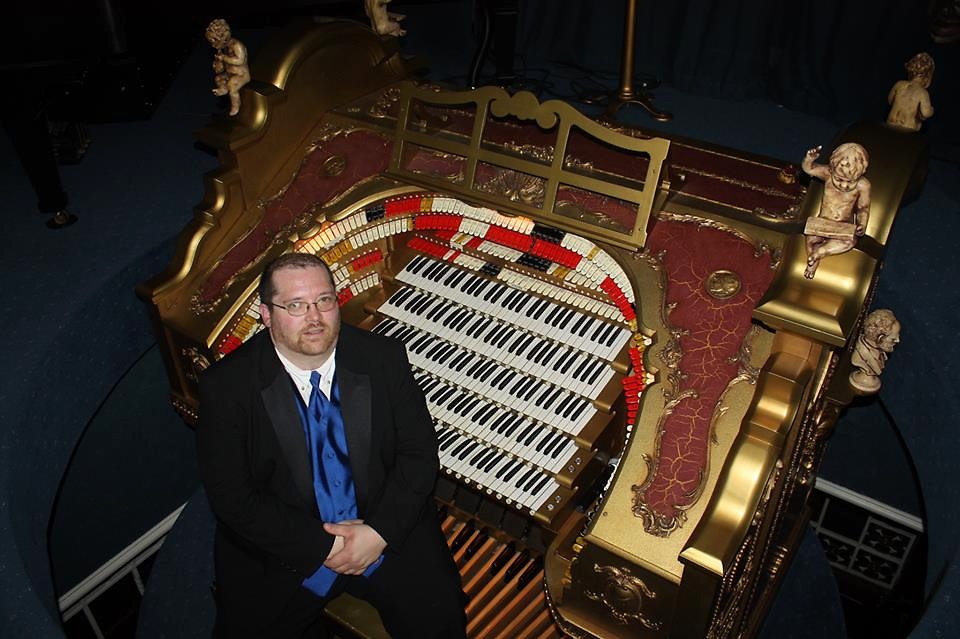 Organist shows off his range at Music House
Dave Calendine leads a double life.
By day, he works in the operations department of Olympia Entertainment in downtown Detroit. By night (and, well, sometimes during the day too), he's the resident organist and organ curator for Detroit's 5,100-seat Fox Theater, the organist for the Detroit Red Wings, an occasional accompanist for the Radio City Rockettes, and a solo concert performer.
Calendine got his start in music at the age of 3, when his parents got a player piano from his uncle, who restored player pianos, nickelodeons and band organs. By 5, he was taking piano lessons, which tapered off for him around 9 years old as he continued to learn and play by ear.
By the time he was 15, he'd noticed the organ at his church and was fascinated by the myriad sounds it could make. He started taking lessons from church organist Dorothy Reynolds, who was an honors graduate of the Eastman School of Music in Rochester, N.Y., and it was all about the organ from that point on. More specifically, the theater organ.
"The theater organ, or cinema organ, is so much more versatile than a regular pipe organ," Calendine said. Specially developed to provide music and sound effects to accompany silent films during the early 20th century, the theater organ adds in percussion and a wider range of sounds to the usual range of keyboard notes.
The pipes produce notes from highest (very small pipes, the size of a pencil) to lowest (in large instruments, these can be up to 32 feet tall and wide enough that a person can stand inside them), while the stop tabs, an array of colored tabs and switches, admit pressurized air through the pipes to create sound. These sounds are then "translated" by a musician playing the organ's keyboard. "You literally have the full resources of an orchestra," Calendine said.
When Calendine heads Up North, he's often traveling up to play the organ at The Music House Museum near Traverse City, where he accompanies a range of silent films and special shows.
"The Music House's organ is typical of theater organs around the world," he said. "Where the Fox Theater's organ is very large, to befit such a large theater, the Music House's is more modest. The organ at the Fox Theater has 36 sets of pipes, so over 3,000 pipes in all, and 349 stop tabs; the Music House's organ has 13 sets of pipes, so around 1,200 pipes total."
This holiday season, Calendine will be performing two shows at the Music House, the first being the Pizza and Pipes event. "Back in the day, in the '60s and '70s, a lot of old organs had been removed from churches and were being bought by pizza parlors all over the country," Calendine said. "You could go in, get pizza, and request a song. We're recreating that experience with this show."
At the Music House's version, Calendine actually will be taking requests for music, and there will be different gourmet pizzas and desserts available to enjoy. "This will be a lot of fun, as opposed to how it turned out for the restaurants that tried this — they'd put more money into buying the organs than they did into ingredients for the pizzas, so once the pizzas weren't any good, the gimmick didn't work."
The second Calendine show will be Holiday Classic Shorts, a real throwback to the old silent movie days. "This show is going back to the main reason that the theater organs were invented," he said.
"We'll recreate that by playing holiday-themed short silent movies, and I'll accompany them with music. Plus, I'll be playing Christmas songs in between." Included in this year's program will be the classic "A Christmas Carol" as well as the Laurel and Hardy film "Big Business," where the comedic pair try to sell Christmas trees in Los Angeles.
While Pizza and Pipes is more of a cafe show, with little tables and chairs so that people can mingle over their pizza and the tunes, Holiday Classic Shorts is a sit-down theater show and also a chance for Calendine to play Christmas music, which he said is a particular favorite of his. "I've always really enjoyed Christmas music, and it just suits the organ so well," he said.
So, are people really watching the movie, or are they watching him play the organ during these unique events?
"Well, my goal as a silent movie organist is to make people forget that I'm even there," he said. "But sometimes they do end up watching what I'm doing. So, while I don't have an 'ugly Christmas sweater,' I'll have to make sure to wear something Christmas-sy."

Pizza and Pipes will take place at 6 p.m. on Dec. 28; adults $25, kids 10 and under $10 (includes dinner). Holiday Classic Shorts offers two shows, one at 5:30 p.m. and another at 7:30 p.m., both on Dec. 29; adults $15, seniors $13, students $5. Both shows take place at The Music House Museum, 7377 U.S. 31 in Williamsburg. For more information, visit musichouse.org or call 231-938-9300.
Kristi Kates is a contributing editor and freelance writer.
Trending
Very Busy Very Fast
This isn't going to be easy. President Joe Biden and his thin congressional majority are walking into troubled times both ...
Read More >>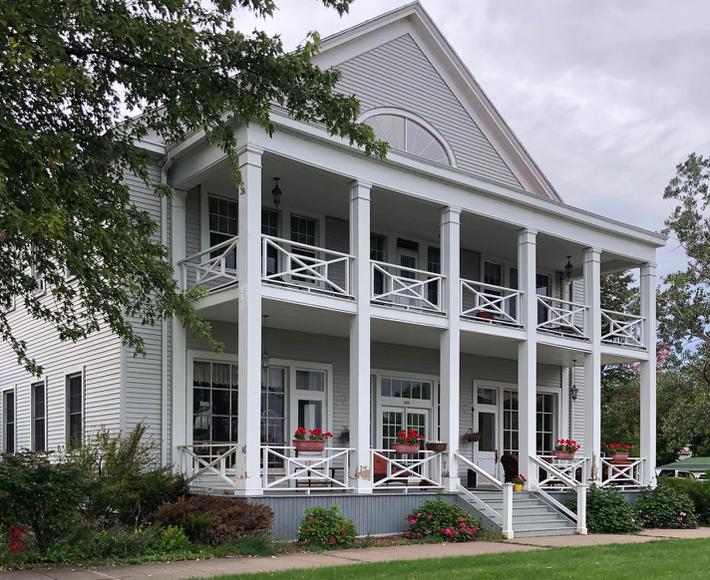 Thunder Bay Inn
Former playground to Henry Ford and part of a famous film and novel based on a real-life murder in the town, the courtroom...
Read More >>
Forty Acres' Spa Day Martini
Myriad methods of cocktail creation are on display at bars around the world. There are flaming drinks, compotes laden with...
Read More >>
He's Gone, Now What?
Wounded and fearful, America watched the 45th President leave the nation's capital. On a hastily arranged stage at a...
Read More >>
↑