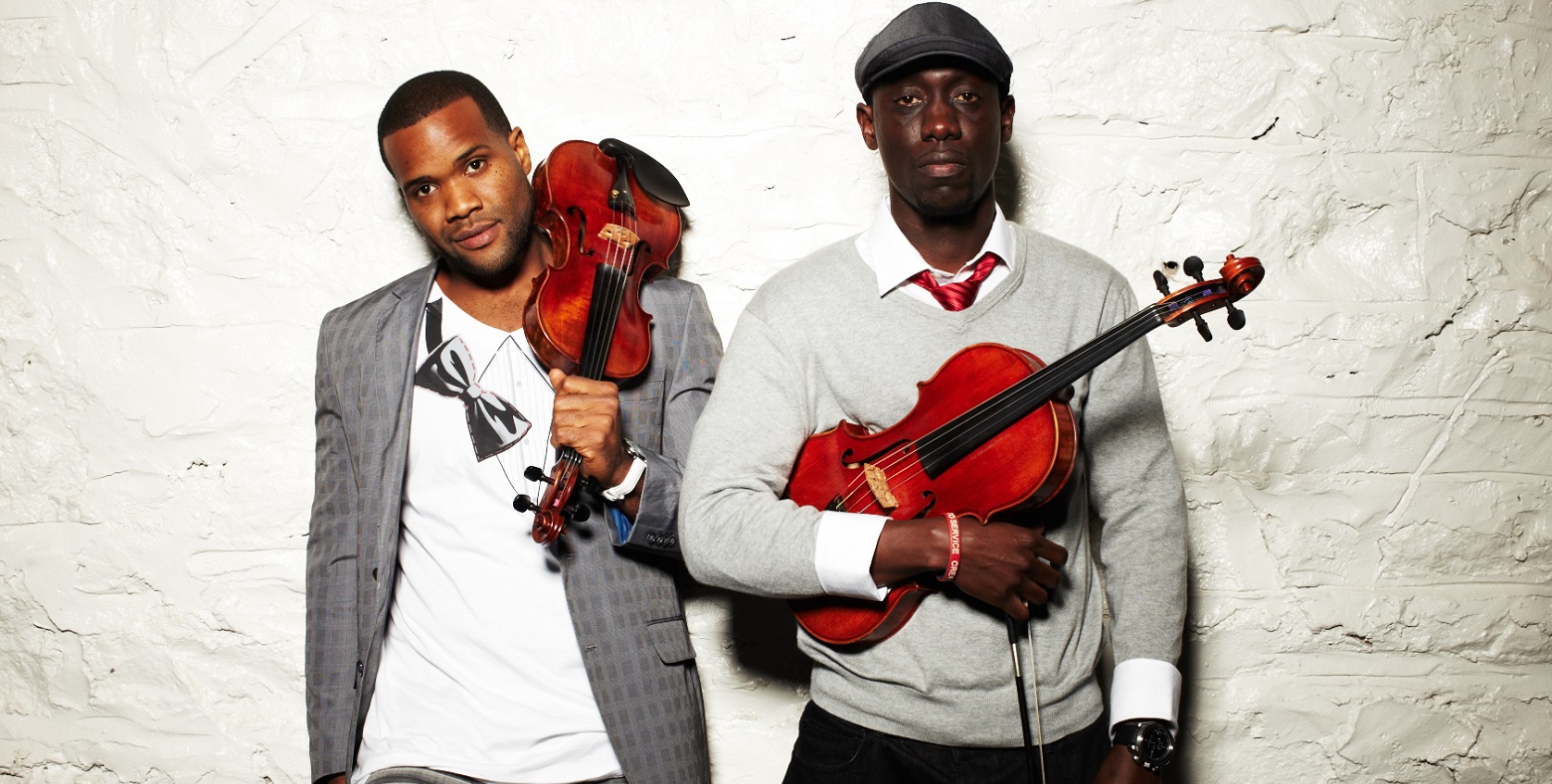 Stringed Theory
Black Violin's New Musical Approach
Wil B. and Kev Marcus, known offstage as Wilner Baptiste and Kevin Sylvester, are the pair of talents who make up Black Violin, a hip-hop and classical music duo changing the way people view stringed instruments and perceive musical genres.

The musicians met in orchestra class at the Dillard High School of Performing Arts in Fort Lauderdale, Fla., in 1996, both having arrived at their respective instruments reluctantly. Baptiste originally wanted to study the saxophone but by mishap was placed in a string class. He at first objected but then decided to pick up a viola and, as he put it, "accept his fate." Sylvester had similar misgivings about the violin class his mother enrolled him in to help keep him out of trouble – he didn't want to be "the violinist" in the neighborhood. "But we both had a love of hip-hop, R&B and reggae, and we always kept that in the back of our heads while we studied classical music," Sylvester said.
On a whim, the two friends started combining classical music and hip-hop. Once they did, things rapidly started to change. "People were blown away when they heard it," Sylvester said. "That's when we made the decision to pursue this genre-busting sound full-time. We realized we had stumbled on something amazing when we won Showtime at the Apollo in 2004. It's the hardest audience to win over in the world," he explained, "and we did it with ease."
The title of Black Violin's new album, Stereotypes, addresses some of the misperceptions that occur when people try to figure out the duo's crossover sound, not to mention those that result from its visual image. The music does the rest of the talking: the title track, with its choppy string riffs and voiceovers, discusses racial issues. "Shaker" leans more toward the classical side of things, referencing both Copeland (Aaron) and hints of Bach. "Walk on By" gets jazzy, showing off Black Violin's seemingly endless versatility, and the intricately layered "Send Me a Sign" merges vocals from Melanie Fiona and hip-hop artist Black Thought to create a dramatic, faintly Arabian knockout of a tune.

It's eloquent stuff both musically and lyrically, so it's no surprise that the duo has also been collaborating with a tall stack of talented big-name peers, among them Alicia Keys, Kanye West, The Eagles, 50 Cent, Aretha Franklin and Linkin Park's Mike Shinoda. These cooperative efforts have helped Black Violin fine tune its innate ability to adapt what it does to many different types of music.
"We performed live with Alicia at a couple of awards shows, and she was the most gracious superstar we've ever worked with – humble, driven and extremely talented," Sylvester said. "We opened for Kanye in North America and Dubai; our connection with him was minimal, but that was our first major international tour and we appreciate the experience we gained from rocking with him." Linkin Park's Shinoda is one of Black Violin's biggest mentors, and Sylvester cites him with helping the duo climb to bigger stages. "He took us all around the world and taught us how to be professional musicians," Sylvester said. "We owe him a ton."

Sylvester and Baptiste are also advocates of their own theories. They promote self-empowerment, problem solving and "daring to be different" as important components in human development. "The most important messages to us are to think outside the box and to break stereotypes," said Sylvester. "The reason we're successful isn't that we're the greatest violinists in the world; it's that we approach [our music] in a very unconventional way while always keeping our goal of creating unifying music in mind."
They're already creating more of that music. The duo's next album is due to be released late in 2017. Until then, Black Violin's plans include more touring and also scoring TV shows in the pair's spare time, what little they have of it (listen for them on the new FOX TV show Pitch.) But perhaps the most important tenet of Black Violin's approach is the simplest one: know thyself.

"Performing this new brand of music comes pretty naturally for us. I wouldn't say that aspect is challenging at all," Sylvester said. "The tough part is creating new music in this genre that's true to both the classical and hip-hop cultures – now that's walking a tightrope."

Black Violin will be in concert at the City Opera House in Traverse City Thursday, Feb. 16, at 8pm. For tickets and more information, visit Cityoperahouse.org or call (231) 941-8082.
Trending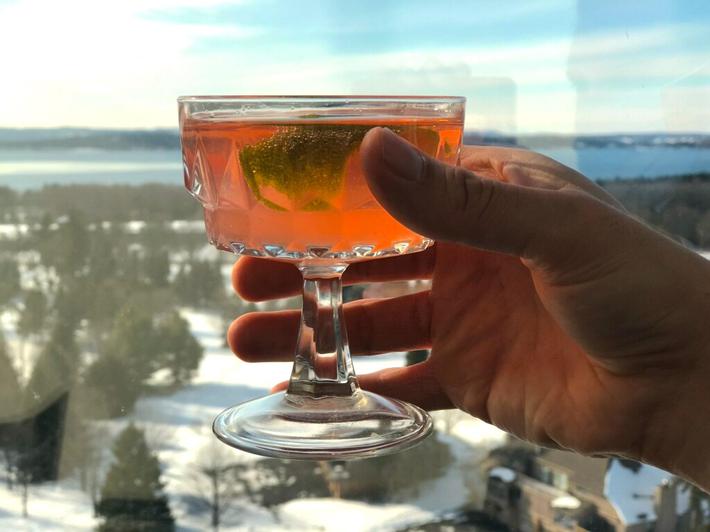 Tiny Pink Bubbles
Hey, ladies, do we have the pink drink for you: Aerie's Tiny Pink Bubbles. With a taste and body as delicious as its...
Read More >>
The Power of Our Example
Every new president faces a daunting array of problems, but 2021 will go down in the history books: Our country is under s...
Read More >>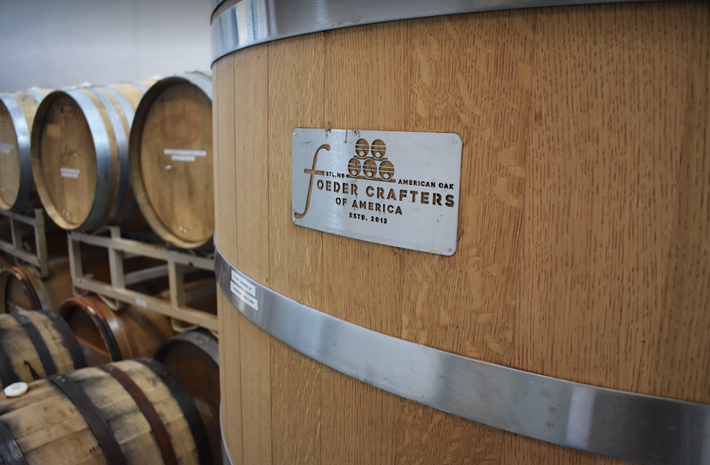 Getting Wild with the Foeder
Drinkers with a discerning eye may have noticed a couple interesting-looking wooden containers in the back of Traverse Cit...
Read More >>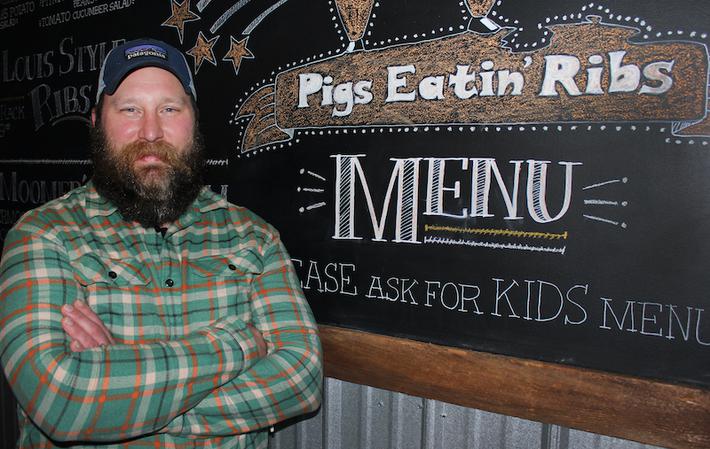 Charlevoix's Pigs Eatin' Ribs
By 2008, Charlevoix Chef Adam Kline had seen and tasted enough. The Northern Michigan food scene had stagnated, he said, i...
Read More >>
↑