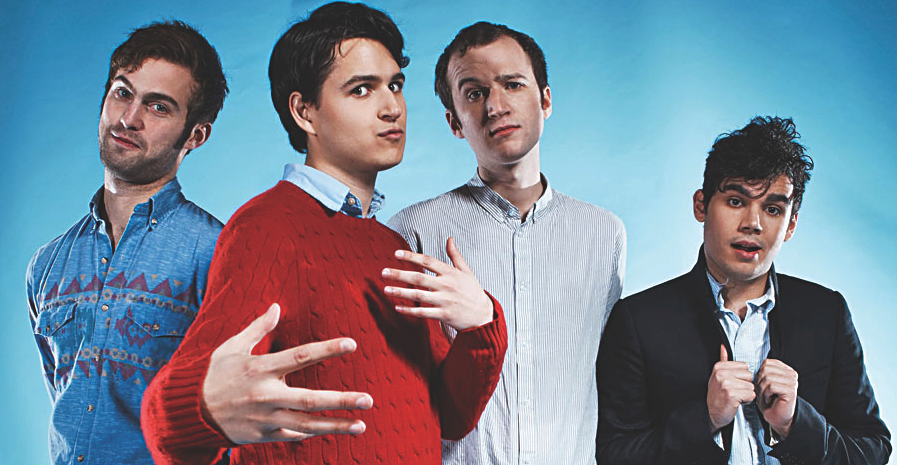 Vampire Weekend Cruising Back with New Tunes
Modern Rock
Just in time for Halloween, the aptly-named Vampire Weekend has announced that its upcoming fourth album is done tracking and is now being mastered. Fans who followed the band to this past summer's Lollapaloozafest in Chicago expected to hear some of the new tunes played live at that festival, but instead, the band waited until one of the official Lolla after-shows to share any of its new sounds. Along with one preview song, Vampire Weekend also cranked through a few covers and several of its classics; that long-awaited song and all of the others on the new set are expected to come out late this year or early in 2019 …

'80s-era New Order, currently on a brief U.S. tour, has completed a brand new concert documentary that premiered last week, on the UK TV network SkyArts, and will be making its way stateside soon. The doc, Decades, includes footage of the band's second attempt at a collaborative performance (which also included a 12-piece synthesizer "orchestra") with eclectic visual artist Liam Gillick, insight into the band's rehearsals, interviews with various band members and colleagues, and concert footage. No word yet on when the film will be screened in the U.S., but it's reportedly "in the works" …
Speaking of synths, electronica artist Aphex Twin (aka Richard James) is finally wrapping up work on his first new music in over two years, an upcoming EP titled Collapse. Collapsewill serve as a belated follow-up to James' (performing as Aphex Twin) 2016 album, the Cheetah EP. He's been building up to the release of these new tracks since late last year, when he kicked off a cryptic countdown ticker on his website and presented fans with his very first live-streamed performance …
A project spearheaded by the Salvation Army in the UK is restoring the grounds of the famed Strawberry Field — children's housing in Liverpool, England, where John Lennon used to visit to play with the other kids (and the namesake of an equally famous Beatles song) — in order to create a garden and quiet space for both locals and for Beatles fans. Ground has already been broken on the site, as overseen by Lennon's sister Julia Baird and the late George Martin's wife, Lady Judy Martin OBE. Plans for the space include a cafe and an exhibition showcasing the story behind Strawberry Field and Lennon's relationship. The "new" Strawberry Field is expected to open summer 2019 …

LINK OF THE WEEK
Looks like autumn, feels like autumn — what better time to check out Death Cab for Cutie's newest single, "Autumn Love," the third release from its new Thank You for Today album? Check out the new tune at tinyurl.com/dcc-autumn …
THE BUZZ
Frankenmuth's Greta Van Fleet has completed its debut album, Anthem of the Peaceful Army, set to hit stores and outlets Oct. 19 …
Detroit rapper Joseph McFashion (aka Coach Joey)has just thrown out another single from his Raw series — the track "Raw 2.5," on which he collaborates with FMC DZ, Tay B, and Skooly …
Grand Rapids husband-wife synth-rock outfit Pink Sky has just released its full-length debut album, FORMS, is are already working on a second album for release in 2019 …
And classic Michigan rocker Bob Seger has planned out his final tour, but so far he hasn't booked any stops in Detroit; the only Michigan show is coming up on Nov. 21 in Grand Rapids … and that's the buzz for this week's Modern Rock.

Comments, questions, rants, raves, suggestions on this column? Send 'em to Kristi at modernrocker@gmail.com.
Trending
Get Your Boots On
There is an old adage sometimes credited to Washington Irving, other times to Mark Twain, but no one is sure: "A lie can travel halfway around the world before the truth has a chance to get its boot on." This has been assumed to signify the power ...
Read More >>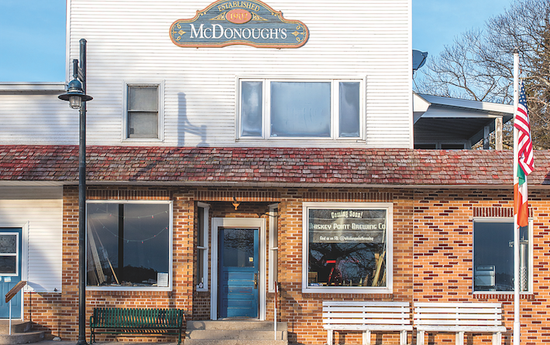 Welcome to Michigan's Most Remote Brewery
After years of planning and honing his beer-making skills, this spring, Patrick McGinnity plans to open Beaver Island's first microbrewery. Opening a craft brewery is challenging. Opening one on a remote island in Lake Michigan that's either a 15-minute plane ride or a two-and-a-half-hour ferry ride from ...
Read More >>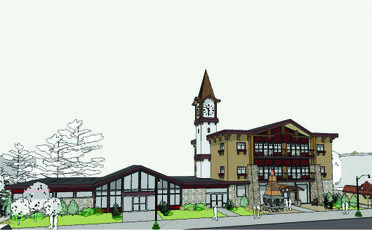 Gaylord: A boomtown Up North
Gaylord native Gary Scott had moved to Indiana, where he and some partners started a business to invest in distressed properties. He was talking to a banker in Detroit about real estate in Bloomington when he asked what kind of deals might be available in northern Michigan. ...
Read More >>
Aaron's Tree
There's a particularly picturesque tree in Boyne City that, having withstood decades of harsh wind and weather, many people recognize. A recent storm, however, reminded many what this weeping willow still stands for. One of the most picturesque trees in Boyne City is a willow in Sunset Park ...
Read More >>
↑