A Friend's Passing
Guest Column
Dennis Sandole, Ph.D., passed away on May 4. He was professor of conflict resolution at George Mason University, and so much more. I first met Dennis and his lifelong partner and wife, Ingrid Staroste, in Frankfurt, Germany. Dennis was a young professor from the University of Southern California's Graduate School. He was teaching courses to part-time students like me while completing his first book. Publications in neat stacks served as the décor of their high-ceilinged apartment. After hours of classroom debate, we would retire to a favorite Balkan restaurant for shashlik and German beer. Life was good.
Dennis was a gifted and challenging teacher. In fact, he was responsible for my leaving the military, a feat accomplished with one simple question: After reading some of my work, he not-so-innocently asked, "Jack, I don't get it. You write about the futility of waging war to resolve conflicts with the conviction borne of experience. So why do you devote your life to a conflict-specific organization?"
A conflict-specific organization. The words landed heavily on me. I was forced to confront the contradiction of my then-chosen path. I was comfortable in my Army career; had a nice car and apartment, skiing vacations, with Vietnam neatly compartmented in the back of mind. Dennis forced me to face what I had rationalized away, the fact that war would never resolve conflicts. Dennis showed me that the very structure of the institution I was serving was incompatible with the goals I wanted to pursue. Dennis had a profound effect on me and on the lives of hundreds of students over his four decades as a professor and mentor.
In the mid-'60s, Dennis had served as a U.S. Marine. This son of immigrants had volunteered to serve in that most demanding of our military services. But he was unsettled by the experience. He began to realize that war was not the answer, nor could he connect the dots of the Marine credo to use violence to achieve a political aim. How would killing and destroying things do anything but worsen the conflicts?
As a professor, Dennis brought his ideas to my USC late-night courses, where he faced a classroom of skeptical young Army officers like me who had served in Vietnam and were bound to go back there after a short respite in Europe. We were confused by the chaos we had experienced in Vietnam and the apparent futility of what we had been asked to do there. We were confused by the explanations we had been given for the war, and confused by our powerlessness to alter what we had done or to change what we would be doing when we returned to the war.
During those turbulent years, Dennis and Ingrid worked together to develop theories of conflict and conflict resolution that might someday guide policymakers. His first book, "Capturing the Complexity of Conflict," looked at the growing number of violent, intractable inter-ethnic conflicts then raging in Bosnia, Northern Ireland, Somalia, and scores of other trouble spots. He gained his insights not only through intellectual pursuits but also by evaluating the actions of peace-building organizations. He worked with and became a leading authority on the Organization for Security and Cooperation in Europe (OSCE), which he saw as a model — albeit flawed — for conflict resolution efforts.
Through his research, Dennis brought to light how leaders manipulate symbols and historical "memories" (real and imagined) to mobilize a population. He saw how this manipulation could extend and widen conflicts, and could become a means of control over societies by cynical, even evil, leaders. His impassioned debates about such leaders with his German-born wife (and intellectual equal) were something to behold, though they always seemed to end with kisses and laughter.
Dennis developed the evidence for how conflict breeds more conflict, and how the tools at our disposal for controlling and ultimately resolving conflicts are failing. His greatest insights came in his study of how conflict "works" in the real world. He argued that we must decide: Are we trying to settle the conflict by imposing a solution, or are we seeking to resolve the conflict by getting at its root causes through mediation, conciliation, and collaboration? Are we using a competitive process to achieve our goals, or a cooperative process? Dennis required rigor from his students and forced us to focus clearly on the end goals. It doesn't help to set off in pursuit of a goal if you don't know where you're trying to go.
Try it for yourself. What sort of process is President Trump employing with Kim Jong Un? Are Kim and Trump pursuing a strategy aimed at settling the conflict between us, or just at managing it? Are we clear on our goals in this confrontation? Or, as Dennis suggested in a later book, is it possible there is a continuum of possibilities in which the parties to the conflict must shift, even during an ongoing process, from one approach to the other.
A great mind is no longer with us to tackle these difficult questions. In the latter stage of Dennis' life, he and Ingrid waged a 10-year battle against the cancer that eventually took him. We use terms like "courageous" for such things, but it hardly conveys the burden imposed on both the patient and the spouse, just as "sympathy" can do little to lessen the pain on those who survive: Ingrid; their son, Tim; daughter-in-law, Sara; and a grandchild who will know Dennis only from our admiring stories and his valuable legacy. We are left with great sadness tempered by joy. We deeply miss this man, but we treasure the fact that we knew and loved him.
Jack Segal co-chairs, with his wife, Karen Puschel, the International Affairs Forum. At IAF's next discussion (Milliken Auditorium, May 17, at 6 pm) Mahatma Gandhi's grandson, Rajmohan, and, by video-link, Pakistan's Ajmal Khan address one of the world's most vexing conflict resolution problems: How to build peace through non-violence between Pakistan and India.
Trending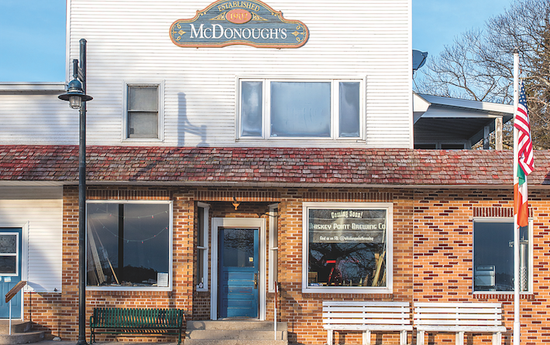 Welcome to Michigan's Most Remote Brewery
After years of planning and honing his beer-making skills, this spring, Patrick McGinnity plans to open Beaver Island's first microbrewery. Opening a craft brewery is challenging. Opening one on a remote island in Lake Michigan that's either a 15-minute plane ride or a two-and-a-half-hour ferry ride from ...
Read More >>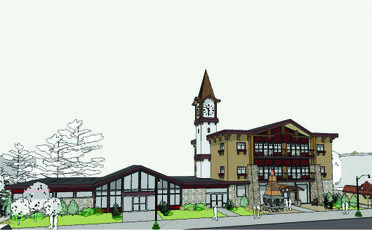 Gaylord: A boomtown Up North
Gaylord native Gary Scott had moved to Indiana, where he and some partners started a business to invest in distressed properties. He was talking to a banker in Detroit about real estate in Bloomington when he asked what kind of deals might be available in northern Michigan. ...
Read More >>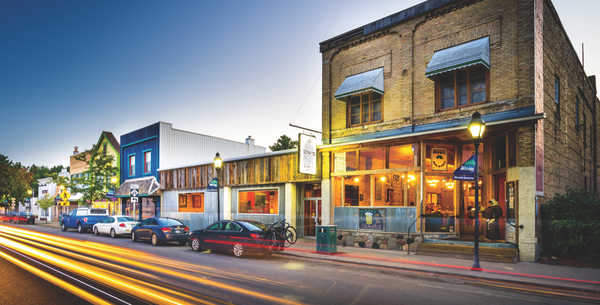 Small Up North Towns on the Rise
Spotlight on Bellaire (pictured)Seems Traverse City isn't the only place in the region making those "Best of" lists. The Antrim County hamlet of Bellaire was recently named to the list of Best Lakeside Towns in the U.S. by Country Living Magazine, alongside the likes of Vergennes, Vermont, Greenville, ...
Read More >>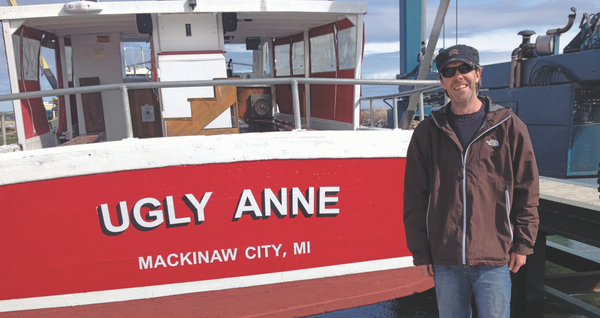 A Wicked Cool Ride Around the Straits
You expect to see boats around Mackinac Island in summer. Sailboats, power boats, cruisers, and the ubiquitous ferries that run residents and guests back and forth across the Straits of Mackinac, sure. But there's a more unusual vessel visible these days — an all-wooden Down East lobster ...
Read More >>
↑