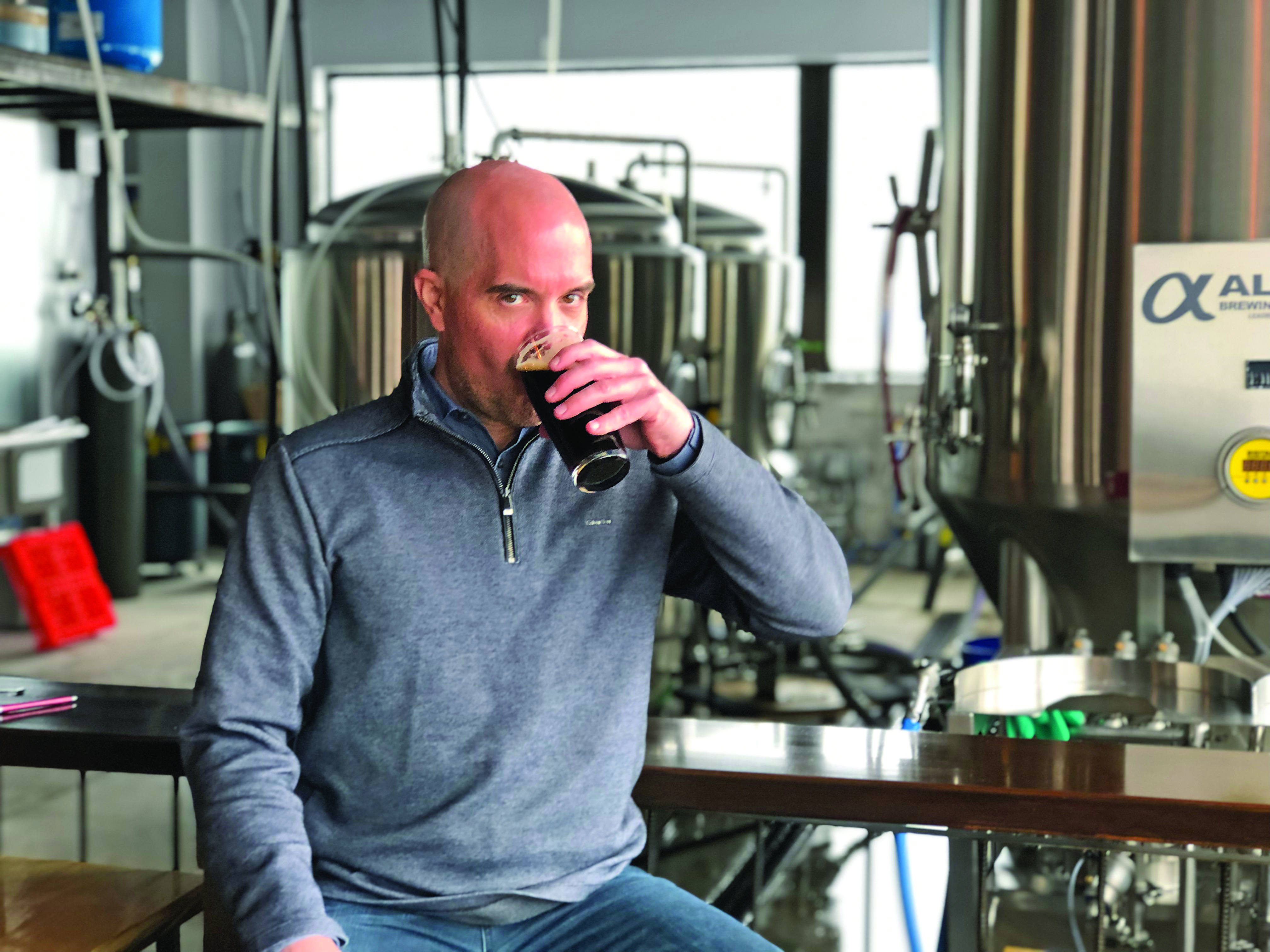 14 Breweries in One Day
Beer blogger Kevin McKinney sets out to prove what a great beer city Traverse City is.  
Kevin McKinney started out 2018 with an ambitious goal. He'd started a blog the year before called Michigan Brewery Review, which serves as not only a creative outlet but also a justification to spend his free time travelling the state in search of craft beer. In 2018, he decided to up the ante: He'd attempt to visit all of the state's roughly 300 breweries in one year.

But he soon discovered that too many of Michigan's breweries offer too many intriguing beers to go hopping from one to the next so quickly. Also, the industry refused to cooperate; by the end of last year, there were nearly 400 beers in the state, making it hard for the 44-year-old with a full-time job to keep up with them all in his spare time.
Also, McKinney, an Auburn Hills resident, keeps coming back to Traverse City, a place he considers the best beer destination in the state. Northern Expresssat down with McKinney at the city's newest brewery, Silver Spruce on Eighth Street, during one of his visits in February.

NORTHERN EXPRESS: I've noticed your blog is pretty positive. You seem to like all of the beer you drink. Do you see yourself as a reviewer, or are you more of an explorer of all of these places around the state?

KEVIN MCKINNEY: I think I misnamed my blog, initially, when I called it Michigan Brewery Review. When I first started, I was going to tell people about each beer, about the food. And I still do, but now it's more, "You have to travel here and go to this brewery," and "You have to travel here and go to this brewery." For example, you can go to Marquette for a lot of reasons, but there's three great breweries in Marquette. If you go up to Copper Harbor, there's a really stellar, small hole-in-the-wall brewery called Brickside that's up there. And if you go there, you've got to go in and have some of their beer, because it is one of the better ones, not only in the U.P., but in the state. I'm trying to make Michigan Brewery Review a conduit for people to not only find out about the breweries — because there's close to 400 of them now in the state — but [also] the destinations, the different places.

EXPRESS: Late last year, you posted a video about visiting 14 breweries in Traverse City in one day. How does Traverse City rank as a beer destination?

MCKINNEY: It's by far my favorite. And I say that in some of my videos, like the one I did on 14-in-a-day. My goal was to show that there's this many, and that they are very accessible, and that's the reason that I like Traverse compared to say, Grand Rapids, which is thebeer city, because there are a lot more, or Kalamazoo also has a lot more, but Traverse City feels like it has more breweries in a smaller area. I like it because you can be here — we're staying on Eighth Street at an Airbnb, —and you can walk. We're a quarter mile from Filling Station; Rare Bird is another quarter mile down the road. It's very accessible. You can walk. Unless you are going to Jolly Pumpkin, and you can still bike to Jolly Pumpkin. Everything is close. Even when you leave Traverse, you have Lake Ann, you have Hop Lot [in Suttons Bay]; Frankfort's not too far away for Storm Cloud. Elk Rapids has Short's production facility. So even outside of town there's a ton of breweries.

EXPRESS: So, your post about 14 breweries in Traverse City in one day — you didn't do that to advocate excessive drinking did you? I mean, even one pint of craft beer from each place, that would be excessive. It doesn't add up.

MCKINNEY: That day I did not drink at all 14 places. You're right. It would be pretty hard to do that. Even in a 12-hour period. But the point when I did that video was to let people know Traverse City is not only a great place to go, but it's also my favorite place. I think most people who follow me know: If I'm going to go someplace to drink for a weekend, most likely it's going to be Traverse City.

EXPRESS: In an ideal day, how many breweries would you visit?

MCKINNEY: So today, we're going to do the Stout Challenge [at Little Fleet], and we might hit two more tonight. We're going out on the VASA trail snowshoeing tomorrow, and by the end of the day we might have been to four or five of them, but we're going all the way up to Hop Lot in Suttons Bay, too, so it's going to take time to get there. Usually four or five. I know I was joking when I said it, but I can have two beers at a place here, and go through town and be OK and still make a video. I've done that.

EXPRESS: How much of your time do you devote to exploring beer around Michigan?

MCKINNEY: All of my free time. I have a 9-to-5 job, Monday to Friday. I work at a pediatrics ophthalmology practice. I've been in ophthalmology for over 20 years, in pediatrics for just over two years. And I do love it. I mean, my ideal goal is to end up somehow with a camera and someone paying me to go and travel Michigan, like the show Under the Radar Michigan. Pipe dream, I know, but I hope it happens one day. Until that time, if I have a weekend, I can be in Ann Arbor in 40 minutes from where I'm at, or I can be in Lansing, or I can be up in the Thumb. If I want to come up to Traverse for a weekend, like today, we fought the weather, and we were up here in four hours, and now we're up here for whole weekend. Grand Rapids is only two hours away.

EXPRESS: If you keep going back to the same places, it makes it hard to get to all of the new ones.

MCKINNEY: When I first started this, I knew a woman, and she did all of them in one year. And at that time there were 318, and she knocked them all off, which was an accomplishment. And that was my idea — all right, by the end of 2018 I will want to have gone to all of them, and I started to go to places, and that would mean, like, if you want to knock 12 of them off in a day, you're coming to Silver Spruce, having one beer, and taking off. You know, I like to have a couple beers. Scott [Stuhr, Silver Spruce's brewer], who makes great beers, if I only have one of his beers, it might not be his best or what he thinks is his best, and I'm not getting a full idea of what he's making. So, I completely got away from going to all of them as fast as possible.

EXPRESS: Plus, during that period in 2018, how many opened? It's a moving target, isn't it?

MCKINNEY: A lot have opened. There are some that close, like Brewery Ferment here, and years ago, there was one in Acme — Bravo Zulu — that kind of fell off. Luckily, I was able to get to those before they closed. Some fall off, but more are opening now. Someone told me that as a brewer, you have to submit your application to become a brewer, but if they approved every application to open a brewery tomorrow, the number in the State of Michigan would double, there's so many people who want to be a brewer, that want to open their own place.

EXPRESS: A couple years ago, as Rare Bird prepared to open, it seemed to me like Traverse City might already have enough, or too many breweries. Boy, was I wrong. Rare Bird has done great, and since then more and more breweries have opened.

MCKINNEY: I'll tell you why they did great. Tina [Schuett] makes stellar beer. When they first started they [had] guest taps, so you could go in and have some of Rare Bird's, but they also [had] 25 other beers. I go in there now, and they might be down to 16, 18 now. Tina went from six of her own; now she might have 10, 11, 12 of her own. So, they are getting bigger brewing their own beers. And her beers are good, like Scott's. If you make good beer, you're going to last. People are going to want to go to you.

EXPRESS: How many more breweries do you think Traverse City could absorb?

MCKINNEY: I'm thinking there's room on the east side of town. There are all those resorts over there. I think they could probably use one over that way. South of town, you've got Terra Firma and UBrew [on Cass Street, south of South Airport], maybe in that area, maybe there's room for two or three more. I don't know. The Grand Traverse Commons is really busy. They're building condos in there now. Earthen Ales is in there and, not that they want any competition, but that's getting busier and busier with people moving in and wanting to live in that area. I've never looked at the statistics. I don't know how many more people are living in town compared to 14 years ago, when there maybe was one or two breweries here.

EXPRESS: What about the Little Traverse area? How do you rate that as a destination?

MCKINNEY: They are growing. There's Beards, they have Petoskey Brewing, and there's one south of town called Burnt Marshmallow (3379 Lake Grove Road), which is another hidden gem. That's been there for maybe three years, and it's a pole barn in someone's front yard. You're driving down this hilly road, in your rearview mirror you can see the bay, like, where the hell is there a brewery around here? And you get to the end of this road, and there's a shed and a pole barn in someone's front yard. They started out making wine, but they have stellar, stellar beer. There's a place called Pond Hill Farm near Harbor Springs. Destination-wise, that's my favorite in the state. They're on 197 acres, they have a café, a vineyard — so they have a wine tasting room — and then they brew beer. The 197 acres, they're open to anybody, so you can bring your fat tire bike, your snowshoes, you can go out and play on the trails and come back, eat and drink, and go back and play on the trails again. It's right on the base on the Tunnel of Trees.

EXPRESS: That seems to be a trend — wineries that open breweries.

MCKINNEY: There's one called Mackinac Trail. Ralph [Stabile], the owner, he makes stellar wine. They started in Manistique, they have a tasting room in Mackinaw City, and they have a huge place they just opened maybe a year and a half ago in Petoskey. He was never intending to make good beer — he wanted the beer to give to the husbands who came in with their wives — but his beers ended up being amazing. Really, really good stuff.

EXPRESS: You do a lot of travelling. Do you have any money-saving tips?

MCKINNEY: I'm a camper. We're staying at an Airbnb this weekend, but if I wasn't with my friends, I'd be camping. When I say camping in the winter, I've got a bed made in the back of my Jeep. My sleeping bag is rated for minus 30, and sometimes I'm sweating in there. I'll go to the gym in the morning — I've got a membership at a CrossFit gym here in town — and I'll work out and then shower there. It works out. I kind of suffer. In the summertime I'll set up a tent.

EXPRESS: Do you have a favorite beer in Traverse City or a favorite beer in the state?

MCKINNEY: Yes. I definitely have a favorite beer in the state. It's called Wizard Burial Ground. It's from Brewery Vivant in Grand Rapids. This is a barrel-aged, but it's a quad [a Belgian quadruple]. To me it's like drinking liquid caramel. It's sweet, but not as sweet as candy. It's absolutely amazing. In town here, Juniper Rye at Earthen Ales is one of my favorites, and they also make the A2 IPA — A2 because Andrew and Jamie, the owners, they met after graduating from U of M, so that's how they named their beer. The Wrecking Bar at Workshop is one of my favorites. I could name six beers that Tina makes at Rare Bird that are just as good as the next.

Welcome to TC's Strangest, Most Hidden Pub
UBrew, perhaps the strangest place to have a pint around Traverse City, didn't set out to be inconspicuous.

The beer makers' supply store/"nanopub" feels like it is hidden on purpose, tucked around the back of an industrial park building on Cass Street south of South Airport Road in Garfield Township. It's the kind of place that, even if you know the address (3054 Cass Road, Suite F), you might drive by it five times before you find it.

It's not that way on purpose, said David Mellor, a Traverse City home brewer and treasurer of the Northern Michigan Home Brewers Guild. UBrew's got a tiny sign because that's all they're allowed to have.

"Garfield Township has very strict signage rules and they don't allow freestanding signs in the industrial district," Mellor said. He said U-Brew's owners are looking for a new location.
UBrew, Mellor said, represents a chance for members of NMHBG to share their concoctions and put their skills out there for the world (or at least the larger community) to taste.
(The results are delicious, according to beer blogger Kevin McKinney, who called UBrew one of his favorite stops in Traverse City.)

"We have an informal apprenticeship program. Here, you have to be checked out; you don't brew by yourself the first time," Mellor said. "We're trying to provide exposure to what home brewing can be." Read more about UBrew and one of its founders here.
Trending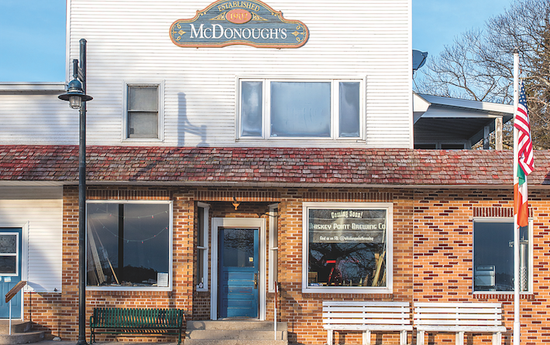 Welcome to Michigan's Most Remote Brewery
After years of planning and honing his beer-making skills, this spring, Patrick McGinnity plans to open Beaver Island&rsqu...
Read More >>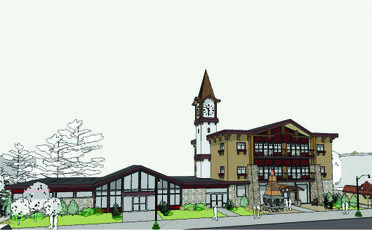 Gaylord: A boomtown Up North
Gaylord native Gary Scott had moved to Indiana, where he and some partners started a business to invest in distressed prop...
Read More >>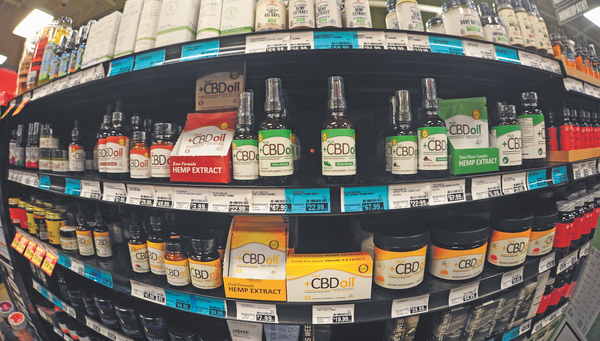 CBD Laws: Dazed and Confused
The sign outside of Family Video in Kalkaska lets drivers know the store has more than just movies. The sign reads: &...
Read More >>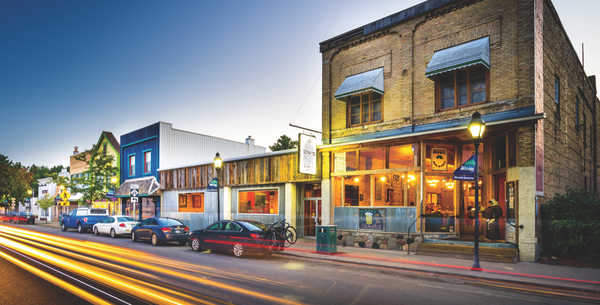 Small Up North Towns on the Rise
Spotlight on Bellaire (pictured)Seems Traverse City isn't the only place in the region making those "Best...
Read More >>
↑