21 Outdoor Adventures
Make the North's nastiest season sensational
Want to have your best winter ever in northern Michigan's great snowy outdoors? Here are 21 adventurous suggestions to keep you busy until spring.
1. RIVER DRIFTING
Big Bear Adventures, 4271 S. Straits Hwy., Indian River
Float in a comfortable, dry raft underneath fragrant cedar and pine branches along banks covered with a thick blanket of snow on the icy-clear Sturgeon River. The Big Bear guided winter rafting trip includes paddling, following safety procedures, and most of all, enjoying the beautiful winter scenery on this unique, easy-paced winter waterway jaunt.
Tip: Be sure to bring a camera for scenic shots and wildlife spotting.
More Info: bigbearadventures.com or (231) 238-8181.
2. HORSING AROUND
Boyne Mountain, Boyne Falls
There are private stables across the region, but if you're looking to sooth your sore butt after some horseback trail riding, head up to Boyne Mountain Resort. You'll start at the Boyne Mountain Stable off of Deer Lake Road, meet your ride for the day, saddle up, and enjoy an equine adventure through remote backwoods terrain, with a variety of trees and trails. Afterward rejuvenate your own hindquarters with a massage and a soak in the Spa at Boyne Mountain's super-sized whirlpool.
Tip: Dress warmly — the horses mostly walk, so you'll be sitting mostly still in what can be very cold weather.
More Info: boyne.com or (231) 549-7256.
3. ICY IMAGES
Mackinaw City/Straits of Mackinac
Winter photography is a completely different experience than summer shooting, and one of the most interesting places to shoot in the depths of winter is along the Straits of Mackinac, where ice caves and snow pile-ups reveal layer upon layer of color, from sharp, blinding whites to neon turquoise. Bring your camera (and a warming bag), bundle up, and take a trek along the shoreline anywhere from Mackinaw City to Sturgeon Bay to capture the cold in chilly, abstract photos.
Tip: Use extreme caution when exploring ice along the shore; what may look solid isn't necessarily so.
More Info: Enter Mackinaw City's zip code (49701) at wunderground.com to get wind, wave, and ice conditions.

4. ECSTA-SKI
Timber Ridge RV & Recreation Resort, 4050 Hammond Rd. East, Traverse City
Immerse yourself in the quiet of winter by cross-country skiing your way through it; you'll be amazed at how hushed northern Michigan's woodsy trails are in the wintertime, when everything is muffled by a coating of thick snow. There are dozens of XC ski trails across our region to try for spectacular scenery and an equally impressive all-around workout, but if you've never tried it, start at Timber Ridge RV & Recreation Resort in Traverse City, where you'll find great rental gear, lessons, and groomed trails for skiers of every level.
Tip: Don't worry if you fall; hot cocoa and a giant indoor fireplace and outdoor firepit await at the lodge.
More Info: timberridgeresort.net or (231) 947-2770.
5. PEDAL POWER
North Country Cycle Sport, 126 Water St., Boyne City
Fat tire bikes are a real revelation for those who bemoan having to put their beloved bicycles away for the winter months. With their grippy, low psi tires and rigid frames, they offer both a comfortable, cushioned ride plus great traction and control on typically cycle-unfriendly surfaces like snow and ice. Try one out for yourself at North Country for 24 hours for just $45 bucks.
Tip: You'll do some sweating on a fat-tire bike ride; avoid cotton shirts and jeans — even if you're wearing a Gortex shell. The sweat won't evaporate, and you'll get chilled.
More Info: northcountrycyclesport.com or (231) 582-4632.
6. SILENT SNOWSHOEING
Sleeping Bear Dunes, Empire
Another quiet (and underrated) winter sport is snowshoeing, a completely different way to transport yourself along the snow. The Empire Bluff trail and Sleeping Bear Dunes are great places to snowshoe, with expansive views, wildlife (herds of wild deer are common sights among the bare trees and dunes), and trails for every ability, including short jaunts of a mile or so to day treks of over 20 miles. In January and February, you can take a guided hike with a park ranger (on specific days; call ahead.)
Tip: If you're fairly new to snowshoeing, using ski poles can make the experience more stable and enjoyable.
More Info: Sleeping Bear Dunes Visitor Center, (231) 326-5134.
7. BECAUSE THE NIGHT…
Various locations
… belongs to night skiers! Get a different perspective on one of northern Michigan's favorite sports by trying night skiing under the lights. It's a unique, surreal world of reflective white runs and darkened forest glades as you schuss down the hill under a black sky. Most major ski resorts in the region offer night skiing, most often during the holidays; call ahead before you go.
Tip: Don't eschew goggles at night — you still need to protect your eyes from flying snow or other debris — but choose a lighter lens for better visibility.
Contact: Your ski resort of choice.
8. SKATE AWAY
Various locations
Tie on a pair of ice skates and that feeling of childhood returns, as you glide across the ice dreaming of Olympic gold. Most northern Michigan cities have their own rink, including Petoskey's Winter Sports Park, Mt. McSauba's Recreation Area in Charlevoix, and The Homestead in Glen Arbor. If you're feeling wimpy, indoor rinks include Howe Arena in Traverse City and Griffin Arena in Harbor Springs.
Tip: Buy your own pair of skates, and you'll not only save on skate rentals, you'll also skate better in the long run as the skates "break in" to your feet.
More Info: Your local chamber of commerce can help you find the rink(s) in your area.
9. GO GO SNOW-MO
Snowblitz at Ranch Rudolf, 6841 Brown Bridge Rd., Traverse City
The tracks grip the snow, the padded seat and windshield keeps you comfy, and the speed adds to the fun when you rent a snowmobile for a day. Rent a Ski Doo snowmobile at Ranch Rudolf and get out into the wilderness; the Snowblitz team at the resort even offers guided tours to get you and your newly rented sled started.
Tip: Wear your helmet! The snow might be soft, but trees and snow-covered rocks aren't.
Contact: Snowblitz at Ranch Rudolf, snowblitz.com or (231) 944-8500.

10. CHILLY CAMPING
Various locations
Did you already pack your tent or RV away for the winter? Better dust everything off again, because winter camping is alive and well in northern Michigan. Over a dozen campsites in the state are open to winter campers, including Ludington State Park, William Mitchell State Park in Cadillac, and Keith J. Charters Park in Traverse City.
Tip: Double-check the weather before you go; a rainstorm in the summer might dampen your spirits, but a bad winter storm while you're camping can be downright dangerous.
More Info: For a complete list of winter camping parks, visit michigan.gov/dnr and search "winter camping."
11. SIPS AND SNOWSHOES
Black Star Farms, 10844 Revold Rd., Suttons Bay
A different way to experience snowshoeing is as part of a combo adventure like the one offered at Black Star Farms. The pretty trail system on the winery's estate is a great excursion in the winter months, when you can combine a trek around the grounds with a post-stomp bowl of chili and a wine tasting. No reservations are needed for the Snowshoes Vines and Wines experience, but check the website for available dates and times.
Tip: Bring the whole family if you'd like; in addition to wines and ciders, hot chocolate is available for the younger set, as are snowshoe rentals.
More Info: blackstarfarms.com or (877) 466-9463.
12. GO TAKE A HIKE
Various locations
With nature preserves and hiking trails in abundance across northern Michigan (the Little Traverse Nature Conservancy alone offers over 170 preserves), you'll have plenty of options for a quiet winter hike. Whether you choose a groomed trail or a more rugged one, the leaf-free trees will afford great viewing of wide vistas and close encounters with wildlife and winter foliage.
Tip: You'll need extra energy to power through the cold temperatures, so make sure you've got some water and snacks like trail mix or jerky in your backpack.
More Info: Try landtrust.org or northernmichigantrails.org for some great starter ideas for hiking destinations across our region.
13. MUSH!
Team Evergreen Kennel, Marquette
Team Evergreen Kennel's dogs are in training in a quest for the Iditarod, the landmark dogsledding race that's a pinnacle of achievement for the sport. Support their effort with a visit with the dogs and enjoy a dogsledding trek, either as a rider on the sled (with a driver doing all the mushing work), or as a driver (a guide will teach you how to drive your own dogsled team). Alaska, ho!
Tip: Bundle up, especially around the face! Those dogs are speedy, and you'll be heading directly into the wind without a windshield.
More Info: teamevergreenkennel.com or (920) 621-9433.
14. BONFIRE BONANZA
Antler Ridge Farm, 6259 M-72 East, Williamsburg
What's the best way to get to a winter bonfire? On a horse-drawn sled, of course! Out at Antler Ridge Farm in Traverse City, you'll get the full experience. Start at the warming house, and then meet the farm's two Percheron Draft horses, Dixie and Danny, who will pull your red-framed sled out into the forest, where you'll be welcomed with a huge bonfire and complimentary marshmallows to roast.
Tip: Like dogs? Bonus! You'll also meet the farm's friendly black lab, Bella, who will warm up to you even more if you bring along a dog biscuit.
More Info: (231) 645-3647
15. HOCKEY HEADQUARTERS
Straits of Mackinac/St. Ignace
You've never seen hockey played like this. The Labatt Blue U.P. Pond Hockey Tournament brings together over 200 hockey teams to take over the ice right on Lake Michigan's Moran Bay at St. Ignace (Feb. 15­–­18), with the games themselves vying for attention right next to celebs from the Detroit Red Wings alumni team. Spend the entire weekend outdoors, on the ice, immersing yourself in as much hockey as you can handle.
Tip: Of course hockey is the main event, but don't miss the entertaining side pursuits, from the Best Beard Contest to the Yooper Ice Tennis Doubles Tournament.
More Info: www.stignace.com/content/labatt-blue-up-pond-hockey-championship.
16. TUBE-O-RAMA
Timberlee Hills/Mt. Holiday, Traverse City
Two great locations in the Traverse City area offer top-notch tubing experiences for those dedicated to this bouncy and fun winter pursuit. At Timberlee Hills, they offer a tow rope so you don't have to drag your tube back up to the top of the hill. At Mt. Holiday, their dedicated tubing park also has an express lift back up and offers surprisingly steep runs; it's billed as the area's fastest tubing hill.
Tip: Remember those padded snow pants you used to wear as a kid? Yup, you're going to want a pair of those for this activity.
More Info: Timberlee Hills, 10484 S. Timberlee Dr., Traverse City, timberleehills.com or (231) 941-4142/Mt. Holiday, 3100 Holiday Road, Traverse City, mt-holiday.com or (231) 938-2500.
17. LAKE OF THRONES
Pictured Rocks National Lakeshore, Munising
If you're a fan of Game of Thrones, take a trek to Pictured Rocks National Lakeshore in the winter to truly capture that feeling of being out in the remote wilds, with majestic rocks towering above you, and the winter winds churning up the waves below. Visit during the Michigan Ice Festival (Feb. 14–18), and watch the ambitious ice climbers attempt to scale tough vertical challenges like the Midnight Rambler and The Good the Bad and the Ugly.
Tip: If you decide to try ice climbing for yourself, check out Down Wind Sports' bevy of clinics for beginning and advanced ice climbers. An intro to ice climbing, women-only classes, and an adaptive climbing course are all on the agenda during the festival.
More Info: algercountychamber.com, michiganicefest.com, downwindsports.com.
18. SKIABLE FEAST
Treetops Resort, 3862 Wilkinson Road, Gaylord
Combining sports and dining in a unique way, Treetops' Culinary Adventure Series is bringing back their Skiable Feast for 2018. This gourmet trek takes you on a 3.8-mile intermediate cross-country ski excursion, with five food and beverage stations along the way, which will serve up treats like seafood creole, white chicken chili, cod sliders, and assorted confections to perfectly highlight this five-hour experience.
Tip: Don't have your own cross-country skis? No problem. You can rent 'em for the day for just $19 at Treetops.
More Info: treetops.com or (866) 348-5249.
19. FROZEN FISH
Various locations
Whether you're seeking bluegills, walleyes, or panfish, you'll find a fishing hole to suit your style here in northern Michigan. Wexford County's Lakes Mitchell and Cadillac are great destinations, as are Lake Leelanau, Lake Missaukee, and Michigan's largest inland lake, Houghton Lake. Licensed ice-anglers can just drill a hole out in the open, or enjoy a traditional ice-fishing experience in an ice shanty, a small shack placed directly on the ice to protect you from the elements.
Tip: Double-check with the locals before venturing out onto the ice; those who fish frequently will offer the most reliable advice on current conditions.
More Info: For a great starter guide to ice fishing locations, visit www.michigan.org/ice fishing.
20. VICTORIAN WINTER
Bay View (next to Petoskey)
Experience one facet of winter the Victorian way, with a quaint horse-drawn sleigh ride through the historic and unique community of Bay View, just north of Petoskey. The half-hour ride winds through the unusual neighborhoods of vintage cottage homes that range in style from Eastlake and Stick to Queen Anne and Shingle, dating back to the late 1800s.
Tip: If you like architecture, you'll want to bring a camera along to get some shots of these distinctive structures without the usual hustle-bustle of summer tourist activity.
More Info: The sleigh rides are offered for a fee through Stafford's Bay View Inn; staffords.com or (231) 347-2771.
21. ROSEBUD!
Various locations
Even if your sled isn't named Rosebud, you'll likely still recollect a little of your childhood when you point that sled down one of northern Michigan's sledding hills, whether it's a casual neighborhood slope or a bigger park. The Dune Climb, the only place in Sleeping Bear Dunes where sledding is allowed, is a great pick, as are Mount McSauba in Charlevoix, Avalanche Mountain in Boyne City, and Grace McDonald Park in Traverse City.
Tip: Each type or shape of sled offers a different ride, from deluxe wooden toboggans to zippy plastic torpedo sleds. But if you have no qualms about control, try a saucer. Just wear a helmet.
More Info: Call your local park for hours of operation.
Trending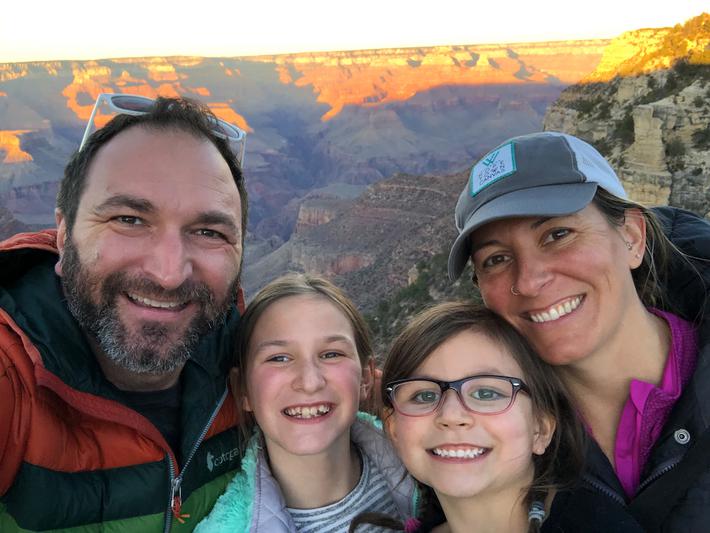 A Nine-month Family Vacation
Long before the pandemic, Joe and Christina Sanok had a plan. A dream, really: They wanted to take off with their kids and...
Read More >>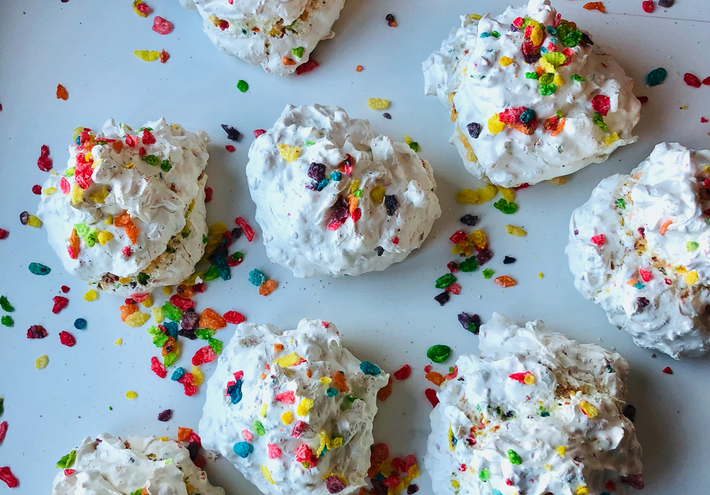 7 Batches Made in Heaven
Let's be honest: Picking the best cookies in northern Michigan is an impossible task. There are so many "right...
Read More >>
Respecting the River
Forever, the Grand Traverse Band of Ottawa and Chippewa Indians (GTB) has regarded the water — and the Boardman/Otta...
Read More >>
Not a Clue
Surely politicians wouldn't be so clueless that they'd lie about COVID-19 deaths or take a vacation during a statewide eme...
Read More >>
↑