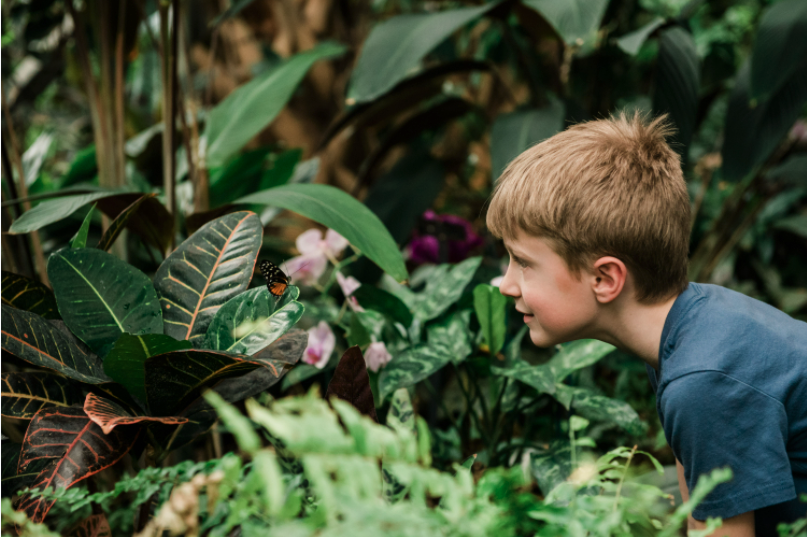 5 "Exotic" Escapes to Take Without Leaving the State
Affordable spring break fun for families
If you're reading this, chances are good you're not lying prone on a beach by the ocean somewhere south or west of here. But take heart: Being stuck in Michigan for spring break isn't the same as being stuck. In fact, we found five easy in-state outings to help families with kids of all ages feel like they escaped to another land — no passport, plane, or major expense required.
*Great for Young Kids
Bask with Butterflies in the Tropics
The nation's largest temporary butterfly exhibit — the Fred & Dorothy Fichter Butterflies are Blooming — has planted its proboscis in Grand Rapids' Frederick Meijer Gardens and Sculpture Park this spring. Its 7,000 free-flying butterflies and moths, imported as chrysalises from Africa, Asia, and South and Central America, is not only a sight to behold but also a wonderfully balmy breather for the winter-weary. Inside the massive (five stories!) glass-castle-like Tropical Conservatory at Frederick Meijer Gardens and Sculpture Park, you'll also enjoy 85-degree temps alongside waterfalls, streams, tropical birds, an entire wall of orchids, and 500+ species of tropical plants.

Bonus Time: The experience is especially outstanding on a sunny day when the butterflies are more active than usual, but doubly so if you pair it with an outdoor excursion to the on-site Children's Garden, where kids can follow animal tracks, dig for fossils, sit in a giant bird's nest, navigate a butterfly maze, and go on their own "Monarch's Journey," a life-sized game big on imagination and fun challenges. Our suggestion? Go on a Tuesday, when the Conservatory also offers a butterfly hunt via flashlight before its 9pm closing time.

Know Before You Go: The Fred & Dorothy Fichter Butterflies are Blooming exhibit runs until April 1 and (like entry to the Children's Garden) is included in the general admission ticket prices: $3–$14.50; kids under age 2 are free.

*Great for High Schoolers+
Attend North America's Oldest Avant-Garde Film Fest
No need for a road-trip to transport yourself to another world — or even Ann Arbor. Cinephiles who've exhausted their options on Netflix can virtually "attend" the storied Ann Arbor Film Festival March 23–31, choosing from live screenings and on-demand viewing of experimental, animation, documentary, fiction, and performance-based works from over 20 countries.

Voted the No. 1 film festival in North America in USA TODAY readers polls in 2019 and 2020, as well as one of few Academy Award–qualifying festivals in the United States, the AAFF has also been named one of MovieMaker Magazine's "Top 50 Film Festivals Worth the Entry Fee" (2019).

That hasn't changed much. This year, the lowest-tier festival pass, $50, gives guests access to all the festival's programming, including the 118 films in competition, 11 features in competition, juror programs, special programs, salons, expanded cinema performances, as well as Q&As with the filmmakers.

Bonus Time: Those who want to mingle with fellow festivalgoers can. A virtual "Gather" lobby is open to online audiences between film screenings, while several in-person "In The Screen!" installations, viewable from the street, will be set up around Ann Arbor for those eager in some IRL interaction.
Know Before You Go: You will need to sign up with "Eventive" to access any of the AAFF's online programming, but you won't be leashed to your laptop; Eventive is compatible with TV viewing via apps for Apple TV, Roku, Android TV, too. Learn more, buy tickets and passes, and prepare for six days of "Mind-Bending Films" at 59aaff.eventive.org/welcome.
*Great for Families
Escape the Eyeland
One hour in Bermuda? We'll take it. Even if it means following in the footsteps of a missing scientist and potentially being sucked into the grips of the Bermuda Triangle. That's the story in just one of the escape rooms at Know Way Out in Petoskey, where you and your crew of two to nine have 60 minutes to find hidden clues, solve puzzles, and complete the mysterious mission.
Bonus Time: If Bermuda isn't your bag, loads of other missions are available, too: Grave Danger, a 30-minute sprint (two to six players) to find a lost amulet before Gravedigger Henry uses its mysterious powers at the next full moon to resurrect his presumably drowned lady love with bones he's collected to rebuild her. There's also the one-hour Medieval Mayhem — recommended for novices — in which teams of two to eight must find the antidote to the poisoning of a queen and her wizard advisor, and Mad Hatter's Asylum, a "hard" challenge to solve a mystery from the Hatter's past ($23+ per person).
Know Before You Go: Visit www.escaperoompetoskey.com/book-an-experience to choose and book your escape in its prearranged timeslots. Each private experience is for your team only; you will not play with people from other groups. If the weather's good, ask about Know Way Out's outdoor adventures ($26.99+ per group). In the family-friendly Lost Loot game, you and your kids can go on the hunt through downtown Petoskey in search of clues to a treasure hidden by timber pirates who once sailed the Great Lakes. More information at www.escaperoompetoskey.com, (231) 881-9688.
*Great for Good (and Novice) Golfers
Play Hawaii's Mauna Lani Bay
Got a kid who's interested in putting last summer's golf lessons to use? A virtual round at Golf 45 North is an ideal way to acclimate newish swingers to the pace of the game without worrying about the pressure of playing live in front of a fast-moving foursome. Together you can head into a spacious private room with a faux tee box, real balls, and a real big screen to play a full round together on one of 46 courses around the world. San Diego's Torrey Pines is a popular pick, owner Kevin Pryor tells Northern Express, but if you ask us, Hawaii's Mauna Lani Bay, whose name means mountain reaching heaven, is about as close to heaven — i.e., the crashing waves and lava rock landscape of the Kohala Coast — as a northern Michigan golfer can get in March.
Bonus Time: Young golfers who haven't had lessons or don't yet have the attention span to play 18 holes might prefer just sharpening their stroke with the virtual driving and chipping range or other fun games available on Golf 45's Sim setup. Inexperienced golfers under 16 must be accompanied by an adult.

Know Before You Go: Rates start at $35 an hour, reservations are required, and snacks and refreshments are welcome during play. For more information and to schedule a tee time, call (231)371-2210. GOLF 45 North is located inside Body Balance Health, Fitness, and Body Center in Suttons Bay.
Great for Families
Hike to Hungarian and Montreal Waterfalls
Without a flight to Budapest or Canada, you can take in both the Hungarian Falls and the Montreal Falls — plus 13 other nearby waterfalls! — in the exotic land of … the Keeweenaw Peninsula. The tippity top of Michigan's Upper Penninsula, the mighty Keeweenaw is a must-see for Michiganders just about any time, but in spring, you'll be able to catch its many waterfalls in their various awe-inspiring forms: as multi-storied layers of ice and, if some more sun and warmth arrive by March's end, some changing volumes of water and rainbow-casting spray. Whether snow and ice or water and mud define your family's hikes to see them, the trails to the Hungarian and Montreal Falls aren't daunting — 1.5 miles to the former, and a single shoreline mile to the latter.
Bonus Time: Until the end of March, the Holiday Inn Express is offering up to 25 percent off any 3+ night stay. With a pool and a pets-allowed policy, the hotel is a great home base for families looking to explore the wonders of our far north peninsula. Want more adventure? The Keeweenaw is also home to year-round dog-sledding tours (Otter River Sled Dog Training and Wilderness Adventures), plus skiing and snowmobile rentals, self-guided ghost town tours (download the Michigan Tech University Keweenaw Time Traveler App), and, if you're lucky, the best-ever views of the Northern Lights.
Know Before You Go: Plan your trip at www.keweenaw.info, but make sure to talk to an on-the-ground Yooper about the latest conditions before you book any activity.
Trending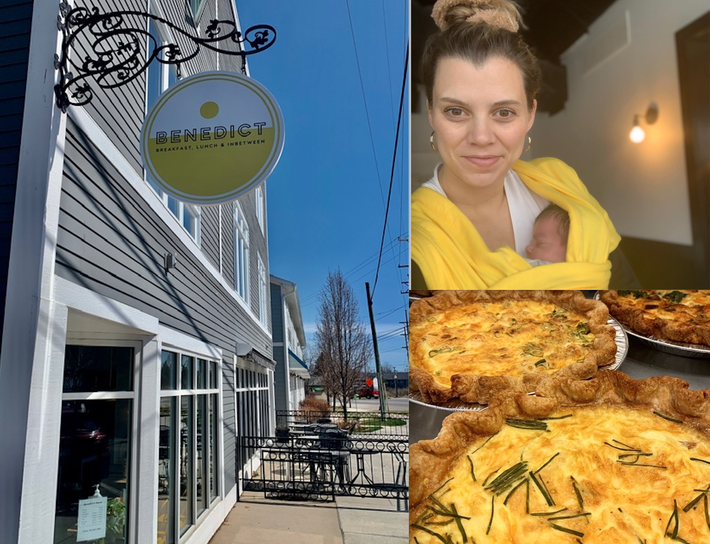 Benedict
No matter the weather, Traverse City's newest breakfast and lunch restaurant, Benedict, radiates a welcome as warm a...
Read More >>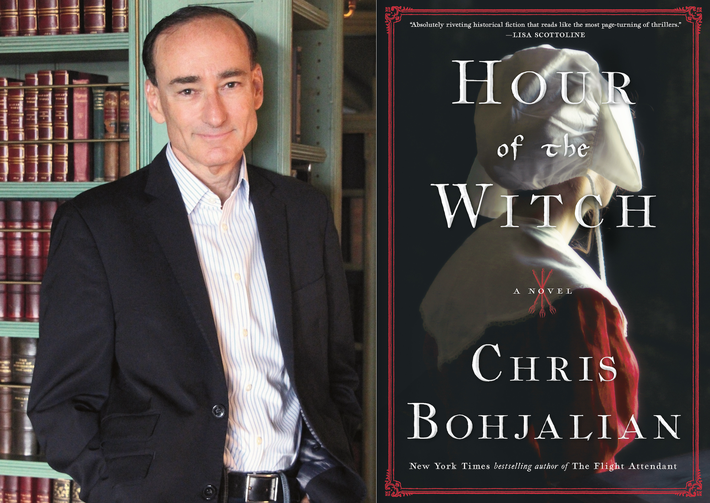 Sneak Peek: Chris Bohjalian to Talk with Locals Before Next Novel Drops
Award-winning author Chris Bohjalian is one of those people who was born to write. A schoolroom hobby-turned-carefully-hon...
Read More >>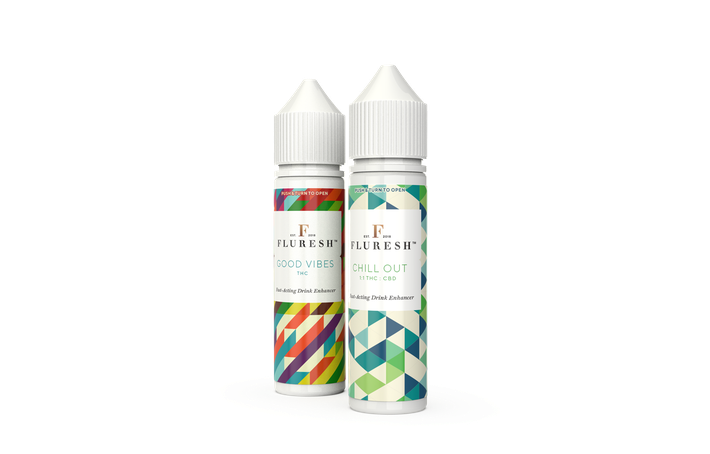 Eat, Drink, Rub: THC Products Review
Progress, thy name is marijuana. Despite what for any other industry would be major stumbling blocks — major disrup...
Read More >>
The DIY Lobotomy
"Did you read the review in The New Yorker of the new Philip Roth biography?" I asked my well-read conservativ...
Read More >>
↑