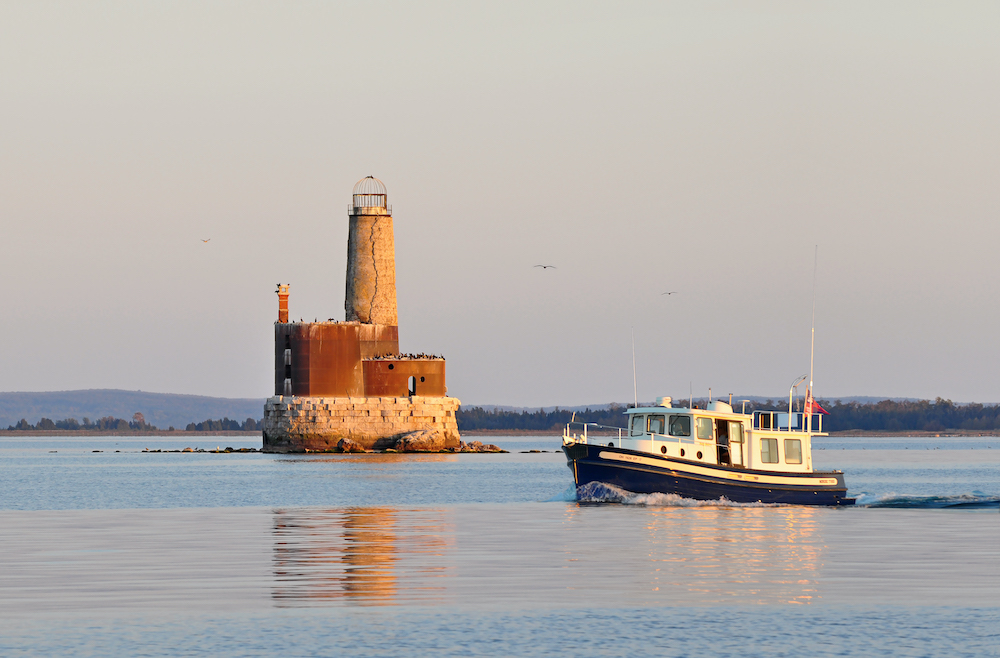 6 Ways to Get on the Water
Pleasure cruises for everyone
The west coast of Michigan provides endless entertainment and opportunity to explore the stunning waters of Lake Michigan. With its famously cerulean and aquamarine hue, crystal clear depths, and stunning views of the coastline and sunsets, the big water — and its bays — beg to be enjoyed. Whether you dream of setting out on a classic schooner, taking a sunset catamaran tour with a glass of wine in hand, or taking an educational tour up and down the coastline, there's no wrong way to get on the water Up North. Don't have your own boat? No problem — here are six ways to savor a day on the big (and not-so-big) blue.
Trawler School (pictured above)
If the boating lifestyle appeals to you but you don't want to mess with lines, sails, or … well, your marriage (rumor is, the quickest way to end one is to go sailing together), try a trawler. Cute as a tug and with more above-deck interior space than the average powerboat, trawlers are trending hot in the Great Lakes cruise world. Credit in part Trawlers Great Lakes, located on West Grand Traverse Bay, which offers four-day educational adventures aboard a trawler where landlubbers can learn the ins and outs of operating a large powerboat. Not only will you be able to stay aboard overnight as you learn how to drive, dock, and more during the day, you can charter your own trawler for a few days afterward to test your newly acquired trawler prowess. Cruise to nearby harbors like Elk Rapids and Suttons Bay or explore Lake Michigan at your leisure. A great experience for anyone who wants to wants to experience power-boating and the cruising/marina lifestyle firsthand, successful students will come out of the course with a U.S. Powerboating Certification and a new appreciation and understanding of a unique type of powerboat. Classes start at $1,595 and include all you'll need for a stay aboard the trawler, excluding groceries. (231) 941-4249, trawlersgreatlakes.com.
Discovery Cruises
The most recent addition to Traverse City's new Discovery Pier in Elmwood Township, the Discovery Vessel carries up to 149 passengers on scenic and serene two-hour tours of West Grand Traverse Bay. Guests can enjoy the sparkling waters and views of downtown Traverse City, as well as the coasts of Leelanau and Old Mission peninsulas while the ship's captain shares interesting historical and informative information about Traverse City's historic downtown and the surrounding area.
The ship, built in 1974, is designed in a classic 20th-century steamboat style, with enclosed upper and lower decks and a smaller outdoor observation area on each. Seating is based on a first-come, first-served basis. There's a full-service beverage bar on board, as well as restrooms and a snack bar. Tour times are at 10:30 am and 1:30 pm daily, plus a 4:30 happy hour cruise on weekends. Tickets are $45 for adults. (231) 943-1183, www.discoverycruisestc.com.
Tall Ship Manitou
Climb aboard this replica of an 1800s coasting cargo schooner and experience how it felt to sail the Great Lakes hundreds of years ago, with one difference: The Tall Ship Manitou was constructed specifically to carry pleasure passengers — up to 59 at once — so it was designed with a spacious upper deck and nearly 100-ton displacement, ensuring a "comfortable, relaxing motion, soothing to both landlubbers and 'old salts' alike." If you're bringing the kids, check out one of the Moomers sails ($48 per adult, $26 per kid over 3 years old). Passengers enjoy a cup of the ice cream Good Morning America voted the best in the country while Manitou plies past the TC shoreline and the Great Lakes Maritime Academy. Or leave the kids at home and treat yourselves to a Brunch Cruise ($70 per person), which includes a full brunch — spicy Bloody Mary, L. Mawby sparkling wine mimosa, or screwdriver included — as you greet the day from the bay. The Brunch Cruise runs from 10:00 am to 2:00 pm on weekends throughout the summer. The Manitou also offers a dinner and sail package, where you can sign up to dine at nearby Harrington's by the Bay either before or after your sail. The evening cruise is from 6:30 pm until 8:30 pm most evenings, and tickets are $48 without dinner, $78 with dinner. The Tall Ship Manitou is also docked at the Discovery Pier in Elmwood Township. (231) 941-2000 or book online at tallshipsailing.com/manitou.
Inland Seas
Farther north from Traverse City, in Suttons Bay, the Inland Seas Education Association offers dozens of hands-on learning experiences for kids and adults aboard a traditionally rigged tall ship schooner. Help deploy real scientific collection equipment to see fish, plankton, and microplastics from the bay, peer into microscopes to peer at underwater microorganisms at work, steer the ship and hoist the sales — the daily science sails are huge draws and, as such, openings are limited. If you can't get a spot on a day sail, this summer, look ahead to the fall color tours and night cruises, the latter of which hosts a local astronomer who will orient you to the vastness of the night sky, point out constellations, and share extensive knowledge of galaxies, stars, observational astronomy, and history. (231) 271-3077, schoolship.org
Sunshine Charters Charlevoix
A great way to spend a few hours soaking in Charlevoix the beautiful, a quaint town with water to the east and west is a sail on The Sunshine II, a 40-foot catamaran built for blue-water sailing. Docks in the Charlevoix marina on Round Lake, this smooth-sailing vessel offers a variety of different tour options, including daily morning, afternoon, and evening sails. You can also book private sails for events like birthday parties, work trips, or reunions. The morning and afternoon sails offer the opportunity to stop and swim in the clear waters, while the evening sunset tours are typically a bit more romantic and relaxed. Pop and water are provided, but guests are welcome to bring their own food and beverages aboard for a picnic on the water. The tours sail through both Round Lake and Lake Michigan. Tickets start at $40. (231) 547-0266, www.sunshinecharters.com
Island Princess
Newly docked in Manistee this season, the Princess of Ludington offers relaxed cruises on Lake Michigan. The Island Princess, a 65-foot ferry built in 1973 in Bay City, Michigan, had a former name — the Inland Princess — and a former life carrying passengers to Mackinac Island and the Apostle Islands in Lake Superior before being relocated to Ludington for tours of Lake Michigan. Passengers can opt for a day cruise or a sunset cruise, both of which are 90 minutes. The day cruise takes you out on Lake Michigan and then either north or south along the coast, depending on conditions. The tour may also go up the Manistee River into the Victorian-era port town of Manistee if the lake is especially rough — or if enough people request it as a destination. The sunset cruise offers some amazing photo opportunities, with unhindered views of the sun setting over Lake Michigan. Cruises start at $30, and there is a full bar aboard, where you can purchase additional beverages during your ride. (231) 690-3587, manisteeharbortours.com
*Photo above, featuring one of Trawlers Great Lakes' boats cruising past the Waugoshance Lighthouse in the Straits of Mackinac, is courtesy of Jay Kraft, Trawlers Great Lakes.
Trending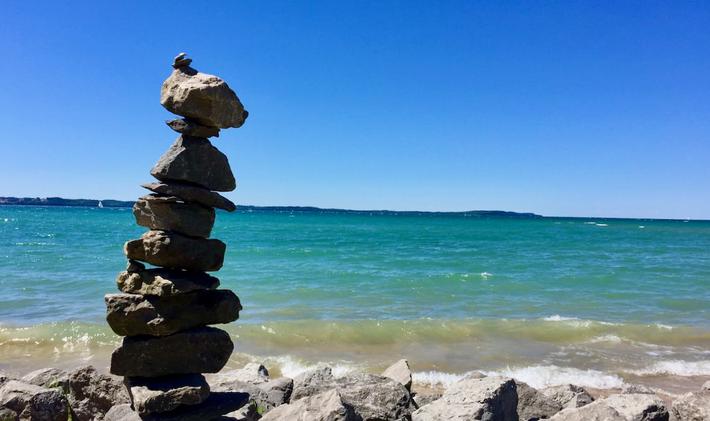 How Healthy Are Our Waters? Experts Weigh in on the Well-being of NoMi Waterways
We're all about to be waist deep in the busy summer season, and for many of us, it's also time to get waist de...
Read More >>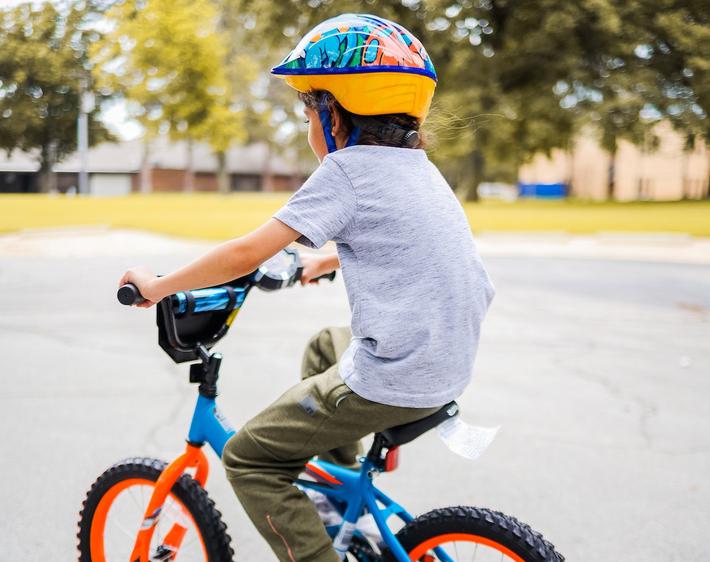 A Bike Extravaganza for the Kiddos
This event is brand new to northern Michigan: The Lynn Duse Memorial Kids' Bike Fest. Duse, the longtime Petoskey bu...
Read More >>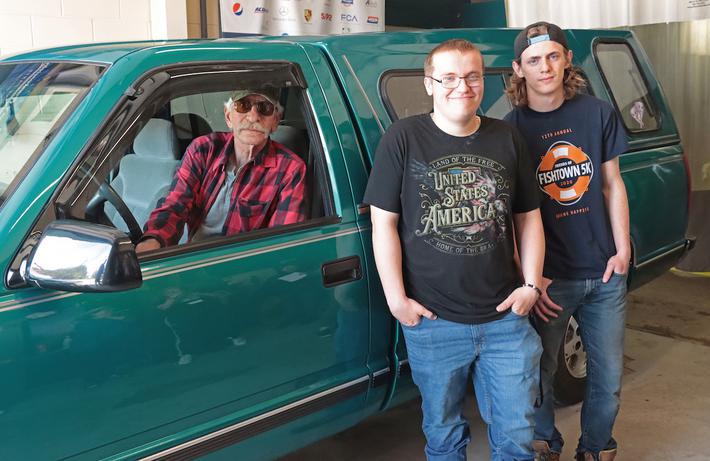 A Year-Long Restoration Complete
When a deadly tornado hit Gaylord last May, it left a trail of destruction to people's homes, businesses, and proper...
Read More >>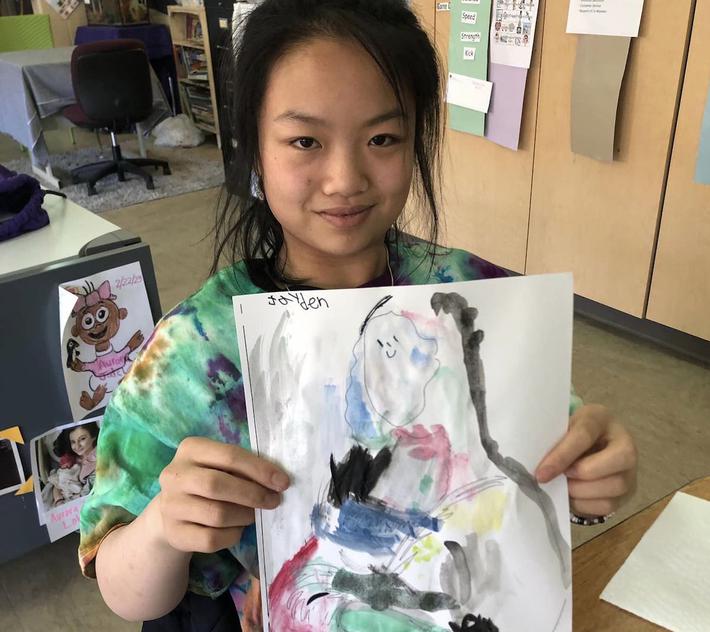 Investing in Local DEI Efforts
The Grand Traverse Regional Community Foundation announced it has awarded $11,000 from its Diversity Equity Inclusion (DEI...
Read More >>