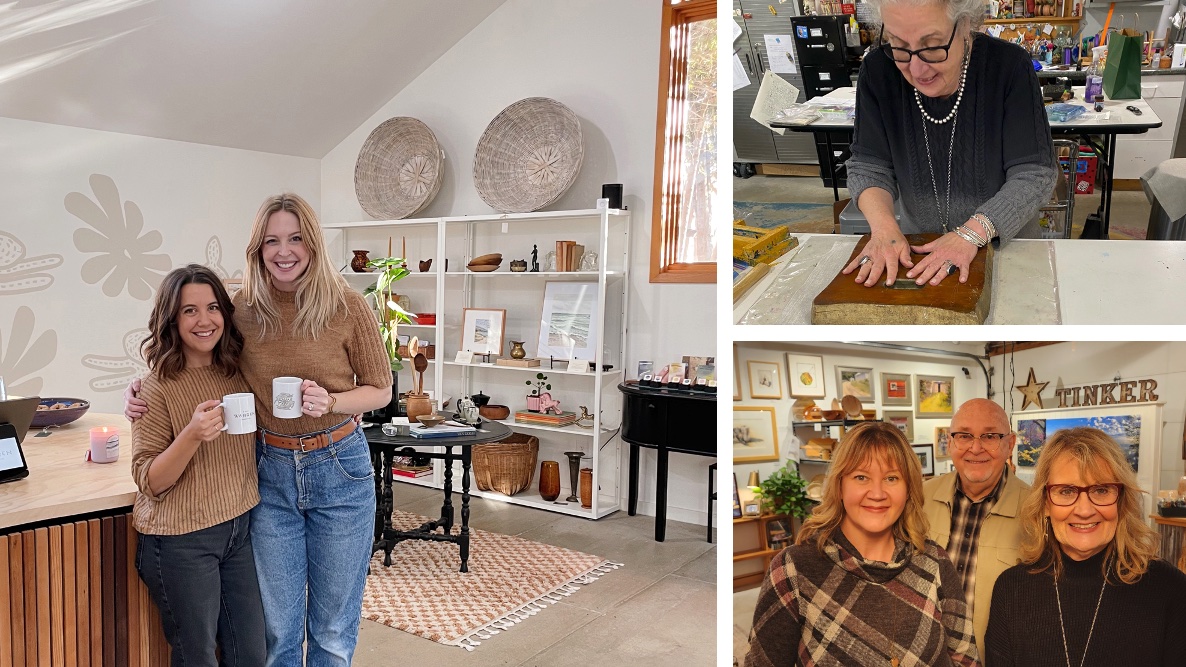 A Collective Collage
Three NoMi art studios and galleries focused on collaboration
We so often think of art as a solitary pursuit, done in the quiet of a studio with only a paintbrush or a potter's wheel or a pair of pliers for company.
But all artists great and small need community. All need feedback and encouragement and a burst of inspiration. Enter: The Warren of Leland, Tinker Studios of Traverse City, and Three Pines Studio of Cross Village. While these are just a sampling of the artist-owned and artist-focused shops in northern Michigan, they excel in building a collaborative space for local creators…and their customers.
THE WARREN
Who: Kelsey McQuown of Moraine and Kristin Hussey of Kristin MacKenzie Design
What: Jewelry and visual art
Where: 106 North Main Street in Leland | thewarrenleland.com
Kelsey McQuown's work as a metalsmith and jeweler is often focused on the intersection of ancient techniques and contemporary design, such as her line of modern filigree jewelry. Working with precious metals has been a joy for her, as it offers an opportunity to not only play with shape and design but also experiment with light and reflection. Kristin Hussey, meanwhile, is a watercolor artist known for her whimsical yet nostalgic paintings. Hussey earned her degree in architecture, but made the transition to fine art shortly after graduation; her favorite subject to paint is the landscape of northern Michigan.
The Warren may keep odd hours, but when it's open, you won't want to miss the chance to stop in. The small studio is filled with natural light and clean lines and features the work of McQuown and Hussey alongside vintage pieces and occasional creations by other local artists.

Express: How did the idea for The Warren come to be?
The Warren: We have been friends for years, and after working remotely we jumped at the opportunity to have a space where we could connect more with the community. Our goal for The Warren was to create a space that highlights our love for our craft and welcomes the community into a conversation about our art.

Express: How do you balance the management of the shop with your creative pursuits?
The Warren: One of the benefits of creating a collective is that we can share the work of managing the store between us. It's been wonderful to be able to bounce ideas off of each other, come to each other with questions, and take on the challenges of running a store without everything resting on one person's shoulders.

Express: What are some of the pros and cons of having a physical location?
The Warren: Our favorite part about having a physical store is being able to connect face-to-face with the community. Especially after the past few years of so much solitude, making those connections in person is irreplaceable. It's also very enriching to be surrounded by beautiful art and passionate artists. Seeing another creative's ideas come to life can be such an inspiring thing. The only downside is having less time to create in our studios, but luckily we have each other to share the hours in the store.

Express: How do you work together to share the space and vision for the shop?
The Warren: One of the reasons that we wanted to go into business with each other is that we have similar vibes, aesthetics, and work ethics. Coming up with the vision for the shop was one of the most fun parts of opening the store; it's been incredibly fun to dream big dreams together.
TINKER STUDIO, OLD MISSION
Who: Rick and Mary Kay Burbee
What: An all-arts studio slash workshop hub
Where: 13795 Seven Hills Road on Old Mission Peninsula | tinkerstudiotc.com
Rick Burbee has worked as a retail store designer, trend forecaster, and creative director. His art utilizes upcycled materials of all kinds to create whimsical two- and three-dimensional mixed-media collage, assemblage pieces, and seasonal décor. Mary Kay Burbee was an art educator for many years, and uses a variety of mediums in her pieces including pastels, watercolor, acrylic, and mixed-media. She also creates beaded jewelry. Beyond the two owner-artists, you'll find a mix of emerging and established artists at Tinker Studio.
The property where their studio sits was purchased in 2020 by local entrepreneurs Troy Daily, Jay Milliken, Jordan Valdmanis, and Brian Peace. Construction is still underway, but the end result will be a community center planned with a distillery, coffee shop, and restaurant in addition to Tinker Studio and other rental tenants. Tinker Studio took the opportunity to double its previous square footage, and the new, larger space has allowed them to further expand their fine art gallery to include works from over 30 local artists and artisans, plus stock an assortment of jewelry, accessories, books, candles, art supplies, greeting cards, and gift wrap.
Express: How did the idea for Tinker Studio come to be?
Tinker Studio: Tinker Studio started over six years ago as a working artist studio for us. When the opportunity came to move from one of the small suites in the back of the development to a larger space in front, it lent itself to expanding the scope of Tinker Studio. At that time, we began to offer classes in a variety of artistic mediums and invited a handful of local and regional artists to join us in showing and selling their work in the gallery space.

From there, Tinker Studio grew organically. As more artists learned about us and were interested in having their work represented in the gallery, we expanded our offerings. The ideas of fostering community and creativity, offering original art and artisan-made goods at a variety of price points, supporting the abundance of local talent in our area, and nurturing an inclusive and warm atmosphere have always been central to the vision.
Express: How do you balance the management of the shop and classes/workshops with your creative pursuits?
Tinker Studio: As the business has grown, we have found it important for each of us to focus on our strengths and passions. For Mary Kay, this includes creating her own art as well as teaching the variety of creative classes that we offer at Tinker Studio. For Rick, with his extensive background in retail store design, the move into our new space offered an opportunity to execute a new, fresh, vision for Tinker Studio moving forward.
With the growth we have experienced, we found ourselves at a crossroads last year with trying to strike the right balance of management of the gallery and all that it entails. The time was right to bring our daughter, Elizabeth Burbee-Patterson, on as our gallery manager. Elizabeth is the friendly face you will see most days behind the counter, maintains our social media presence, and handles all of the day-to-day ins and outs of managing the business. Elizabeth's husband, Daniel Patterson, has also helped us enormously with many tasks from constructing displays to sourcing a curated assortment of made-in-the USA tools to offer at the studio. With the four of us behind the scenes, it really is a family affair!
Express: What are some of the pros and cons of having a physical location?
Tinker Studio: From our perspective, having a physical location for our type of business only offers pros. People want to get up close and personal with the art and artisan-made items they are purchasing, and we love to engage people in conversation as they shop. We have a wonderful blend of local customers and tourists that frequent Tinker Studio on a regular basis, and the energy that they all bring to the space is part of the intangible vibe.
We always envisioned Tinker Studio to be a meeting place for artists. Our invitational Open Studio sessions are a perfect example of our artists coming together to work individually and collaboratively on a regular basis. The variety of styles, techniques, and points of view help to inform and expose each of our artists to new ideas that may stretch their own creative pursuits.
Additionally, teaching art classes in person to participants creates a wonderful opportunity to unlock their creativity and help them on their own artistic journey.

Express: Speaking of which, how do you feel the classes serve your mission?
Tinker Studio: Tinker Studio's classes are designed to nurture and inspire everyone's desire to create. Our classes are structured to allow for exploration by means of guided "tinkering." Those interested can choose from our extensive list of class offerings. The class fee includes all materials, and since we also sell art supplies, we can help students to source what they would need to continue their practice at home. Beginners and more advanced students are welcome, and all can expect to leave a class with new skills and a fresh perspective on their chosen area of focus.
THREE PINES STUDIO, CROSS VILLAGE
Who: Joann Condino and Gene Reck
What: A gallery and studio for arts and crafts
Where: 5959 W. Levering Rd in Cross Village | threepinesstudio.com
Over the past 35 years, Joann Condino has explored shape, color, and form in her fiber work. She uses her antique wood block collection of over 1,000 blocks to create designs on linen tea towels, table runners, dinner napkins, and aprons, and she loves the notion of making everyday objects beautiful and simple.
Three Pines Studio was founded in 2000 and opened two years later. It features the work of more than 50 Up North artists and, like Tinker Studio, offers an array of workshops and demonstrations. This year, Condino and Three Pines have been making headlines for supporting Ukraine relief efforts via World Central Kitchen thanks to the popular sales of Condino's Peace for Ukraine tea towels.
Express: How did the idea for Three Pines come to be?
Three Pines: My husband and I started Three Pines Studio because we believed that having a working studio would foster the ideas of the arts and craft movement. We believed having a place where the community could see art made and to make art themselves in workshops would make art making not a mystery but an everyday experience—an experience that would enhance their lives and make the joy of creation tangible.

Not all the artists represented are involved in the constantly-developing vision of purpose and space. For some artists, we are only a wall to show their work. For others, we are a creative, supportive, collaborative environment for ideas to formulate, percolate, and then create a work.
Express: How do you balance the management of the shop with your creative pursuits?
Three Pines: Balance between my work and managing the studio gallery is tentative at best. Often a frustration. Often a joy.

Express: What are some of the pros and cons of having a physical location?
Three Pines: The pros: accessibility and connection to people. The cons: accessibility and connection to people.

Express: Could we get an update on your Ukraine relief fundraising to date?
Three Pines: We have contributed $76,500 to World Central Kitchen. 3,500 towels were ordered initially. We have 200 to fill from the original orders. We are appealing to all to order more towels as winter is coming and the realities of war are dramatically present.
Learn more at threepinesstudio.com/ukraine-relief.
Trending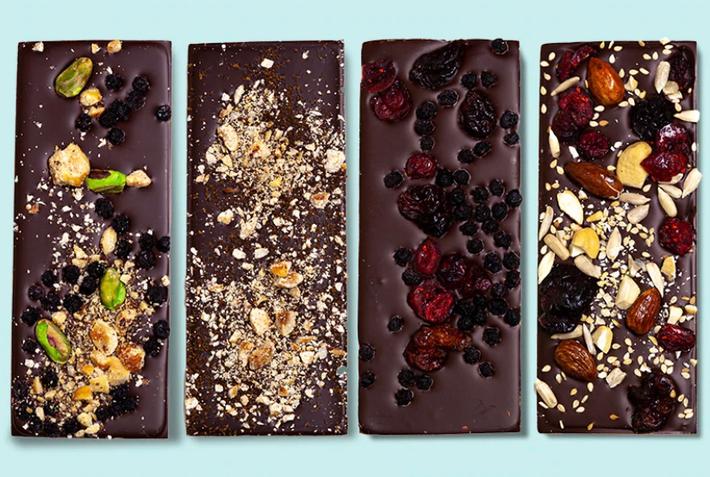 Curated Chocolate Pairings
Valentine's Day is approaching, and that has us thinking about our very favorite food: chocolate. We like it in drin...
Read More >>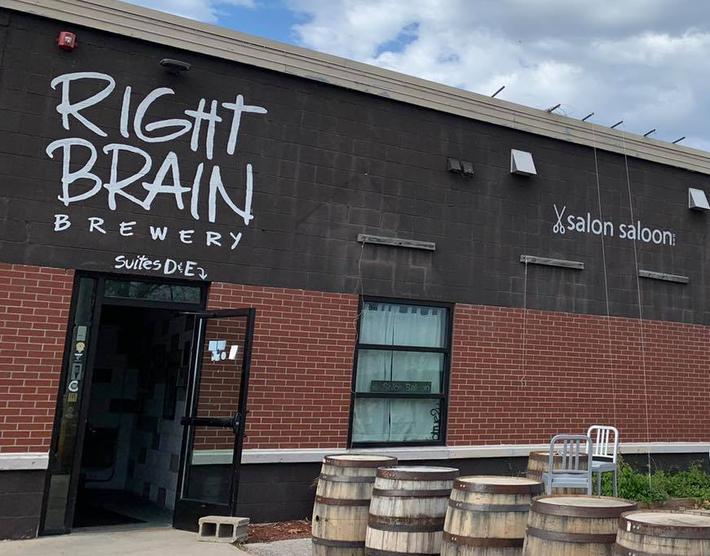 15 Years of Right Brain Beers
It's been 15 years since Right Brain Brewery of Traverse City opened their doors to bring you creative, sometimes za...
Read More >>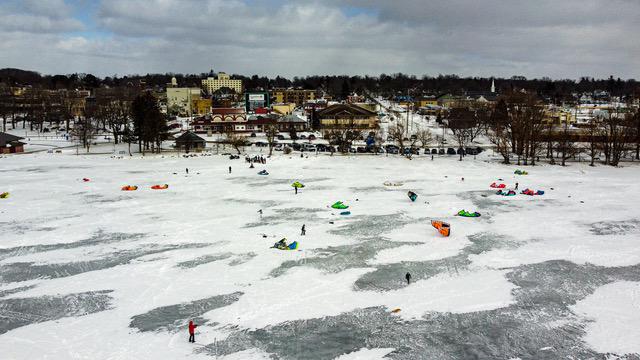 Flying Through the Snow
Leave the daily grind and head to a winter wonderland at the Midwest Snowkite Jam at Lake Cadillac Resort. Friday, Feb. 3,...
Read More >>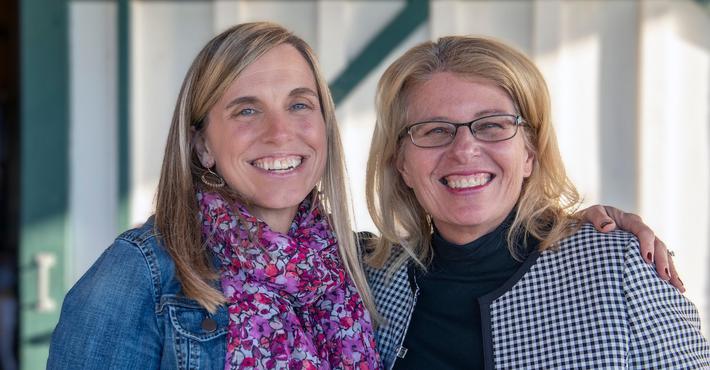 Wing Women: Beside Every Great Woman Is Another Great Woman
Friends. Mentors. Colleagues. Sisters, moms, and cousins. No woman is an island, and this week we're celebrating the...
Read More >>