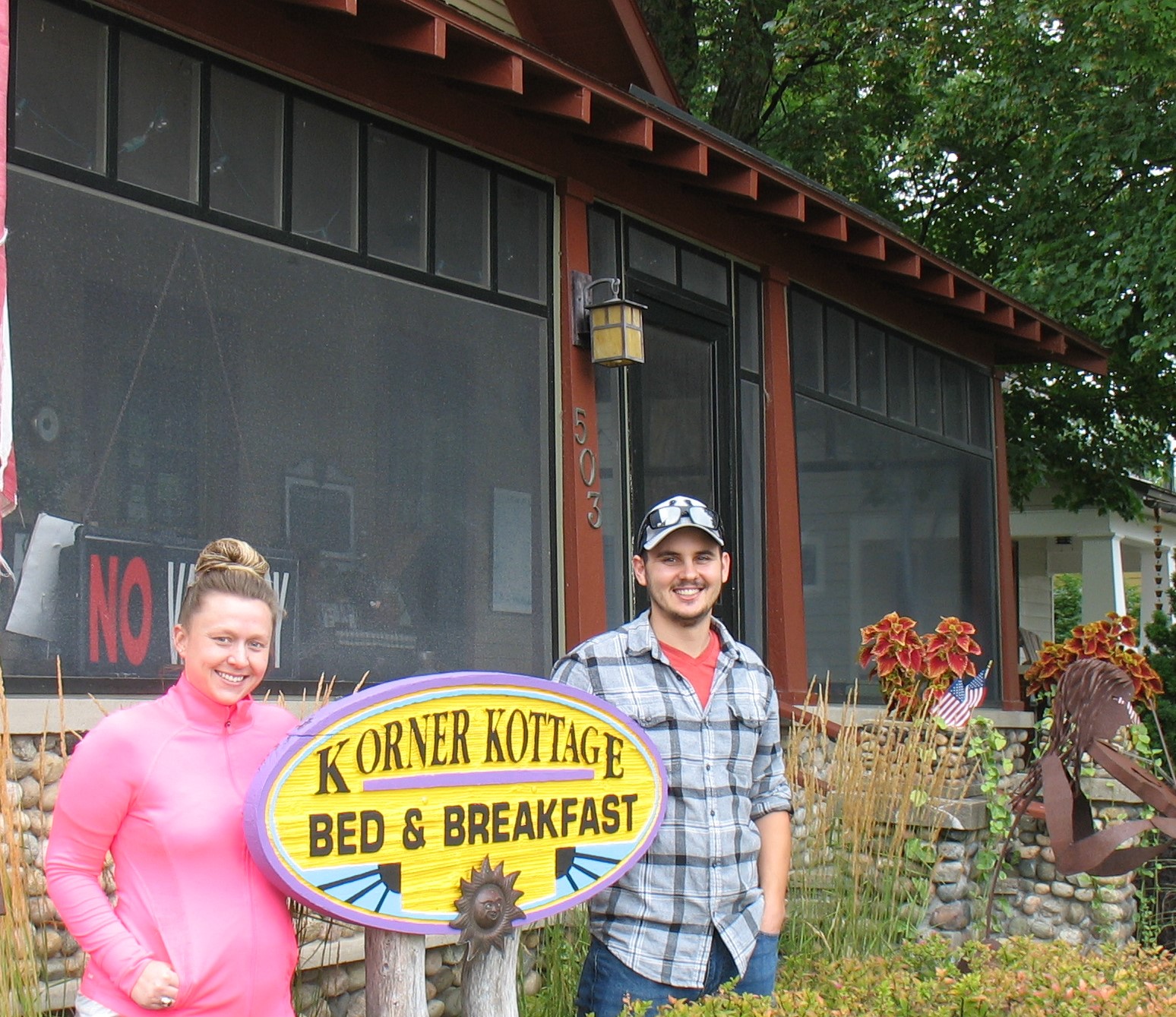 A Day in the Life of a B&B Owner
The easiest way to own a gorgeous home in a beautiful town — or the toughest job ever?
By Al Parker | Sept. 28, 2019
The sun is barely peeking over the eastern horizon when Jared Pontius awakes, slips out of bed, and begins his day at the Korner Kottage, the bed and breakfast that he and his wife, Jillian, own and operate.

A lot of folks have a dream of one day living a relaxing life operating a quaint B&B in some quiet northern Michigan village. It's simple, right? Greet guests, share a few tips or tales and provide shelter to folks eager to visit the region. A quick breakfast, a little cleanup and the rest of the day is leisure, right?

Not so fast, Mr. and Mrs. B&B Dreamer.

As Jared, 30, and Jillian, 33, can attest, there's a lot of hard physical and mental work involved in turning that dream into a reality. The Northern Express took a look at a typical day at the Korner Kottage.

6:56am – Jared, a professionally trained chef, arises and quickly makes his way to the kitchen where he begins preparing breakfast for guests who fill the Korner Kottage's four rooms. It takes about an hour or more to prep breakfast. Meanwhile some guests filter out of their rooms to enjoy a cup of coffee or tea, while people-watching from the comfy screened porch that overlooks St. Joseph Street, the main drag of Suttons Bay.

9am – Breakfast is served as guests make their way to the dining room. There's always an assortment of handmade pastries, biscuits and gravy, french toast and a homemade granola. Guests are sometimes surprised by an elegant galette, a flat bread filled with local fruit. And there's often one of Jared's specialties, a Scotch Egg, a hard-boiled egg wrapped in sausage, coated in breadcrumbs and deep fried.
It's a social time and guests introduce themselves and share stories. "We love to interact with our guests," said Jillian, who has several years of experience in the hospitality industry. "It's a big reason that we do what we do. By the end of their stay, we want them to feel like this is their home. You have to be a people person."

And according to guests, Jillian and Jared are masters of cordiality.

"Jared and Jillian made us feel welcomed like family from the minute we arrived," wrote Chris Holcomb in a Trip Advisor review. "Jared's breakfasts were amazing! They are truly both naturals with this B&B and have a passion for hospitality and all the attention to detail. We truly enjoyed our long talks over breakfast and into lunch and the added pleasure of meeting their fur babies, Panko & Pepper...We truly hated to leave."

9:30am – While guests are enjoying breakfast, Jillian is taking calls from visitors interested in making a reservation. During the summer months, reservations are hard to come by. But now that it's past Labor Day there are a few openings for their four rooms. Their largest room, the Cherry Blossom, boasts a comfy king bed, while queens are in the Trillium, Leelanau and Porch rooms. Each features a private bath, air conditioning, cable TV, a refrigerator and wireless internet.

10:14am – Breakfast is over and guests are out the door, visiting local wineries, strolling down St. Joseph to visit shops or off to enjoy the beach. Jared and Jillian are now busy tidying rooms, refilling water bottles in each room's refrigerator, emptying trash and stripping the linens off beds of any guests who have checked out. The linens are a big deal. "We have eight sets of bedding and a lot of towels," said Jillian. Guests sleep on 700-thread count sheets that are ironed the old-fashioned way on a 1950s Iron-rite steam press so they come out soft and smooth.

"On some days we may be doing laundry for two or three hours, on others its many more," said Jillian. "Some days we've done laundry from noon til 10 pm."

10:45am – Another phone call interested in a reservation. They are calling from Indiana, but some come from much farther away to visit the Korner Kottage. "We get a lot from downstate, but really from all over," said Jared. "We had a lady from Switzerland and one, Martin, from Brazil. He stayed with us for a week. Martin was in his mid-30s and is a private chef. He spoke little English and we relied on Google Translate. We cooked together and he taught me a Brazilian dish, Sagu a dessert made with tapioca, sugar and wine."

"It was so nice," added Jillian.
11:02am– It's checkout time and when guests are gone it's time for cleaning, vacuuming, tidying up after breakfast and changing out any bed linens. It's also when Jillian has a chance to make the once-a-week drive to Traverse City to buy groceries. "Whenever I get a two- or three- hour block of time, I go to buy in bulk at Sam's Club," she explained. "For our fruits we shop locally when possible."

3:10pm– Jillian is back with the groceries. She unpacks her items while Jared is busy installing some new door locks. They need to get ready because some new guests are expected in about an hour. Check-in time is 4 pm. They have a standard greeting that they share with guests, explaining the history of the house and the rules. Each room has a binder that provides info to guests about the Korner Kottage and Suttons Bay itself.

Jared and Jillian bought the Korner Kottage in April 2018 from Jim and Linda Munro, who ran it since the early 2000s. In May, the new hosts greeted their first guests. Despite their years of experience in the hospitality industry, there were some jitters. "I was so nervous," admitted Jillian. "It was so different than what I was used to. Our first clients came in and we sat and talked with them, telling them about the house, walking them around."

Jared and Jillian financed the deal through a local bank and some private investors. "It was an established business with a good reputation," said Jared. "We really haven't had to do much to it. We decluttered a few things to make more room."

While the Munros closed the B&B down during a few winter months, Jared and Jillian say they'll stay open year-round.

They don't expect any major changes at the Korner Kottage. They may try doing dinners in the off-season and are thinking about add a Korner Kottage ice shanty that guests could use in the winter.

4:08pm – On this day, the arriving guests are taking all four rooms. They're from Indiana and have been here before. About 25 percent of the guests are returnees, some two or three times in a calendar year, estimated Jared. These visitors quickly make themselves at home, some relaxing with a drink on the front porch, while others stroll outside to the B&B's garden area to enjoy the afternoon air. A couple of guys check out the firepit area and plan to use it that night.

"It's a lot of fun and you get to meet great people, but it's a lot of work, too," said Jillian as she brings out a plate of cookies, think lemon chocolate chip, and others whose recipes have been handed down for generations. She invites guests to grab a handful, pick out a book from the B&B's library and enjoy their visit.

5:18pm – As evening approaches, some guests ask about places for dinner. Jared offers a few options within walking distance, including Martha's Leelanau Table, the North Country Grill and Pub and the VI Grille. While guests are gone enjoying the area, Jared and Jillian field more phone calls and plan breakfasts for the next few days and tend to paperwork.

7pm– It's the time when Jared and Jillian retire to their own room in the rear of the century old house. "Sometimes there's confusion about difference between a hotel and a B&B," said Jared. "We're not 24 hours. After 7 is typically our down time. That's a 12-hour workday for us."

Guests who are out after 7 pm are able to let themselves in. "Sometimes we feel like a parent waiting for the kids to come home," joked Jared.

Any drawbacks to the business?

"You have no day to yourself," said Jared. "During the summer, we've worked 70 days without a day off. Sometimes friends don't understand, but you have to work around a social life. We have our friends come out to visit us."

Any advice to those dreaming of operating their own bed and breakfast?

"You have to enjoy people," said Jared. "It's been a learning curve for us, finding the processes that work. We're learned there are a lot of good people out there."

"It would be a terrible job for someone who was anti-social," added Jillian. "But for us, there are no regrets. It's a fantastic job."

A True Labor of Love
Almost a century ago, lumberman Martin Severson had a sawmill, acres of northern Michigan forest and a dream - to marry his sweetheart, Olise Olson.

In 1921 he began building a home in the village of Suttons Bay that he hoped to share with her, lovingly crafting rooms where they would live, raise their children and grow old together. When he finished the next year, Martin asked for Olise's hand in marriage. She said yes. Her parents said no.

Heartbroken, but hopeful, Martin moved into the empty house and waited. And waited. And waited. When Olise's parents passed away, she and Martin, by now well into their 40's, finally married and made the house their home and lived happily ever after.

Though nearly a century has passed since Martin built their home, the Korner Kottage remains a testament to love, romance and a dream worth waiting for. Portraits of Martin and Olise — along with her naysaying parents — can be seen on a hallway wall in the Korner Kottage B&B.
Trending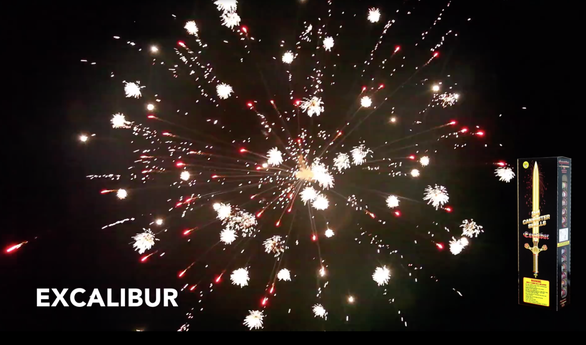 Big Boom Time for Home Fireworks
With social distancing sidelining most of the region's large fireworks shows, many enthusiasts are turning to their ...
Read More >>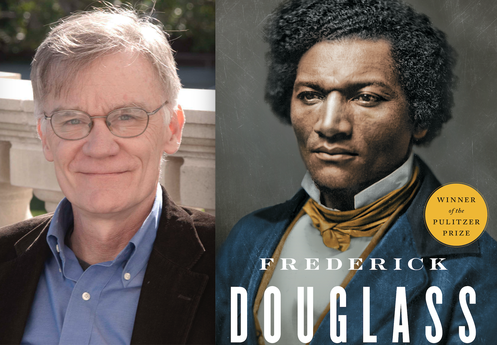 Required July 4 Reading: "Frederick Douglass: Prophet of Freedom"
Pulitzer Prize-winner David W. Blight will be the featured guest at the National Writers Series' online event 7pm Ju...
Read More >>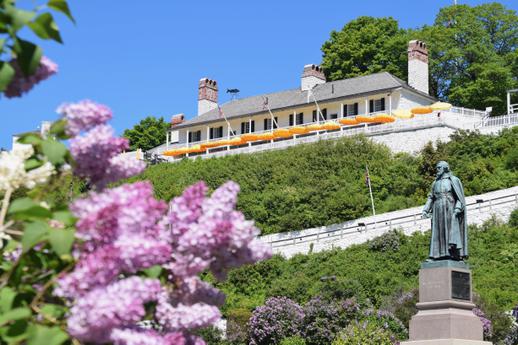 Mackinac Island, After the Shutdown
Mackinac Island — the four-square-mile spot Condé Nast readers named one of the best islands in the U.S. and ...
Read More >>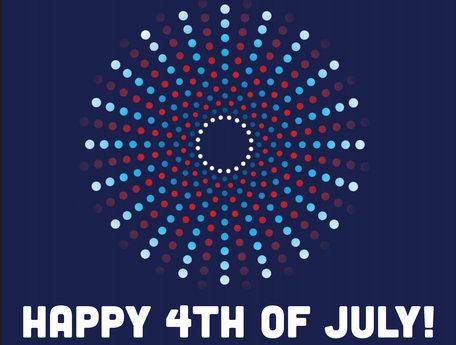 Events Around the North
As the COVID-19 pandemic forestalls festivals and large-scale gatherings, traditional Independence Day festivities have be...
Read More >>
↑