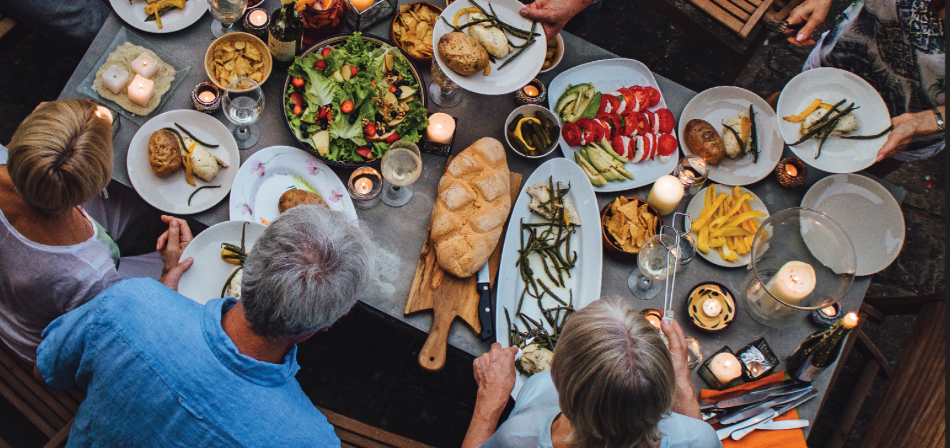 A Showcase of Restaurants
Our tri-annual restaurant round-up
Trattoria Funistrada – Glen Lake
Out in western Leelanau County, on the eastern edge of Big Glen Lake, lies Funistrada, a charming restaurant housed in a historic cottage-like clapboard building surrounded by greenery and flowers. Holly and Tom Reay, owners of Funistrada since the spring of 2000, were Glen Lake "summer kids" growing up. In the 1970s and '80s, the building that Funistrada now occupies was a German restaurant called the Glen Lake Inn, and it was a favorite haunt of Tom and Holly's grandparents, both of whom had summer homes in the area. Before that, it had hosted another restaurant and a bar, but originally, nearly a century ago, it was a dining hall for nearby cabins that didn't have kitchens. Looking at the menu, you immediately think of Italy. But the food that comes out of the kitchen here is actually an homage to the Italian restaurants of St. Louis, Missouri, where Tom Reay grew up surrounded by a big Italian-American neighborhood of Italian grocery stores, shops, and restaurants called 'The Hill.'
On the Menu: Funistrada's menu changes very little, because their customers depend on being able to come in and get the dishes they love. True to the Italian love of vitello (veal), the menu offers three different preparations of it, most popular of which is the saltimbocca (with prosciutto, mozzarella, and Parmesan in a mushroom-Marsala sauce). That same preparation is also offered with chicken breast. Another highly popular dish is the appetizer lumache (snails), with garlic and red onion, served on crostini. If you're a pasta fan, you'll appreciate the many options on that part of the menu, like the hearty lasagna Bolognese, the angel hair Carsoni, and two variations of linguini. An extensive wine list includes several Italian selections, both red and white (including prosecco), and the full bar stocks Italian spirits like grappa, Vin Santo, and limoncello, as well as espresso drinks.
Find Them: Funistrada is located at 4566 West MacFarlane Rd. in Burdickville. (231) 334-3900. Opens for dinner at 5:30pm Wednesday through Sunday. Reservations accepted via phone or website. trattoria-funistrada.com $$-$$$
White on Rice – Traverse City
For the past three years, husband and wife team Eric and Amy Kolden have been on a mission to make high-quality sushi and other Japanese specialties easily accessible to a wider audience in northern Michigan. Their White on Rice food truck quickly established itself as one of the busiest venues at The Little Fleet lot, drawing fans of all ages, who appreciated not only the expertise and unique offerings that the Koldens brought with them but also their standards. Their venture was so successful that they took those standards a step further and opened a second White on Rice — this time a brick and mortar location, just a year later, in 2016. The hope of both Amy and Eric is that the restaurant — a narrow, unpretentious carry-out or eat-in space with just six seats (the kitchen is huge) whose only embellishments are a map of Japan, a bookshelf full of colorful cookbooks, and a white plastic Japanese "lucky cat" inside a clear round tip bowl — will become a new kind of takeout place, a better alternative to fast food. The Koldens are also very conscientious about keeping a low carbon footprint, using environmentally friendly wooden chopsticks and traditional 'usuita bowls,' very thin, biodegradable sheets of pinewood, which are shaped and formed into little serving boats. Almost everything they use is compostable or recyclable.
On the Menu: A key concept that has been a driving force behind White on Rice is "everyday sushi," meaning high quality and easy accessibility. The sushi menu runs the gamut, from off-the-wall, such as the rock 'n' roll (tuna, salmon, yellowtail, lump crab, tempura, panko-crusted, spicy mayo), to very traditional, like nigiri (rice ball topped with raw fish), to something familiar but in a new guise, like the seared salmon roll (with cucumber, avocado and lemon). If you don't want sushi, try the Japanese sliders — bao buns — with marinated and braised pork belly served chasu style, with miso aioli, daikon radish, and pickled cucumbers. The signature ramen bowl is offered in three variations, while other warm entrées include the katsu curry (Japanese-style sweet curry served over rice with a panko-crusted pork cutlet) and gyoza (shrimp and pork pot stickers with house ponzu sauce or spicy mayo).
Find Them: The White on Rice restaurant is located at 510 West 14th St. in Traverse City, (231) 633-7423. The food truck is located at The Little Fleet, 448 East Front St. in Traverse City. whiteonricesushi.com $

Omelette Shop – Traverse City
The Omelette Shoppe has been putting an egg on it — and around it, and under it, and beside it, and in it — since 1975, drawing breakfast lovers from near and far. Forty-three years later, the cozy little original Omelette Shoppe still sits at 124 Cass St. in downtown Traverse City. And customers still cheerfully line up outside the quaint yellow brick building in the warmer months, more than willing to wait for the chance to put their name in to snag one of the leatherette booths inside or a patio table on the sidewalk. The small but wildly popular establishment eventually spawned a second, larger location in the Campus Plaza on East Front Street, and two more Omelette Shoppes were added in Grand Rapids.
On the Menu: The four-egg, French-style omelettes are the stars of the show. Incredibly light and fluffy, they would please even Julia Child. The menu features 11 specialty omelettes, including the customer favorite, California veggie (avocado, wild mushrooms, spinach, tomatoes, green olives and Monterey Jack cheese), and the intriguing Inferno (Latin-seasoned beef barbacoa, avocado, hash browns, mozzarella, sour cream, and a little kick from chipotle hollandaise), as well as a "Create Your Own Omelette" section, offering almost endless variety. Egg whites and egg substitute are also available. Beyond omelettes, yet staying in the savory department, there are scrambles and skillets and quiches and Benedicts; a standout Southwest breakfast burrito; and down-home biscuits and gravy (both homemade). Meats for various menu items are also done in house. And if you prefer a sweet indulgence, try the strawberry shortcakes or bananas Foster French toast. Baked goods are another Omelette Shoppe specialty: cinnamon rolls, pecan rolls, muffins, Black Forest cherry strudel, apple strudel, and cookies are all baked fresh at the Cass Street location.
Find Them: The Omelette Shoppe Breakfast Bistro & Bakery has two locations in Traverse City: 124 Cass St., (231) 946-0912, and 1209 East Front St. (Campus Plaza), (231) 946-0590. For more information, visit omeletteshop.com or check them out on Facebook. $
Roast and Toast – Petoskey
Coffee lovers are grateful for Roast and Toast, where the philosophy is "Great coffee doesn't just happen." Using carefully selected beans from around the world, they roast according to bean profile, create blends, and conduct small batch techniques to maintain a selection of freshly roasted varieties, never selling coffee more than two weeks old. Each day the Roast and Toast team brews five varieties, rotating the offerings with coffee sourced from around the world. They receive coffee from 16 countries; more than half are fair trade organic, and some come direct from the coffee farmer.
On the Menu: Whether crafting a cappuccino or making a mocha, the Roast and Toast baristas are passionate about coffee. They also make their food component a staple and stand-out. From baked goods to salad dressings, from hand-cut sandwich meats to breads, everything is made in-house using products from local growers whenever available and in season. Some of the Michigan companies Roast and Toast supports include the Alden Mill House, Beards Brewery, Big Apple Bagels, Bill's Farm Market, Fustini's Oils and Vinegars, Great Lakes Potato Chips, Maple Moon Sugarbush and Winery, Martinchek Dairy, Michigan Dried Cherries and Cherry Concentrate, Northwoods Soda and Syrup, Petoskey Plastics and Plath's Meats.
Find Them: Roast and Toast is open 7am to 7pm daily at 309 E. Lake St. in downtown Petoskey. To learn more, visit www.roastandtoast.com or call (231) 347-7767.
The Cantina – Charlevoix
East Jordan native Evan Chappuies' most recent venture is The Cantina in Charlevoix, in which he partners with local developer Luther Kurtz. Kurtz is aiming to make one particular section of property in downtown Charlevoix into what he's dubbed "The Mercado" — a northern Michigan take on a Mexican market square, with a variety of businesses and social venues, including Chappuies' own. The Cantina can be thought of as a "hidden find," due to its location down The Mercado's alley; it's constructed out of an old garage, to which the men added a kitchen and a patio, and brought in Luke Meredith as chef. The goal was to do a quick-service restaurant, similar to Mexican street food but in a more concrete atmosphere.
On the Menu: All the usual things you'd think of as the staples of 'authentic Americanized Mexican food' — tacos, burritos, tostadas. The tacos, on white corn tortillas, can be purchased as singles or multiples. Guests can choose from the pollo, featuring green chili-braised chicken; slow-roasted pork carnitas; slow-roasted pulled beef barbacoa; chorizo sausage; or the grilled shrimp camaron. The Papas features crispy fried potatoes, pickled red onion, and salsa verde. The Super Burrito is a flour tortilla-rolled extravaganza that includes your choice of chicken, pork, beef, spicy sausage, or shrimp, with rice, beans, avocado, shredded cabbage, chihuahua cheese, and pico de gallo, plus your choice of salsa on the side. For the vegetarians, they offer our spicy potato burrito, which includes shredded cabbage, avocado, and the chihuahua cheese. The Mexican chopped salad is also very popular, mixing black beans, chihuahua cheese, and crispy fried tortilla chips with romaine lettuce and homemade cilantro-lime vinaigrette.
Find Them: The Cantina is located at 101 Van Pelt Place (in The Mercado in Van Pelt Alley in downtown Charlevoix). charlevoix-cantina.com (231) 437-3612. $-$$

Centre Street Cafe – Traverse City
If you haven't yet discovered this somewhat-off-the-beaten-path-but-totally-worth-the-short-detour lunch spot in Traverse City, it's time to get your GPS in gear and put some excitement back on your midday plate. While it's not easy to pin down the best way to describe what owner-chef Pete Boothroyd is serving up Monday through Saturday at his lively Traverse City eatery, one thing is certain: It's much more than just lunch. The ambience is a bit retro, but there's nothing about the Centre Street Café that's stuck in the past. Other than the diner-esque décor, the most likely reason people get a familiar or nostalgic feeing here is the fact that it is a place where people still come to make human connections in a world where technology dominates so much or our lives, where fresh, innovative and visually attractive food is affordable, where "pretentious" is an unknown word, and where the number-one goal is making and keeping customers happy. The goal Centre Street is create and deliver a diverse contemporary menu that offers unique choices that sometimes go outside the boundaries of conventional fare.
On the Menu: Centre Street's repertoire is extensive, to say the least, with two to three daily soups, nearly a dozen salads (including two pasta salads), and no fewer than 40 specialty sandwiches and wraps. That said, the menu is easily navigable, with categories divided by street terms. Take a stroll on "Avenue T" for anything turkey, including the wildly popular Smokin' Jo (smoked turkey, turkey bacon, smoked Gouda, onion, Roma tomato, leaf lettuce and mesquite mayo on Jewish rye). Cruise down "Beef Boulevard" to find the extravagant Rabish Radish Pastrami (beef pastrami, capicola, pepperoncini, jalapeños, pepper jack, provolone, red onion, radish microgreens, Sicilian dressing and horseradish sauce on panini-grilled rye). Head for "Henway" if you need a chicken fix like the Pecos Pete (grilled chicken, lime-marinated jicama, poblano pepper jam, pepper jack, red onion, cilantro, arugula and Sriracha-lime aioli on a jalapeno-cheddar bun). Stop at the "Green Light" to choose from tempting veggie combos like De Gaulle's Galley (Portobello mushrooms, artichokes, sun-dried tomatoes, French mushroom brie, red onion, arugula and lemon-truffle aioli on sunflower rye). Or put together your own sandwich or wrap in the "Middle of the Road" from a large list of possible ingredients.
Find Them: Centre Street Cafe is located at 1125 Centre Street in Traverse City. Open for lunch 10:30am–4:00pm Monday through Friday, and Saturdays 10am-3pm. Dine in or carry out. Catering available. For more information, call (231) 946-5872 or visit centrestreetcafe on Facebook. $
Pangea's Pizza Pub – Traverse City
Take a good look around the narrow, cozy, eclectically adorned interior of Pangea's Pizza Pub in Traverse City next time you stop in for one of their award-winning artisan pizzas. Because by this summer, you might not recognize it. A major renovation, expansion and branding project now in progress will change the look, size, and configuration of the restaurant inside and out, and even the name and logo. Pangea's 2.0 will, when completed, accommodate two full bars — one inside, and one on a new rooftop dining deck. Besides the deck — certain to be a prime drawing card, with unmatched views of Front Street, the Boardman River, West Bay, and the adjacent walkway and park area — Pangea's will double seating capacity in the main-level dining room and feature a newly expanded and more efficiently designed kitchen, with two new — and larger — stone deck pizza ovens, which will greatly improve ticket times. The restaurant will also comfortably accommodate larger groups of friends or family who want to dine together.
On the Menu: As any pizza lover would agree, the crust is crucial. Pangea's signature crust is baked in a stone deck pizza oven, which produces the ideal crispy exterior and tender interior. Or are you a Chicago deep-dish fan? The kitchen will do any style of pizza on that type of crust as well. The menu is sprinkled with a host of pizzas that take you on a culinary world tour, including Greek (sun-dried tomatoes, feta, spinach, banana peppers and Kalamata olives), Indian Raja veggie (turmeric and coriander, curried chickpeas, ricotta and spinach), or Caribbean jerk (chicken, pineapple, red onion, red and green peppers, and jerk seasoning), while other varieties keep you happily at home in the USA, such as the addictive BBQ chicken pizza (barbecue sauce topped with diced chicken, green and red onions, mozzarella and cheddar cheese) or the ridiculously indulgent cheeseburger and fries pizza (sesame seed crust, ground beef, cheese, tomato, pickle, lettuce and special sauce — and yes, it's topped with fries!). And as if all that and about a dozen other specialty pizzas weren't enough, guests are welcome to get creative and customize their own pie from a wide variety of sauces, cheeses, meats, veggies, fruits, herbs and flavored crusts (including gluten-free). No matter what the choice, fresh ingredients are a forgone conclusion.
Find Them: Pangea's is located at 135 East Front St. in Traverse City. Winter hours: 11am–9pm Monday through Thursday, 11am-10pm Friday and Saturday, and 12pm-9pm Sunday. Take out and delivery available. (231) 946-9800, www.pangeaspizza.com or check them out on Facebook (PangeasTC).

The Dam Site Inn – Brutus (Pellston)
There's something decidedly Dirty Dancing about the Dam Site Inn. Nestled between Douglas Lake and Burt Lake, the destination restaurant offers a unique ambiance and carefully-maintained throwback menu that would perfectly suit the movie's main character, Baby, and her family as they travel to the Catskills for a wholesome vacation at a mountain resort in the summer of 1963. The building that the Inn resides in was built in 1875, and originally served as a dining hall for lumberjacks in the area. So it's definitely a vintage place, reminiscent of an old dinner or supper club, anywhere from the '20s up to the '50s. Alongside wide vistas of the northern Michigan countryside, the Maple River, and East's gardens, the restaurant's interior features some of the best, most well-kept midcentury modern furniture you've ever seen, including original pieces by Eero Saarinen and Ficks Reed.
On the Menu: The most popular item is the Inn's Southern pan-fried chicken, cooked in a special fryer made especially for the restaurant. Served family-style and all you can eat, each dinner includes platters of chicken, cream whipped real potatoes, house-made gravy, buttered peas, house-made Polish dumpling-style Kluski egg noodles rich with egg yokes, your choice of cole slaw or tossed salad, and table crackers, plus the Inn's own hot homemade buttermilk biscuits, which are served up with everything. Some of the other highlights include all you can eat Michigan yellow lake perch; Filet Mignon; smoked pork chops; Alaskan king crab legs; and golden brown scallops. Order their nine-item relish tray and you'll be treated to appetizers worthy of The Rat Pack: green onions, fresh radishes, peach halves, pickled watermelon rind, pickled beets, thick-sliced dill pickles, cranberry-orange relish, corn relish, and jumbo pimento-stuffed olives. And make sure you leave room for dessert: angel food or chocolate mousse cake.
Find Them: The Dam Site Inn is located at 6705 Woodland Road in Brutus. You can also find them online at damsiteinn.com, or call (231) 539-8851. Open seasonally $$-$$$.
Trending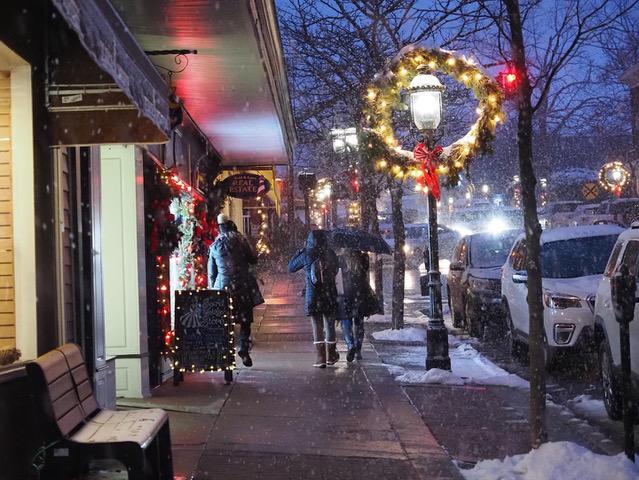 Jump Start Holiday Shopping
Downtown Petoskey hosts their Holiday Open House on Friday, Dec. 2, from 6-9pm as Santa flies into town to light the giant...
Read More >>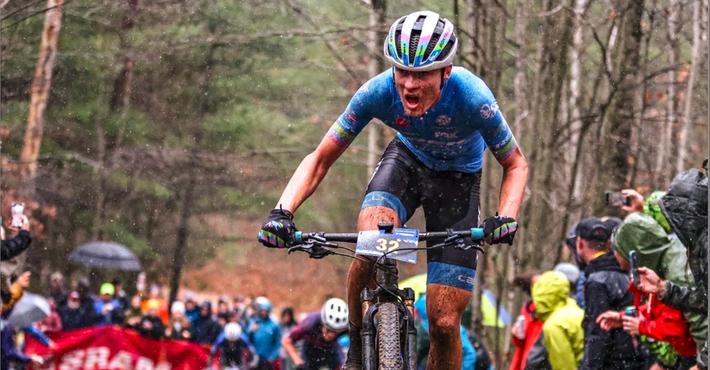 A New Gear
If last week's snow made you think the two-wheeling season is over, think again. Tuesday, Nov. 29, is the official l...
Read More >>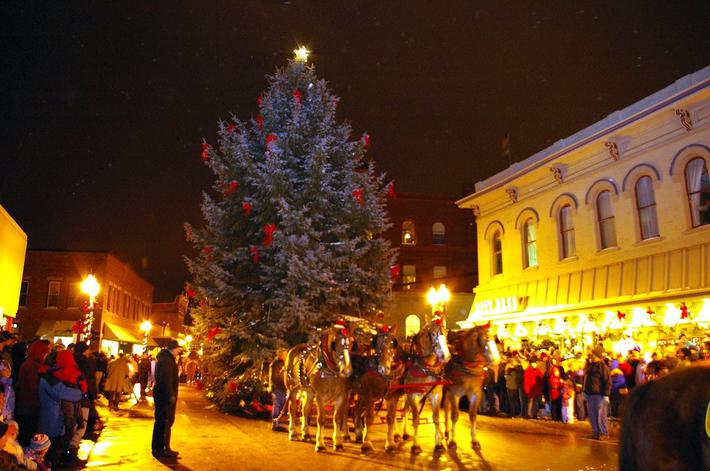 Jingle All the Way to Manistee
The town of Manistee is going into full holiday mode—and going back in time—this weekend. Friday, Dec. 2, the ...
Read More >>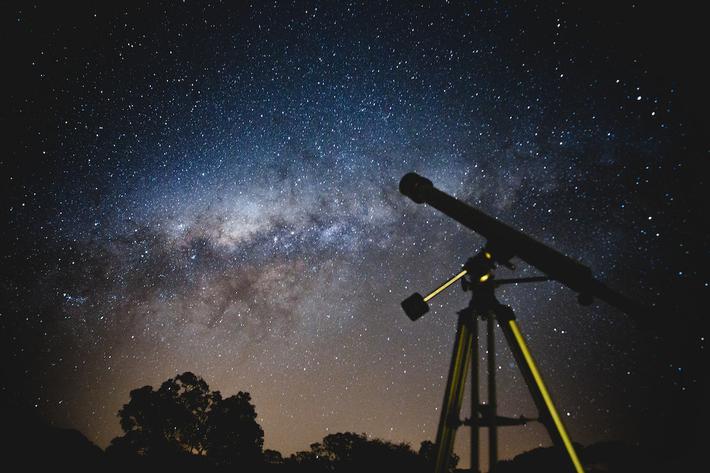 Aim for the Stars
Aliens may walk among us, but this weekend it's our turn to wander through the galaxy. On Saturday, Dec. 3, the Denn...
Read More >>