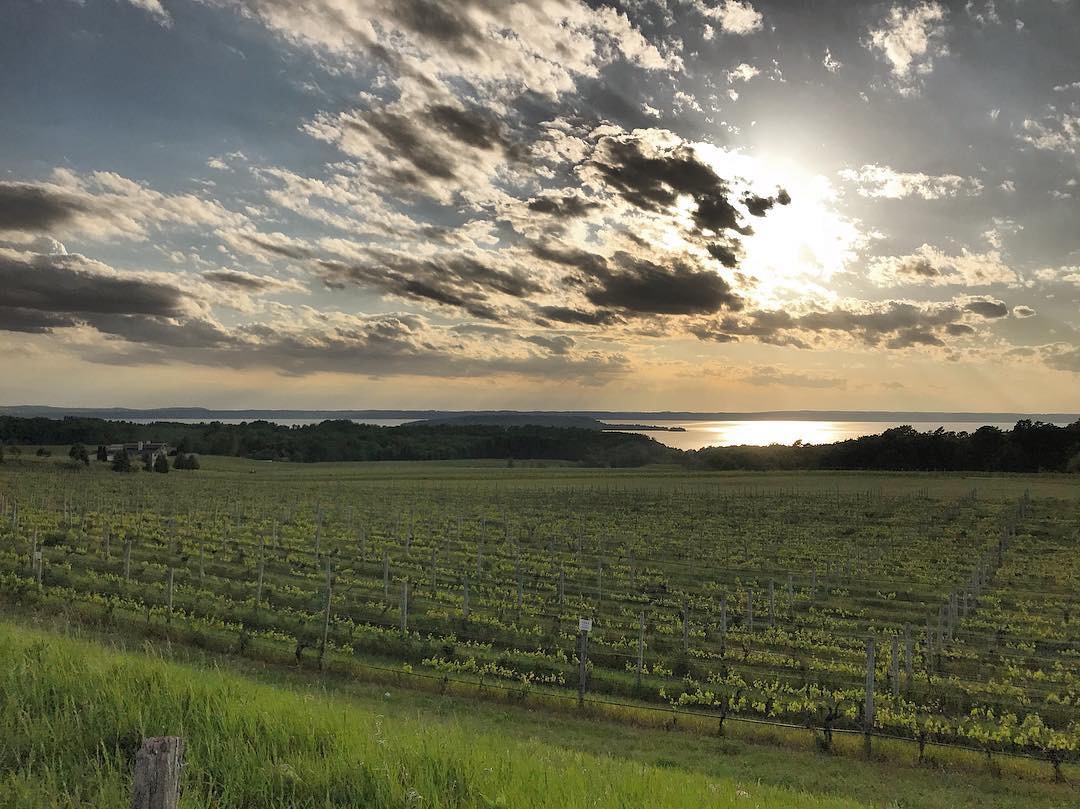 Ag Preservation, Diversification, and the Plight of Two Peninsulas
Is the zoning on Old Mission and Leelanau peninsulas forcing an unsustainable future for local farms — or residents?
What is the future of agricultural land in northern Michigan?
For generations, the region has been known for its farms. Traverse City is the Cherry Capital of the World, but northern Michigan's agricultural prowess goes beyond just cherries. From apples to blueberries to hops to wine grapes, the area's unique growing conditions have made it a treasure trove of local produce. But what happens when business from traditional farming operations isn't enough to drive prosperity for farm owners — or even keep the lights on?
It's a question that several local agricultural owners are currently asking. From the Old Mission Peninsula wineries seeking more freedom and flexibility in their zoning, to the Leelanau County cherry growers looking to embrace the growing trend of agritourism, "diversification" is the name of the game for local ag in 2021. The dilemma that local regulators are facing, though, is how much flexibility and freedom they can offer ag businesses without giving those businesses carte blanche to commercialize their farmland.
THE WINERY WAR
The loudest of these battles is currently being waged between the Wineries of Old Mission Peninsula (WOMP) and Peninsula Township. Last fall, WOMP — a group that includes 10 of the 11 wineries on Old Mission (Bonobo Winery is the holdout) — filed a federal lawsuit alleging that the township's zoning ordinance unfairly restricts winery operations.
Under Peninsula Township zoning, all Old Mission wineries are barred from hosting weddings or live amplified music, running restaurants or off-site catering operations, staying open past 9:30pm, and more. WOMP says these restrictions conflict with things they are allowed to do, by right, based on their liquor licenses from the Michigan Liquor Control Commission (MLCC).
"We're just asking for the rights that are allowed and the benefits that are offered by the state and by our MLCC permits," said Chris Baldyga, president of WOMP and co-founder of Old Mission's 2 Lads Winery. "These are not unique things to Peninsula Township wineries; they are things that wineries almost anywhere should be able to do on farmland."
The wineries have been in talks with the township for years — since 2008, according to Baldyga — to update the decades-old zoning ordinance. WOMP filed the lawsuit last year, an effort Baldyga calls a "last resort," because negotiations weren't moving fast enough.
In addition to the township, another entity standing in opposition to WOMP is Protect the Peninsula (PTP). First formed in 1979, PTP is an advocacy group made up of Old Mission Peninsula residents that exists "to promote and support our quality of life" on the peninsula. Last month, PTP filed a motion in federal court to "intervene" in the lawsuit between WOMP and Peninsula Township. If the motion is granted, PTP will join the lawsuit as a co-defendant, alongside the township.
On March 19, PTP issued a statement urging WOMP to drop the lawsuit and instead pursue "a reasonable approach to find balance between farming, residential needs, and commercial enterprises" through Michigan's zoning process.
PTP believes that an open dialogue between all Old Mission Peninsula stakeholders — wineries, the township, other farmers, homeowners, and peninsula business owners — would allow those parties to find common ground and craft a compromise in the form of new zoning rules. The group argues that WOMP's lawsuit is precluding these types of all-hands-on-deck discussions from taking place — first, by creating an adversarial situation, and second, by locking some stakeholders out of the process.
"There can be no doubt that changing the winery zoning rules will impact more than just the 11 wineries," the PTP statement said. "It will also impact all farmers, not just grape farmers. It will impact neighbors and competing businesses in commercial areas. It will also impact all road users. And it will impact present and future farmers, residents, and businesses. All these voices deserve to be heard."
Also urging a search for common ground is the similarly-named Protect the Peninsula Farmers LLC, a recently formed organization of local "farmers and people who support farmers, who want to express our view with regard to the winery issue on the peninsula." In a recent letter sent to Northern Express, that group suggests it's the township, not the wineries, that are precluding talks that could lead to a fair compromise on zoning.
"We have been struck by all the negative attacks leveled at the wineries because they are seeking changes in outdated and arguably illegal regulations," Protect the Peninsula Farmers wrote. "Clearly the township does not want to budge."
"All farmers, including the wineries, face economic, weather, and pest-related challenges," the letter continued. "We are constantly trying to find new ways to farm and new products that will help us stay afloat. We wouldn't expect the wineries to do less. Let's support a way forward that allows the wineries to do some of the things they are asking for and some of the things they are clearly allowed to do by state and federal law … [Y]ears ago township leaders worked with winegrowers/winery owners to develop rules to guide sustainable growth in our growing wine business. The rules need to be updated because competition keeps changing."
For the wineries, that argument — of adapting and diversifying to stay profitable and competitive as industry dynamics change — is the crux of the issue. Baldyga contends that, in an evolving agricultural landscape, small ag businesses like local wineries need new streams of revenue to stay profitable and keep their land in agriculture.
"[Old Mission wineries] are agricultural companies that are maintaining farming at a time when small farms are beat out by large farming operations that are highly mechanized, that have very few people at the helm, and that are not actually adding value to the product on site like we do," Baldyga said. "I think that is something that should be celebrated and given as much chance to succeed as any business in the area. I hope that our neighbors see that we're not big, faceless, mega-corp wineries that are trying to become somehow wildly profitable, or are bent on midwestern wine domination. If we wanted to be in something wildly profitable, we sure as heck wouldn't be in the wine business. But we love it, and that's why we do it."
Some have pushed back against WOMP's argument that looser regulations are necessary for keeping Old Mission Peninsula's small ag industry thriving. Barb Wunsch, part of the multi-generational farming family that owns and operates Old Mission's Wunsch Farms takes issue with WOMP's rationale.
"I disagree with WOMP's characterization," Wunsch told Northern Express. "We are not a failing or declining business, and a commercialized wine entertainment sector is not the only path forward for OMP's agricultural land. In the last five years, three millennial members of our family farm have purchased farms of their own on Old Mission, and our farm has grown from humble beginnings to manage as much farmland as the entire Old Mission Peninsula wine industry combined."
Wunsch continued: "As farmers, when market conditions for a crop are not profitable, we plant new crops, improve our operation efficiencies, or add value within the confines of the zoning ordinance."
SAME STORY, DIFFERENT COUNTY
On Leelanau Peninsula, just 25 miles across the west arm of Grand Traverse Bay, some local farmers suggest that the long-term outlook for small ag — at least without considerable pivots or diversification — might not be so rosy.
In Northport, Phil and Sarah Hallstedt, the owners of Hallstedt Homestead Cherries, have been pursuing their own zoning ordinance amendment, which would allow them to add a camping/lodging component to their farm. With weather challenges and pests making crop quality and crop size unpredictable for local cherry farmers in recent years — and with cherry pricing ping-ponging up and down, thanks in part to foreign competitors — producing cherries in northern Michigan has become a less lucrative venture than it once was.
The Hallstedts have made it work by pivoting to agritourism, embracing a U-Pick model several years ago. Now, they want to grow their agritourism focus further, with "farm site" camping, where different sites on their property would be set up for camping (tents or RVs), glamping (temporary structures for guests to use, including hard-sided tents and yurts), or lodging (permanent tiny houses that could be offered to guests as short-term rentals or used to house seasonal workers).
Many of the same factors that are being brought up in the debate around the WOMP lawsuit — increased traffic, noise, reckless behavior from guests, disturbances to neighbors — have also been discussed by Leelanau Township Planning Commission officials as they weighed the possibility of changing the zoning ordinance.
The arguments in favor of a zoning shift, meanwhile, are also very similar.
"We want to find a way to have the orchard survive and thrive, and then augment it," Phil Hallstedt said. "This whole idea is about being able to take this land and keep it in agriculture, and find ways to bring in some additional value."
THE NEXT GENERATION
For the next generation of local farmers, diversification is simply a fact of life.
Take Cory and Elise Holman, who recently purchased Traverse City's Garden Goods from founders and long-time owners Gordy and Julie Sovereign. Cory is a seventh-generation farmer at Cherry Ridge Orchards on Old Mission Peninsula. The young married couple — he's 29, she's 24 — bought Garden Goods specifically to supplement the farm's income.
"We've been trying to find ways to be doing something that we love and are passionate about that also revolves around agriculture, as a way to supplement the farm," Elise said. "You've probably heard a lot of the stories about how the small family farm is dying. It's really important, as young people who want to continue the tradition, to make sure that we have every avenue possible to continue farming."
Trending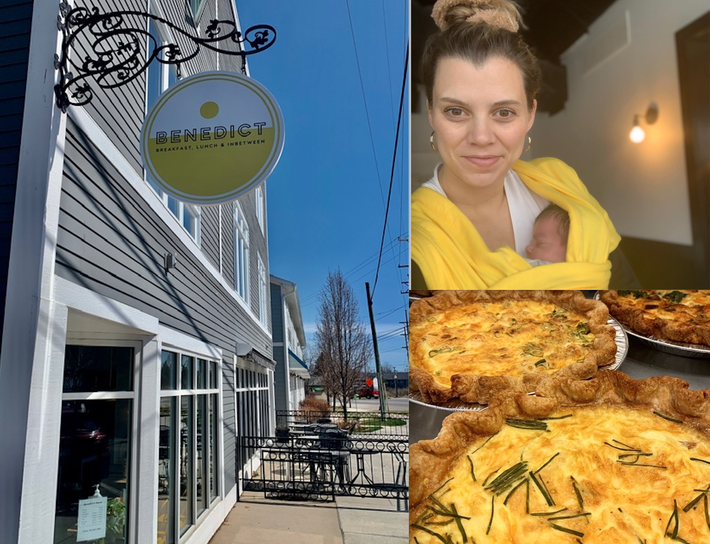 Benedict
No matter the weather, Traverse City's newest breakfast and lunch restaurant, Benedict, radiates a welcome as warm a...
Read More >>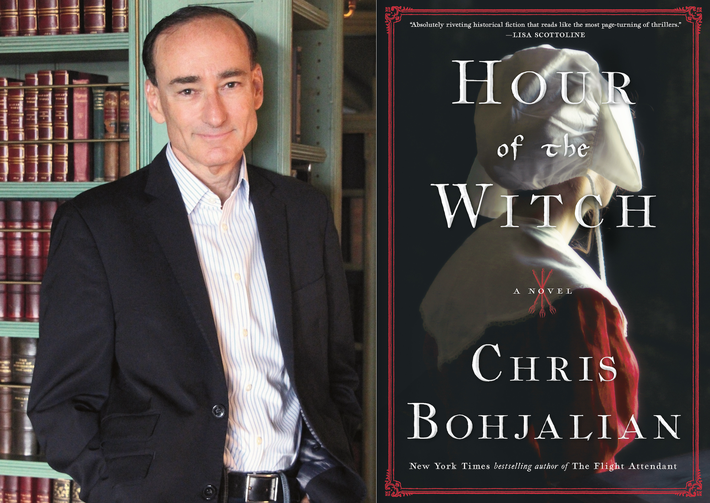 Sneak Peek: Chris Bohjalian to Talk with Locals Before Next Novel Drops
Award-winning author Chris Bohjalian is one of those people who was born to write. A schoolroom hobby-turned-carefully-hon...
Read More >>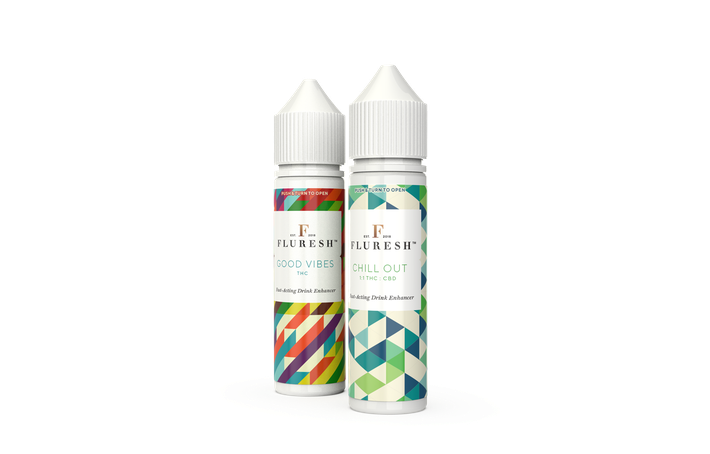 Eat, Drink, Rub: THC Products Review
Progress, thy name is marijuana. Despite what for any other industry would be major stumbling blocks — major disrup...
Read More >>
The DIY Lobotomy
"Did you read the review in The New Yorker of the new Philip Roth biography?" I asked my well-read conservativ...
Read More >>
↑