American House Wood Fired Pizza
A taste of Italy in Elk Rapids
Many Siren Hall fans initially mourned the fact that the popular Elk Rapids seafood restaurant morphed into American House Wood Fired Pizza in December 2020. But they soon realized that since owner-chef Michael Peterson — one of northern Michigan's most respected culinary professionals — is still at the helm, change can be good, too.
The interior of the building that formerly housed Siren Hall hasn't changed much since it became American House Wood Fired Pizza, except for the removal of several tables and booths to allow for social distancing and a few warmer and theme-appropriate elements, the most obvious of which is certainly the very large and very warm — nay, hot — custom-built, brick and red-tiled, freestanding Marra Forni pizza oven that dominates one corner of the dining room.

Handcrafted by an Italian family-run enterprise in Beltsville, Maryland using proprietary core materials from Italy, it is a real showpiece, and the pride of American House owner-chef Michael Peterson, who is happy to give a demo. "It's all computerized," he says excitedly. "The oven is a combination of gas and wood, so that's the gas firing up. And see that wheel? It actually moves, rotates. We cook the pizzas at about 825 degrees, and when we are putting them in — it can accommodate six to eight at a time – we can control how fast the wheel loads. One time around, and the pizza's done, in just two-and-a-half to three minutes." Peterson says that ideally, he likes to have three people operating the oven during peak service times: one forming the dough, one arranging the toppings, and one monitoring the baking, taking the pizzas in and out.
INSPIRATION FROM NAPLES
The pizza dough is made ahead in the kitchen and ferments in the fridge for four days before it's ready to use. "We make anywhere between 80 and 120 balls at a time," says Peterson, "weighing them out to about nine or ten ounces each, which makes about a 12-inch pizza. We do a Neapolitan-style, which originated in Naples, Italy. It has a thinner and a bit crispier bottom with a puffy rim, both charred in some spots. Our red sauce is just very good quality canned whole tomatoes, which we puree with sea salt. That's it — nothing else. We don't cook it. When we want other flavors, like fresh garlic, onion or herbs, we just add them as topping ingredients." So why Neapolitan pizza? "I think because it was a style of pizza that just spoke to me," says Peterson. "I love it when I go to New York and can get it — that little bit of smoke flavor and the charred crust."
Even Peterson agrees that it's quite a leap from Siren Hall's seafood and fish specialties to pizza. And he gets a lot of questions about that, too. He says the reason for the change was a combination of things. "One thing is that after you've been doing the same thing for so long, it gets a little old."
Peterson started working in restaurants when he was 14. Later, he trained in classical cuisine at the CIA (Culinary Institute of America) and in Paris, and was just 24 when he opened his first restaurant, Spencer Creek, in Alden. Seven years later, he opened Lulu's, in Bellaire, which he ran for 13 years. By 2020, he had been operating Siren Hall for another 13 years. "It has been a great run, but also a long haul — not just for me, but also for Clif Wilson, my sous chef, who has been with me for 24 years, and Mindy Bisson, our general manager, who has been working with us for almost 20 years. Another thing was that Siren Hall was quite a machine to operate, and then this past year with the pandemic, but also the ongoing labor shortage, it kind of made us start thinking that we needed to simplify things."
Peterson recalls one evening last summer, when after finishing another 15-hour day in the kitchen, he and his sous chef were winding down outside on the patio having a drink — a rare occasion. "Our usual shift was early mornings into early afternoon, but this past summer, with major staffing issues, we often had to work right on into the night. I was really tired, and I just looked at him and said, 'Clif, we've got to do something different.' Because I knew he was tired, too. And he said, 'You know, we have always talked about wanting to do pizza …' and I'm like, 'So let's do it!' We both needed a change. American House Wood Fired Pizza was the answer."
And with that, another question pops up: Didn't some people think it was a bit audacious to open this restaurant right next door to Elk Rapids' legendary Chef Charles Pizza? "Oh yeah, we've gotten that for sure. But you know, the funny thing is that we always had a pizza on our Siren Hall menu, except that we didn't have our high-tech oven then. Actually, I went over to [owner Charles Egeler] before I ever started anything and said, 'Hey, Chuck, I'm thinking about doing this.' And you know, he was all for it. Now he comes in here and gets a pizza almost every other week. Anyway, he's got a different style, you know, and people who love Chef Charles and his pizza will still go there for it."
AN ODE TO THE GRATEFUL DEAD
One of the first things you might notice on the menu are the catchy names Peterson has given the pizzas. And if you are a "Deadhead" like he admits he is, you will instantly recognize that all are named after Grateful Dead songs. "We wanted to keep a couple of our pizzas really simple, because everybody loves a margherita-style pizza (cue "I Need a Miracle") or a pepperoni pizza (cue "Ripple"), but then we like to play with the others a little bit, giving them some more unexpected toppings that combine great flavor with great texture." That would describe Big River (parmesan mornay sauce, mozzarella, blackened shrimp, tasso ham, charred tomatoes, and crispy Brussels sprouts) and Big Boss Man (tomato sauce, mozzarella, grana padano, meatballs, and basil). "I've always been a fan of meatball pizzas, and we make a really good meatball from scratch so that one was a no-brainer," he says. Franklins Tower (basil pesto, mozzarella, grana Padano, chicken, tomatoes, and spinach) is another pizza in that category. "I love making pizzas, because you can be so creative," says Peterson. "It's like an artist's canvas, and you can paint whatever you want on it."
The new venture still has a full bar, and although American House is quite pizza-focused now, they do offer several other menu options. In the entrées section, there are some familiar items that hearken back to Siren Hall, including fish and chips (beer-battered cod with herb remoulade and creamy coleslaw), steak frites (seared beef tenderloin tips with bordelaise sauce, shaved Brussels sprouts and bacon) and the house-ground beef chuck burger (with bacon, aged cheddar, and pickles) as well as the vegan black bean chipotle burger (double-stacked black bean patties, charred onions, muenster cheese, and roasted tomato, with jalapeño mayo and tomatillo salsa) from the chef's Michael P's line of specialty foods. The Caesar and wedge salads have also made the leap to American House, but there is now a Mediterranean salad as well (romaine lettuce, roasted peppers, red onions, olives, pepperoncini, tomatoes, chickpeas and grana Padano, with croutons and green goddess dressing).
Peterson plans to do more pasta dishes in the future. "Recently I made a traditional pasta Bolognese as a special, and it was a big hit with our customers," he says. Right now, the menu offers chicken parmesan (breaded chicken breast with marinara, mozzarella, parmesan, pepper and basil, served with egg pappardelle), ziti pasta (with roasted chicken, charred cauliflower, spinach, olive oil, pepper flakes, garlic, herbs and pecorino romano), and bucatini (with short rib-tomato ragu, rosemary ricotta, and grana Padano). "We want to start making fresh pasta here, too," he says, "but for now, we are sourcing from a few companies that sell it right from Italy."
HISTORY COMES ALIVE
Peterson emphasizes that his aim was never to be an Italian restaurant. "We're just trying to just make things a little simpler for us in all respects. I feel like I'm kind of getting toward the end of my restaurant career — not anytime soon, but I'm not going to open another restaurant after this — and I love Italian food and really enjoy making it."
Whether it means to be an Italian restaurant or not, one wonders how and why the name American House was chosen for a place that specializes in pizza. Actually, the writing — or rather, the picture — is on the wall, literally. "So if you look at that mural up there (a large-scale vintage depiction of Elk Rapids in the late 1800s), do you see that building on the far right?" Peterson asks. "That was the original structure built here on this corner in 1870, and it was called the American House Hotel. I just loved the name. It had several other owners and incarnations over the next few decades, until it eventually burned down. And if you look at some of those awnings on the old buildings, you'll see Siren Hall and Lulu's Bistro and Spencer Creek. The mural was done from a real photo — that's how the town's main street looked back then, although of course not with those names on the awnings. I had the artist, Kevin Burdick of Scraps Designs, slip that in when he came to paint it for the new restaurant. He did it all with cans of spray paint. He did a little bit of airbrushing, but most of it is literally spray-painted — it's amazing."
Peterson says that the American House menu will change seasonally. "We've got our spring menu now, and we'll do our summer menu soon. And then we'll switch gears again for our fall/winter menu. But there are of course things that will stay on there all the time. We really love what we do, and we're trying to do the best we can, perfecting the simplicity of our dishes and respecting their classic origins while having fun with it all. We just want people to come in, sit down, relax and enjoy that. We want to be perceived as casual and approachable. I have never done anything like this before, so it was a learning experience for sure, which is what life is about, but I was able to figure it out, and I'm really happy with the product that we have now. Honestly, we've had only positive feedback. And that makes me feel like we did the right thing."
American House Wood Fired Pizza is located at 151 River Street in Elk Rapids. In house dining (currently at 50 percent capacity) and takeout/curbside available. Open Tuesday – Saturday from 4pm to 8pm. Call (231) 264-6062 for reservations or to place an order. Note: In summer, a walk-up kitchen on the restaurant's large outdoor patio sells ice cream, barbecue pulled pork, hot dogs, chili dogs and a selection of salads and other healthy options to go. Visit americanhousepizza.com or Facebook for more information.
Trending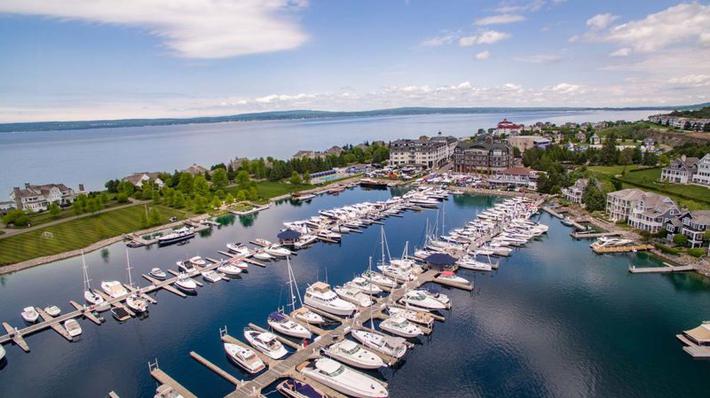 We Like Big Boats, and We Cannot Lie
Since buying your own yacht isn't likely this year due to supply and demand issues, what's the harm in dreamin...
Read More >>
Ending the Filibuster
The filibuster, much in the news lately, has an interesting if not usually glorious history. From the French word...
Read More >>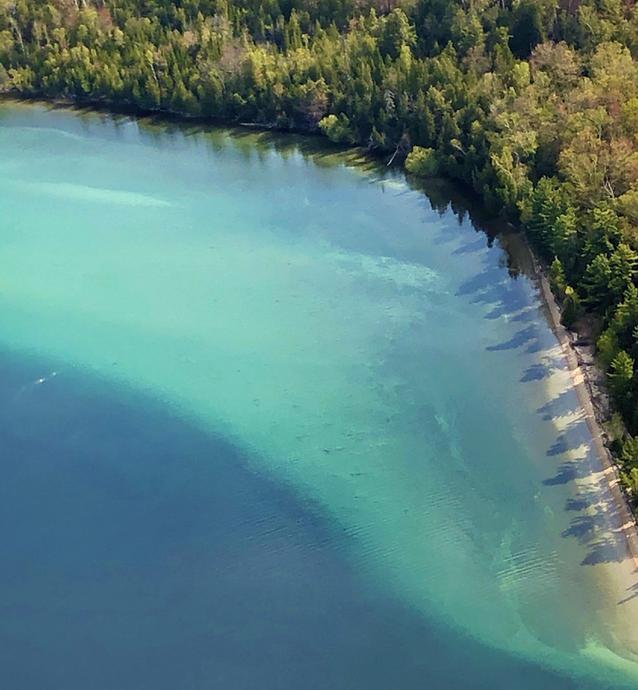 Torch Lake Takeover
You don't need to live on the shores of Torch Lake to know how breathtakingly gorgeous it is. A massive inland lake ...
Read More >>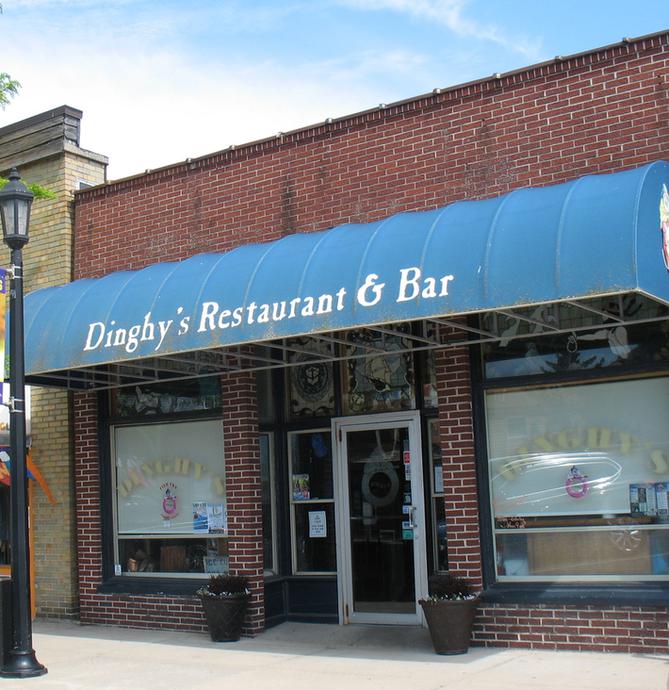 Dinghy's Restaurant & Bar
Kelly Sandman chuckles at a customer's joke, runs a cloth across a section of the 33-foot-bar, then greets a famishe...
Read More >>
↑