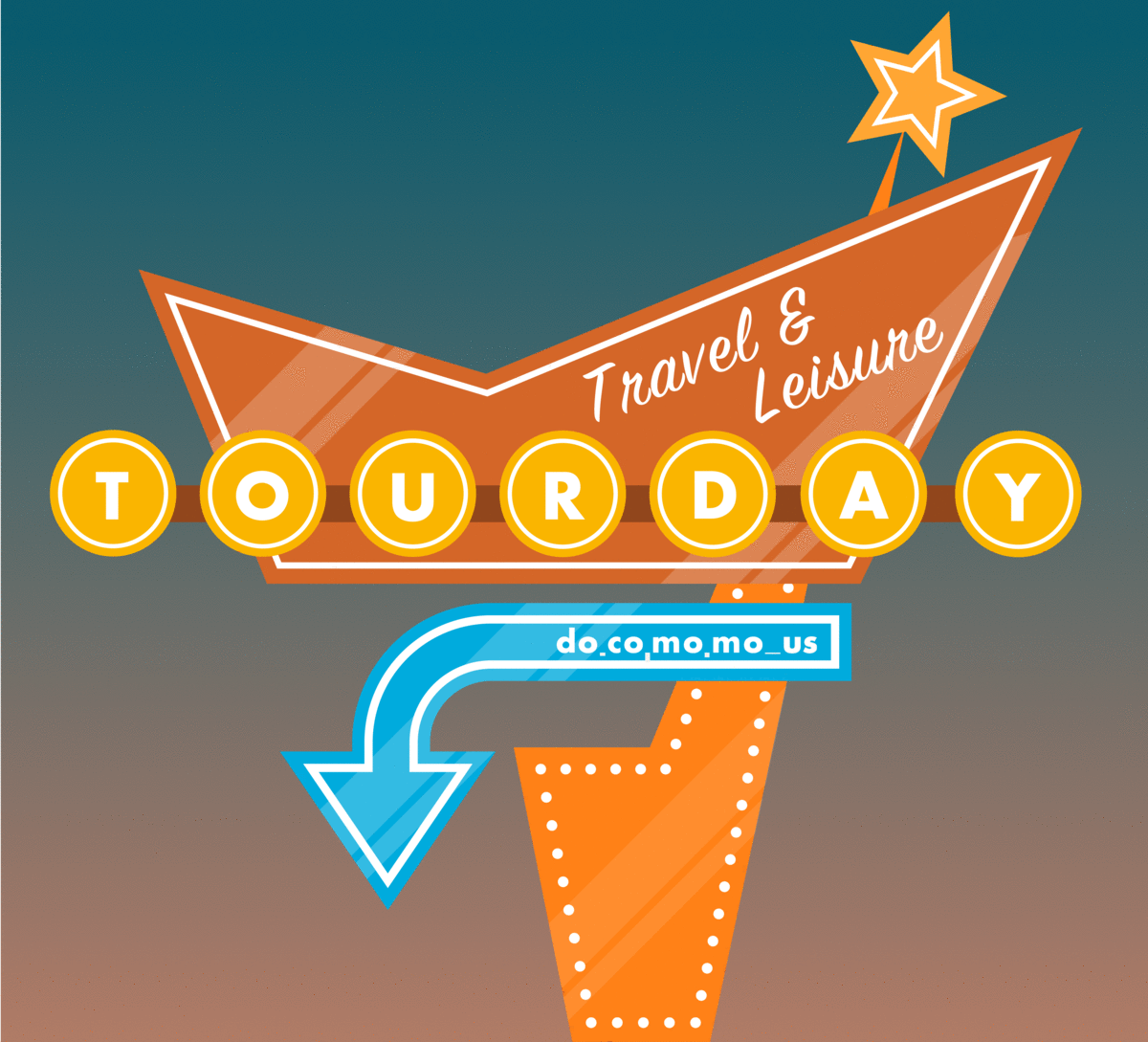 An Up North Tour for Mid-century Modern Junkies
Architecture for the ages
Not that we ever need an excuse to cruise the scenic roads snaking west from Traverse City to Leelanau and Benzie counties, or north to Charlevoix, Petoskey, and Harbor Springs. But this year seems extra special. An especially mild autumn has left loads of gold and orange leaves standing tall throughout these temperate lakeside spots. And while traditional fall color tour activities like apple picking and hayrides might be past prime, a leisurely drive to cool destinations never goes out of style.

One we and mid-century modern architect buffs are especially loving this year: Docomomo's 2021 Northwest Michigan Driving Tour, masterminded by Jacqueline Shinners and Susan Bandes, members and Northwest Michigan chairs of the Michigan chapter of Docomomo, aka the International Committee for Documentation and Conservation of Buildings, Sites, and Neighborhoods of the Modern Movement, founded in the Netherlands in 1988.
The tour they've crafted highlights dozens of Up North homes, churches, schools, and other buildings that exemplify mid-century chic — and the many local architects who brought the innovative style to our rural and small-town-dotted region in the '50s, '60s, and '70s.
If you're looking for a reason to road trip before the gales of November sweep those leaves away, you can choose any or all of three self-guided, pre-planned loops in Traverse City — or craft your own from the multi-county assortment of gems suggested at www.docomomo-mi.org/tourday/traversecity.

Here, a sampling of what awaits: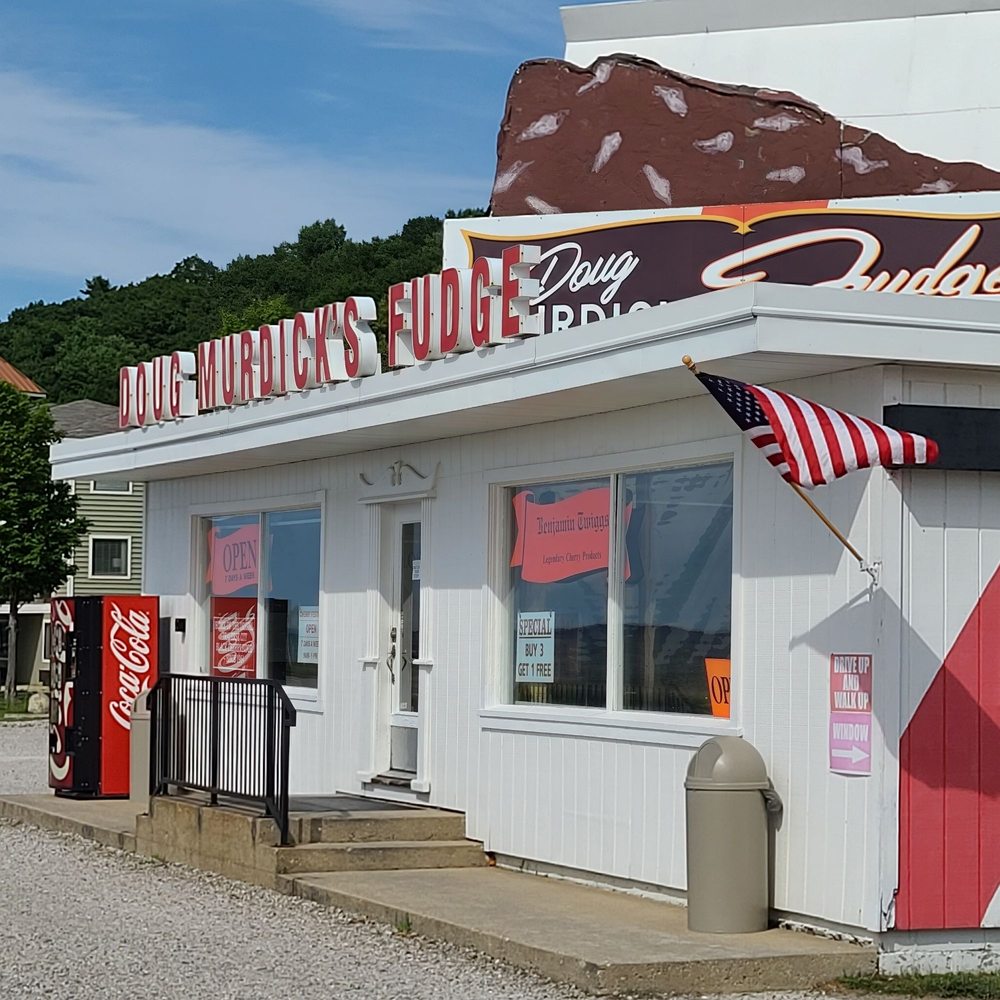 Doug Murdick's Fudge
4500 US-31, Acme
Perhaps it was the Murdick family that put fudge on the Michigan map. The original family of fudge makers sold a fudge noted for its unduplicated creaminess. Their descendent Doug Murdick opened his first store in downtown Traverse City in 1964. In 1965 he opened a second location on East Bay (shown here), selling the same delicious fudge, in a small building along the highway recognized from a distance by its "rooftop box of fudge."

Although a September 2018 fire, which started in the basement and blazed up under the floors and into the structure's walls, threatened the iconic 60s-era roadside stand, only the post-fire smoke-scented fudge was a total loss. The shop is still in operation today, and — hint — Murdick's seasonal pumpkin fudge is available until the end of November.

Round's Restaurant
1033 East Eighth St., Traverse City
Originally called Round's Circle Inn Restaurant, this 1948 low, one-story structure located in what was once known as Eastfield District, has retained its original exterior with minimal change. The door was moved to the center, and the stone brick wall was raised to create a semicircular garden bed. The building is distinguished by its semi-circular extension and echoes the circular shape of the signage in reference to the original owners, William and Mary Round. Today it is most noted for an all-day breakfast specializing in homemade velvet corned beef hash.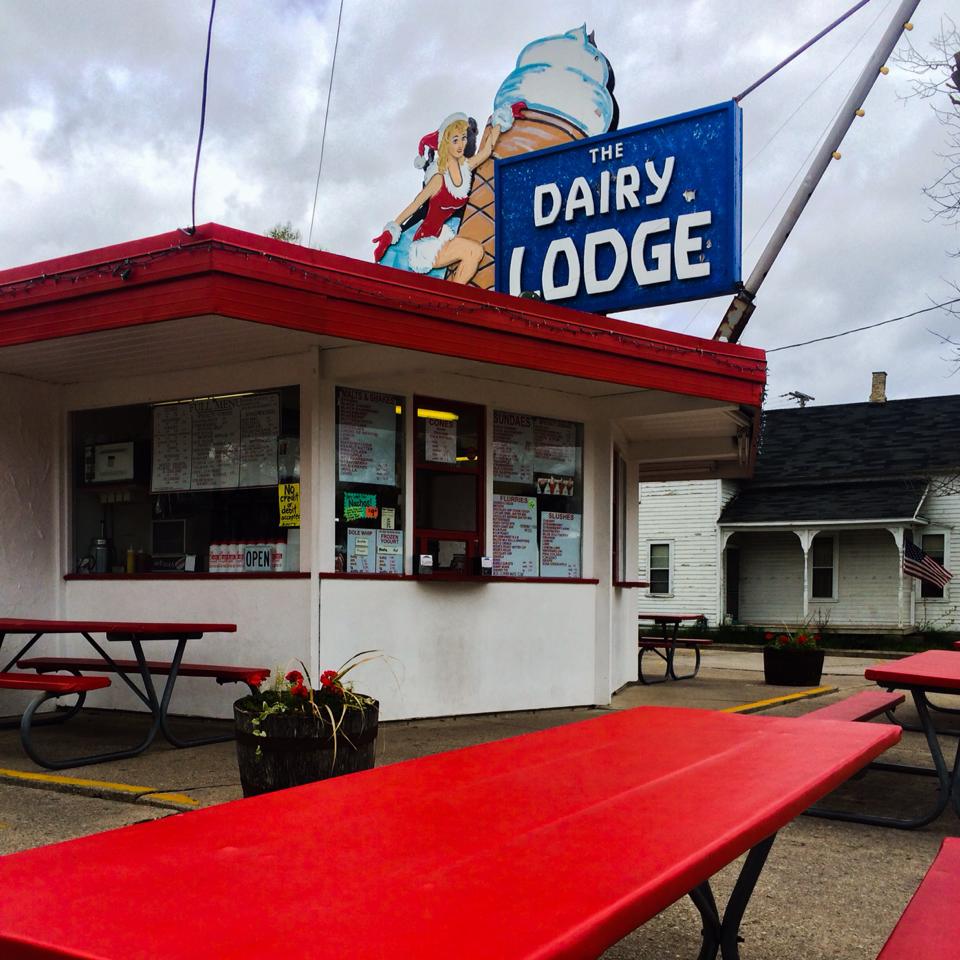 The Dairy Lodge
405 North Division St., Traverse City
While everything else around this small, square 1959 building has changed or been razed, the Dairy Lodge has stayed the same. It serves as a prime example of now-vanishing roadside architecture that once symbolized a growing America when the automobile and new roads on which to explore this vast country reigned. It is easily recognized by its iconic image of a woman with blond hair on one side and brown hair on the other, wearing a Santa cap, in front of an igloo, riding an ice cream cone.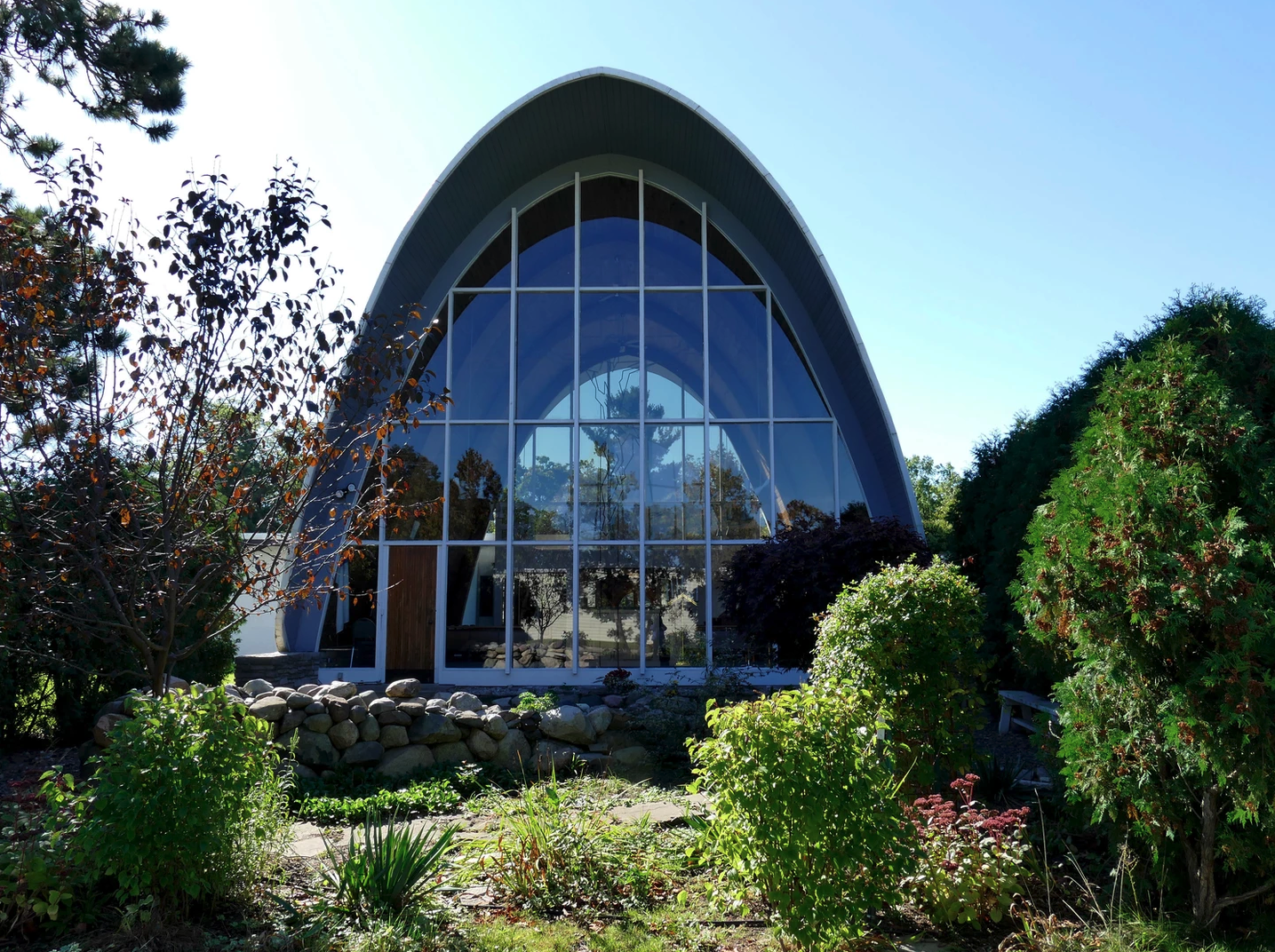 St. Michael's Lutheran Church
912 S. Garfield Ave., Traverse City
By Orus O. Eash, Bauer & Eash, 1955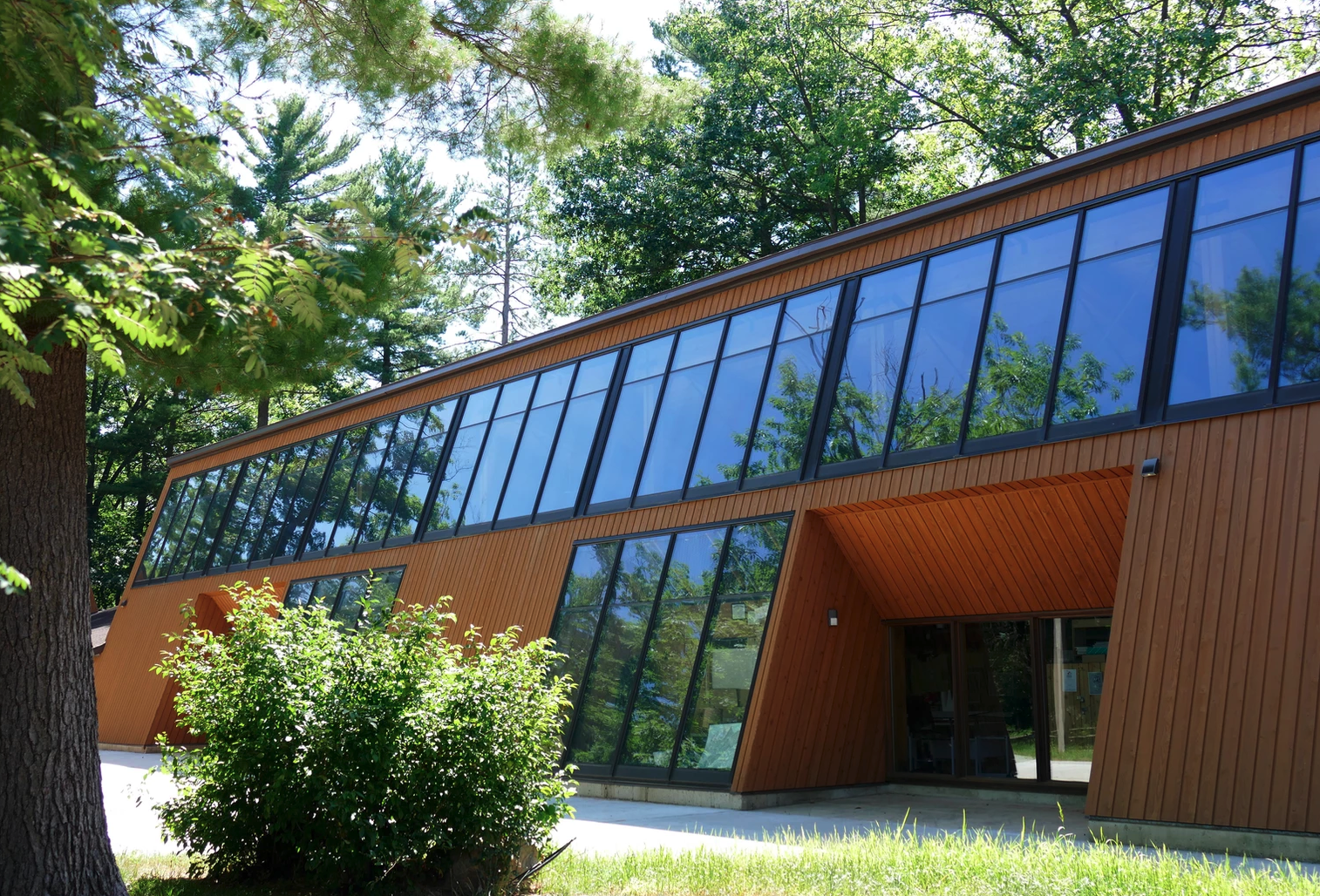 Shirley S. Okerstrom Fine Arts Building
1701 E. Front St., Traverse City
By Norman Fletcher, The Architects Collaborative
When Northwestern Michigan College was founded in 1951, it operated out of the Cherry Capital Airport Terminal building until 1955 when it moved to its present location, a 100-acre campus under a grove of magnificent and stately white pines. The first campus building was completed in 1955 and served as the administration building. A few buildings, namely the gymnasium and old library, retain their original style of architecture.
The most notable [NMC] campus building, however, is the mid-century modern Shirley S. Okerstrom Fine Arts building, completed in 1971. It was designed by The Architects Collaborative, a firm established by Bauhaus founder Walter Gropius, and seven young architects in Cambridge, Massachusetts, in 1945. A departure from the typical campus architecture of the time, this building was to reflect ideals and principles of creating art in a space unencumbered by constraining classrooms. The asymmetric architectural design is distinguished by its alternating sloping walls of cedar and glass.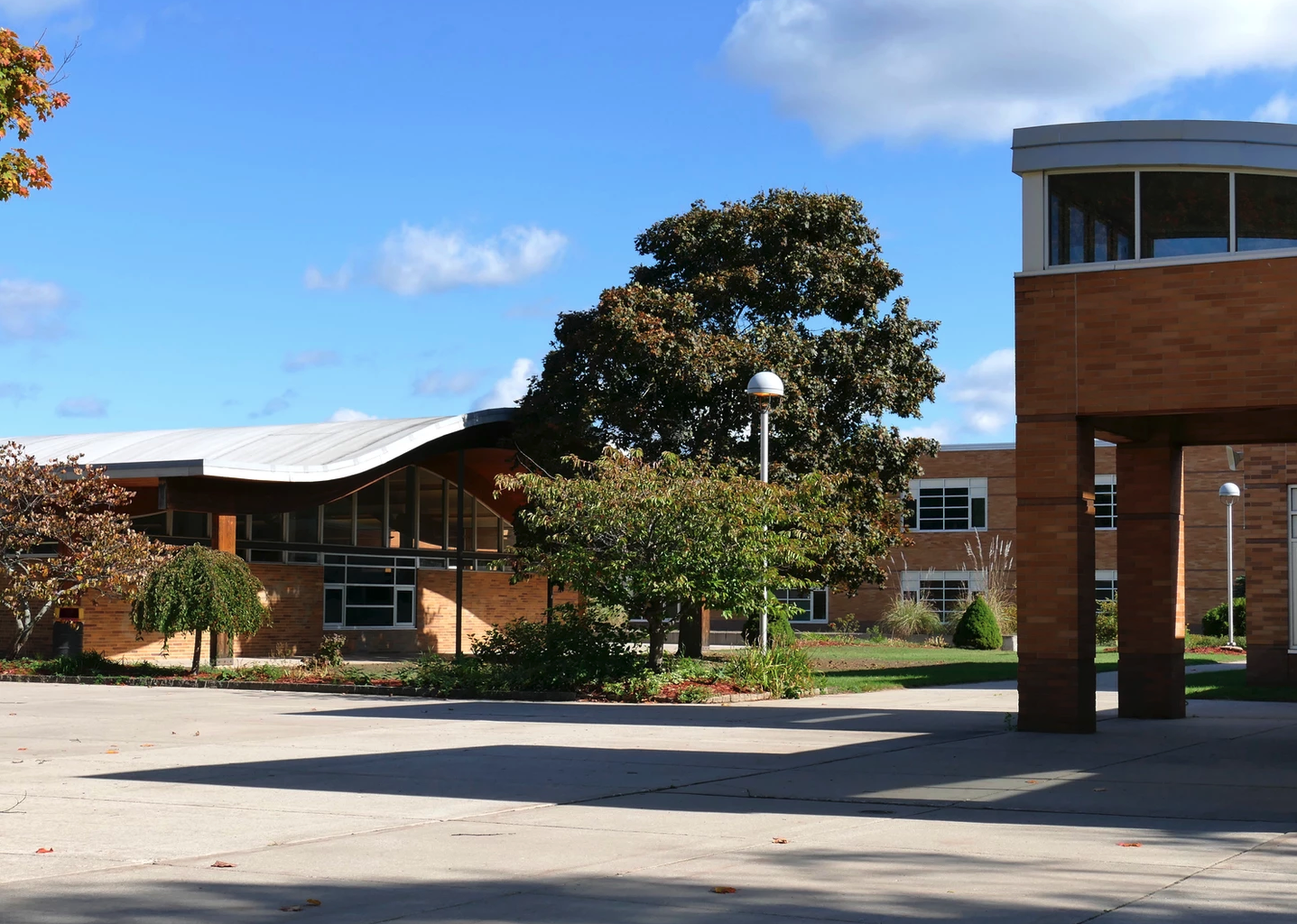 Traverse City Central High School
1150 Milliken Dr., Traverse City
By Gordon Cornwell, Cornwell & Associates, 1959
Recipient of West Michigan Chapter AIA, 1st Place Award 1959
Set within an open campus, the classrooms, gymnasium, and library of what was then known as Traverse City Senior High School were all housed in separate, one-story buildings. At the time, it was rather unusual for a high school in a northern climate to have such a setting. Gordon Cornwell, one of Traverse City's most prolific architects, was also responsible for the junior high school, set high on a hill overlooking the city. Different from the high school, the junior high was built as a one-story series of connected buildings.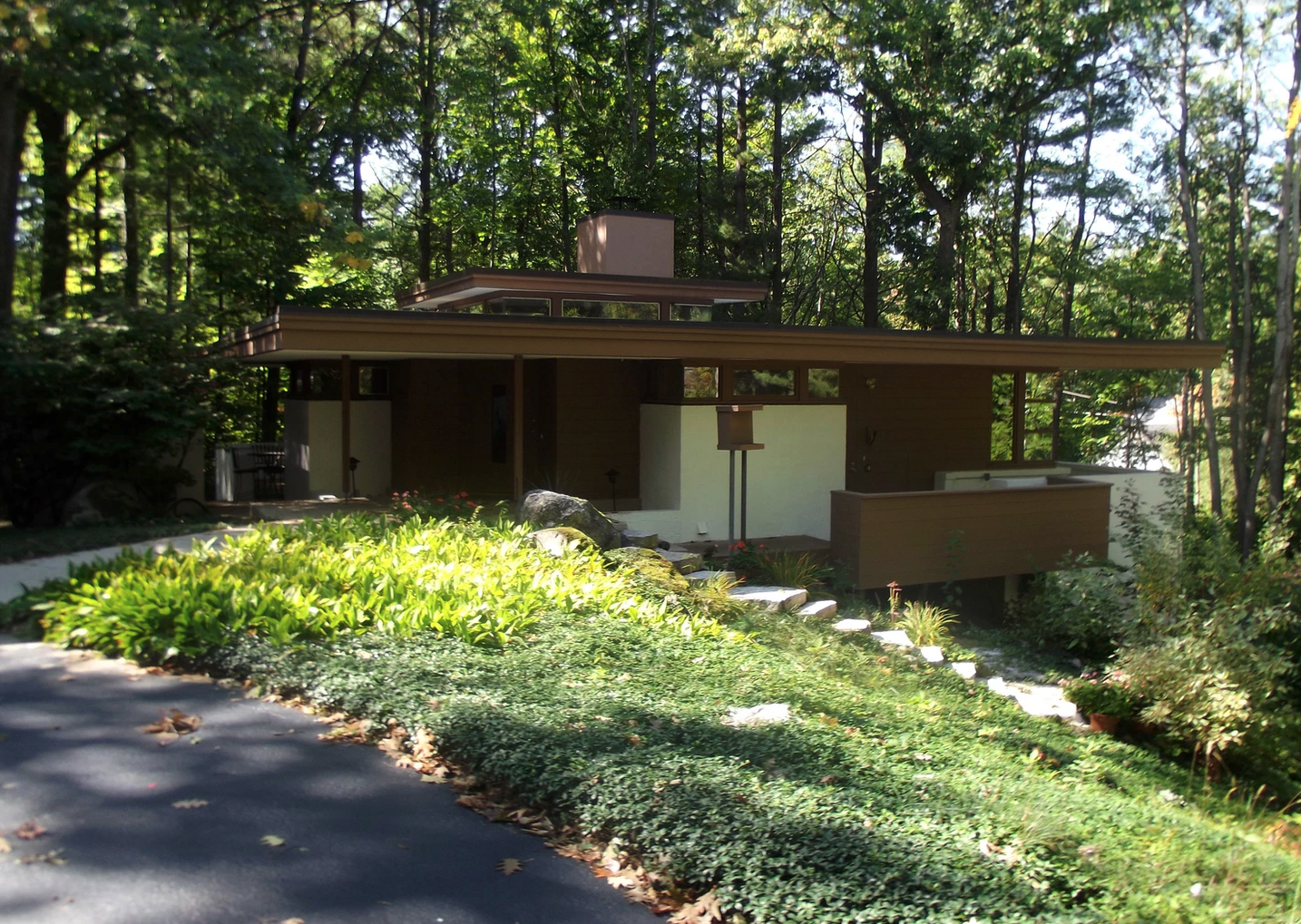 Private Residence
2018 Timberlane, Traverse City
By Donald Bouschor, Gordon Cornwell & Associates, 1966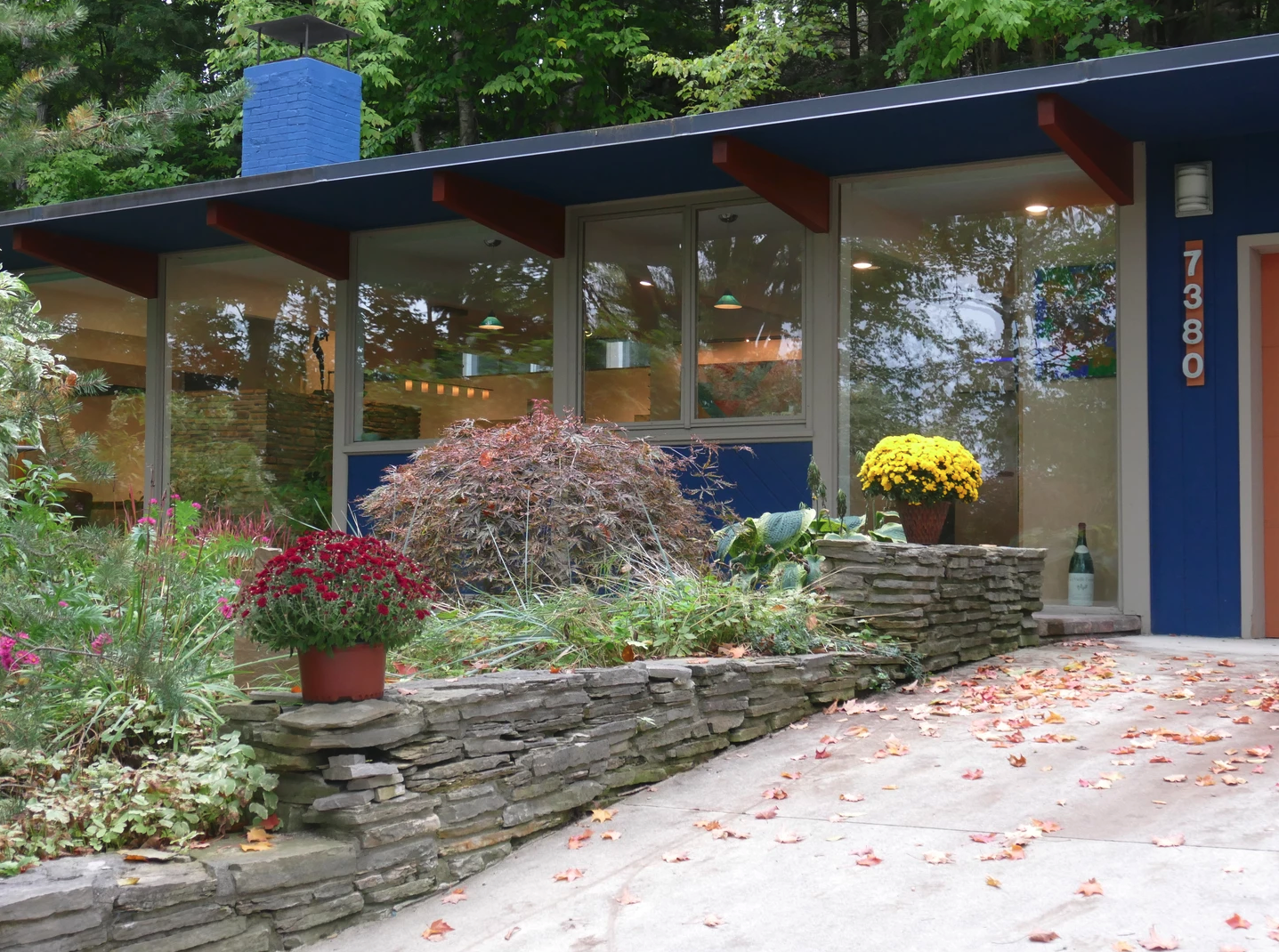 Private Residence
7380 Maple Terrace, Traverse City
Architect unknown, 1955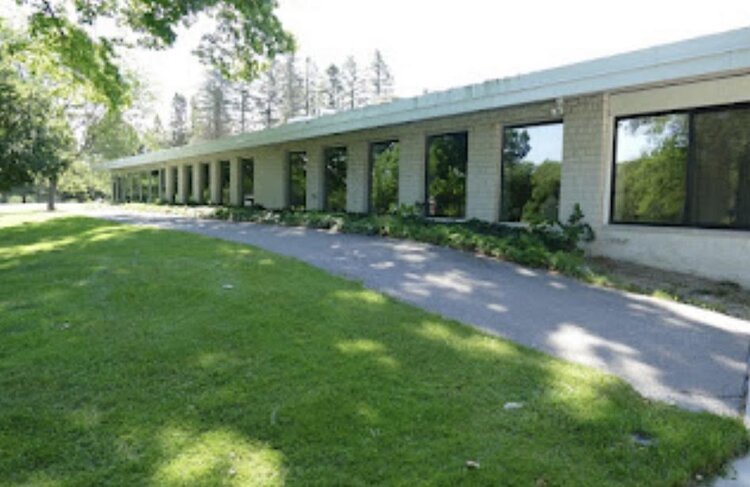 Interlochen Golf Course Restaurant & Pro Shop
10586 US-31, Interlochen
A great way to spend an afternoon is on the beautiful Interlochen Golf Course, built in 1965. Bradley's Pub and Grille makes up the majority of interior space with a dining area, kitchen, bar, and pro shop. Although somewhat altered, the original open-spaced dining area and pro shop have been retained.

Interlochen Center for the Arts
4000 J Maddy Parkway
Nationally renowned architect Alden B. Dow was responsible for the initial campus layout and designed over a dozen structures utilizing indigenous stone, wood, and poured concrete block. Of particular interest are his three domed classrooms for the sciences, language arts, and library, which radiate from an enclosed and heated concourse that served all three buildings.
Photo courtesy Alden B. Dow Home and Studio

The Lakeview Resort, Shanty Creek
5780 Shanty Creek Rd., Bellaire
Shanty Creek Resort, Bellaire Shanty Creek Resort, a mid-century modern gem, is set on 4500 acres of pristine beauty overlooking Lake Bellaire. It is comprised of four separate and distinct villages: Summit Village, Cedar Village, Hawk's Eye Village, and Schuss Mountain, each offering slightly different lodging, dining, and recreational opportunities. The Lodge at Shanty Creek, a streamlined timber, stone, and glass building designed by architect H. Jack Begrow. Today, the lodge is called The Lakeview Hotel and Conference Center.
PLEASE & THANK YOU
However you tackle your tour, please keep in mind that any private residences and non-public sites highlighted on the tour are for exterior viewing from the road only, and check the websites of any public sites for current hours.

Special thanks to Docomomo – Michigan and northwest Michigan Docomomo chairs Jacqueline Shinners and Susan Bandes, who provided the photos and site descriptions featured in this story.
Trending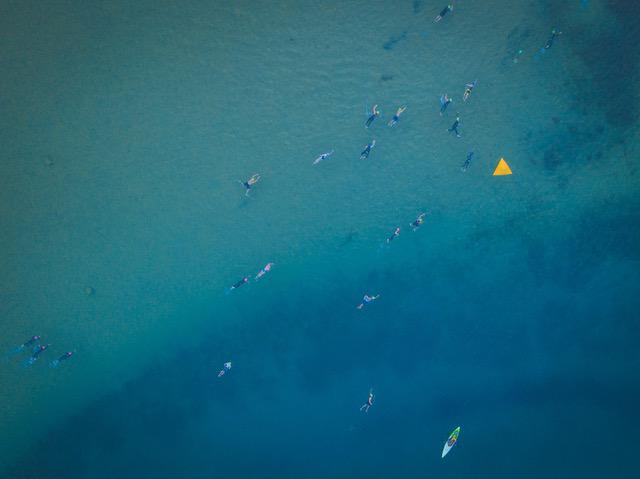 Swim, Bike, and Run in TC
The Traverse City Triathlon is back on Sunday, Aug. 21, with Olympic and sprint-distance races beginning in Bowers Harbor ...
Read More >>
Forty+ Years of Fabulous Art
Frankfort may be a sleepy town come winter, but in the summer, the little spot on the water is hopping. And for 46 years, ...
Read More >>
The Past in Motion
Where can you find 1,000 tractors? What about 600 antique engines? Dozens more old and cool cars and trucks? This weekend,...
Read More >>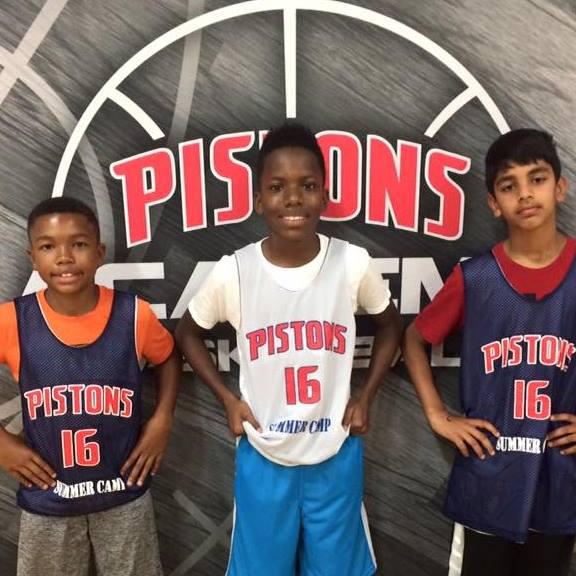 De-troit Basketball!
Is the next point guard for the Detroit Pistons living under your roof? Or do you just want to get your kiddo out of the d...
Read More >>