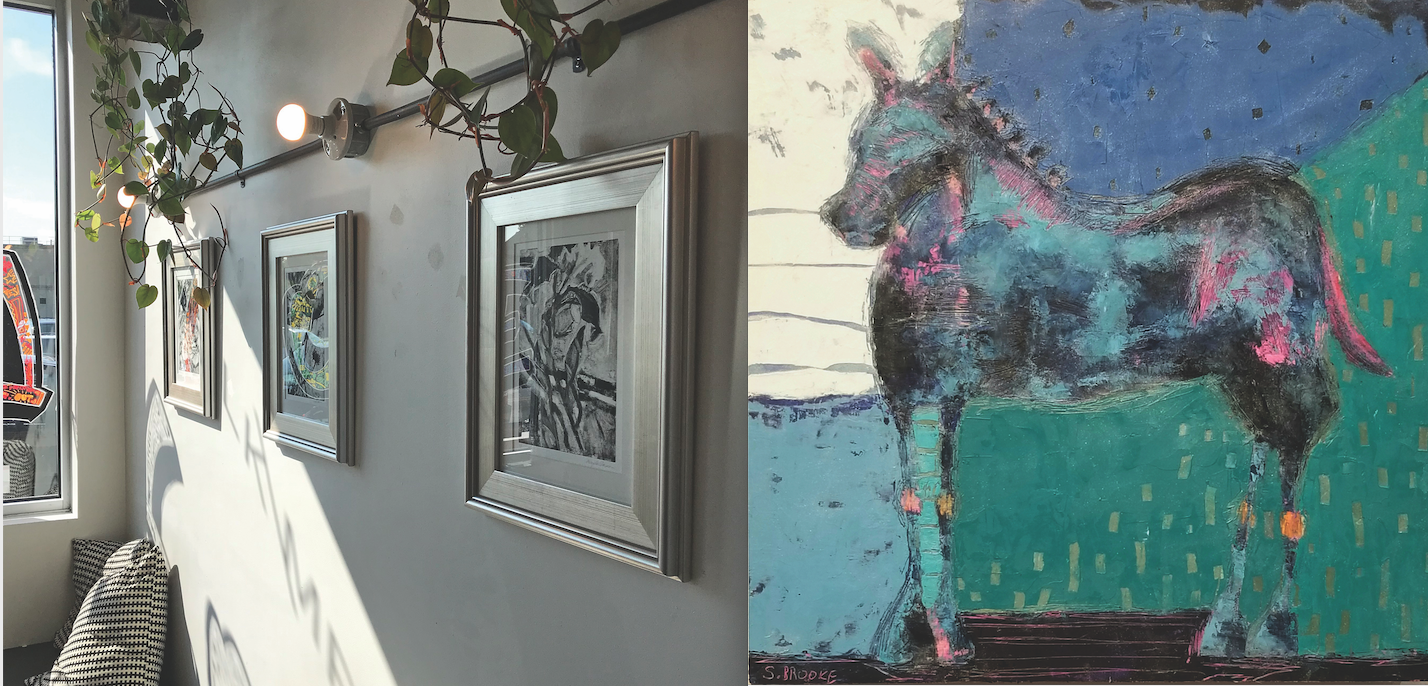 Art & Joe
Are coffeehouses the modern day artist's patron?
How many people enter an art gallery each day? Is that number greater or smaller than the number of patrons who visit a coffee shop?

Carol Spaulding knows the answer. That's why she her friend and fellow artist Angela Saxon create a monthly art show at BLK\MRKT in Traverse City's Warehouse District. Within the cozy confines of the coffee shop, the walls showcase art by a variety of visual artists, typically a different one each month.

"It started like a pop-up gallery," said Spaulding. That was a couple years ago, when artist Richard Kooyman was running it. It's since evolved into a carefully curated rotating exhibit, one that adds to the coffee shop's ambience but doesn't disturb its customers.
"Gallery owners have to get people in," said Spaulding. "It [BLK\MRKT] has built-in patrons."

Beyond the continuous stream of people, exhibiting art in a non-gallery setting is refreshing; it brings art to people who might not otherwise seek it out. Added Saxon, "I think it's nice for people to experience art in other places," added Saxon.

There are some challenges. Because one wall of BLK\MRKT is almost fully taken up with windows the open to the street, another wall has shelves, and there are two entrances — one the main entrance, and the other connecting to the lush plant and floral shop Darling Botanical next door — there is not a lot of room for art or anything else.

But that challenge has become a benefit. It affords artists the opportunity to create or show pieces on a more intimate scale than usual.

For example, Joan Richmond is best known for her sublime landscape paintings. But December's show focused on the original abstract paintings of Madonna and Child she creates every winter for her holiday card.
EVOLUTION
Spaulding and Saxon first collaborated on their own art projects. They passed their artistic creations back and forth for the other to modify as the other saw fit. Handing off a creation to someone else with no rules as to what she can or cannot do to it takes great faith in the other — and a willingness to see their own efforts changed, sometimes even destroyed in the creation of new art.

That they managed to do that while remaining friends and respectful of one another as artists convinced them they should work together again. This was a way to continue their collaborative artistic efforts on another front. "We realized how well we work together," said Saxon.

They've since added a third element to their BLK\MRKT project: Northwestern Michigan College professor Jackie Shinners interviews each artist and provides an in-depth perspective of the exhibition, which is shown at the gallery and promoted on social media, making the art and its artists more accessible and contextual for any viewer.
"Part of having Jackie involved is to step up the educational aspect. She's well qualified to do that," said Spaulding.
COMING SHOWS
The January show features landscapes of Traverse City in oils by Claud Mills.

"Must Love Blue," where 10 different artists focus on and interpret the color blue, will exhibit in February and March. Artists include Saxon and Spaulding, as well as Kooyman, Richmond, Shanny Brooke, Margo Burian, Royce Deans, Melanie Parke, Lynn Uhlmann, and Harvey Gordon.

April's artist will be Rochelle Stark; May, Susan Thompson; Spencer McQueen/William Riker in July; Denise Samuels in October; Tim Nielsen in November; and Micah Middaugh in December. Korson curates the show in June, while Spaulding has August and Saxon is featured in September. The two take no money from Korson or the artists, so having their own art on exhibit is their only compensation.

Each show has an opening reception. "It's a gathering time, a time to meet the artist. It's after coffee-shop hours," said Spaulding. And each show is open whenever the coffee shop is: Monday through Saturday from 7am to 5pm and Sundays from 9 to 3.

Catching the Buzz
On the other end of town, Morsels Espresso + Eatables is showcasing the art of Michael Barile Jr. Morsels owner Misha Neidorfler said Barile is the father of one of her best friends, whose own art was shown at the coffeeshop last year. It decorates the walls of the shop at 321 E. Front.

That is not the only art on display. Neidorfler has begun a new program, bringing in local artists to decorate, not the shop's walls, but its merchandise. First up was local artist and illustrator Ryan Lee. "I asked him to create something with the [Morsels] brand. He draws comics, and creates these crazy characters, really cool stuff," Neidorfler said.

Lee offered her six different characters, and she chose two. One is on a hoodie, the other on a mug. "We sell them pretty well. They're both original designs."

Neidorfler said she anticipates switching out artists two or more times a year. It just depends on how quickly the merchandise sells.

In Frankfort, Chris Mekas, who owns the Petals and Perks with his wife, Victoria, said he's happy to provide art for customers to look at and purchase. His shop displays works on the walls, as well as pottery, paintings on driftwood — a variety of works and media.

"We've been doing it since we opened in 2013," said Mekas. He said any artists are welcome to stop in to see if they want to take advantage of the display space. Mekas said he sells the work on a 50/50 basis.

In Gaylord, Lady Latte is an offshoot of Crossroads Industries, the non-profit providing opportunities for adults with disabilities. It has one whole wall displaying works by local artists, many of which were created by employees of the shop. "We work with them, train them with employment skills," said Elizabeth Palmer, of Lady Latte's client employees.

Some of those artworks were created next door. While the shop is both a coffeeshop and retail market, it is connected to Studio 45, an art studio. It too is open for both adults with disabilities and the general public, who can take classes and create artwork. "Anybody can come in and do art," said Palmer, who manages the coffeeshop.

Art is sold on a 70/30 percent breakdown, with the artist receiving the larger share and the rest going back to Crossroad Industries.
Trending
Pronouns 101
My first assignment in an online graduate-level class was to provide information about my background, including my pronoun...
Read More >>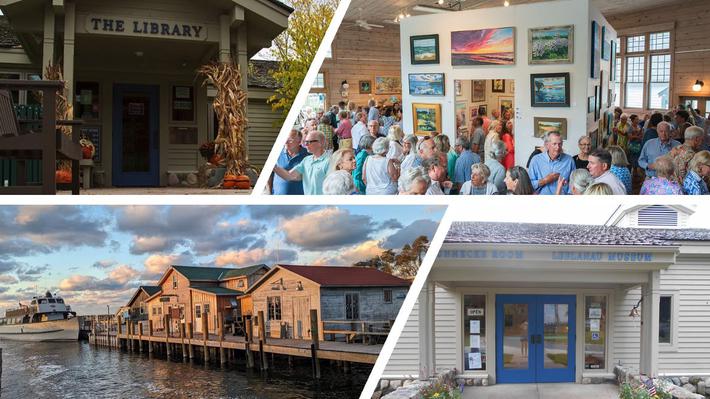 Collaboration Is the Name of the Game
How long does it take to create a cultural center? As few as three years, or as many as 170. Sometimes both. The organiza...
Read More >>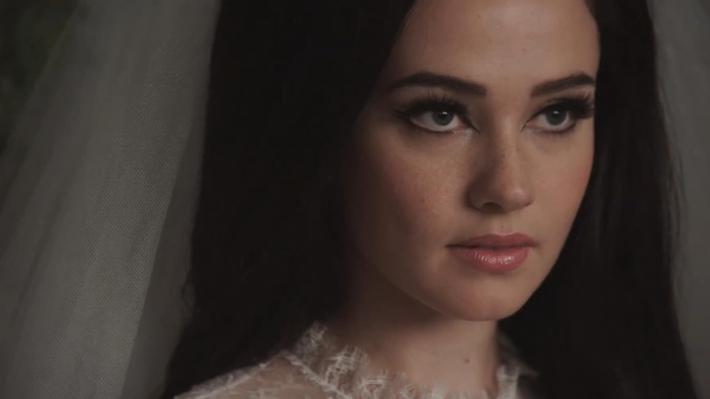 Film Review: Priscilla
While you will certainly be mesmerized by the haunting lead performance from newcomer Cailee Spaeny—and be impressed...
Read More >>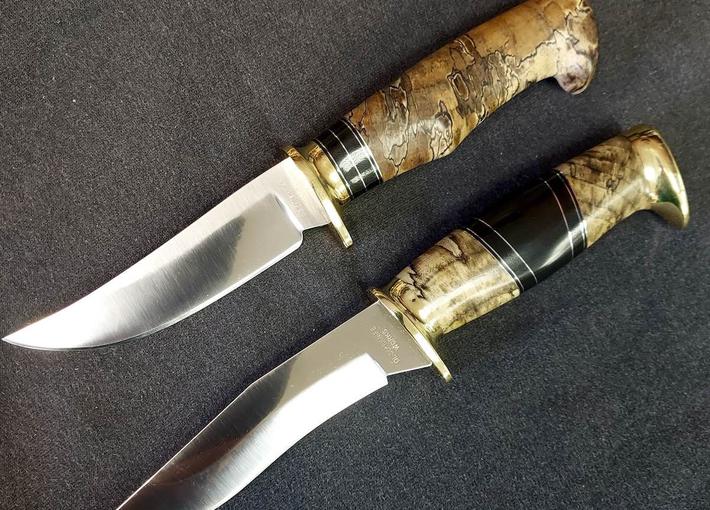 Bespoke Blades
What do you do with a battered ice skate, an old rubber puck, a cracked hockey stick, and a gob of tape? Pitch 'em, ...
Read More >>