Behind the Chefs: What They Cook at Home
Feb. 22, 2015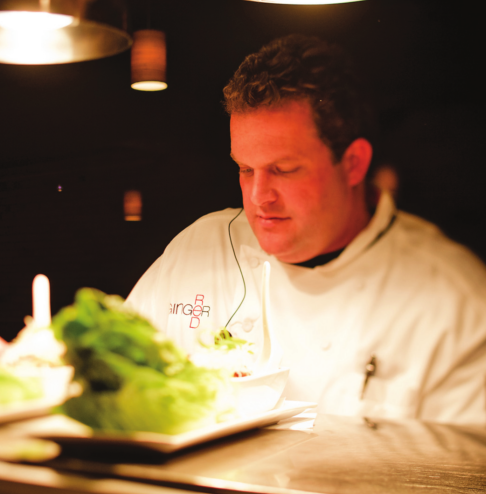 CHEF: Dan Marsh

Red Ginger in Traverse City
Where He Cooks When He's Not On The Job: You can usually find Marsh either in front of his home induction range or camping with his wife Pam and two English bulldogs Phoebe and Henry.
Cooking Style: "If I'm cooking for friends and family, I'm likely preparing something simple like braised pork shoulder, roast chicken or steamed crab, so I can spend more time with my guests and less time in the kitchen."
Breakfast Pick: Marsh has a hobby farm with chickens, so he eats a lot of eggs. "I make an omelette with spinach, feta and chorizo every morning, seven days a week, religiously –and an extra large dark roast coffee as I'm headed out the door."
Favorite Go-To Ingredient: "It's not one ingredient, but three ingredients combined together, so it's really a go-to sauce (see recipe below). I use it on everything."
Favorite Thing He Cooks at Home: "Unless I'm working on a new item for the restaurant, I rarely cook Asian food at home. My pizza stone, however, gets a lot of use. I keep preportioned dough in the freezer and always have San Marzano tomatoes, fresh moz zarella and fresh basil on hand. I never get tired of it."
Quick Recipe: Soy-Vin: "This is my favorite sauce and it's so versatile! Use it as a marinade for beef or chicken, as a dipping sauce for steamed dumplings or grilled mushrooms, and it's delicious on roast potatoes."
Combine 1 cup plain rice vinegar, 1 cup sesame oil (preferably Kadoya brand) and 1/2 cup organic tamari in a stainless steel mixing bowl or squeeze bottle. Stir/shake to combine and reserve until you're ready to use.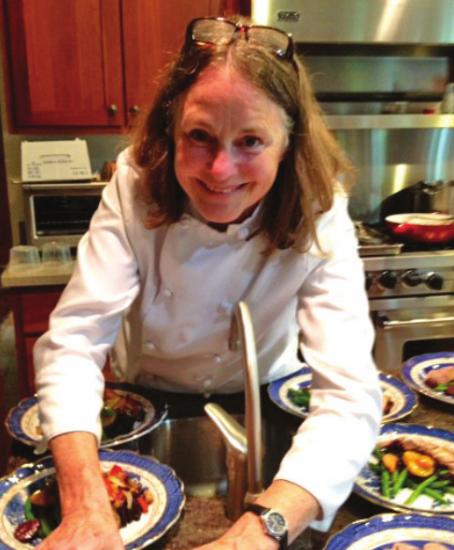 CHEF: Nancy Kelly

Nancy Kelly's Restaurant in Pellston
Where She Cooks When She's Not On The Job: Kelly's favorite retreat is her farm near Cross Village.
Cooking Style: "I love to cook for a crowd! I grew up in a family of 11, so it comes naturally. We get together and cook. And whenever I return to Paris, France to visit old friends, I am immediately disposed to the kitchen to help prepare the feast."
Breakfast Pick: Steel-cut oatmeal with cinnamon and dried cranberries and toast with warm bananas and honey.
Favorite Go-To Ingredient: "I love my lovage (a plant that can be used as a seasoning, a salad ingredient, or root vegetable)! I grow it on my farm and at my work kitchen. It has phenomenal flavor and goes with beef, chicken, beans and pasta."
Favorite Thing She Cooks at Home: "I like to have French lentils ready because they are so healthy. I love to mix them with arugula, avocado and tomatoes, dressed with sherry wine vinegar and olive oil."
Quick Recipe: Spaghetti alle Vongole "It's my latest treat to myself. It's super easy, fast and delish!"
Boil 9 ounces spaghetti or linguine with 1 tablespoon salt. Cook until al dente. While pasta is boiling, heat 2 tablespoons olive oil on medium heat, add 2 cloves of minced garlic and 2 small, dried hot peppers, and cook to soften. Add 1/2 cup white wine, 1 cup clam juice and 2 pounds Manila clams. Cover and cook until the clams have opened. Drain pasta and toss with the clams and a bit of the cooking liquid. Season with parsley, salt and pepper.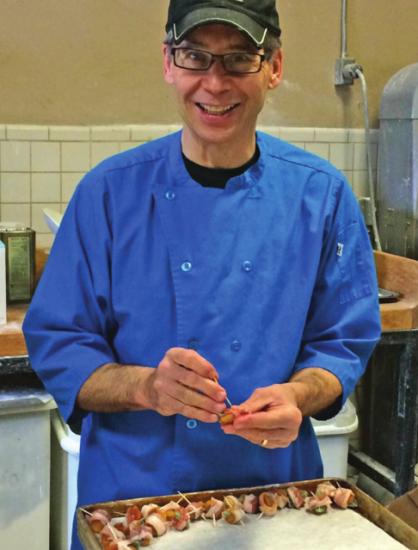 CHEF: Brian Williams

The Blue Heron Cafe in Cadillac
Where He Cooks When He's Not On The Job: "I have a gas range, like most people do, but in the winter we actually cook loads of stuff in the crock pot. They're more versatile and cook better than most people realize."
Cooking Style: "We already take a very health conscious approach at the restaurant, so we try to do that even more at home. We buy all local, grass-fed meats and cook lots of vegetarian food and Indian food."
Breakfast Pick: The Blue Heron's own multigrain cereal of barley, wheat, spelt and oats, every single day. "I get made fun of for it, but it's the only great habit I've got. And I don't vary it, ever, except for toppings – sometimes cinnamon, sometimes golden raisins and pepitas."
Favorite Go-To Ingredient: "Obnoxious amounts of fresh ginger. It's said to be one of those miracle foods, but the reality is that I just like it."
Favorite Thing He Cooks at Home: Lamb shanks, braised in a pan, covered in a sautéed mix of onions, garlic and tomato, and then roasted for 4-5 hours in the oven. "With these, simple is better."
Quick Recipe: Grilled Chocolate-Cheese Sandwich: "This sandwich is great because you can change it up however you'd like – with sweeter chocolate, more chocolate or extra ingredients like ginger or finelychopped jalapenos."
Put aside equal parts 70 or 80 percent dark chocolate and mascarpone cheese. Melt the chocolate in a microwave or double boiler and then slowly fold it into the cheese with a mixer. Apply chocolate-cheese mix thickly between two slices of sourdough bread and grill both sides until golden brown.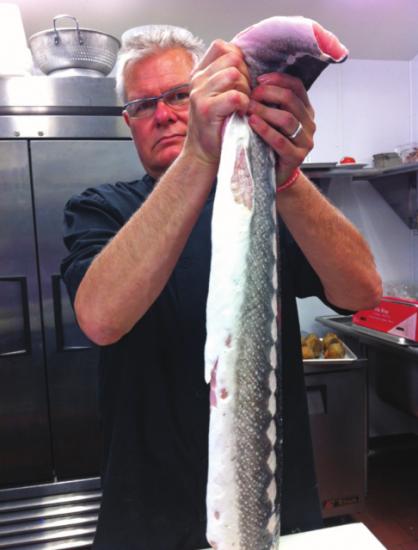 CHEF: Robert Stark

The Depot Club & Restaurant in Harbor Springs
Where He Cooks When He's Not On The Job: "Other than preparing family meals at home, I can only wish!"
Cooking Style: "I'm all in on the farm-to-table thing. It just makes total sense to know how your food is grown and where. We always enjoy tons of fresh steamed veggies, a healthy starch and a grilled protein. In season, we'll shop the farmers markets anywhere we can."
Breakfast Pick: "This is an easy call. I'm absolutely hooked on toasted English Muffin Bread from My Sister's Bake Shop in Harbor Springs."
Favorite Go-To Ingredient: Fresh herbs. "They instantly add depth of flavor. At home we have a hydroponic AeroGarden, which is very cool."
Favorite Thing He Cooks at Home: Breakfast, which revolves around the use of fresh eggs from the Starks' own chickens. A favorite is an omelette with broccoli, caramelized sweet onions, asparagus, colby-jack cheese and those fresh herbs. "It's a blast coming up with new and exciting egg dishes just using leftovers from the fridge."
Quick Recipe: Kale Salad with Marcona Almonds: Topped with Stark's recommended sherry vinaigrette dressing, this salad is eclectic, fresh and full of flavor.
Take 1 pound of assorted organic kale and various lettuces (Tuscan, Red Russian, Curly and Lacianto) and tear into small pieces. Add 1/2 cup dried cranberries, 1/2 cup chopped Marcona almonds and 1/2 cup pomegranate seeds. Toss all ingredients with vinaigrette and garnish with orange segments.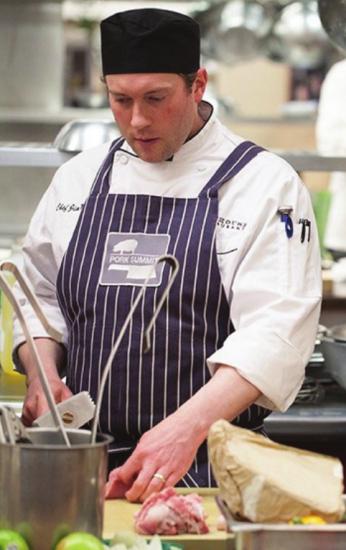 CHEF: Jim Morse

The Boathouse Restaurant on the Old Mission Peninsula
Where He Cooks When He's Not On The Job: "At my house on the east side of Traverse City – I hesitate to say on an electric stove! It's not what a chef prefers, but you learn to adapt."
Cooking Style: "You eat a lot of rich food working at a restaurant, so at home I cook pretty simply. My wife is mostly vegetarian, so that convinces me that I need to be more healthy, too."
Breakfast Pick: Greek yogurt with granola from Oryana Natural Foods Market in Traverse City, garnished with chopped apples and agave syrup.
Favorite Go-To Ingredient: "Eggs. You can do a lot with eggs for any meal: breakfast, lunch or dinner. They're cheap, versatile, always around and have plenty of protein."
Favorite Thing He Cooks at Home: "Most Monday nights I cook Mexican. It's another good option for vegetarians and it never gets boring – you can always add in new flavors. I particularly like to use whole kernel hominy, which works great for enchiladas."
Quick Recipe: Three Sisters Enchiladas: "Speaking of Mexican food, these are great served with hot sauce and extra salsa, plus guacamole and tortilla chips as an accompaniment."
Sautee 1 diced medium yellow onion with 4 cloves of thin-sliced garlic, 2 teaspoons cumin seed and 1 tablespoon chili powder. Add 1 peeled, diced butternut squash and cook until squash is softened. Add 2 cups each precooked hominy, pinto beans and brown rice, and season with salt and additional chili powder. Let cool slightly and roll into 4 corn tortillas. Place in baking dish, cover with shredded cheese and salsa, and bake until cheese melts.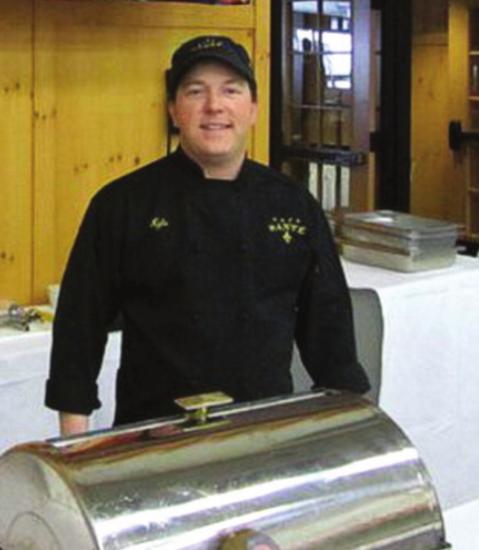 CHEF: Kyle Marshall

Cafe Sante in Boyne City
Where He Cooks When He's Not On The Job: "I actually have a wood-fired grill at home that I love to cook on."
Cooking Style: Marshall feels that cooking solo can spur inspiration. "I can get more creative when I'm cooking by myself. I give myself carte blanche to try ideas I've always wanted to try."
Breakfast Pick: "I'm a sucker for a breakfast scramble. I'll usually have the guys at the restaurant fry some of the restaurant's own sausages and a couple of eggs into a big mess for me, and I'm off and running."
Favorite Go-To Ingredient: Fresh produce. "It's pretty much the staple. It's important to eat healthy and I love using what's available right here in northern Michigan, even in the winter. It's fantastic."
Favorite Thing He Cooks at Home: "If I'm not cooking, I'm fishing, so I'd have to say walleye, although I'm famous for never preparing it the same way twice! Bake it, fry it, grill it – but I do use cornmeal for breading."
Quick Recipe: Honey-Mustard Butter Sauce: "This goes extremely well over salmon, rainbow trout or steelhead trout."
Soften 1 stick of butter and add 2 tablespoons of honey, 2 tablespoons spicy brown mustard, and salt and pepper. Whisk together in a bowl and put on freshly-grilled fish.
Trending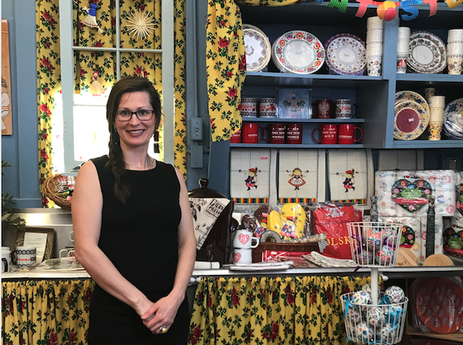 Straight Outta Hamtramck
There it stands, in downtown Cedar: The Polish Art Center. Some paintings of the Old Country probably, maybe some Polish p...
Read More >>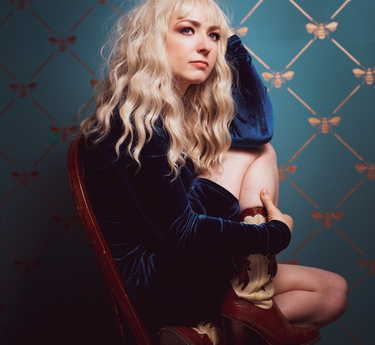 The Queen of Underground Country Returns
The last time Rachel Brooke released a full-length solo album, things looked very different — both in the northern M...
Read More >>
Patience Required
It's going to be a very long election night. Voter fraud will have nothing to do with it. Every state has some form of ea...
Read More >>
The Long Goodbye
Last week, President Trump sowed confusion within his government — and amongst our allies — by tweeting t...
Read More >>
↑