The Heart and Soul of Elizabeth Paxson
Aug. 27, 2015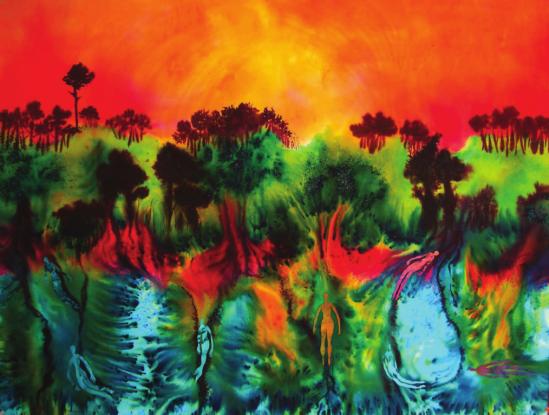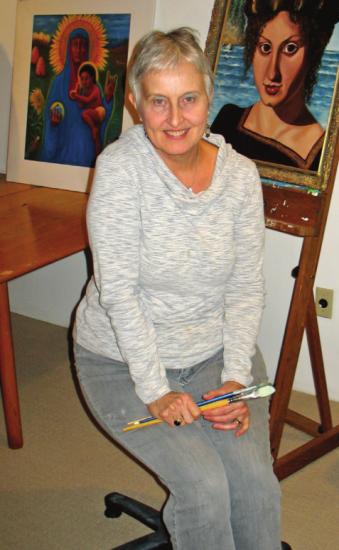 Elizabeth Paxson was born into an artistic, creative family and that fertile home environment set the Traverse City artist on a path that led to her active pursuits of creative expressions through painting, sculpture, jewelry making and poetry.
"My parents were both artists who met at the Art Institute of Chicago, where my dad won a fellowship to travel Europe in 1937," said Paxson. "My mother was a ballerina. She toured with the San Carlo Opera Ballet by train all over the U.S. and Canada during the depression – gave it up to marry my dad, but she was also a talented artist. Our house was full of art and art books. I have a brother who is an inventor and a sister who is an artist in Saugatuck. My dad died in a plane crash when I was three, so his art was my only way of knowing and remembering him."
Paxson's paintings vibrate with vivid color and evocative imagery, like her 2012 ArtPrize entry "Sacred Hive," an installation of more than a dozen sculptures of fiber, wood, clay and other items, plus an oil painting and innovative lighting and sound. It was a tribute to the honey bee.
Most recently, Paxson designed the colorful new entryway for the Michigan Artists Gallery on Front Street in Traverse City. She's also working on a poetry book by writing a poem a day for 365 days.
HOW I GOT STARTED

I grew up in St. Joseph. When I was 14, I heard about Interlochen Arts Academy from a friend and decided I wanted to go. It was the best decision I ever made. I got a scholarship and spent three years there, graduating with the Young Artist's Award in 1969. It really transformed my life to be in an environment of artistic support, surrounded by others like myself.
THE STORY BEHIND MY ART, MY INSPIRATION

I have experimented in many mediums, switching back and forth in cycles. I decided as an adult that I must have Attention Deficit Disorder, since it was hard for me to maintain focus in one area. I am also a poet and writer, and have been a singer, and all these things have informed my work. I struggled with illness as a teen and later, and it gave me a deep appreciation for the inner journey, the stories and struggles we all share as human beings.
I am deeply connected to nature and need the solitude, beauty and space it provides in order to create. I love living here, near the water, in this magical place.
WORK I'M MOST PROUD OF
Generally, whatever I'm doing now. I don't feel so much pride, but gratification, when I make something that pleases me and that others find moving in some way. I recently designed the entry arch for Michigan Artists Gallery and it tickles me every time I drive by on Front Street. When someone tells me the work has moved them, that is most gratifying.
YOU WON'T BELIEVE

That it's possible to manifest anything — if you have a vision and are clear about it. Also, I did some folk singing and organized concerts and shows for a few years. That was fun.
MY FAVORITE ARTIST

Hard to pick a favorite! Giotto, Vermeer, Peter Breughel the Elder, Freda Khalo, Georgia O'Keefe, Picasso, Paul Klee, Marc Chagall, Alexander Calder, Van Gogh, Matisse, Monet, Remedios Varo, Käthe Kollwitz, Louise Nevelson, Judy Chicago, Faith Ringold. Too many wonders out there. I love tribal and native art, ancient art and environmental art. Andy Goldsworthy and other new artists are just doing astounding work and helping people connect with nature in the process.
ADVICE FOR ASPIRING YOUNG ARTISTS

Make art. Don't worry about what anyone else thinks; say what needs to be said. It will get rejected. Sometimes people will hate it. Make it anyway. Don't get hung up on the rules or what some critic says, or worry that it has to match somebody's décor. You don't want your epitaph to read: She made art that matched the décor perfectly. Sure, you can crank out cookies that will sell, but it won't feed your soul. If you want to make art to pay the bills, get a day job. The world doesn't need more repetitious, boring, banal, prosaic art. It needs your heart and soul. It needs to hear what is possible, to see what people are afraid to see in themselves. If you want a life of ease, don't be an artist. If you still want to make art, practice, look at art that has changed things, practice, practice, practice. Learn to draw and develop your craft. Then you can fly.
MY WORK CAN BE SEEN/PURCHASED

At Michigan Artists Gallery, 317 Front Street in Traverse City.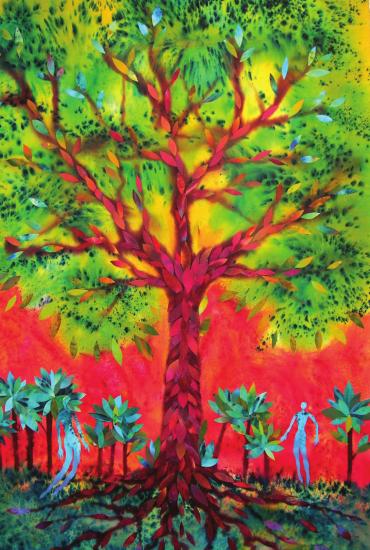 Trending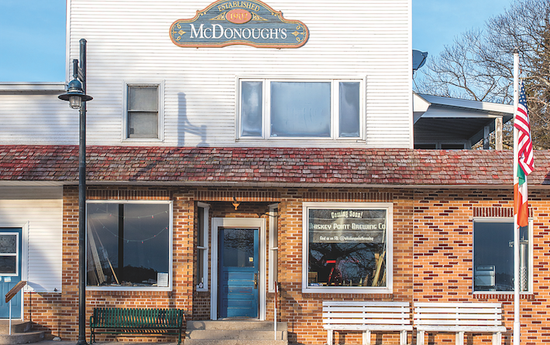 Welcome to Michigan's Most Remote Brewery
After years of planning and honing his beer-making skills, this spring, Patrick McGinnity plans to open Beaver Island&rsqu...
Read More >>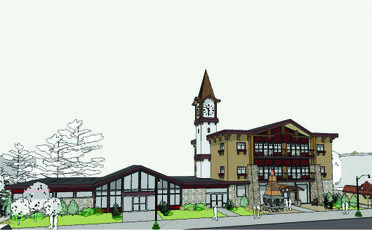 Gaylord: A boomtown Up North
Gaylord native Gary Scott had moved to Indiana, where he and some partners started a business to invest in distressed prop...
Read More >>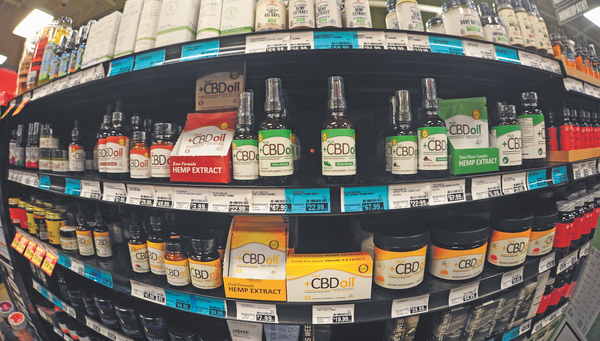 CBD Laws: Dazed and Confused
The sign outside of Family Video in Kalkaska lets drivers know the store has more than just movies. The sign reads: &...
Read More >>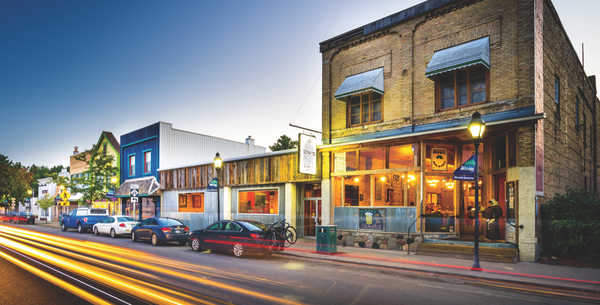 Small Up North Towns on the Rise
Spotlight on Bellaire (pictured)Seems Traverse City isn't the only place in the region making those "Best...
Read More >>
↑