Traverse Bay Blues
Oct. 9, 2015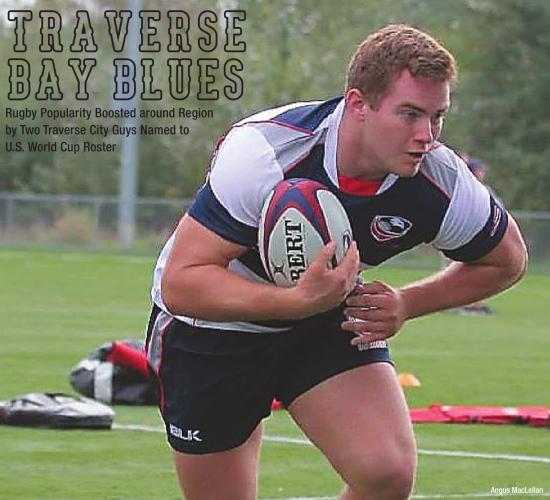 Rugby Popularity Boosted around Region by Two Traverse City Guys Named to U.S. World Cup Roster
Claire Denton recalls the day after her high school rugby team won the 2013 state championship for the fourth year in a row. An announcement was made over the speaker at Traverse City West Senior High School: The boy's ski team had just won a meet.
"We won the state championship and we came to school the next day and no one even said anything," Denton laughed.
FAMOUS, EXCEPT IN HIS HOMETOWN

That's the state of rugby in northern Michigan — and around the country, for that matter.
It's played and followed by a passionate few and ignored by the masses.
Here's a notable fact. One of the biggest sporting events in the world — the Rugby World Cup — is happening right now in England and two players from Traverse City made the Team USA roster. One of them, Phillip Thiel, has played in World Cup matches watched by millions.
"It's unbelievable. You play the game in America for fun and for the passion of it," said Bob Brick, who helped start a men's rugby club called the decades ago. "To see two kids from Traverse City graduate up to the U.S. team — it's pretty remarkable."
Thiel, who plays the position hooker, is an extraordinary player, said Graeme Leask, a Scotsman, a lifelong rugby player and the owner of the Little Traverse Inn in Maple City, a restaurant and pub he's made a shrine to his beloved sport.
Elsewhere in the world, Thiel is famous, Leask said, but in his hometown, he's just an ordinary guy.
That's because rugby is so exotic to most Americans, even though both rugby and American football evolved from soccer. Key differences are that play doesn't stop for downs in rugby like it does for football, which makes for a faster-paced game; there is no blocking and forward passes are not allowed in rugby; and players don't wear helmets or pads, which means they are taught to tackle in a manner to prevent head injury.
In August, when the Blues hosted their annual tournament in Traverse City, Thiel watched from the sidelines like anyone else.
"The weekend prior he'd been playing in front of tens of thousands of people, playing in Argentina," Leask said.
Former Empire resident Angus MacLellan was also in the pool of players selected for the U.S. World Cup team, but he was injured before he could be named to the team.
"Angus and Phil are incredible examples of the dedication and effort, and they're probably very fortunate that they started playing the game here," Leask said. "They were fed the idea that this is a game you can play for life, this is a way to make a living, and this is an opportunity."
HUMBLE BEGINNINGS

Bob Brick's brother Tim said the club Bob helped start in 1974 was the catalyst that led to the development of rugby in northern Michigan, and it explains why two Traverse City players made the World Cup pool.
It began when Bob returned from St. John's University in Minnesota and didn't want to give up rugby. At first, it was difficult to find enough players to field a side, never mind people who knew the rules. Brick, the late Dr. Thomas Hall (a successful rugby player at Dartmouth) and Paul "Buck" Fitzsimons (who played at University of Michigan) managed to recruit enough guys to create a rag-tag team. Most of the players didn't know what they were doing, though, and they usually lost their matches.
One remnant from those early days still exists. Early on, they started an August tournament called the Cherry Pit. They also bought a clubhouse on the Boardman River, a rugby players' retreat that remains to this day.
The Brick brothers were headed to England to watch some U.S. World Cup matches this month. The plan for the trip was hatched when Bob and another of the original Blues, Bill Miltz, made a pact to go if Thiel made the team. Sadly, Miltz passed away before it was possible.
"So I'm going to honor Bill and all the other players that have ever played for Traverse City," Bob said.
The brothers planned to be in the stands to see the U.S. play South Africa Oct. 7 and play Japan Oct. 11.
WINEMAKERS BRING CHANGE

In the 1990s, the Traverse Bay Blues' play improved as winemakers from Europe and South Africa arrived in northern Michigan.

Cornel Olivier, co-owner of 2 Lads Winery in Traverse City, didn't expect to find much rugby when he moved from South Africa to take a job at Chateau Grand Traverse 16 years ago.
"When I got here in Traverse City, within a week the local rugby team hit me up to come and play, and I didn't even know at the time that they even had a team up here," Olivier said. "For me, it was like the equivalent of playing with 14-year-old kids back home." Olivier has seen rugby quality improve and he's helped coach a high school boy's team for years.
MacLellan credits Olivier, Chuck Benson and the other coaches of the Traverse City Alliance boy's team for his success in rugby, a sport he got hooked on in high school.
"I had some friends that played for it and they convinced me to come out and play my junior year for a few games instead of baseball," MacLellan said.
He said it takes a lot of patience for someone like Olivier, who has played at an elite level, to spend so much time teaching fundamentals to teenagers who don't know a pitch from a scrum.
MacLellan, who works full time as an accountant in Chicago, is recovering from a torn ACL and is determined to return to rugby.
"That's my long-term goal, to earn a starting position for the 2019 World Cup," he said, "but that's four years down the road."
THE NEXT GENERATION

Rugby players may toil in anonymity in northern Michigan, but the recent success of the TC girl's high school team shows how much progress the sport is making.
Rugby couple Jim and Stephanie Kehrer coached the girl's team through last season and helped bring those four consecutive championships to Traverse City.
Kehrer said his wife wanted to start a women's club when they moved to Traverse City in 2004, but she couldn't find other players, so she started the girl's team instead. The couple has seen the popularity of rugby explode in the last decade.
"It's blown up, just blown up," he said. "It's where soccer was maybe 10 years ago."
Leask agreed. He was part of a group that formed a state youth rugby association in the mid-'90s. In the inaugural year, Michigan was home to six teams.
"Today, there's 130 or 140 programs and, you know, every college in the state plays the game," Leask said.
That bodes well for rugby's future. As soccer has demonstrated, it takes kids growing up with a sport to build a fanbase who will one day watch on television.
Olivier believes a turning point will come if the U.S. has the opportunity to host a World Cup.
"It would just be one hell of an event," he said.
"They call the U.S. the sleeping giant of rugby."
"SECRETLY, WE ALL LOVE BRUISES"

Rugby player Therese Panian took over as one of the girl's team coaches this season. She didn't discover rugby until she was a young adult in Colorado.
"I was skateboarding down campus and saw some girls tackling each other, and I asked them what they were playing and they said rugby," Panian said.
Panian wound up coaching the Traverse Bay Blues girl's team by accident. She was looking for a team when she moved to northern Michigan last year.
"I didn't know it was high school. I had no idea," she said. "I wanted to be on the team."
Now Panian is looking for players because she needs to recruit a bigger team. Girls from any area high school are welcome; past teams have included girls from Kingsley and Elk Rapids.
At a recent practice, Denton, a senior who plays flanker, and her friend Adara Benton, a junior at Traverse City Central High School who plays scrum half, were sidelined due to a cold and a minor injury.
"It's cool. It's like, 'Yeah, I play rugby. What do you do in your spare time?'" said Denton.
Benton hopes to earn a college rugby scholarship.
"Secretly, we all love bruises," Benton said. "We always show them off."
Trending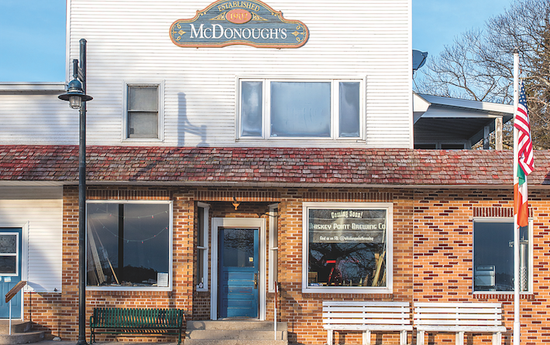 Welcome to Michigan's Most Remote Brewery
After years of planning and honing his beer-making skills, this spring, Patrick McGinnity plans to open Beaver Island's first microbrewery. Opening a craft brewery is challenging. Opening one on a remote island in Lake Michigan that's either a 15-minute plane ride or a two-and-a-half-hour ferry ride from ...
Read More >>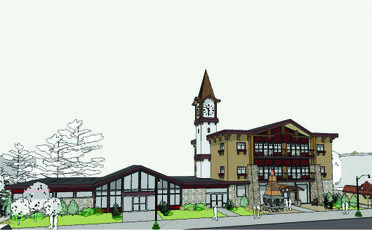 Gaylord: A boomtown Up North
Gaylord native Gary Scott had moved to Indiana, where he and some partners started a business to invest in distressed properties. He was talking to a banker in Detroit about real estate in Bloomington when he asked what kind of deals might be available in northern Michigan. ...
Read More >>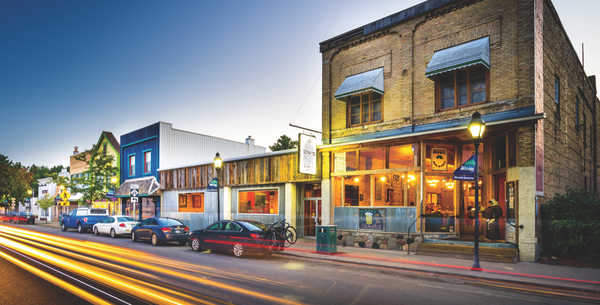 Small Up North Towns on the Rise
Spotlight on Bellaire (pictured)Seems Traverse City isn't the only place in the region making those "Best of" lists. The Antrim County hamlet of Bellaire was recently named to the list of Best Lakeside Towns in the U.S. by Country Living Magazine, alongside the likes of Vergennes, Vermont, Greenville, ...
Read More >>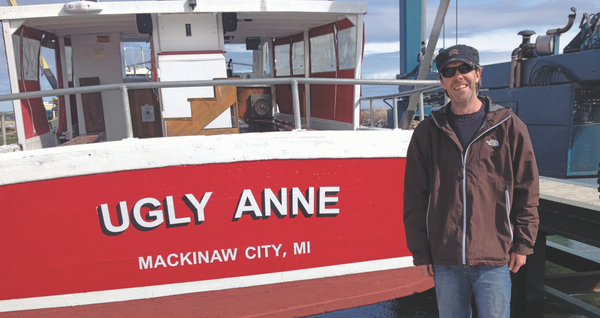 A Wicked Cool Ride Around the Straits
You expect to see boats around Mackinac Island in summer. Sailboats, power boats, cruisers, and the ubiquitous ferries that run residents and guests back and forth across the Straits of Mackinac, sure. But there's a more unusual vessel visible these days — an all-wooden Down East lobster ...
Read More >>
↑