Is the Yacht Club Life for You?
July 1, 2016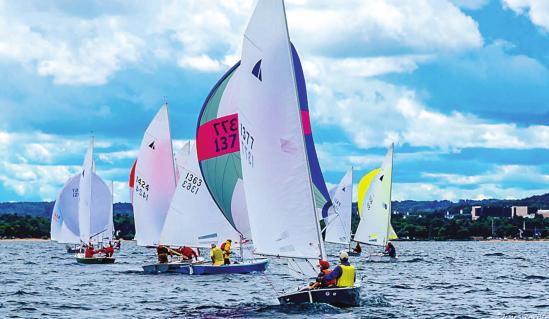 DEPENDS WHAT KIND OF YACHT CLUB
First things first: You don't have to have a yacht to belong to most yacht clubs. In fact, there's usually no boat-owning requirement at all, simply a love of the water.
Some are private and exclusive. Others welcome most everyone. Some are on in-land lakes; others, protected bays on the big lake. While many are focused exclusively on sailing, others welcome powerboats as well.
In short, there are almost as many kinds of yacht clubs as there are clubs. And here in northwestern lower Michigan, there are approximately a dozen … and a half.
The approximation is simply because not everyone agrees what the term "yacht club" even means. Harbor West Yacht Club, for example, isn't a club at all. It's simply the name give to a group of owners of slips at Harbor West in Traverse City. "It's a private marina," said harbormaster John Melichar. "It's not like a social yacht club. We don't have food, a menu, a bar."
WHAT THEY OFFER

On the other hand, Sommerset Pointe Yacht Club on Lake Charlevoix near Boyne City does have food and a bar (Porter Creek Fish House is accessible by car or by boat), and it's a marina as well. Alana Haley, marketing and events manager for both Sommerset Pointe and the Charlevoix Country Club, said owner Fred Taylor was inspired to develop what he saw as a desirable property.
"It was prime real estate, and he decided someone needed to do something," said Haley. Today it boasts a fitness center, a market, and slips, both permanent and transient.
"We do a ton of weddings and events in the Yacht Club and tent," she said, referring to a large tent set up for the duration of the summer.
Just down the road, the Boyne City Yacht Club offers sailing races on Tuesday and cruise rendezvous to locations like Traverse City, Northport and Mackinac Island. "We had 90 members at Harbor Springs," said commodore Brad Light of the group's most recent outing.
Glen Lake, Leland and Crystal Lake yacht clubs are among those offering lessons and races. "We are sail and tennis-oriented," said Mike Dow, commodore at Glen Lake Yacht Club. "Our youth programs have really grown." This summer, between 80 and 90 kids between 6 and 16 years old will be in at least one of the club's programs.
"Our sailing school teachers young kids how to sail," said Ed Schindler Jr. of Crystal Lake Yacht Club. "That's first, then maybe they want to race or crew."
Jordan Owen, director of member services at the Grand Traverse Yacht Club, said it promotes sailing through a partnership with TACS, Traverse Area Community Sailing. Like most clubs, it feature races, on Wednesday nights.
TO SAIL OR MOTOR

For many, the term "yacht club" conjures up images of sailing craft. While Som-merset Pointe, Boyne City, Elk Rapids yacht clubs and others welcome all kinds of boats, at clubs like Charlevoix, Glen Lake, Walloon and Crystal Lake, the focus is exclusively on sailboats.
Not that it's always been that way. Walloon Yacht Club actually began as a powerboat association, then raised its jib to become devoted exclusively to sailing. "It started in 1907 as a powerboat club, then morphed into sailing in the '20s," said Bill Bray, club commodore.
So, too, is for Crystal Lake Yacht Club, founded in 1931 by a group of Chicago businessmen "for the purpose of fostering and promoting sailing, power boating, boat racing, and water sports of all kinds upon and about the vicinity of Crystal Lake."
For several decades, however, it's been all about using the wind exclusively. "Our mission is to promote sailing," said Schindler.
Charlevoix promotes both sailing and powerboating, according to Christopher Lamb, a member of the club's board of directors. He lives and owns businesses in Traverse City but boats out of Charlevoix. It offers easy access to points outside the area, whether on the Great Lakes or out to the Atlantic Ocean.
He said that location gives him the best of both worlds. "If you don't like what's going on on Lake Michigan, you can stay on Lake Charlevoix," Lamb said.
HISTORY

Some of the groups boast an extensive history. Walloon was founded just after the turn of the 20th century. At the other extreme, Som merset Pointe debuted in 2005.
This is a special year for Glen Lake Yacht Club, which is celebrating its 75th anniversary. "It's a big deal," said Dow. "We're having a big party in July."
That's perhaps to be expected. "There are some yacht clubs that have occasional parties," said Dow. "We're more about the social activities."
For many, the social aspect runs hand-inhand with the water activities. Owen said the Grand Traverse Yacht Club is as much about the social dynamic as anything. "Our club is a community organization. It's a year-round club, open at least two nights a week," he said.
BY THE NUMBERS

Brad Light, commodore of the Boyne City Yacht Club, said there are approximately 300 memberships, but with an average of two people per membership, the numbers actually top out around 600. He said it's really best seen as a social club intended to promote fellowship among boaters.
Walloon Yacht Club, on the other hand, has some 40 member families, according to Bray.
Costs vary tremendously. Glen Lake Yacht Club dues are $300 per year with an initiation fee of $2,000. Dues for the Elk Rapids Yacht Club are $20 per year per family, with no initiation fee. Walloon offers different tiers of membership, ranging from $75 per year to $150. Those engaged in racing also pay their way, with costs varying depending on the type of boat.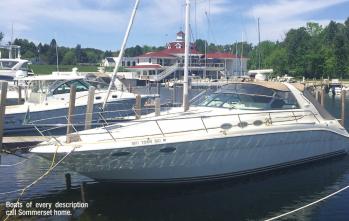 BOYNE CITY YACHT CLUB
Founded: 1987
Members: 300 memberships, average two persons per
membership
Focus: All boats, social
CHARLEVOIX YACHT CLUB
Founded: 1970
Members: 175
Focus: Sailing
CROOKED LAKE YACHT CLUB
Founded: 1948
Members: 150
Focus: Year round activities
CRYSTAL LAKE YACHT CLUB
Founded: 1931
Members: 300+
Focus: Sailing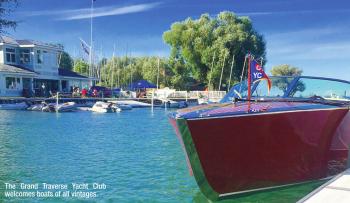 ELK RAPIDS YACHT CLUB
Founded: 1988
Members: 127 member families
Focus: All boats, recreational activities, charity activities
GLEN LAKE YACHT CLUB
Founded: 1941
Members: 200
Focus: Sailing, tennis, instruction for both, social
GRAND TRAVERSE YACHT CLUB
Founded: 1960
Members: 300+
Focus: All boats
HARBOR WEST YACHT CLUB
Founded: 1940
Members: NA
Focus: All boats
LELAND YACHT CLUB
Founded: 1936
Members: 400
Focus: Sailing, sailing instruction
LITTLE TRAVERSE YACHT CLUB
Founded: 1895
Members: 300+
Focus: Sailing
NORTHPORT BAY YACHT CLUB
Founded: 1995
Members: 40
Focus: All boats
OMENA TRAVERSE YACHT CLUB
Founded: 1947
Members: 150
Focus: Sailing and tennis, with a weekly youth program
PORTAGE LAKE YACHT CLUB
Founded: Originally established as the Onekama Sailing Club in 1896, which closed around 1910; re-established as the Portage Lake Yacht Club in 1936, incorporated in 1947.
Members: 200
Focus: Sailing and other water activity, as well as tennis and social activities.
SOMMERSET POINTE YACHT CLUB & MARINA
Founded: 2005
Members: 350+
Focus: All boats, social
TORCH LAKE YACHT & COUNTRY CLUB
Founded: 1928
Members: 215 member families
Focus: Sailing, tennis.
WALLOON YACHT CLUB
Founded: 1907
Members: 40 families
Focus: Sailing
Others either could not be reached or chose not to respond, including Northport Point, Suttons Bay, and Bay Harbor (founded in 1995).
Trending
Talking Truth
Truth is, we are all freedom-loving people here in America. Truth is, we are all fiercely independent at heart. And truth ...
Read More >>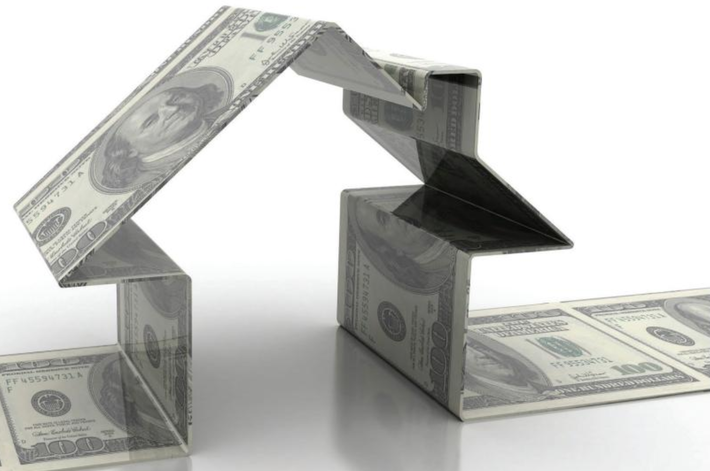 The North's Workforce Housing Crisis Just Got Worse
Is the ideal of "affordable housing" even possible to achieve in northern Michigan? It's a question tha...
Read More >>
Loyalty to a Lie
Some Republicans have fallen down and they can't, or won't, get up. This isn't the party of Lincoln, and it's not l...
Read More >>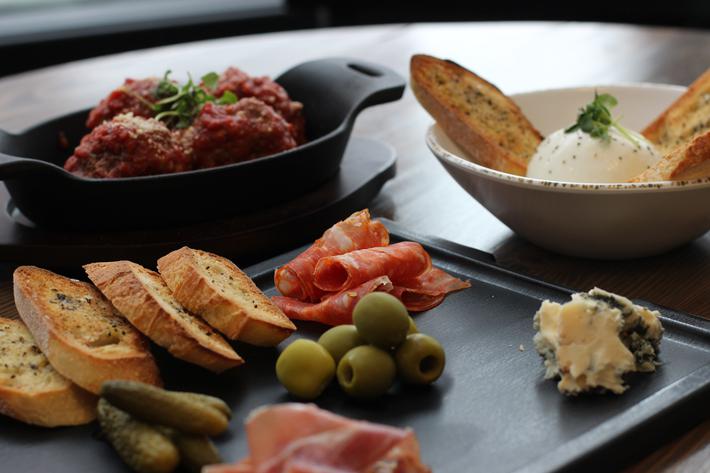 Vita Bella Italian Kitchen and Market
Maybe Ed Carella didn't have a choice. After all, he'd basically been raised in a pizzeria. His parents, Tina ...
Read More >>
↑