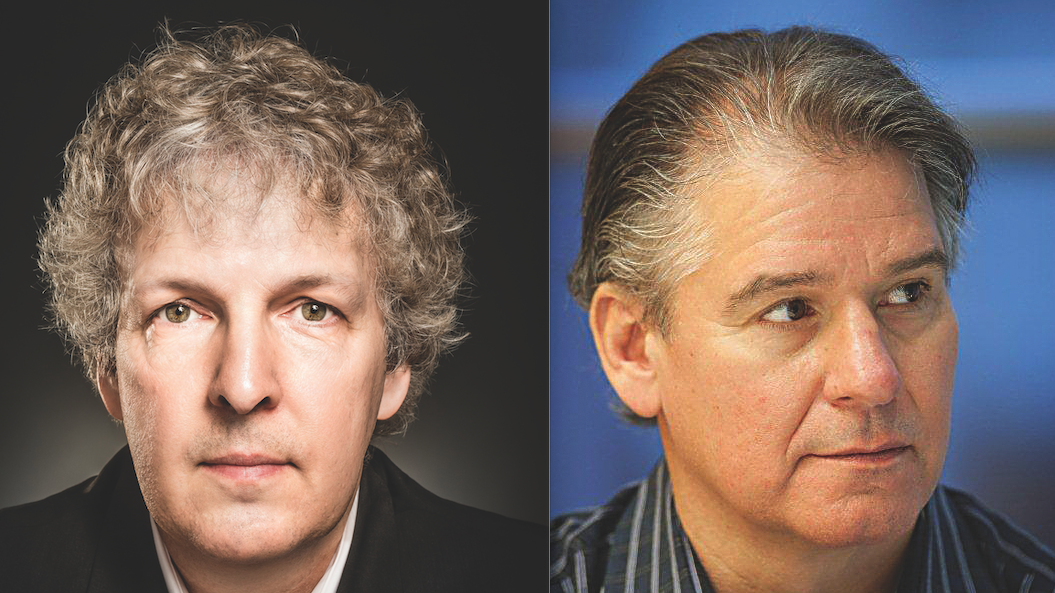 Authors Steve Hamilton and Bryan Gruley
Michigan's own mystery men
Few know the necessity of homecoming quite like a native of the great Mitten State. Even fewer know the nooks and crannies of its illustrious Up North. Enter acclaimed suspense writers Bryan Gruley and Steve Hamilton. For these novelists, northern Michigan's singular nostalgia is as nearby as the next page. Both have pioneered wildly successful suspense novel series, set in — you guessed it — northern Michigan, and, with two highly anticipated new books just released, this prominent pair will take the stage for a National Writers Series event, June 27 at the City Opera House in Traverse City. Northern Express reached out to them in advance of their appearances to talk mystery, manuscript, and of course, Michigan.
Bryan Gruley
Bestselling author Bryan Gruley has been writing stories since primary school, but his endeavors as a novelist, are still somewhat, well … novel. A journalist by trade, Gruley got his start writing for a few small publications in southeastern Michigan before moving on to features for the Detroit News; the Wall Street Journal, where he shared the Pulitzer Prize awarded to the journal staff in 2002; and finally Chicago's infamous Bloomberg Businessweek magazine in 2011.

Nevertheless, his need to narrate persisted. "I was writing like crazy all those years," said Gruley. "News stories, features, essays — but my favorite is to write narrative features. All along, I wanted to write novels: That was my dream."
In 2002, Gruley finally began the framework for what would become his acclaimed "Starvation Lake" trilogy. But, once a journalist, always a journalist. "[Writing nonfiction] requires a lot of observation that helps bring places to life," says Gruley. So while the backbone of the book is entirely fictional, it's based on a lake that actually exists. "My mom and dad have a place on Big Twin Lake, which is near Starvation Lake — you can find it on a map," he says. "It's a big, beautiful lake [in the Mancelona area], and one of the most beautiful places on earth, as far as I'm concerned."
In his most recent release, "Bleak Harbor" (2018), Gruley chronicles the kidnapping of an autistic boy from a similarly tiny town. Everyone knows everyone in Bleak Harbor, Michigan. A tourist trap with an old-fashioned feel, Bleak Harbor is rife with nosey neighbors and closed curtains. So when Danny Peters, the youngest member of one of the city's most significant families suddenly goes missing, the town clamors to find the culprit, but in a city of secrets, someone's bound to let one slip.

So what's the muse behind Gruley's mystery M.O? "To be honest, when I wrote 'Starvation Lake,' I just thought of it as a story," he said. "But the publishing industry said, 'Well, this is a mystery.' They have so many labels. For me, most novels are mysteries of some sort. [Mine are just] called mystery fiction."

Gruley isn't about to let labels constrain his craft. "In all cases, you're trying to write so that people will read a paragraph and want to read the next paragraph," he says. "You want to keep it interesting, keep them in the room; that's the challenge. And that's what makes it fun, too."

Steve Hamilton
Before he was a writer, Steve Hamilton was a storyteller.
"I started out, like most writers, by being a big reader," he said. "The dream of being able to tell stories for a living was born there, and I never let go of it — even when I went to college and got a 'real' degree and started working a 'real' job. In the back of my mind, I had made this promise to myself that, no matter how long it took, I would become a writer."
Now a two-time Edgar Award recipient and an author of 15 New York Times bestselling novels, it's safe to say Hamilton has made good on that promise. Since the 1998 success of his debut novel, 'A Cold Day in Paradise,' Hamilton has added nine installments to his celebrated Alex McKnight series, a collection of crime-thrillers about a Detroit cop who leaves the force for Paradise, Michigan. And now, he's tacking on a tenth.
"Alex McKnight is the one character who's been with me from the beginning," said Hamilton. "Dead Man Running is the first McKnight novel in five years, so I really wanted to up the ante for him — but I was kind of surprised at just how dark this book turned out."
In coherence with its 10 spine-tingling predecessors, "Dead Man Running" (2018) follows the affairs of P.I. powerhouse, Alex McKnight. After the FBI summons McKnight to speak with a serial killer, he finds himself at the center of a sinister plot. In order to crack the code, McKnight must play by the murderer's rules. But when revenge is the name of the game, the only way to win is to survive.
According to Hamilton, suspense is essential to the very human condition. "One of the characteristics of crime fiction is that it appeals to the fundamental storytelling instinct that we all have," he said. "If you think about it, dark, violent stories are the oldest stories of all!"
A current resident of upstate New York, Hamilton is a graduate of the University of Michigan and a native of Detroit. "And then I moved away," he said. But hindsight is invariably 20/20. "Sometimes you have to leave a place to really understand what it was that made that place special. James Joyce wrote 'Ulysses' when he was living in Paris, looking back at Dublin and seeing it from that distance. I understand why he had to do it that way."
But if Joyce's paradise was Dublin, Hamilton's paradise is literally Paradise, Michigan. "As far as the U.P goes, Alex McKnight wanted to leave his whole life behind and go to the most remote place he could find," said Hamilton of his choice of setting. "As a Michigander, I knew there was only one choice: Straight north on I-75, across that bridge, and into another world."

The event begins at 7:00pm, with doors opening at 6:00pm. For tickets and information, visit www.nationalwritersseries.org.
Trending
Pronouns 101
My first assignment in an online graduate-level class was to provide information about my background, including my pronoun...
Read More >>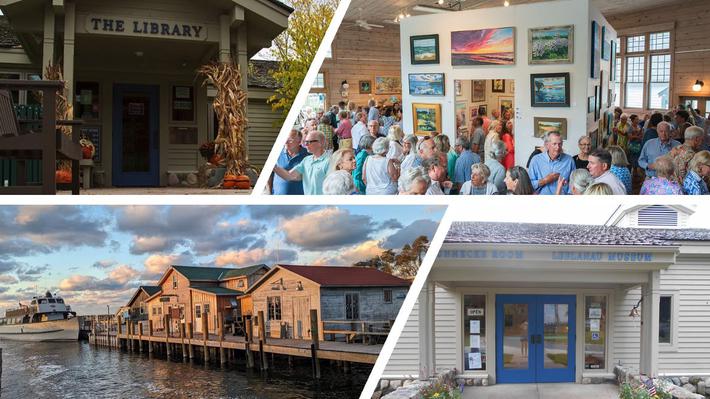 Collaboration Is the Name of the Game
How long does it take to create a cultural center? As few as three years, or as many as 170. Sometimes both. The organiza...
Read More >>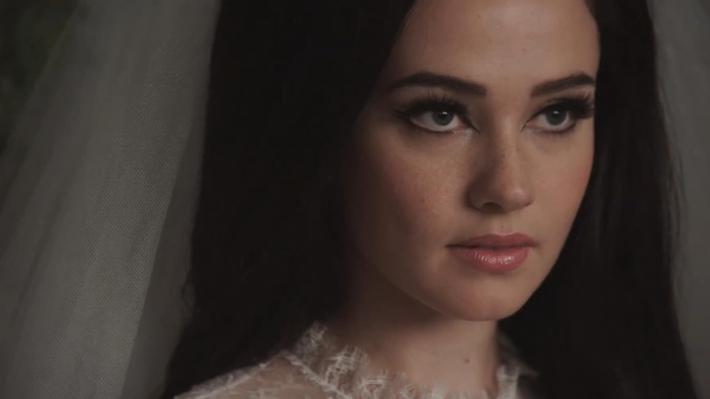 Film Review: Priscilla
While you will certainly be mesmerized by the haunting lead performance from newcomer Cailee Spaeny—and be impressed...
Read More >>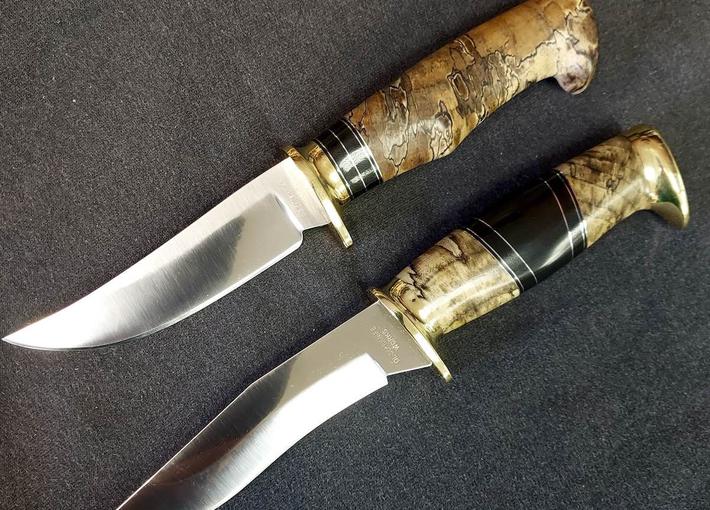 Bespoke Blades
What do you do with a battered ice skate, an old rubber puck, a cracked hockey stick, and a gob of tape? Pitch 'em, ...
Read More >>