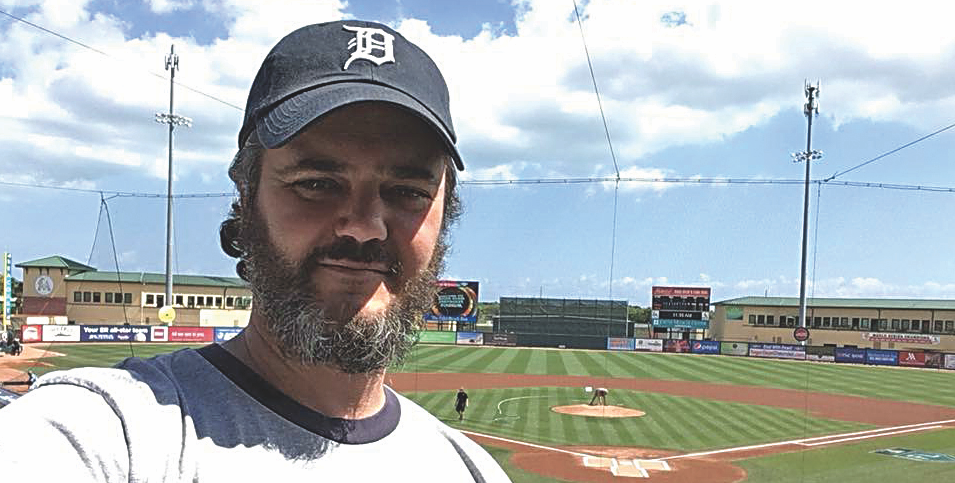 Baseball Fanatics
Tis the Season
By Al Parker | March 24, 2018
The March 29 Opening Day for the Detroit Tigers is the earliest in the 19-year-history of Comerica Park. And after a long, cold winter, northern Michigan, fans of the Tigers are looking forward to seeing their beloved Bengals face the Pittsburgh Pirates.
Opening Day is a time brimming with optimism: Every team is still in the pennant race. Every player is still a potential All-Star. And every fan has high hopes. But after Opening Day, the interest of the casual fan often wanes as other activities and responsibilities nudge baseball off the busy summer schedule.
But Northern Express found a few northern Michigan fans whose love for baseball never fades, never wavers. Despite a multitude of losses by their favorite team, petulant players who play a game for millions of dollars, and ever-creeping game ticket prices, they are steadfast in their love for the game.
Road Warrior
Bart Wilhelm (pictured)
Bart Wilhelm saw his first live major league game on Aug. 5, 1984, the year the Tigers bolted out to a 35–5 start en route to the World Series Championship.
"That year the Tigers were unstoppable, but I saw them drop a doubleheader to the Kansas City Royals," said Wilhelm. "I was only 10, so my memory is a little faded, but it was autograph day, and I do remember getting Barbaro Garbey's and Johnny Grubb's autograph."
Since that visit to historic Tiger Stadium, Wilhelm has attended games at 253 different venues, including major league, minor league and college ballparks. In 2007 the diamond devotee joined an elite corps of fans by visiting all 30 major league parks in a single season.
"I've got about 25 more new stadiums to see this year," said Wilhelm, who averages about 1,000 miles a week on his car. "Then I'll be done with all the major leagues and affiliated minor leagues. I'll also be finished with all the independent leagues that I consider 'legitimate.' I've got a road trip coming up in April where I'll see the Mississippi Braves, Mobile BayBears, Memphis Redbirds, Biloxi Shuckers, Birmingham Barons, Augusta Greenjackets, and New Orleans Baby Cakes. I'll also check out a couple college games in Florida and stop to see the annual Jackie Robinson Celebration game April 15 in Vero Beach at old Dodgertown."
Wilhelm's summer is planned with the precision of a military campaign. As a table games dealer at Turtle Creek Casino, he works three 12-hour shifts a week, giving him time to travel.
"I've got a short trip in early June to knock off Wichita and two parks in Arkansas, and then a week later I take my second big trip of the year. Carolina Mudcats, Kannapolis Intimidators, Greenboro Grasshoppers, Down East Wood Ducks, Charleston RiverDogs, Myrtle Beach Pelicans, Brooklyn Cyclones, Sussex County (NJ) Miners, and Rockland (NY) Boulders. After that, I've got to squeeze in four more parks in the Appalachian League. I'm also planning on attending the Hall of Fame inductions this year and hopefully I can catch my first Cape Cod League collegiate game while I'm there."
At each game, he buys a scorecard and scores every game.

"I often get players to autograph them at later dates" he said. "Today for instance, I got Miami Marlins third baseman Brian Anderson to sign a scorecard — I saw him hit a home run in Battle Creek in the Northwoods League in 2012."
He's also adept at snagging balls, with a collection of some 400 horsehides, each with the date and circumstance written on it. The 2018 season will mark the Tigers 118th season in Detroit and their 19th season at Comerica Park. The March 29 game vs. the Pirates will mark the earliest home opener by date in Comerica Park history.The 2018 season will mark the Tigers 118th season in Detroit and their 19th season at Comerica Park. The March 29 game vs. the Pirates will mark the earliest home opener by date in Comerica Park history.
"Most of my baseballs come from batting practice in the major leagues. I usually get one or two each game at Detroit. I save all my major league baseballs, minus the 50 or so that I've given away over the years to kids or other fans. From the minor leagues, I only save game balls. I average about one every three games in the minors. I've gotten at least one game ball from every league around the country."
He's caught several foul balls on the fly at minor league games, but one major league grab really stands out.

"I also caught a foul ball at a Tiger's game two years ago that made it onto TV," he recalled. "As I raised my hands in the air to celebrate, Jack Morris said, "That's probably the first souvenir he's ever gotten!"
Any tips on how to snag a ball?
"It helps to know how to catch, and it helps to be lucky," he said with a laugh. "It's best not to be around too many people. If you're in a crowd of people, it's hard to get a ball. When I go to Detroit, most people crowd over toward the foul pole because most balls go over there. I move further toward center field. Less opportunities, but less competition. And for foul balls, it's best to be either right behind home plate or off to the opposite side of the batter — right-handed hitters hit fouls to the first base side, lefties hit left."
On all his baseball travels, Wilhelm often crosses paths with players he's seen at different levels of pro ball. In fact, he's seen one player, Taylor Gushue, with five different teams.
"He was originally a prospect with the Pittsburgh Pirates," said Wilhelm. "I saw him play rookie ball with the Jamestown Jammers in 2014. The following year, I saw him one level high with the West Virginia Power. In 2016, he moved up another level, and I ran into him in Bradenton, Florida. I had him sign both previous scorecards.
Last summer, Gushue got traded to the Washington Nationals, and Wilhelm made a trip to see the Potomac Nationals in August when Stephen Strasburg was throwing a rehab game.
"Sure enough, Taylor was his catcher," said Wilhelm. "A couple days ago, I was at a Washington Nationals spring training game. After a few innings with the regulars, the Nats brought in their subs. Taylor was there that day and got to catch the last few innings."
Treasured Baseball Memories
Kent Ailsworth
Grand Traverse County resident Kent Ailsworth saw his first live game as a youngster and was hooked on the game.
"Dad took me to my first game when I was seven," he said. "The Tigers lost to Kansas City. Later Dad was in Cleveland when hard-throwing left hander Sam McDowell signed his program. McDowell became my favorite, but he flamed out early. I remember reading McDowell 'had a million-dollar arm and 10-cent head.' Turns out Sam Malone from Cheers was based on McDowell. Both admit they drank himself out of baseball. McDowell later came back as an addiction counselor."
One year after seeing his first game, Ailsworth started collecting baseball cards and never stopped. He has every Topps company card produced since then.
"We got very creative in trading — I remember catching and trading a live snake," he said. "At 15, I met writer Nick Edson. We've been trading ever since. He traded me second base from Tiger Stadium signed by Trammell and Whitaker. Nick was with the Record-Eagle when he started me writing, assigning me a couple of articles. Years later I heard Ernie Harwell talking on the radio about my article. Ernie ended up getting me a copy of that game, which I treasure along with his letters."
While in college, Ailsworth learned that another avid wanted to pass along his collection to a young fan.
"I never did know who he was but ended up with hundreds of Tiger autographs, including Ty Cobb, as well as several Negro Leaguers," said Ailsworth. "Today I have over 1,350 Tigers, missing only two since 1935, and hundreds of Negro Leaguers, including Jackie Robinson and Satchel Page. I enjoy history and baseball is loaded with it."
A long-time nurse at Munson Medical Center, Ailsworth has a long list of great baseball memories.
"I've been lucky seeing some great games. Dad took us to both a no- hitter and watch Henry Aaron. In 1976 I saw "The Bird" pitch. Fidrych signed for me and a second autograph for my brother. I saw Gehringer and Greenberg get their numbers retired, the 1984 Tigers, Tanana clinch the Division in 1987, and Nolan Ryan pitch in Wrigley Field."
Ailsworth has also snagged a foul ball at historic Fenway Park and once almost got arrested at Yankee Stadium after buying scalped tickets that had been stolen.
"We saw the final game at Tiger Stadium," he said. "In 2006 we took Dad to both Magglio's walk-off home run and Verlander pitch in the World Series. 1971 was the only time I ever rooted against my Tigers. We saw the Tigers v. Indians. McDowell won. And I still have the signed McDowell program."
'The Collecting Never Stopped'
Jeff Mugerian
If you grew up in the metro-Detroit area, spring meant only one thing: Tigers baseball. Whether the Tigers were thought to be contenders or not, Opening Day was a ritual that no fan would pass up.
'My father owned several restaurants in Detroit and its surrounding area, so the trash haulers and linen folks always made sure he had tickets to the home opener at the landmark Tiger Stadium," said Leelanau County resident Jeff Mugerian.
"Like the superstar rockers such as Bono, Mick, Madonna, and Elvis, the Tigers that I worshipped were easily recognized by first name or nickname: Willie the Wonder, The Bird, Mr. Tiger, Tram, Sweet Lou, Lance, Stormin Norman, Gates, Jason "Rooftop" Thompson, Steady Eddie, the Silver Fox"and the list goes on and on."
Back in the '70's, Mugerian collected anything and everything of his idols, from baseball cards to autographs, from baseballs to game used bats and jerseys, from stadium seats and other relics to actual dirt that his idols played on.
"Unfortunately, the collecting never stopped, and to this day, the thought of spring takes me back in time, and I have to pull out some of the old collectibles again," said. "I don't follow the game like I used to anymore, but the 'old' game still brings back a smile. I grab one of Horton's bats off my wall and swing it like Willie used to, mimicking Hall of Famer Ernie Harwell's voice, "That one is loooong gone!"
It was a thrill years later when Mugerian got to meet and spend time with so many that he idolized on the field. Typically through charitable events, it would be dinner with Horton, or an evening visit at the Harwells' home.
"Time with these gentlemen in their later years became more prominent in my memories than those from their playing days," said Mugerian. "Horton once said to me, 'Son, we're all God's children. We've got to take care of one another.' That's a home run, Willie."
Mugerian once went to a game against the Orioles in May of 1979. One of his childhood heroes, Brooks Robinson, had already retired, but a young future Hall of Famer by the name of Eddie Murray was embarking on a huge Oriole career.
"Sitting in the stands of my very favorite ball park, Tiger Stadium, I met my future wife, Carrie, at that game," said Mugerian. "Thirty-some-odd years later, four kids later, and a granddaughter later, I sure hope someone in the family will collect Tigers memorabilia. If not, I better start posting some of this stuff on eBay!"
Trending
Very Busy Very Fast
This isn't going to be easy. President Joe Biden and his thin congressional majority are walking into troubled times both ...
Read More >>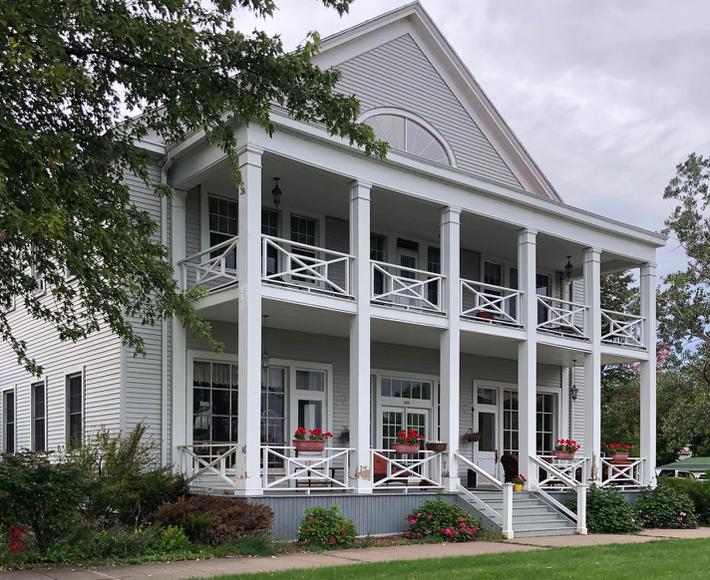 Thunder Bay Inn
Former playground to Henry Ford and part of a famous film and novel based on a real-life murder in the town, the courtroom...
Read More >>
Forty Acres' Spa Day Martini
Myriad methods of cocktail creation are on display at bars around the world. There are flaming drinks, compotes laden with...
Read More >>
He's Gone, Now What?
Wounded and fearful, America watched the 45th President leave the nation's capital. On a hastily arranged stage at a...
Read More >>
↑