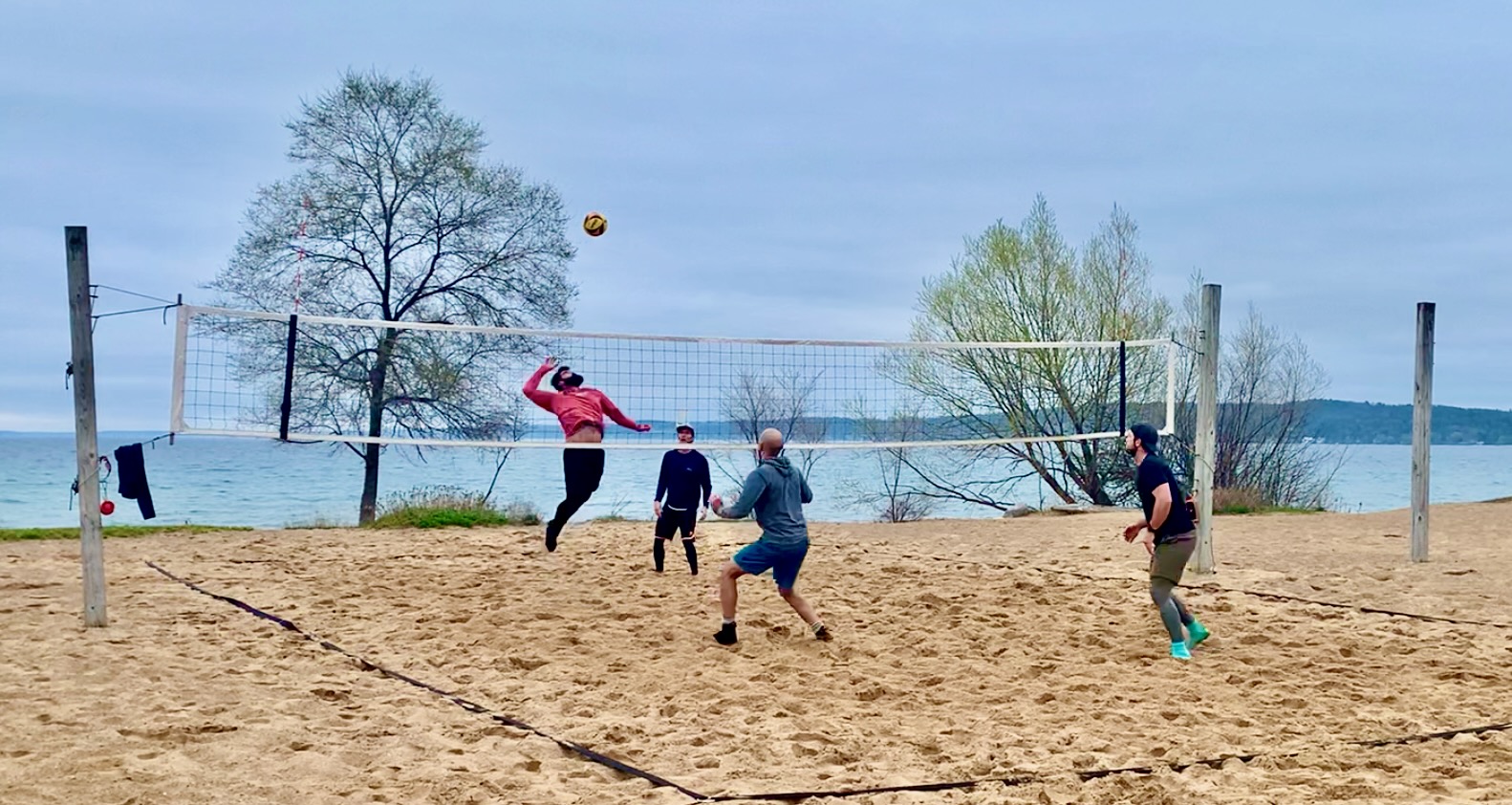 Beach Town Ballers
The NoMi volleyball scene is heating up
With beach season upon us, everyone is ready for summer weather and long daylight hours. Our sandy shores quickly fill with vacationers and locals, but nothing fills faster than the volleyball courts at West End in Traverse City. These six courts are always in hot demand, with passionate players ready to partake in this collaborative sport.
The Big Leagues
Six courts can only stretch so far when dozens of players want to hit the sand. On any given weekend, you'll see members of the youth community, fierce competitors, and spiking hobbyists lined up for their turn at the net.
The city's Parks and Recreation Department offers leagues for women and coed groups through its Volley on the Bay program. Local Mark Wagner has been facilitating the leagues for years, and already, Wagner has 50 teams pre-registered for the 2022 season.
On the youth side, North Shore Volleyball Club, an AAU club, has provided indoor instruction since 2011 and beach instruction since 2018 for students ages 10–19. Jordan Bates coaches both programs. "I grew up playing on Frankfort Beach," says Bates. "It is rewarding to pass on the love of the game to young athletes and have them discover beach volleyball."
A tournament-minded AA Men's indoor league has also operated since the late 2000s, but they don't have a designated beach league; instead, they compete at the open level, the highest level of tournament competition.
More Sand Coming Soon?
Due to the local popularity, proposals for the expansion of the courts at West End have been put before the city commission. Each week, it is estimated that 700 local players use the six courts. Those in favor of the expansion argue that additional courts would alleviate the congestion, enabling players of all ages and abilities to enjoy the sport. (For example, the courts are so booked that North Shore has to play its home tournaments in Frankfort.)
The first West End court was fought for and maintained by Tim Keenan—the founder of local AA leagues—and a group of community-centric volleyball players nearly 40 years ago.
"It took us years to even get a port-a-potty," Keenan reminisces, unsurprised by the stalling. "I hope these [expanded] courts become a reality because so many people, both locals and tourists, love to play the game."
The two-court expansion was first proposed in 2007 as part of the "Your Bay, Your Say" initiative, then again was brought to the Parks and Recreation Commission in 2017 to no avail, despite the growing numbers of volleyball enthusiasts and promising collegiate athletes. An expansion was halted in 2020 and stalled again this year, though $20,000 in funding is earmarked in the city's budget for Fiscal Year 2022-23. In the meantime, the city consented to replace the existing courts' inferior grade sand, which Michelle Hunt, Parks and Recreation Superintendent, confirms.
"This has been a contentious process," says Wagner ahead of the city's June 6 budget vote. "[The proposal] was previously killed by behind-the-scenes red tape." Cautiously optimistic, Wagner adds: "Given the history of this proposal, I'm not taking anything for granted."
And while Traverse City waits for more courts, the players just keep getting better. Here, we'll take a look at some of the player profiles of ballers across the leagues.
The Old Guard: Cathy Niedecken
Cathy Niedecken has played volleyball for roughly 40 years. She played in high school and college and participated in city leagues around Michigan. Initially, her playing style was competitive, but now she's adopted a more recreational approach. Throughout the decades, Niedecken's worst memories on the court are associated with injuries, but her best ones involve her Traverse City Women's B level team going undefeated in 2014 and returning to the courts last summer after COVID.
Along with her friend Paula Smith, Niedecken organizes a small, "pay-to-play" indoor court volleyball group, and she is the captain of a Women's 4 beach recreational team called Margaritas on the Beach.
"I love working together as a team, the competitive aspect, meeting wonderful like-minded individuals who also love the sport, playing both indoors and outdoors, being physical—to me, volleyball helps the body, mind, and soul!" says Niedecken.
The Superstar: Weston Buchan
A fierce competitor known throughout the leagues is Weston Buchan, current Traverse Area Volleyball Association (TAVA) president, board member of the AA Men's indoor league, and talented athlete with a preference for beach volleyball. An ambidextrous player, Buchan plays either side of the court with an affinity for defense.
He was introduced to beach volleyball during his track and field practices at Grand Valley State University, but he started taking the sport more seriously after college. Now playing at the open level, Buchan has reached peak performance, won tournaments, and even qualified for an Association of Volleyball Professionals tournament in Chicago back in 2019.
"[Volleyball] is a game of highs and lows," states Buchan. "But the moments of pure perfection in the midst of an ultra-competitive game, making a play or a shot that no one expects you to, or coming up clutch in a big moment are the parts I love the most."
The Up-and-Comer: Phoebe Humphrey
Phoebe Humphrey, 16, an incoming junior at Traverse City Central, is a star on the rise. She and her partner, Natalie Bourdo, alo 16, play a free and competitive style on the beach.
"We don't have strategies going into the games; we just play like we love the game," says Phoebe.
She first got involved with beach volleyball because of her coach, Jordan Bates, who invited Phoebe and Natalie to play at West End. Not long after that experience and learning of others' interest, Bates started the beach program at North Shore. A glowing memory for Phoebe is when she and her small team went to nationals in Florida, where they took top 10, a huge accomplishment. Phoebe is also a youth coach for the indoor and beach programs.
The Future Star: Hadley Humphrey
Twelve-year-old Hadley Humphrey follows in her big sister Phoebe's footsteps and makes her presence known on the courts. Hadley enjoys playing tournaments alongside close friend Erica Heffner, 13, and the twosome has their playing style down pat.
"We try to find holes in our opponent's court and serve to the weaker passer," says Hadley.
Though Hadley has already seen the ups and downs of the game—like getting sand stuck in her eye on a dive—she's also won against a boys team in a championship tournament round. In her three years of playing beach volleyball, Hadley has shown the same grit and talent of her big sister.
Grass League
If sand isn't your thing, there's another option for the outdoor volleyball enthusiast—Grand Traverse Social Sports' 4-on-4 coed Grass League. Participants meet at the Civic Center on Monday evenings to play two games, followed by a fun happy hour. Kaleb Brown of Volleyball of the Great Lakes approached part-owner of GTSS, Justin Hostetler, in 2019 about starting up a grass league, and since then, it's consistently grown.
"The Grass League brings predominantly locals, but a few teams and players drive from surrounding areas to play," says Brown.
"We aim to offer a friendly, approachable, inclusive, and somewhat casual entry point for people who may not feel at home on the sand but don't want to be indoors during the summer months," adds Hostetler.
Registration for the Grass League's late summer/early fall season is open now through August 5—$60/individual or $300/mixed 4s team.
Trending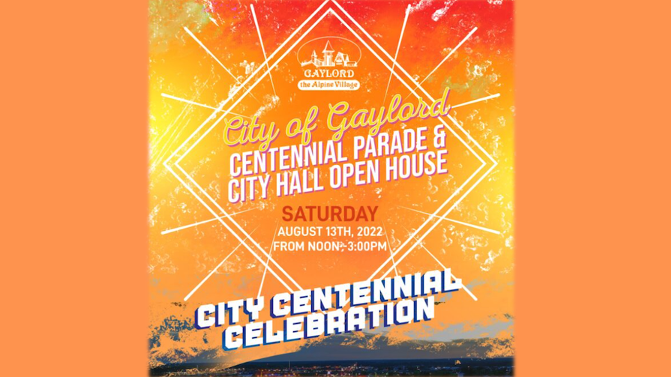 Centennial Celebration in Gaylord
The City of Gaylord is celebrating 100 years this weekend with a parade and City Hall open house. This celebration, just s...
Read More >>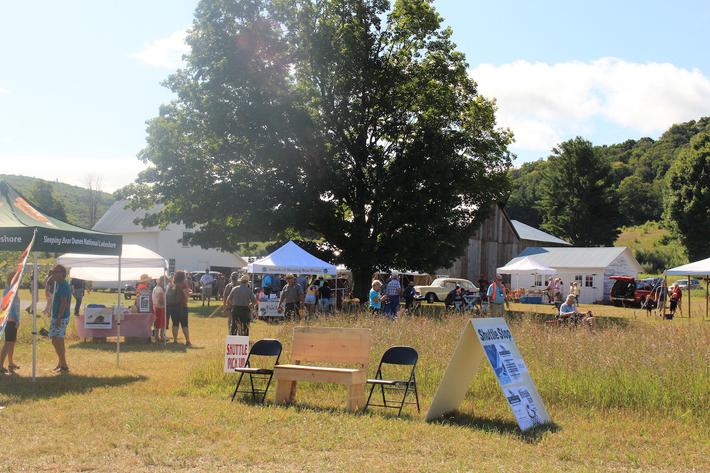 Life in the 1800s Comes Alive at Port Oneida Fair
Head to the Port Oneida Fair in the Rural Historic District of Sleeping Bear Dunes National Lakeshore to experience life a...
Read More >>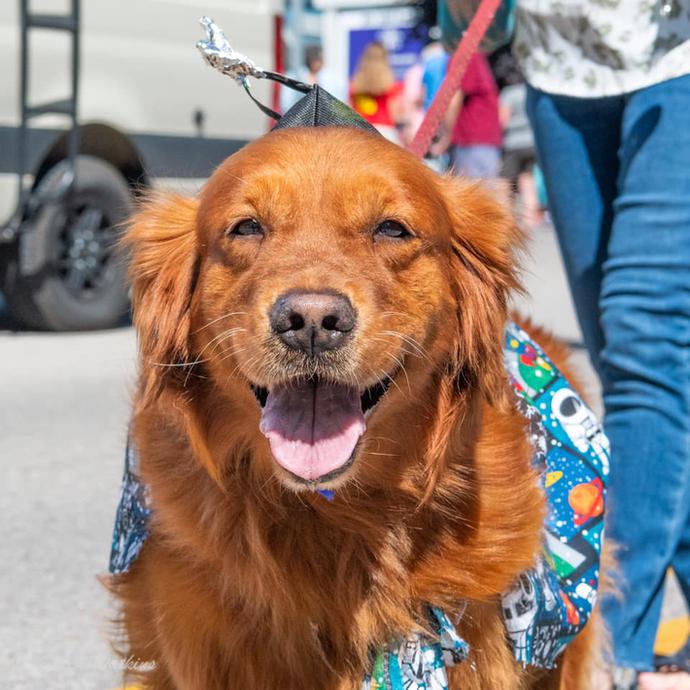 A Dog and Human Show: The Northport Dog Parade
We have three words for you: Northport Dog Parade. (If you really need more information than that, we suppose you can read...
Read More >>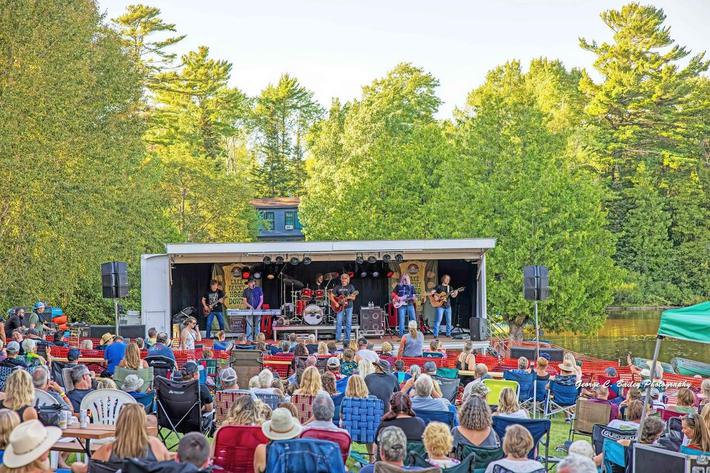 Following the Music
We wish we had infinite room in our Dates and Nitelife sections to alert you to every live music show in northern Michigan...
Read More >>