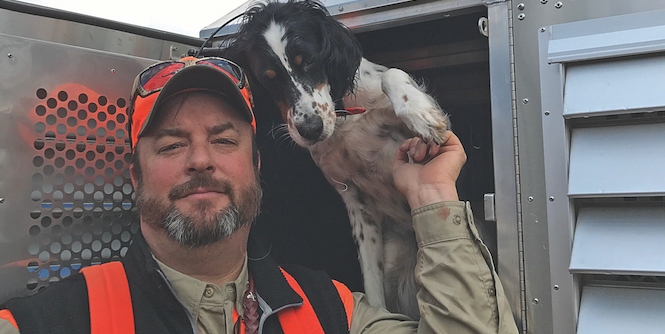 Bespoke Gundogs
Leelanau County's first game bird preserve gives dogs a shot at honing their natural instincts
By Al Parker | Jan. 13, 2018
A Leelanau County man has launched an operation that combines two of his passions — dogs and bird hunting.
"I've been shooting over bird dogs since I was 8 or 10 years old – mostly with setters and labs," said Chris Butz, a self-described "recovering lawyer" who operates Bespoke Gundogs on 176 acres in Solon Township. "I cannot remember my life without bird hunting, gundogs, fishing and shooting."
In fact, Butz was taking part in competitive muzzle loading competitions when he was only 8 years old and had won multiple national titles by the time he turned 12.
Growing up in southern Indiana, Butz always loved the outdoors and working with his hunting dogs. Some of his happiest childhood days were spent hunting quail and waterfowl with well-trained dogs. He currently has six dogs — two English cocker spaniels, two setters, a British Labrador, and a German spaniel, or Wachtelhund.
"From my earliest days hunting with springer spaniels, Labrador retrievers and English setters, I have enjoyed days alongside gundogs working with their God-given talents to do what they were created to do," he said. "As I learned more and more about gundog training in America, there's more to training these talented animals than using the harsh methods traditionally popular in this country."
Instead of following the stern American training style, Butz researched the British and European techniques, shunning harsh training methods such as "force fetching" and e-collars. His methods rely on positive reinforcement and other less strict measures.
"It's been my experience that by starting with a good genetic foundation in a dog and adding the building blocks of nutrition and solid training, you will build a steady gundog that is a joy to have in the home and in the field."
Training a gundog takes time, patience and knowledge. Butz's goal is primarily to bring out the best in a dog, whether the owner wants to use the dog for hunting or simply seeks to have a well-trained, four-legged companion.
"Bespoke means custom-made and that's our attitude in training dogs," said Butz, who moved to Leelanau County in 2007. "Whether our client wants a well-trained 'steady' gundog or wants to kayak, hike or bike with their dog, we can provide the time and energy to train their dog to be calm, obedient and avoid distractions in their activity choices."
Butz offers the dog training sessions on a 176-acre site on Hoxie Road, north of Lautner Road in Solon Township. Last year the Department of Natural Resources certified 120 of those acres as a game bird preserve, the only one in Leelanau County. At the preserve, Butz features quail and chuckars, a cinnamon and gray partridge with stripes along its side and a red bill.
"Each dog develops at his or her own pace," said Butz. "But, there eventually comes a time when the owner needs to expose the pup to birds in a more realistic field experience. Maybe you just want your dog to point or flush or work on steadiness or gun proofing. Or if you actually want to shoot birds over your pup to work on retrieving. This is where our licensed game preserve comes into play."
Once the snow is gone, Butz expects to hit the ground running. Over the winter, clients have been contacting him and they're anxious to get their field companions "tuned up."
"This is a huge attraction for local hunters," he said. "Now they won't have to drive miles and miles to a game bird preserve. Last year we had a summer resident bring his Lab out, and he just loved it."
In addition to training several breeds of hunting dogs, Butz offers other hunting-related activities, including custom sporting clays and upland, waterfowl and turkey hunting. To learn more, visit bespokesporting.com.
Pictured at top: Butz and his English setter, Lilly. Butz, along with his wife, Angie, and their five children, also operate Gill's Pier Ranch, just outside Northport, where they raise Tibetan yaks and alpaca.
Trending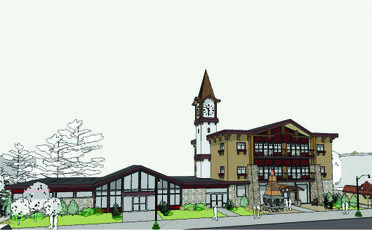 Gaylord: A boomtown Up North
Gaylord native Gary Scott had moved to Indiana, where he and some partners started a business to invest in distressed properties. He was talking to a banker in Detroit about real estate in Bloomington when he asked what kind of deals might be available in northern Michigan. ...
Read More >>
How Beer Revived Bellaire and Other Northern Michigan Towns
Even though Don Hoyt grew up in Gaylord, he never visited Bellaire until he met his future wife, a chiropractor from California who had moved to the Antrim County town for a job. That's the thing about Bellaire – it's not on the way to anything. People ...
Read More >>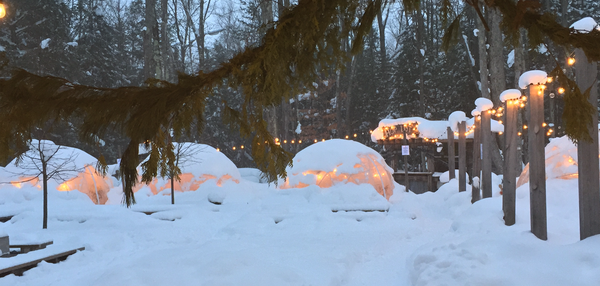 Hop Lot Brewing in Suttons Bay
Brothers Steve and Drew Lutke knew they wanted to do something special with their microbrewery on the south end of Suttons Bay. Even before building their facility, they had begun researching the style and aesthetic they wanted to draw in customers. So they decided to showcase what ...
Read More >>
In The Crosshairs: Home Rule In Michigan
Under the specter of a populist-fueled authoritarian regime installed at 1600 Pennsylvania Avenue, the concept of home rule is now more imperiled than ever in our fragile democracy. Here the term "home rule" refers to local control — the singular place where the endangered species of a ...
Read More >>
↑