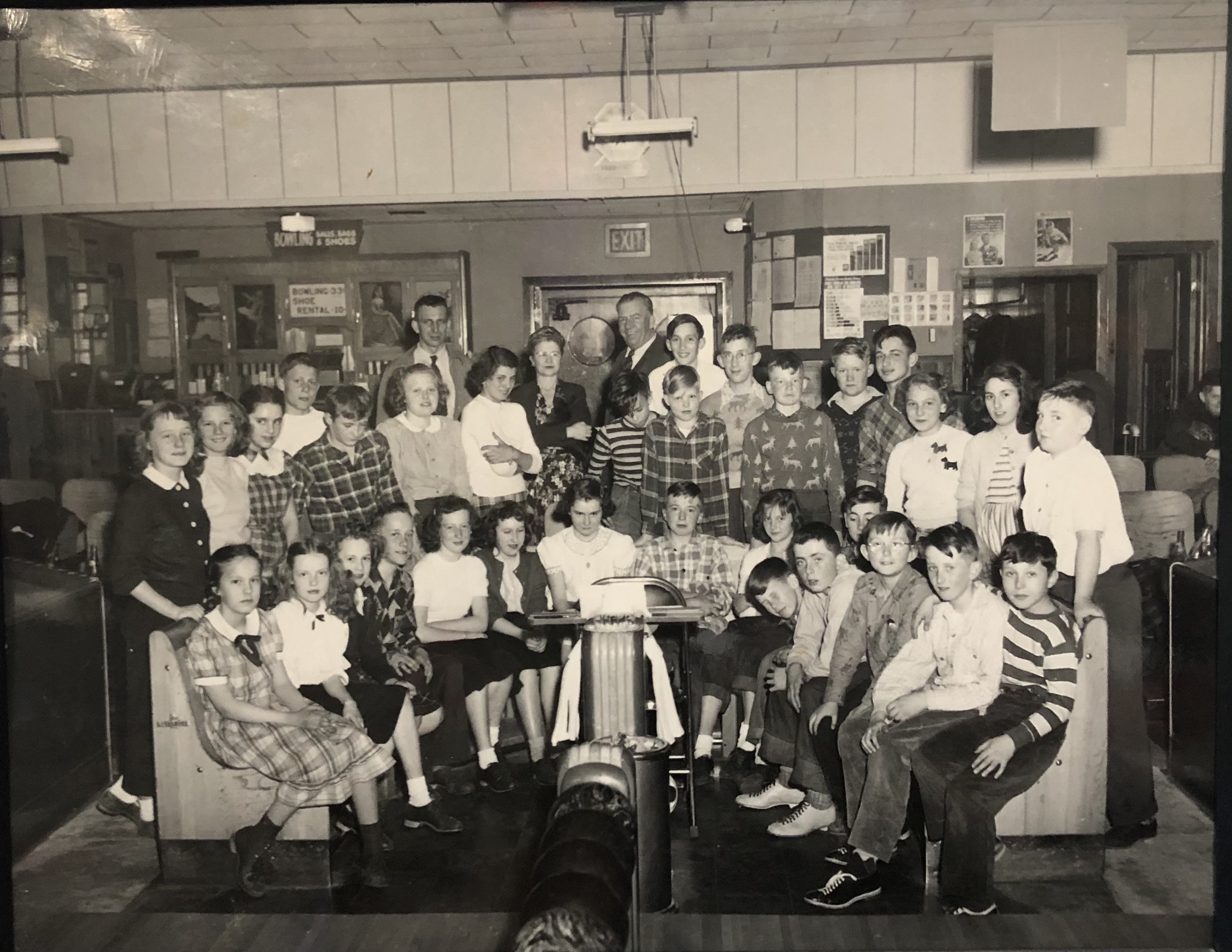 Cadillac's Parkview Lanes
A four-generation family classic still going strong
What do you call a business that's been handed down within a family for more than 75 years until it rests in the hands of the originators' great-grandchildren — with the possibility of another generation on the way? In Cadillac, you call it Parkview Lanes.
"I grew up in the business," said Dan Williams. He's the great-grandson of Norman W. and Jean Peterson, who purchased Parkview Lanes in 1945 from its founder. John Lehman opened the bowling center at 126 W. Harris St. on Dec. 7, 1941, the day Pearl Harbor was bombed. He sold it to the Petersons four years later, and it's remained in their family ever since: first with son and daughter-in-law, Norman W. and Jean H. Petersen, then with their daughter Darlene and her husband, Daniel Williams.
Today, Darlene and Daniel's son, Dan, and daughter-in-law Deb run the bowling center. As a youngster, Dan wasn't enamored of the business — "When I was a kid it was not what I wanted to do" — but as he got older he realized how much he enjoyed running the classic entertainment center.
Deb didn't grow up in the business the way her husband did, but her enthusiasm for the job is palpable. "I love it. I love the people. It's a family atmosphere," she said.
It's also more than just a family business — it's an inherited sport for many families who play there. Longtime bowler Melody Thomas and her husband, Chuck, bowl in several leagues, including a couples league. "It gives us a night out. It's like a date night. We get to congratulate each other on achievements," she said.
It doesn't end there. "We've taken our grandkids and great-grandkids. They love to go bowling."
While the game itself has not changed appreciably in the decades the Peterson/Williams line has owned Parkview Lanes, everything around it has. "When I was young, we had pin setters," said Darlene Williams — and not the automatic pin-setters people are familiar with today, but youngsters whose job it was to remove the pins that had been knocked down and reset them after the frame.
Under-lane ball returns have replaced above-ground returns. Bowlers no longer have to keep score themselves; it's automatic and displayed above the lanes for all to see. (Whether players appreciate that latter change likely depends on their score.)
Two of the biggest improvements in the place have come in the construction of the alleys themselves and the balls that roll down them. Originally made up of a hardwood, typically maple, the lanes today are constructed of a synthetic product. "First [after solid wood alleys] was a laminate glued on wood. That lasted 15 to 20 years," said Dan.
They were replaced by synthetic lanes about 20 years ago, which Dan said better hold the oil — a critical element that was initially used to protect the surface of the lanes (without it, the drop of a thrown ball could scuff and sometimes even spark or leave a burn mark) and later to help a ball gather torque, enabling players to "hook" their ball.
While lanes used to have to be hand-oiled and buffed, a process that could take three hours, now, automatic oilers can strip and then lay the exact oil pattern for any condition in 15 minutes.
Likewise, the balls have seen dramatic changes. Hard rubber balls dominated the market until the 1970s, when polyester balls were developed. A decade later, urethane bowling balls were introduced. By 1990, a new reactive urethane coverstock was used in combination with innovative core designs.
Bowlers were able to use a more pronounced hook, and scores began to skyrocket. During the first full winter season in which reactive balls were used, the number of perfect games increased by nearly 20 percent, according to the American Bowling Congress.
Parkview Lanes was right there, as the second northern city and the fourth in the state to have synthetic lanes, and the first to have automatic scoring. "We've always been pretty high-tech, at least for north of Grand Rapids," said Dan.
Innovations aside, bowling has always been a social sport. Thomas said gathering together for friendly competition was — and is — a great way to spend a couple hours.
Working there was even better. "It was crazy fun. I grew up knowing a lot of people," said Darlene. "There were four girls in the family. I was always the one most interested in it and closest to my dad. I enjoyed it."
For Dan and Deb, going to the bowling center on a daily basis never gets old. "I love the people. It's the same thing but different people," Deb said.
Despite the innovations, the number of bowlers has declined over the years. According to Bloomberg, in the late 1970s, more than 9 million Americans belonged to bowling leagues. As of 2018, that number was down to 1.34 million.
"We had 21 leagues a week in the late '70s, early '80s; we have 10 today," said Dan. "Times have changed. Social media, video, and internet have killed a lot of entertainment. You don't have to go anywhere."
Another change has been the atmosphere of a bowling alley. What was once a way for blue-collar workers to blow off steam is now more of a leisure activity for anyone. "In my grandpa's time, it was more of a gentleman's club, smoking, drinking, guys cursing. Today it's changed," he said.
Indeed, today facilities such as Parkview Lanes are looking beyond the recurring income from leagues to offering more family-friendly activities, whether that's cosmic bowling, birthday parties, or simply opportunities for all ages and genders to socialize.
So will Parkview Lanes Bowling Center continue as a family tradition and business? Perhaps. "We made our kids go get jobs elsewhere so they knew what it was like. Neither one actually works here, but I think one will take over," said Deb.
"We hope there's a fifth generation," added Dan. "There's some interest, but we're not going to push it. If they don't want to do it, that's fine."
IF YOU GO
Parkview Lanes got the green light to re-open Jan. 16; however, in line with state restrictions, masks are required, capacity is somewhat limited, and the alley cannot yet serve food and beverages — though there is talk of that resuming by early February, in line with restaurants re-opening. If you're planning to bowl, call ahead to stay apprised of the latest in lane, food, and beverage availability, hours, and rules. (231) 775-5561
Trending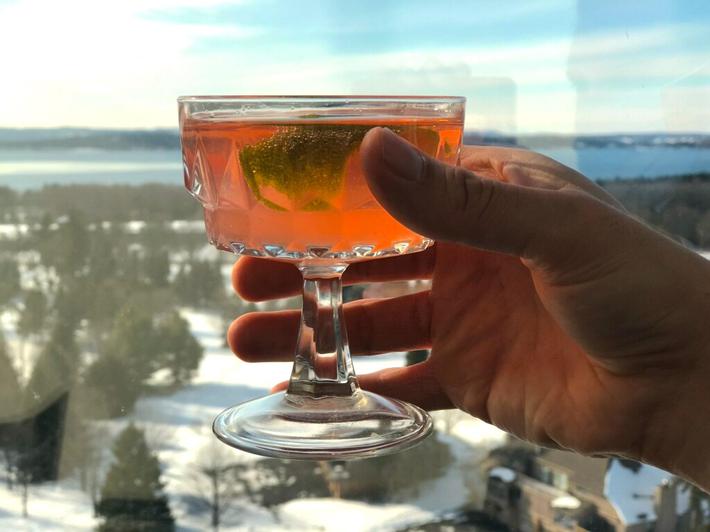 Tiny Pink Bubbles
Hey, ladies, do we have the pink drink for you: Aerie's Tiny Pink Bubbles. With a taste and body as delicious as its...
Read More >>
The Power of Our Example
Every new president faces a daunting array of problems, but 2021 will go down in the history books: Our country is under s...
Read More >>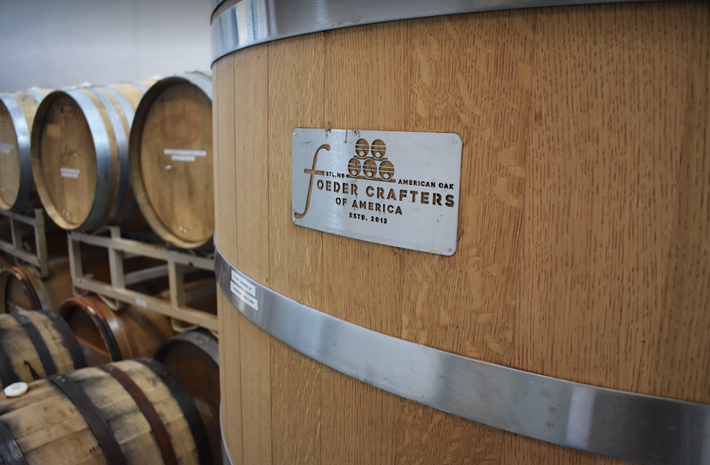 Getting Wild with the Foeder
Drinkers with a discerning eye may have noticed a couple interesting-looking wooden containers in the back of Traverse Cit...
Read More >>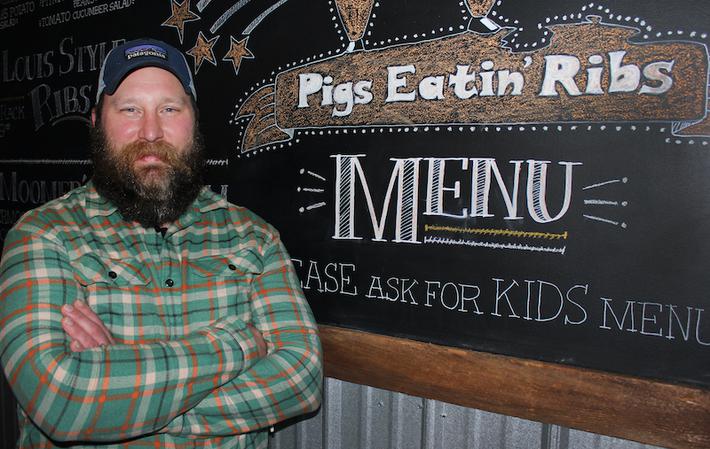 Charlevoix's Pigs Eatin' Ribs
By 2008, Charlevoix Chef Adam Kline had seen and tasted enough. The Northern Michigan food scene had stagnated, he said, i...
Read More >>
↑