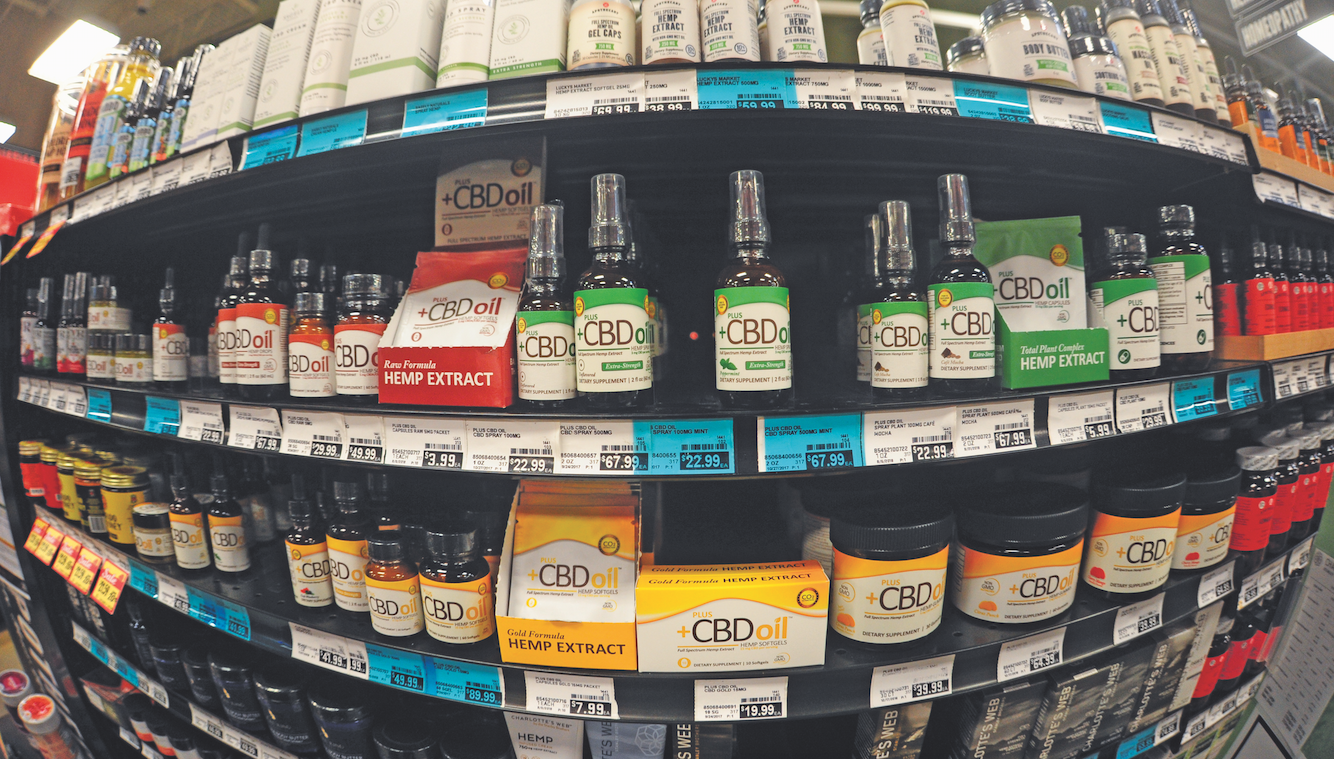 CBD Laws: Dazed and Confused
The sign outside of Family Video in Kalkaska lets drivers know the store has more than just movies.

The sign reads: "CBD PRODUCTS NOW AVAILABLE HERE! CHECK IT OUT."

CBD is short for cannabidiol, a kind of chemical compound that occurs naturally in hemp and marijuana plants, but does not contain psychoactive properties that gives the user a euphoric high. Instead, the CBD oil that is extracted from the plant is used to treat various ailments in the forms of oils, lotions, lip balms, and salves, to name a few. Recently, it has become so ubiquitous that it can be found almost any where, including video stores.

Many people praise CBD for its purported health benefits and share various success stories, but others are calling for more research and oversight as the product floods the market. Meanwhile, confusion between state laws and the federal government has created a gray area when it comes to regulation and enforcing the law.

The inconsistency with labelling and lack of testing has raised concern from people like Grand Traverse County Environmental Health Director Daniel Thorell.

"I don't think CBD has any dosages labelled," Thorell said. "The questions in my mind are: Are these products tested or regulated by anybody? Do we really know what is in them? Who is testing it to make sure it doesn't have anything harmful in it?"

Family Video sources its CBD products from the Oklahoma-based wholesaler Natural Native, which does extra testing, according to Assistant Manager Michelle Manasco. The products they sell are marked with a QR code that allows consumers to immediately scan it on a cell phone to see test results and verify it has no THC, the psychoactive component in cannabis.

"They guarantee there are no extra traces of THC," Manasco said. "It is outside tested to make sure that it is THC free and the amount of CBD product in it is accurate. That is why Family Video chose this company. It has a lot higher standard. A lot of companies — it's not really well regulated."

She went on to say that the products they sell are all natural and considered safe for children; however, as a practice, Family Video does not sell to anyone under 18 years old.

"We don't want a parent coming in upset with us," Manasco said.

In contrast, less than a block away from Family Video, a gas station carries CBD infused drinks, which go for $3.99 for a 12-ounce can. The product, made in California, does not have any information about the amount of CBD in the drink.

LAWS & REGULATIONS
In order to qualify as a legal hemp product, CBD oil must contain less than 0.3 percent THC, according to federal law. The fact that CBD is found in both hemp and marijuana has created some confusion when it comes to the law.

Recently, the Grand Traverse County Health Department issued a cease-and-desist notice to the Traverse City coffee shop, Espresso Bay, for serving coffee with with shots of CBD oil, although selling the oil alongside the coffee is not a violation.

"They were mixing CBD with coffee and selling it to customers. And under the food code, you cannot do that," Thorell said. "It is illegal to introduce drug ingredients in the food supply — that is the bottom line."

The environmental health director said his agency's concern with CBD is with the restaurants they license, which consists of 471 establishments in Grand Traverse County, including fast food restaurants, food trucks, traditional restaurants and ice cream shops. He said the Michigan Department of Agriculture and Rural Development (MDARD) is in charge of inspecting what is on the grocery store shelves.

Although, he has no jurisdiction over stores and other businesses, Thorell believes CBD is being sold illegally in Michigan.

"It is still considered illegal," Thorell said. "Even these places still selling it pre-packaged, if the FDA wanted to send 20 inspectors here and went around to all these places and rounded them up, they could legally. Technically, it is illegal for them to sell it anywhere, because it was produced outside the state, but it is not high on the radar. The stance we're taking is that we don't want restaurants adding it to food, because it is an active ingredient in a FDA-approved drug."

According to the FDA, CBD is not allowed as a food or food additive in interstate commerce, regardless of whether the product is hemp-derived. 


Currently, there are no Michigan approved producers of CBD as a food, according to MDARD. Additionally, hemp is not being grown in Michigan — and likely won't until rules and regulations have been established.

Therefore, CBD products are being sold and shipped to Michigan as a dietary supplement, which is also a FDA violation, Thorell said.

At Lucky's Market in Traverse City, half of a shopping aisle is dedicated to CBD and hemp products. Almost all of them are labelled as a dietary supplement and have been shipped from out of state from places like California and Colorado.

"We aren't out to enforce the FDA's laws in grocery stores and retail stores," Thorell said. "But if you talked to [the FDA] they would say they shouldn't be selling it. … The latest fad product is CBD, so there is demand for it. It is so new, but I think it's just a matter of time until it is all sorted out."

David Harns, of Michigan's Department of Licensing and Regulatory Affairs, echoed Thorell's assessment of how CBD is being classified.

"The problem is that products derived from industrial hemp fall under different categories," Harns said. "Any substances added to food must be approved by the FDA at this time, and the FDA has not approved CBD for use in food or as a dietary supplement. Therefore, it is unlawful to sell CBD in food or as a dietary supplement."

However, hulled hemp seeds, hemp seed protein, and hemp seed oil are approved by the FDA.

"CBD is in the hopper for figuring all of this out right now, because we do have three different laws that refer to the properties of marijuana, industrial hemp, and the cannabis sativa plant in different ways," Harns said. "There are discussions being had that will hash that out."

Adding to the confusion: Harns cited the 2018 Farm Bill — which legalized industrial hemp under U.S. law and designated the USDA as the federal agency with regulatory oversight — that President Trump signed into law in early December, as well as Michigan'sPublic Acts 641, 642 and 648, which require farms to be licensed by MDARD to grow and process industrial hemp. They also amend the public health code definition of industrial hemp and marijuana. Additionally, the laws allow LARA to propagate rules for the sales of industrial hemp at provisions centers that come under Medical Marijuana Facilities Licensing Act and the Michigan Regulation and Taxation Act.

"There is so much interplay between these rules that there must be a discussion amongst the different state agencies for a way forward," Harns said. "I can say these discussions are happening."

Harns added that federal laws have also made things even more confusing, but the state laws are not very clear either. Currently, LARA regulates marijuana, while industrial hemp is regulated by MDARD, he said.

MDARD's Communications Director Jennifer Holton said trying to figure out the legality of CBDs is like going "down a rabbit hole."

"There is food, there are beverages, there are pet foods. Everybody is looking at ways to incorporate it in," Holton said. "From what I have read from the feds, there is still a lot of unknown. Not all of the federal laws line up, so there is a whole lot of confusion."

She remains optimistic about the hemp industry, but said a lot still needs to be done.

"We are still working our way through the industrial hemp program," Holton said. "There is a lot of excitement, and we have to make sure we are balancing the food safety needs and requirements, but what consumers want and what businesses want to add. It really is a delicate balancing act right now."

BIG BUSINESS
The confusion in the laws CBD marketplace isn't hindered CBD is becoming so trendy with sales expecting to balloon into a billion-dollar industry. Products are showing up in everyday products including soda-pop drinks and even Jelly Belly candies.

The CBD market is estimated to grow to $2.1 billion in consumer sales by 2020 with $450 million of those sales coming from hemp-based sources, according to the Hemp Business Journal. In 2015, the market for hemp-derived CBD products was $90 million and additional $112 million in marijuana-derived CBD products, which were sold through dispensaries.

Family Video has had CBD products available at its Kalkaska store for about three weeks and sales have been doing well, according to Manasco. Stores in Grayling and Traverse City have also been carrying CBD oil.

"There are more stores, but I would probably be wrong if I tried to tell you all of them," Manasco said, who uses the product herself, for psoriatic arthritis. "People are really, really enjoying the product. We have had repeat customers."

All told, Family Video has more than 120 stores throughout Michigan.

At the video store, the CBD products range in price from $3 for a lip balm to $100 for a 1,000 milligram CBD spray.

"Most people like the spray and oil," Manasco said. "But the gummies are becoming very popular."

HEALTH BENEFITS
Aside from its trendiness, some have sought out CBD as an alternative to prescription pain medication and have come to depend on CBD to treat their pain.

Outside of Traverse City's Superior Genetics, Stacy Wonegeshik, of Northport, had just bought CBD dabs for her vape pen. She comes to the CBD store multiple times a week to get CBD products to treat her pain. In 2004, while 12 weeks pregnant, she was in a severe car accident where she was thrown from the vehicle. The accident left her with a crushed pelvis and a steel plate in her shoulder.

"I was hurt pretty bad," Wonegeshik said. "I was ejected 25 feet out the backseat passenger window with my seatbelt on. I have had at least 12 surgeries."

She said CBDs are very effective for treating her pain and are a better alternative to pain pills.

"Pain pills have a lot of different side effects," she said.

Wonegeshik is a medical marijuana cardholder but also has ADHD, which is treated with prescription drugs that require her to take drug tests. That is why she prefers CBDs, because it treats her pain but doesn't cause a failure on her drug tests.

"That's why I have [switched] from the regular medical cannabis to the CBD, so the THC is not in my system," Wonegeshik said.

Having a place like Superior Genetics is very important to Wonegeshik, who drives from Northport two to three times a week.

"It is hard to find a place that has just CBD and not THC," she said.

On occasion, she buys the liquid CBD for her vape pen from a local tobacco shop. She confesses isn't hasn't proven as effective as the dabs she purchases from Superior Genetics, but it helps her cope with her pain, and she's OK with that.

"It says it on the bottle that it doesn't have any THC," Wonegeshik said. "I feel safe with either one."

Superior Genetics, which is located near Munson Medical Center, resembles a family doctor's office. It is clean and sterile. The store carries a variety of CBD products, including capsules, pet supplements, gummies, and dabs.

The owner, Jordan Boudreau, said business has been slow. At times, the owner has found himself confused with the changing laws surrounding CBDs.

"Currently we are waiting on MDARD to put out the applications for the licenses for the sale of the product," Boudreau said. "Until then, I guess the rule is not actually in effect until there's an application process. So, we are legally allowed to sell it."

Bourdreau said some of his products are from out-of-state FDA wholesalers.

"We want to make sure we have products that they are safe for our patients," Boudreau said. "Currently, there are no FDA-approved wholesalers in Michigan."

However, he did have some products labelled: MADE IN MICHIGAN. Those products were marked 20 percent off.

"We have two lines of product right now, so I guess that is kind of an issue," Boudreau said. "The products that are 20 percent off, I'm trying to get rid of those. I don't want to sell those anymore, because they're made in Michigan. When I bought those, it was before I did the research and found out that I actually want to get the FDA kind."

Brandon Montemayor is a business associate of Superior Genetics in Traverse City. He is involved with the medical marijuana side of the business but uses CBD and is knowledgeable about it. He has been involved with cannabinoidsand the medical marijuana industry for the past seven years.

"People should definitely do their research," Montemayor said. "There is CBD everywhere, but you should make sure you are getting a product that doesn't have a lot of byproducts, and that it is from a reputable source."

He said because CBD is becoming so popular there are a lot of people buying it on a wholesale scale and coming up with various products that haven't been tested before going to market. He advises anyone buying a CBD product to check the label and the producer's website to verify its ingredients and maker. He also encourages people to buy from a knowledgeable source.

"CBD is so popular that you can get it from some little gas station," Montemayor said. "I would recommend getting it from somewhere else, like a reputable source that has more information, rather than someone who just has it on their shelves."

Montemayor first got into CBD and medical marijuana after being discharged from the United States Marine Corps when he shattered his fibula in his right leg. He has had three reconstructive surgeries, a titanium plate, and 12 screws. He dreamed about retiring as a marine, but his injuries were too much. He was later diagnosed with an adjustment disorder and suffers from anxiety.

"I was having a really hard time readjusting to civilian life," Montemayor said. "Every time I went to the VA they gave me a different prescription. … I just got tired of taking handfuls of pills."

He credits CBDs and medical marijuana for weaning him off the various medications he was using.

"I felt 100 times better, both physically and mentally," Montemayor said. "I wasn't in a cloud all the time from all the narcotics I was being prescribed."

Superior Genetics first started in Lansing as a dispensary and has since moved to Traverse City near Munson Medical Center. Montemayor, who is also a medical marijuana caregiver, tries to ask as many questions as possible to help inform people about CBD products.

"What we found was that patients who wanted the benefits of medical marijuana didn't want the euphoria feel," Montemayor said. "CBD provides a lot of the medical benefits without the high. That is when we started getting more into the CBD products."

The Traverse City shop has literature about the products it carries. He said education and knowledge is important to help dispel any misconceptions about CBD.

"Medical marijuana is cannabis, and hemp is cannabis, but hemp is not marijuana," Montemayor said. "And that is what a lot of people don't understand. … [marijuana and hemp] have the same genetics, but they are completely different."

He added that he is in favor of more CBD research. He is confident that it is only going to help him and his patients in the long-term. He thinks it is key to getting people off hard-core addictive medications.

"There is just not enough information for them," Montemayor said. "There is still a lot of stigma attached to it — it is pot to a lot of people. I would like to see people more educated and informed."

Dr. Nathan Sailor agrees that more research is needed for CBD products. He is an osteopathic doctor at Kalkaska Medical Associates and has been practicing for about 10 years.

"Unlike the medical pharmaceutical grade stuff that we prescribe, those have hard science behind them," Dr. Sailor said. "There is no hard science yet behind CBD oil. I would love for there to be some. The future of medicine is probably going to be heading in that direction, but it is not there for now. It is just a supplement."

He has seen a lot of patients with chronic pain to Parkinson's Disease that have had back surgery and gone through physical therapy, but say they have had the most success through CBD products purchased over the counter. These testimonies have led him to recommend CBD products to other patients, just like any other supplement.

"I tell people that other patients have had success, and there is no reason not to believe them," Dr. Sailor said. "It doesn't cause harm."

Dr. Sailor said his colleagues are starting to talk more about the benefits of CBD. In January, he attended a conference where marijuana and CBD were two of the topics discussed.

"All of us have patients that say they were able to wean off chronic medication like opiates with the help of CBD oils," Dr. Sailor said. "I have even had patients say they can take CBDs and don't need anything else. For me that's is a good thing."

Some of Dr. Sailor's older and conservative patients don't want to get high or have anything to do with marijuana.

"It is nice to have products that are CBD, because you can tell them that it isn't marijuana," Dr. Sailor said. "It comes from commercial hemp. I have yet to see a negative side effect from it in my practice. I still think there needs to be more education, and a lot of providers really don't know the difference. However, I would say most providers know about it, because their patients are talking about it."
Trending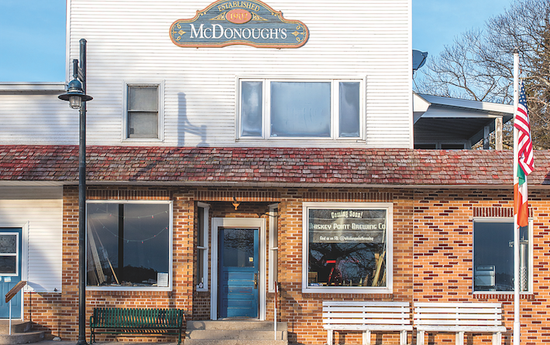 Welcome to Michigan's Most Remote Brewery
After years of planning and honing his beer-making skills, this spring, Patrick McGinnity plans to open Beaver Island's first microbrewery. Opening a craft brewery is challenging. Opening one on a remote island in Lake Michigan that's either a 15-minute plane ride or a two-and-a-half-hour ferry ride from ...
Read More >>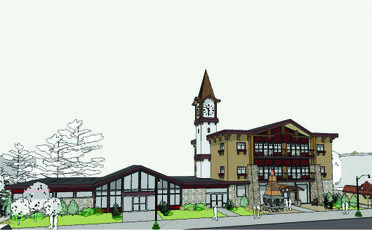 Gaylord: A boomtown Up North
Gaylord native Gary Scott had moved to Indiana, where he and some partners started a business to invest in distressed properties. He was talking to a banker in Detroit about real estate in Bloomington when he asked what kind of deals might be available in northern Michigan. ...
Read More >>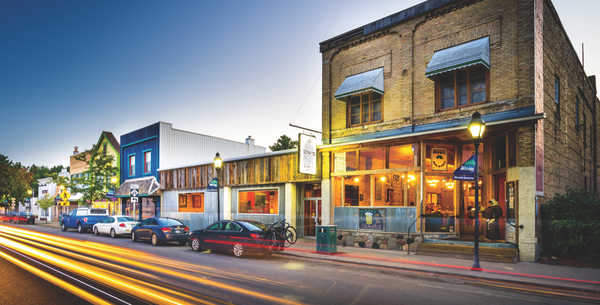 Small Up North Towns on the Rise
Spotlight on Bellaire (pictured)Seems Traverse City isn't the only place in the region making those "Best of" lists. The Antrim County hamlet of Bellaire was recently named to the list of Best Lakeside Towns in the U.S. by Country Living Magazine, alongside the likes of Vergennes, Vermont, Greenville, ...
Read More >>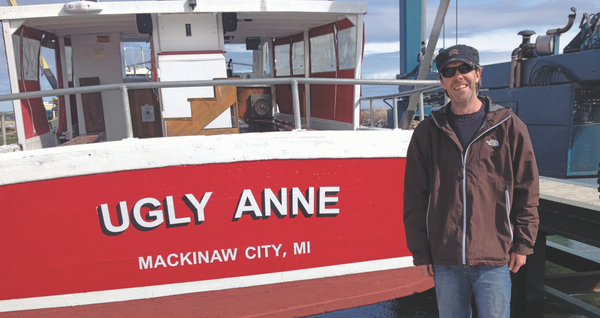 A Wicked Cool Ride Around the Straits
You expect to see boats around Mackinac Island in summer. Sailboats, power boats, cruisers, and the ubiquitous ferries that run residents and guests back and forth across the Straits of Mackinac, sure. But there's a more unusual vessel visible these days — an all-wooden Down East lobster ...
Read More >>
↑