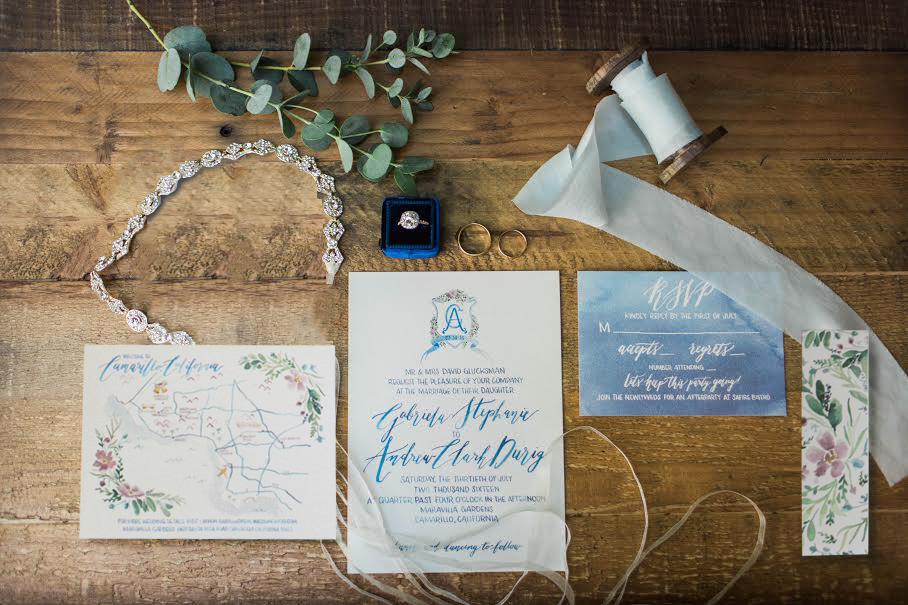 Creative Paper Chasing At Sable And Gray
Sable and Gray Paper Co.'s owner is living proof that sometimes good things happen to you when you least expect them to – or have zero idea what those good things are even supposed to be.
"If you had told me five years ago that I would own my own wedding stationery business, I would have thought you were crazy," Kristin MacKenzie Hussey said. But life, as she pointed out, "has a way of shaking up all your plans and pointing you in the direction you're supposed to go."

The Right Fit
Hussey grew up in an artistic family and had long planned to incorporate creativity into her career. Initially, she thought she wanted to be an architect, so after graduating from Traverse City Central High School in 2006, she moved to Raleigh, N.C., where she earned a double bachelor's degree in environmental design and architecture. "I had every intention of following through on that career path," Hussey explained, "but after working at a fancy architecture firm in Durham, N.C., during my final year of school, I realized this might not be the right fit for me."

During Hussey's five years in school, architecture had moved in a more computer–driven direction, and most of the project drawings and models were now done digitally. "I really missed working with my hands, painting and having a relationship with my clients," said Hussey. She decided to explore other creative careers, trying her hand at interior design and floral arranging before finally falling in love with stationery design. "It was the perfect mix of getting to work with my hands, getting to use my design background and getting to work one on one with my clients," she said.

Brand Definition
After working for a custom stationery company in Asheville, N.C., for a year, Hussey decided she wanted the freedom to create her own look and brand and define the quality of her work. "So, in January of 2014, Sable and Gray was born, and it was the best decision I've ever made," she said.
Hussey's new Traverse City–based venture, Sable and Gray Paper Co., specializes in custom wedding stationery. The business offers a wide range of paper options and printing styles, including letterpress, laser cutting and foil stamping, but Hussey is best known for her romantic looking hand–painted watercolors and hand–lettered calligraphy designs.
"We love working with our clients to create custom stationery designs that not only fit the aesthetic of their wedding but also tell their unique love story," Hussey said. "Since the save–the–dates and wedding invitations are often the first impression guests have of your wedding, we know how important the wedding invitation is in terms of setting the tone for the entire event. We can then carry that design throughout the day in other pieces, including place cards, table numbers, seating charts, signage and wedding programs."

Customized Classics
For Sable and Gray's hand–lettered pieces, Hussey has created a signature look that falls into the modern calligraphy camp in which the letters have a looser, more organic flow than what most people think of as "classic" calligraphy (i.e., Christmas cards), with its sharp edges and Gothic lines.
"I use a variety of materials to create the lettering, anything from a traditional oblique calligraphy pen to hand painting with watercolor brushes," Hussey said. "I love that including custom hand lettering into my clients' designs makes their invitations look very unique and sets them apart from the pre–designed ones that just plug in a font."

The downside? After hand lettering hundreds of pieces, Hussey's carpal tunnel syndrome kicks in. "I have to take breaks often and wear a wrist brace, but at the end of the day, it's worth it!" she said.
Hussey can also take breaks during other parts of the planning process, as Sable and Gray's focus is on putting together what she calls a "dream wedding invitation suite." She explained, "We hand select the papers and envelopes in addition to creating the artwork and hand lettering specifically for each client. This makes each suite very unique – you can tell right away that [the invitations] are custom," she explained. "I've had brides tell me this was their very favorite part of the entire wedding planning process."
Designing Women
Besides creating the artwork itself, Hussey thoroughly enjoys building relationships with her clients, something she found lacking in her earlier trial run years ago as an aspiring architect. "By the end of the design process, I tend to think of each bride as a friend rather than a client, which is such a great job perk!" she said. "The most challenging part about my job is creating designs that make everyone happy – not only the bride but also the groom and the mother of the bride. You also have to be happy with the design yourself," she added, "and try not to lose yourself in the process of pleasing everyone."

The most rewarding part of her job is the positive feedback that comes her way after her clients receive their completed invitation suites in the mail. "I've had brides tell me that opening their packages was like Christmas morning, but better," Hussey said. "And the cherry on top is when new clients are referred by past clients because then I know I've done my job well. I have learned so much, and I feel really lucky to be able to do what I love every day," she mused. "I know that I'm exactly where I'm supposed to be."

For more information, visit sableandgray.com or call (231) 392-9664. Sable and Gray's current office hours are Mon.–Wed., 9am–4pm. Sable and Gray can also be found on Facebook, Etsy, and Instagram, all under "sableandgray."

Photo credit: Katie Shuler Photography

Trending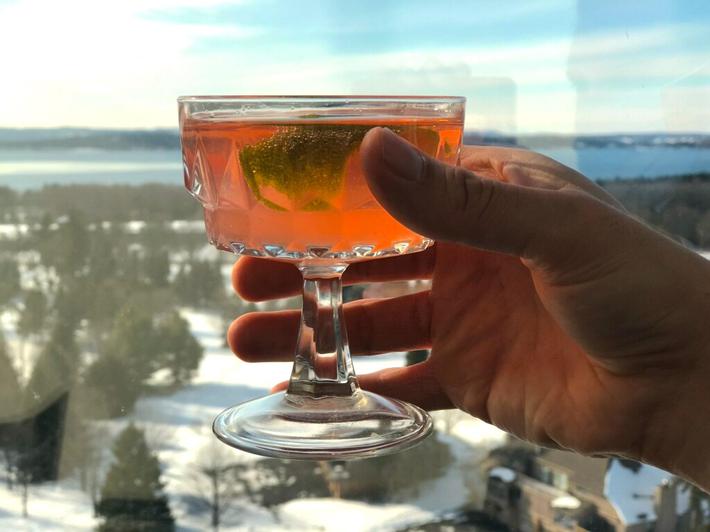 Tiny Pink Bubbles
Hey, ladies, do we have the pink drink for you: Aerie's Tiny Pink Bubbles. With a taste and body as delicious as its...
Read More >>
The Power of Our Example
Every new president faces a daunting array of problems, but 2021 will go down in the history books: Our country is under s...
Read More >>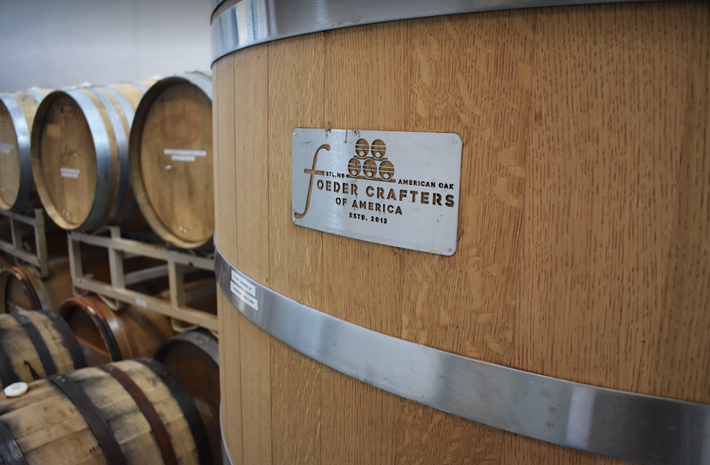 Getting Wild with the Foeder
Drinkers with a discerning eye may have noticed a couple interesting-looking wooden containers in the back of Traverse Cit...
Read More >>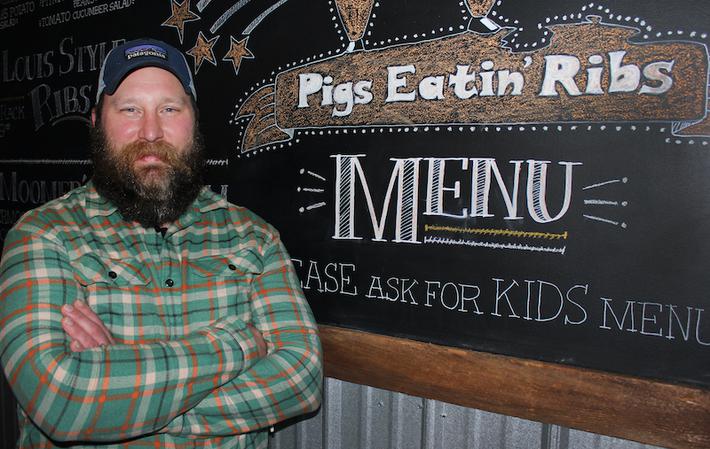 Charlevoix's Pigs Eatin' Ribs
By 2008, Charlevoix Chef Adam Kline had seen and tasted enough. The Northern Michigan food scene had stagnated, he said, i...
Read More >>
↑