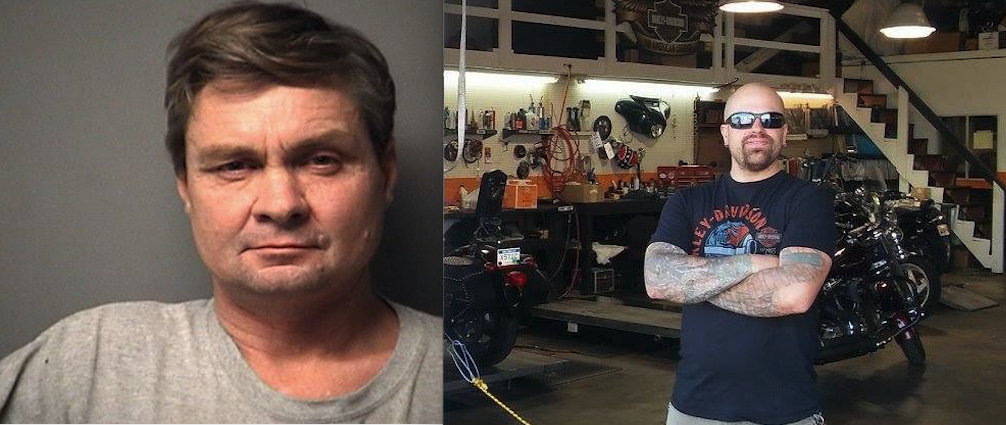 Death in the Woods
The case of a trespasser who shot and killed a man who was dressing a deer on his own property has turned into an exploration of what it means to be negligent.
Justin Beutel (pictured above right) had recently achieved a life goal that afforded him more free time to do things he loved, like go to his family's hunting property Up North.

The 38-year-old had months earlier opened his own Harley-Davidson garage in Midland, a dream he'd had since enrolling in an Arizona motorcycle mechanic school when he was 18.
Last November, he took extra time off to visit his family's property in Antrim County near Alden. On opening day of firearm deer season, he drove to the property from his mom's house on Torch Lake, managed to get his deer early, and then called his mom to arrange to meet for breakfast. Beutel had been an especially attentive son since his mom, Theresa Schurman, lost her husband 11 years earlier.

After breakfast, Schurman dropped off her son at her house so that he could drive back to dress the deer that afternoon.

Later, Schurman and other family and friends received a text that included a photo of Beutel posing with his deer. Beutel also talked on the phone with his brother, Ryan, who lives in Sanford and planned to come up to hunt the next day.

About five minutes after the brothers ended their call, Beutel was shot by a trespasser and suffered a fatal wound.

That shot reverberated through Beutel's family. And it still rings today.
"Right after he stopped talking to Ryan, he started gutting his deer, and within five minutes of that, he got shot," Schurman said. "Everybody was, 'What do you mean? I just talk to him.'"

STRAIGHT-FORWARD GETS MURKY
David Michael Barber, 48, killed Beutel. He faces charges of involuntary manslaughter, a felony that carries up to 15 years in prison; felony firearm, which carries a mandatory two-year term; and trespassing, a 30-day misdemeanor.
In July, Barber's case was put on hold indefinitely, however, after his attorneys appealed the charges to the Michigan Court of Appeals. They've asked the court to consider whether to hear arguments about what it means to be negligent while hunting. They want the court to throw out the most serious charges.

Appellate judges have not yet decided whether to take up the case, meaning they haven't indicated yet whether they think there's any merit to the arguments Barber's attorneys have raised.

Antrim County Prosecuting Attorney James Rossiter said he could not comment on specific details in a pending case. In court filings, he argued that the legal ramifications of the events that led up to Beutel's death are clear — the way in which he was shot and killed constitute "gross negligence," meaning Barber committed involuntary manslaughter.

Barber's attorney, Daniel Hartman, looks at the evidence differently, according to the arguments he's filed at the courthouse in Bellaire. Hartman argued that Barber's shot was not an act of gross negligence and that, because hunting is an inherently dangerous activity, the standard for negligent hunting should reflect that.

Hartman and Barber's appellate attorney, Suzan Gabbara, did not respond to messages seeking comment. Barber could not be reached for comment.

So far, two judges, District Court Judge Robert Cooney and Circuit Court Judge Thomas Power, have sided with Rossiter.

The main facts of the case are not in dispute by either side: On Nov. 15, while hunting, Barber trespassed on private property in Helena Township, believed he spotted a deer, shot at it from approximately 55 yards, and struck Buetel in the right buttock, causing the 38-year-old's death.

It's in the interpretation of how these events transpired and how the law should be applied that the case becomes murky.

WHAT IS "GROSS" NEGLIGENCE?
Hunting is a dangerous activity, Hartman argued in a motion. He said that should be taken into account when evaluating negligence in the context of hunting. The "reasonable man" standard — comparing the actions in a negligence case to the supposed actions of a "reasonable man" — should be considered the "reasonable hunter" in cases of hunting deaths, Hartman argued.

Hartman frames his argument like this: In law, there are three levels of negligence: slight, ordinary, and gross. Slight negligence involves circumstances where only the most cautious person could have anticipated a danger. Ordinary negligence involves circumstances in which a person ought to have known the danger. Gross negligence involves a person knowing and understanding a danger but recklessly ignoring it. Involuntary manslaughter requires a finding of gross negligence.

Hartman argued that this case involved slight or, at worst, ordinary negligence, because Barber believed he was shooting at a deer.

"It may have been a shot that was slightly negligent," the attorney wrote. "It might have been a shot that was reasonable as taken."

Rossiter disagreed, and argued that this was a clear case of gross negligence.

Gross negligence, Rossiter argued, means something more than carelessness, and it is made up of three elements: that the defendant knew the danger, that he could have avoided the danger by using "ordinary care," and that the defendant failed to use ordinary care.

"A reasonable jury could find the elements of gross negligence," Rossiter wrote. "Justin Buetel's death could have been avoided had the defendant used ordinary care."

Schurman, who happens to be a distinguished attorney in her own right, said she believes there is no question that Barber demonstrated gross negligence when he shot her son.
This was not an accident, she said.

Barber had a scope that he failed to use. He was just over the width of a football field away. The forest floor was not filled with underbrush, allowing Barber a fairly clear view. Her son is dead because Barber took a sudden, reckless shot, Schurman said.

"He's admitted if he would have just taken a couple seconds to look, he would have seen Justin," Schurman said. "All he saw was a movement, and he shot at a movement, and that is gross negligence."

Schurman said she hopes that, at the very least, her son's death causes other hunters to be more careful and to be certain before they pull the trigger.

"He had just taken hunter's safety, and he broke every hunter's safety rule," Schurman said. "The first thing is, you know your target — you know what's in front of you and you know what's beyond your target. He didn't even look."

ACT OF A TRESPASSER
For Schurman, the fact that Barber was committing the illegal act of trespassing when he killed Beutel, and that he was serial trespasser on her family's property, make Barber's action even less excusable and more infuriating.

Barber told authorities that he had hunted — and, therefore, had trespassed — on that patch of woods for years.

When questioned by investigators, Barber appeared to believe that the fact that he regularly trespassed on the property somehow eased the severity of the act and lessened his culpability, according to descriptions of interviews filed in court.

Schurman said she cannot understand that line of reasoning.

"He knew he wasn't supposed to be on the property. The signs were all there, and he knew that," she said. "He had been doing this off and on for quite some time, and he had been warned by the DNR for shooting into the property from the road."

Barber's family has owned acreage across the road for years. Yet, for some reason, David Barber was repeatedly known to trespass to hunt on another the Schurman family property. Why didn't he just hunt on the land his family owned? Schurman said she has no idea.

A couple years ago, Schurman had heard that Barber had moved to Gaylord. She said that news was a relief. The family hoped Gaylord would be far enough away and offer enough of its own woods to keep Barber off of their land.

That didn't happen.

"We've been here since the 1800s; we've owned that property forever," Schurman said. "He acts like it's his property because he grew up" across the road.

BARBER'S TAKE ON EVENTS
Hartman, in his court filings, argued that despite the fact that Beutel was on his own private property, he could have done more to make himself visible.

Buetel was wearing a blaze orange hat when he was shot, but that was all the orange he wore that day, Hartman argued. Because he was stooped over the animal with a knife at the time he was shot, the hat was probably not visible from down the ridge where Barber stood.

What's more, Beutel was wearing pants that were almost the same color as the deer.

Hartman wrote: "The issue is the shot: Was the shot a reasonable shot? Was the shot a careless shot? Was the shot a negligent shot? Was the shot a reckless shot? Or was the shot 'willful and wanton'?"

Hartman argued that while Buetel was wearing enough hunter's orange to comply with the law, he was not wearing very much orange, and he could have had been wearing more. Had he been, Barber might have seen him.

Also, Harman noted, Buetel had shot the deer hours earlier — when, presumably, Barber was not around, because Barber had hunted that area early in the early morning with his son, left to drive his son back to Gaylord, and then returned to continue hunting that afternoon.

Had Barber been around when the deer was shot, he would have heard the shot and known another hunter was around, Hartman argued in court filings.

What's more, since Buetel was in the process of field dressing the animal, Barber mistook Buetel's movement for that of the deer.

"The movement of the victim was similar to a deer preparing to depart its bed," Hartman wrote in a brief.

None of these arguments persuade Rossiter or Schurman that Beutel's death was anything but the consequence of Barber's negligence.

ANOTHER LAYER TO THE STORY
Barber is also accused of misleading the rescuers who came to help Beutel.

Responders to the scene found Buetel alive, but two factors delayed his treatment.

At Barber's preliminary examination in January, two witnesses testified: South Torch Lake Fire Department Deputy Chief Michael Webb Lee and Officer Andrea Albert, of the Department of Natural Resources, which investigated the case.

The first person to arrive at the scene was Webb, who found Buetel partially slumped over a deer that had its belly slit open. Lee testified that visibility in the vicinity was pretty good —there was not a lot of underbrush in the woods.

Albert testified that responders at first believed Beutel had suffered a heart attack.
Rossiter wrote: "[Barber] initially told her that he heard a shot, went to see what it was, and discovered the victim. … He also said it appeared as though [the victim] was having a panic attack."

Rossiter argued that rather than being confused, Barber misled investigators and sent them down the wrong path, causing them initially to misdiagnose a heart attack.

To make matters worse, the gunshot wound resulted in so little blood that at first even a seasoned first responder who had experience in combat mistook the small amount of blood on Beutal for deer blood and was unaware that the spot on his buttocks indicated a gunshot wound.

When the EMTs started treating Buetel, they treated him as a heart attack victim, not a shooting victim. It was not until later, while Buetel was being treated inside the ambulance, that they realized he actually had been shot.

Schurman said she is appalled at what she sees as Barber's indifference to her son's life as he lay dying in the forest.

For Schurman, it's not just Barber's actions in the moments leading up to the fatal shot that demonstrate Barber's disregard for a dying man. After her son was shot, Barber didn't immediately call 911; he went back to his family's house nearby, discussed it with them, and only then called 911, she said.

"He left my son there," Schurman said. "They eventually did call 911, and what they said was that they found him in the woods, and they thought he had a heart attack. … He left my son. He was alone. And he didn't know that he couldn't have been saved."

Hartman, in a court filing, argued that his client was caught up along with everyone else in the belief that Buetel had suffered a heart attack, and that once the gunshot wound was discovered, he acknowledged firing the shot and cooperated with investigators.

"The lack of blood which deceived a trained combat medic and the entire medical team was also a factor," Hartman wrote. "The defendant was present during the time and many people were mingling about discussing a heart attack; however, when the bullet entry was reported he immediately described the fatal shot and took the investigators to the location and answered questions."

MINDING YOUR OWN BUSINESS IN THE WOODS
Whether this is a case of gross negligence — and therefore could be punished by up to 15 years in prison — or one of lesser negligence, which could result in a conviction of careless discharge of a firearm, is a big question. Careless discharge of a firearm is a high-court misdemeanor that carries a maximum punishment of two years in prison. That would likely result in a jail sentence of a year or less.

Schurman said Barber has turned down an offer to plead to the 15-year involuntary manslaughter charge in exchange for having the two-year felony firearm charge dismissed.

That deal might not sound great, but it's much better than it sounds: The felony firearm charge carries a mandatory two years in prison that runs consecutively with any other sentence. The 15-year manslaughter charge carries no minimum or consecutive time and, based on sentencing guidelines, might result in a sentence that's a small fraction of 15 years, depending on the extent of a defendant's past criminal record and some other factors.

There is one more thing about this case that nags at Schurman. When her son returned to the woods to dress his deer, he was unarmed. That means that technically, he wasn't a hunter. He didn't have to wear blaze orange. He might as well have been a hiker.

She sees this case (and said Rossiter sees it this way, too) as also being a case about the right to feel safe when you are minding your own business in the woods — especially on your own property.

"What the prosecutor keeps emphasizing is, this isn't just about hunters. This is about people walking on their own property. If he didn't prosecute this this way, it would be open season on hikers," she said. "I would lose faith in our whole system if [Barber] doesn't end up on prison."

For information about a motorcycle mechanic scholarship set up in Justin Beutel's name, Google "Techforce Scholarship in memory of Justin Beutel."







Trending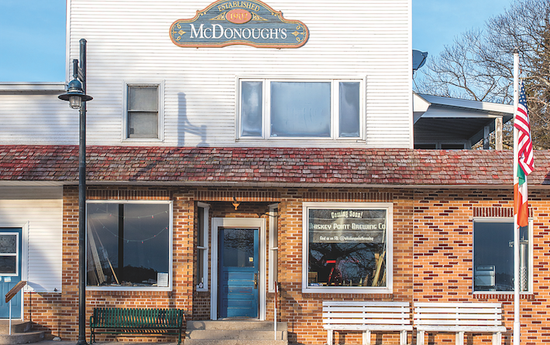 Welcome to Michigan's Most Remote Brewery
After years of planning and honing his beer-making skills, this spring, Patrick McGinnity plans to open Beaver Island&rsqu...
Read More >>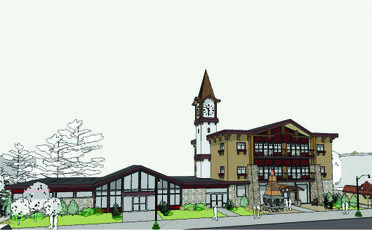 Gaylord: A boomtown Up North
Gaylord native Gary Scott had moved to Indiana, where he and some partners started a business to invest in distressed prop...
Read More >>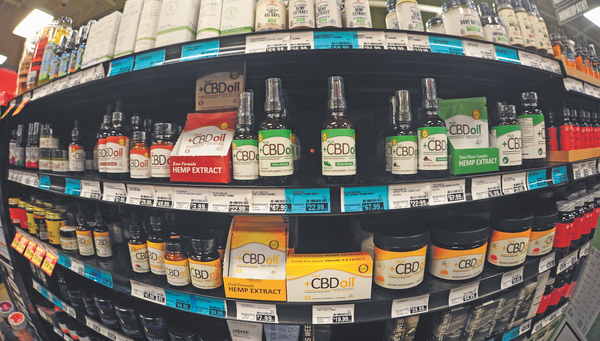 CBD Laws: Dazed and Confused
The sign outside of Family Video in Kalkaska lets drivers know the store has more than just movies. The sign reads: &...
Read More >>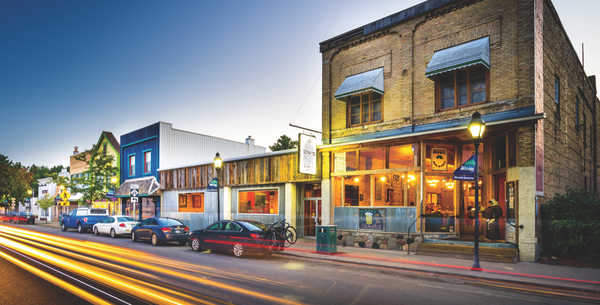 Small Up North Towns on the Rise
Spotlight on Bellaire (pictured)Seems Traverse City isn't the only place in the region making those "Best...
Read More >>
↑