Finding Their Rhythm
Two nonprofits making music and the arts accessible Up North
Not every 10-year-old is lucky enough to have a dad who played alto sax in a 1940s-era Big Band, a mom who majored in and later taught piano performance at Central Michigan University, and a couple of live-in "hippie uncles" who played guitar (not to mention two grandmothers who taught piano).
Petoskey's Pete Kehoe did, and his exposure to music as both a passion and profession sparked not only Kehoe's lifelong love of making music but also his eventual musical career—as a vocalist, multi-instrumentalist, songwriter, award-winning composer, producer, and engineer.
"Most kids don't have anywhere near the opportunities I had," he says, pointing to a study out of Northwestern University that found, by eighth grade, only 34 percent of kids in the United States participate in elective music instruction.
Big Water Creative
That's something he and award-winning northern Michigan musician Michelle Chenard are working to change with Big Water Creative, the music education nonprofit they founded in 2016.
BWC came about as a way to maintain the momentum of their Mackinac Island Songwriters Weekend, a popular annual retreat they ran in October from 2014 to 2016.
"It was a great couple of years," says Chenard, "but we were paying out of pocket to run it, and we were no longer able to sustain it."
Nevertheless, the two saw the impact the single weekend retreat had on participants, and they didn't want to abandon it. They also wanted to expand their weekend retreat's effect—to reach schools, local assisted living communities, and art centers, as well as kids and adults in special education—but with one big caveat: no cost to attendees.
Kehoe proposed launching a nonprofit, and BWC was born.
The two started with what they knew best: Songwriting 101 programs for kindergarten through middle school-aged students. In short order, they involved adults and special needs adults, too, and developed other offerings in line with their own skills and those of other local musicians who signed on to help.
In Wolverine, with the aid of local sponsor Christ Child foundation, they were able to host ukulele programs for two years. They added Music Exploration classes for middle schoolers, introducing kids to different stringed instruments and the different rhythms percussion instruments, as well as Community Sing, which brings elementary school students and seniors together to practice and perform.
The pandemic put a pause on operations, in-person sessions, and, critically, fundraising events. But in fall 2021, Big Water Creative made a big comeback, not only bringing back several in-person programs, but also launching an all-new one: Rock Jam. A donor gifted guitars, guitar amps, keyboards, percussion pads, and other gear, and local musician Chris Michaels signed on to teach Pellston middle schoolers some basic skills on drums, guitar, and bass.
By the course's end, the kids had learned how to play as a band, even conquering an entire song—the White Stripes' "Seven Nation Army"—together. This coming school year, BWC is bringing Rock Jam to more schools and a Guitar 101 program to a local church for folks in recovery.
Chenard estimates that nearly 200 students have gone through their programs since 2016; more than 75 students, from across six school districts (Gaylord, Cheboygan, Wolverine, Petoskey, Alanson, and Pellston), took part this past year alone.
"The effect of music on the kids is multifold, but the primary thing—aside from boosting cognitive development, critical thinking skills, math skills, etcetera—these kids experience joy through listening to, singing along with, and participating in making music in whatever ways they can," says Kehoe. "Every kid does it differently, but every kid, and person, experiences that joy that music brings to all of us."
Case in point: Through BWC, Kehoe works with two groups of special education high schoolers in Gaylord and Cheboygan. He says some of the kids are high functioning; others are quadriplegic and/or non-communicative/non-verbal. Music, it seems, overcomes any barrier.
"I've seen kids literally go from being catatonic and non-responsive to smiling, being communicative, and just beaming from the effects of the music and being able to contribute and participate in it," he says. "We make sure that any physical issues don't preclude these kids from joining in, however they're able to do so. The effect is just amazing."
Learn more about Big Water Creative Arts and upcoming offerings at bigwatercreativearts.org.
Great Lakes Center for the Arts' Next Gen
Over at the Great Lakes Center for the Arts, arts outreach for community youth has been a part of the master plan since the Bay Harbor-based nonprofit opened its doors in July 2018. It teamed up in 2020 with one of the area's most well-known music education organizations, the Dorothy Gerber Strings Program, which offers in-school strings classes, lessons, and a youth orchestra program for students preschool through high school.

But lesser known is that its first year, GLCFA began its own arts education component, one tied to a single, free mainstage event: The Accidentals, who played for more than 1,000 students from 16 area schools.
Motivated by the students' response, GLCFA for the 2019-2020 school year developed six more educational programs—each held in the center during the school day and tied to theatrical performances, all free: Freedom Bound, Doktor Kaboom, Pete the Cat, Rosa Parks, and Click, Clack, Moo.
In-person events stopped during the pandemic, but Heather Russell, education director at the time, continued outreach via virtual programming opportunities. In January 2022, not long after the program had taken a new name—Next Gen—Rachel Sytsma-Reed picked up the torch.
That February, Next Gen welcomed area students to its first in-person educational program performance since the pandemic began, Warriors Don't Cry, a play based on Melba Pattillo Beals' memoir as one of nine black students who were part of the integration of Central High School in Little Rock, Arizona, in 1957.
Expanding reach and event frequency are Systma–Reed's priorities for the next generation of Next Gen. The program has widened its radius to bring in students from Otsego and Cheboygan counties and has adjusted its matinee schedule for the 2022-2023 school year to allow for the longer travel time those students need.
However, challenges remain. No. 1: the cost of fuel, which has made transportation to and from events pricier than in years' past. "We want to be sure that no child is left out because cost is an obstacle," says Systma-Reed, who notes that donors and sponsors have so far enabled GLCFA to offer transportation reimbursement to schools or districts.
She adds that schools face other constraints because of the requirements associated with standardized testing, so Next Gen works closely with a teacher advisory council to support some of those testing demands by providing standards-based programming and curriculum for school educators, as well as homeschool parents.
"I am a former professor and eighth through 12th-grade science teacher, so I am committed to expanding our secondary education programming without diminishing the elementary school level opportunities. This means more events," she says. "My goal is to offer one event per month, October through April."
The school year hasn't even begun, and she's off to a strong start. Wednesday, Aug. 17, brings two performances of Next Gen's first-ever summer event, Collision of Rhythm, a two-man show described as a "non-stop, mind-blowing cavalcade of percussion, tap dancing, vocal percussion, instrumentals, piano, marimba, juggling, and singing."
"Not only are Bronkar and Aaron incredible 'main-stage level' artists in their own rights, but they're also committed to interactive live performances and building positive, community-oriented messages," says Sytsma. To that end, the duo is offering a one-hour "building community through rhythm" workshop for 25 students (grades 5–12) on the GLCFA main stage between their performances.
Looking ahead to the 2022-2023 school year, Sytsma-Reed says Next Gen will offer a gamut of arts education opportunities: stage productions (including Junie B's Essential Survival Guide to School and The Lightning Thief for elementary and middle grades), movies (including The Book Thief for secondary students), and ballet (Interlochen Ballet's Cinderella). Also coming: NextGen's first Artist in Residence, Paige Hernandez, who will travel to several area middle schools to talk creative writing and using music, movement, and rhythm.
In four years, the program has served more than 14,300 students and grown in scope, frequency, and reach, but Sytsma isn't calling Next Gen a victory just yet.
"I will feel we have succeeded when educators, education administrators, and parents are in the habit of regularly checking [GLCFA's] website with the thought, 'What's happening at the Center this month for kids?'"
Find information about Next Gen, Dorothy Gerber Strings, and upcoming events at greatlakescfa.org.
Trending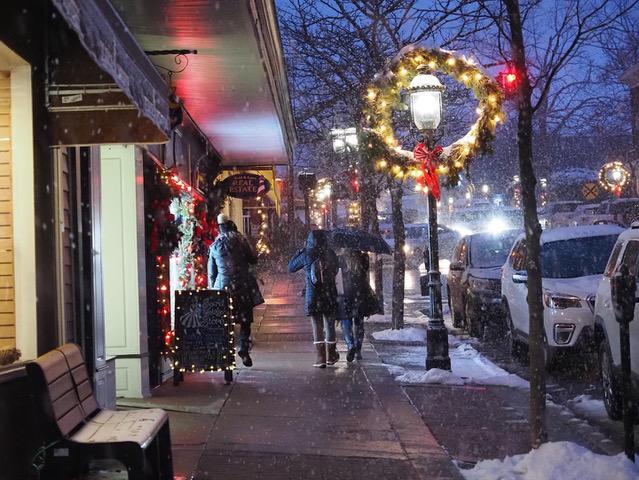 Jump Start Holiday Shopping
Downtown Petoskey hosts their Holiday Open House on Friday, Dec. 2, from 6-9pm as Santa flies into town to light the giant...
Read More >>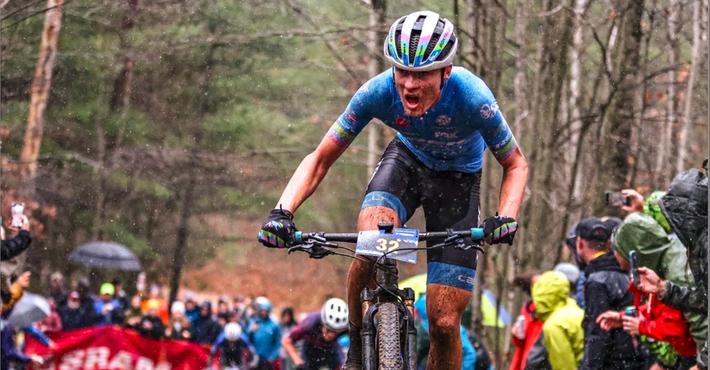 A New Gear
If last week's snow made you think the two-wheeling season is over, think again. Tuesday, Nov. 29, is the official l...
Read More >>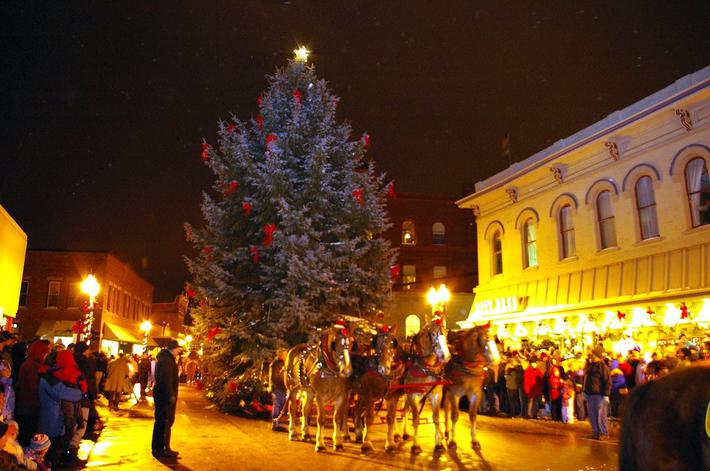 Jingle All the Way to Manistee
The town of Manistee is going into full holiday mode—and going back in time—this weekend. Friday, Dec. 2, the ...
Read More >>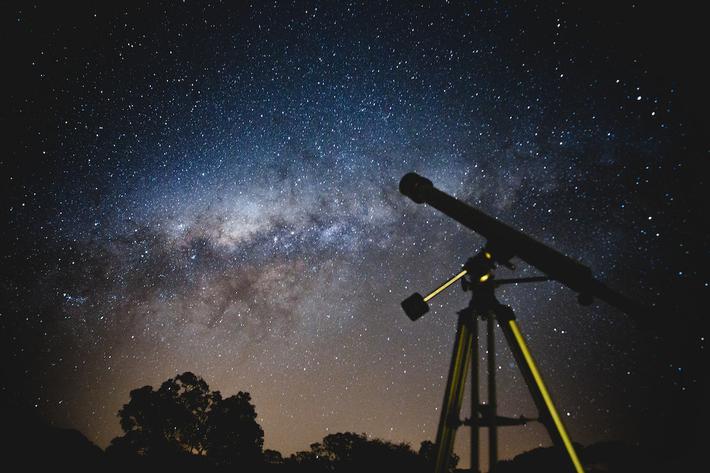 Aim for the Stars
Aliens may walk among us, but this weekend it's our turn to wander through the galaxy. On Saturday, Dec. 3, the Denn...
Read More >>